Description
She Rocks Teen Empowerment & Business Expo is designed to provide support to area teen girls at the beginning of the school year. This is the 3rd She Rocks Teen Empowerment event to occur in Wilmington, NC. She Rocks is a Girls Rocking in the South (GRITS) annual event and it attracts teen girls from various counties in North Carolina and surrounding areas. The focus is more on empowering teen girls ages 12-19 by teaching them how to create balance in their lives- mentally, physically, and spiritually. It also is designed to address key issues they are facing at home, school, and in the community.
Teen girls from all over will return to the expo this year for support in the areas of health, leadership, education, and business. Speakers will cover topics ranging from health, STEM, entrepreneurship, fashion/beauty, leadership, and more. Live entertainment provided and DJ Sammy Figgs of Coast 97.3 will be the DJ for the expo. This year, we welcome Family Nurse Practitioner, OWN Reality Show Producer, and Wilmington native, Ursula Douglas as our keynote speaker. Local vendors will be onsite consisting of community organizations and teens with products from their businesses.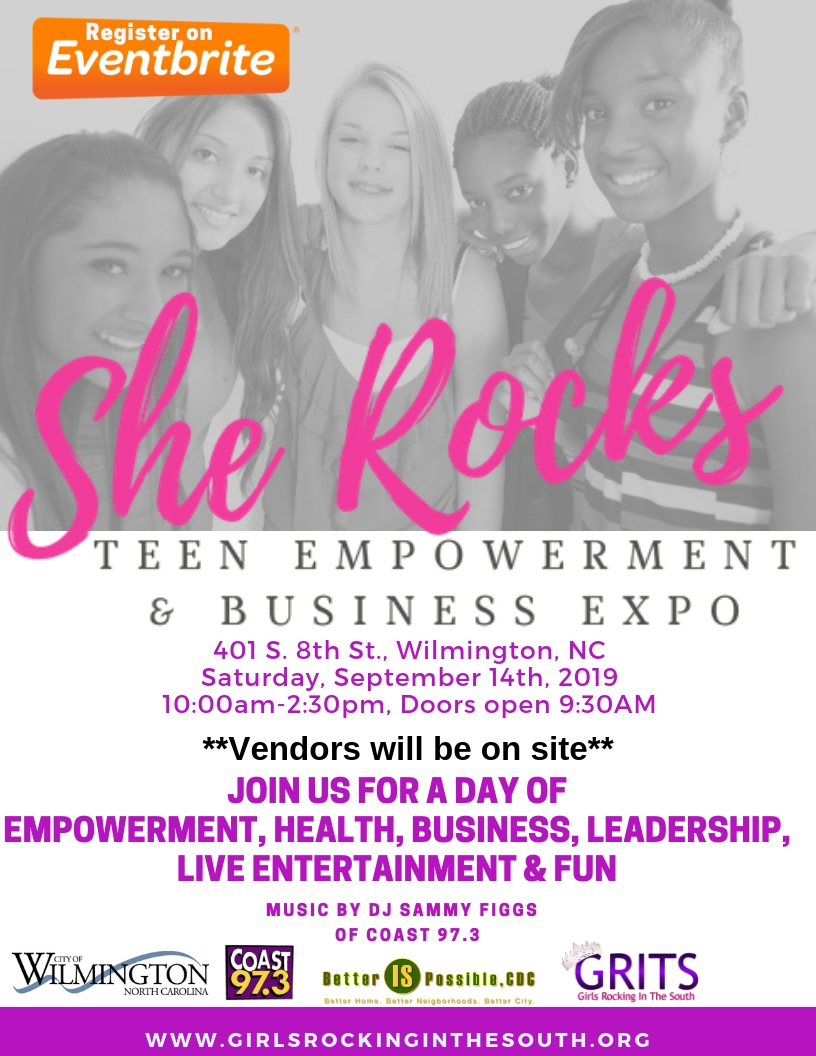 -------------------------------------------------------------------------------------
Agenda
9:30am-10:30am
Arrival of the Queens on the Purple Carpet (pictures with the queens and your friends)
Registration
Vendor Exhibition(Shopping)
Live Makeup demonstrations (Dillards)
Door Prizes
DJ Sammy Figgs from Coast 97.3
Hosted by: Jessica Franks & Amari Poindexter
10:30am-12:00pm Speakers (all 5-10 minutes in length)
"Stepping Out Of Your Comfort Zone"- Kaiya Sidberry
"Mindset on Fire"- Dr. Felice Carlton, DNP, RN, FNP-C
"Maintaining Healthy & Beautiful Lashes"- Shecoria Smith
"Addressing The Trauma In Your Drama"- Franchon Francees, Licenced Professional Counselor, Certified Trauma Practitioner, Founder of Healing Your Almond
"Entrepreneurs With Financial Cents"- Aquinetta Beatty, YWCA New Choices Director
Concurrent Session for Parents and Adult Mentors
10:30-11:30am- Parent Workshop held in separate room by Education Inside Out, Inc www.eduinsideout.org
Keynote Speaker 11:30am-12:00pm Ursula Douglas, Family Nurse Practitioner, OWN TV Reality Show
LUNCH- Live Entertainment (Miss Avaree Bell and more)
12:30pm- Mixxed Fit Dance- Tiara Grady, Mixxed Fit Instructor, Owner of Custom 2 Fit U
1:00pm-2:15pm- She Rocks Power Panel- A group of powerful women uniting to uplift, educate, and provide support for your teen girls.
Teens are encouraged to ask anything they desire so they can get the support they need. A Power panel question box will be available to submit questions anonymously as well during the event. Parents attending are highly advised to allow teens to fully express themselves to the panelists. This segment is strictly about empowerment and support for your teen girls.

Panelists:
Ursula Douglas, Family Nurse Practitioner & OWN tv Reality show "To Have And To Hold Charlotte"
Annabelle Townsend, Teenpreneur- Color Street Nails
Erika Jones, Attorney at North Carolina State Assistant Attorney General
Monique Robinson, Meteorologist at WWAY TV 3
Dr. LaChawn Smith, Deputy Superintendent for New Hanover County Schools
April Scott, Director, Small Business Center at Brunswick Community College

Kaiya Sidberry, Vice President at Girls Rocking in the South (GRITS), GLOW Academy Student
2:30PM- Wrap Up