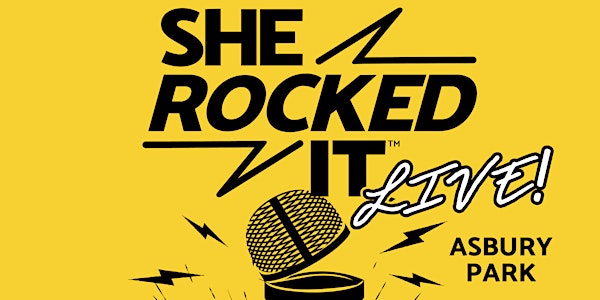 She Rocked It LIVE! in Asbury Park
An empowering panel discussion with trailblazing creative women + an electrifying rock concert with Mamadrama
When and where
Location
Danny Clinch Photography at The Transparent Clinch Gallery 210 Fifth Avenue Asbury Park, NJ 07712
About this event
PLEASE NOTE: Space is limited and is available on a first come first serve basis, so please arrive early. Please register here to be added to the She Rocked It guest list, and we will do our best to accomodate you. Registration may not guarantee admission.
She Rocked It, a media and mentorship platform for creative, courageous women, is proud to present a live event in Asbury Park, New Jersey, in partnership with the Transparent Clinch Gallery, which features work by the famed rock photographer Danny Clinch. Taking place on Saturday, August 6, the event will feature an inspiring and informative panel discussion (2:30 pm) with trailblazing women creatives and entrepreneurs, followed by an electrifying rock concert (4 pm) by MAMADRAMA, a NJ-based band fronted by all moms who rock by night and roll (with 11 kids) by day. Join us for an electrifying afternoon of learning, sharing, networking, and music! The event is free and open to the public. A culturally and musically vibrant beach town, Asbury Park is a perfect destination for this event.
The panel discussion (2:30-3:30 pm) is a special opportunity to hear behind-the-scenes stories and secrets from trailblazing women, such as tips for rocking it as a creative entrepreneur; overcoming misconceptions about women's business acumen (held by mentors, prospective investors, or even staff and customers); building confidence, finding mentors, and the importance of a supportive network of women. After the panel discussion moderated by She Rocked It founder/host Karen Gross, attendees will be able to ask questions of the panel.
Panelists include:
- Dani Boglivi-Fiori, celebrity cookie artist and Emmy Award-winning set and prop stylist; owner of Sweet Dani B Cookie Kitchen & Petite Party Studio in Asbury Park
- Dr. Robin Smith, #1 New York Times bestselling author, in-demand media personality, and mental health champion
- Tina Kerekes, artist, designer, and visionary Manager/Curator of the Transparent Clinch Gallery in Asbury Park NJ, home of famed rock photographer Danny Clinch
- Beth Herbruck, Lead singer of MAMADRAMA and Founder of Good Folk Supper Club, and an event planner, designer, and producer for over 15 years
- Mona Kayhan, co-founder and co-owner of The Bridge Studio, Brooklyn's rare "big room" recording studio and premier content production hub which has recorded artists from The Lumineers to Jason Moran and been featured in productions on HBO, BBC and Netflix to name a few.
- Sonia De Los Santos, Mexican-American singer-songwriter, recording artist and Latin Grammy Nominee. Founder of Golondrina, a boutique production company specialized in culturally relevant music and storytelling for children and their families.
- (Emcee) Karen Gross, celebrated entertainer, communications consultant, creative entrepreneur of nearly a decade, and the founder/host of She Rocked It, a media and mentorship platform for creative, courageous women.
The concert (4 pm) will feature:
Formed in 2015, MAMADRAMA is a NJ-based band fronted by all moms who rock by night and roll (with 11 kids) by day. Fresh out of the studio recording their second single, "Easy Target," the song addresses the concerns of women's inequality with lyrics such as, "I wanna make a declaration. 200 years to change this nation. One step forward, two steps back. Always picking up the slack…I'm an Easy Target." What's more punk than a kickass mom band?! These mamas dreamed of something more than the endless mom grind. MAMADRAMA released their first single titled, "MILF" on May 8, 2020 available on all major platforms. Lyrics get to the root of how life is just beginning after kids and you can have (and want) more: "No more dull and dead-end life, no more tired and empty wife, no more laundry, no more chores, I can't take it anymore…M-I-L-F…Moms In Leather Forever!" MAMADRAMA band members are: Beth Herbruck (vocals); Renee Dorski (bass); Carey Balogh (lead guitar); Kim Grigoli (keys); Lauren Riley (rhythm guitar); and Brendan Neville (drums).
Location:
Transparent Clinch Gallery, 210 Fifth Ave, Asbury Park, NJ 07712