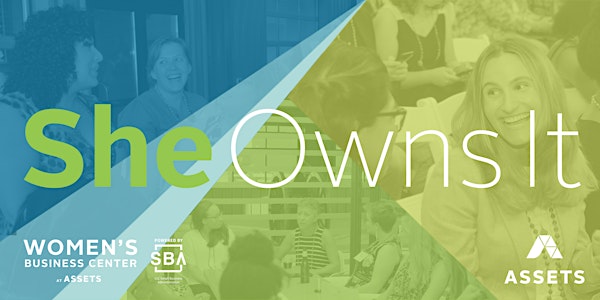 She Owns It Forum 2022
ASSETS is excited to reintroduce you to one of Lancaster's staple events for women-owned businesses and female entrepreneurs and leaders.
When and where
Location
Southern Market Center 100 South Queen Street Lancaster, PA 17603
About this event
On behalf of ASSETS and the Women's Business Center, you're invited to She Owns It 2022. After three years, this event is back, and #HereToStay! Join us in celebrating women's empowerment and female entrepreneurship on Tuesday, October 11th, 2022 from 5:30-8:00 PM at Southern Market.
She Owns It is a forum that convenes female entrepreneurs and leaders to build a stronger community of support and enhance the entrepreneurship ecosystem in Lancaster. Not just a slogan, She Owns It is a call to create community with fellow entrepreneurs and leaders, share innovative ideas and solutions, discover ways to shift the needle in building an equitable community, and celebrate female entrepreneurship as the means to create social and economic change.
Connect and network with other powerhouse women during this event and build lasting connections with entrepreneurs, community leaders, and business resource providers. In the spirit of this year's theme, #HereToStay, change and well-being expert, Tiffany Lanier, will give a keynote presentation on how to "Own Your Shift" and will inspire you to turn your season of change into your season of possibility. She will lead you on a journey of rediscovery and redefining the next season of your professional leadership and business in order to achieve the change you want to see and accomplish, as well as sustain the impact that you want to make in our community. Learn from three past Great Social Enterprise finalists, Chelsea Christmas, owner of At Her Core Fitness, Champagne Domingo, owner of Uni-Vision Childcare, and Whitney Lupton, owner of TCP Network as they share their entrepreneurial journeys during the evening's panel discussion, and more! Lastly, enjoy a complimentary beverage and catered food provided by Southern Market Food Hall vendors.
The world is changing. Lancaster is changing. The face of small businesses is changing. One thing is evident—female entrepreneurship is #HereToStay, small business is #HereToStay, and Lancaster is #HereToStay. Let's make this comeback of She Owns It memorable and celebrate female entrepreneurs and leaders like yourself, your growth, your resiliency, and your innovation!
TICKET INFORMATION:
A complimentary beverage and catered food provided by Southern Market Food Hall vendors included in all tickets
Early Bird - $25: (On sale now - Sept 26th)
General Admission - $35: (On sale Sept 27th - Oct 11th)