Description
Even if you aren't in a team, come along and watch the competition!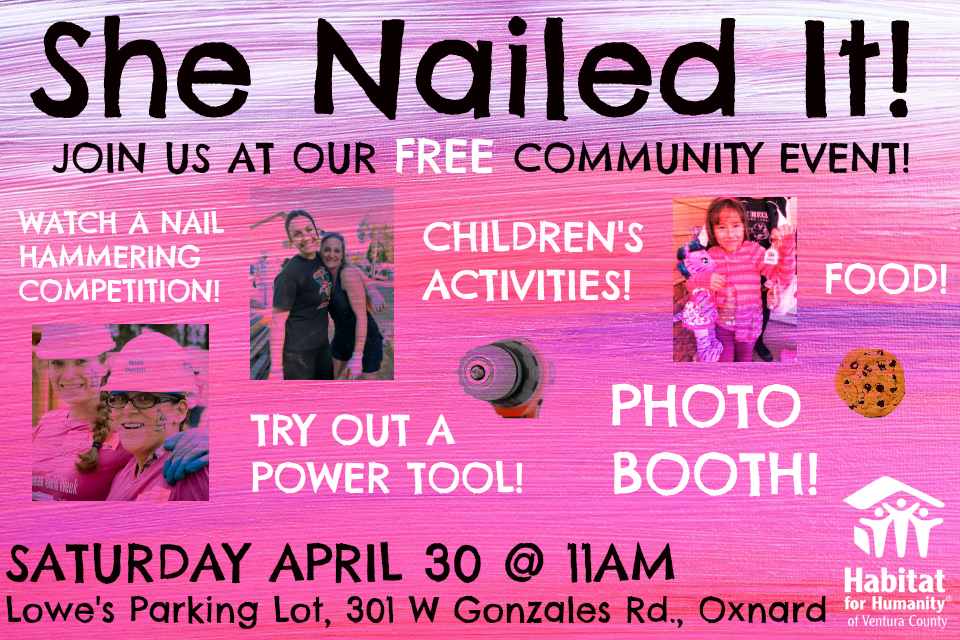 Habitat for Humanity of Ventura County is pleased to announce our first ever She Nailed It! competition.
Go to www.habitatventura.org/shenailedit for details!
Teams of four will compete to see who can hammer home the cause! Each team member is tasked with hammering a nail as quickly as possible into a 2×4 wooden stud, and the team to hammer their nails the fastest will be named the 2016 She Nailed It! Champions.
Team registration is NOW OPEN. Each nail hammerer raises $250 in donations from friends and family, and all donations benefit a Trinity Lane home for a hardworking, low-income family. The 2016 Champions will be awarded Golden Hammer Awards. Additionally, Habitat will present an award to the top individual fundraiser and the top team fundraiser.
Gather your co-workers, family members, church group, and join us this year to support affordable homeownership through our Women Build Initiative in Ventura County. She Nailed It! features an exciting ladies-only nail hammering competition, where teams of four will compete to see who can hammer home the cause!
Each team will receive:
- 4 She Nailed It! t-shirts (one each)
- a 2x4 per team to decorate
- All tools needed on the day (hammer, nails, nail belt)
- Free refreshments and coffee at the event
- The chance to win a Golden Hammer Award and be the She Nailed It! Champions. Winners get free tickets to our Women Build Day on May 7th.