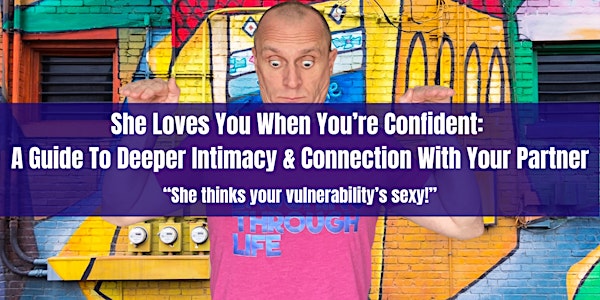 She Loves You When You're Confident - Destin
Do you struggle with confidence? Lacking the Intimacy & connection you desire? This workshop will create unshakable confidence & passion!
Date and time
Tuesday, March 28 · 1 - 2pm CDT
Location
Destin Virtual via Zoom Destin, FL 32540
About this event
Have you ever wanted more from your relationship? Do you find yourself realizing you aren't opening up to your partner as much as you wish you could? Does it feel like there is a disconnect between you and your partner? Does your communication with your partner feel like a constant struggle? Do you find that you often lose yourself in your relationships? Do you find it difficult to fully be and express yourself with your partner? Do you struggle with confidence in your relationships?
My free 60-minute workshop will help you see what's holding you back from being more vulnerable and confident in your relationship, and what to do to open up more to create the confidence to lead her and turn her on with your strength and vulnerability, which will ultimately build a deeper connection with her.
You will experience an intuitive energy healing with me that will begin releasing trapped emotions and energy holding you back from confidently showing up in your relationships.
We will also be going through a magical inner child healing meditation to help release what has been holding you back from deeper intimacy with your partner.
I look forward to seeing you at the workshop!
About the organizer
Tony Fonte is an intuitive energy healer and reader, spiritual guide, an entrepreneur, and the title he is most proud of, Dad.
He is passionate about helping men break their generational shells so that they can create healthy, conscious, relationships with unshakeable confidence & passion. Through his own healing journey, he passionately shares his stories and experiences to lead other men to create the relationships they desire.
Tony's spiritual gifts allow him to connect with Angels and Spirit Guides to communicate messages to his clients so they can heal and let go of what is holding them back from being more confident in their relationships, being and expressing themselves fully, and creating deeper intimacy & connection with their partner. These gifts also enable Tony to connect with the energy of others and know where they are storing their pain, so he can guide them in releasing or transmuting that "stuck energy."
His unique gift is using the frequency of laughter to make the healing process a little lighter. He believes that healing doesn't have to be so heavy all the damn time!