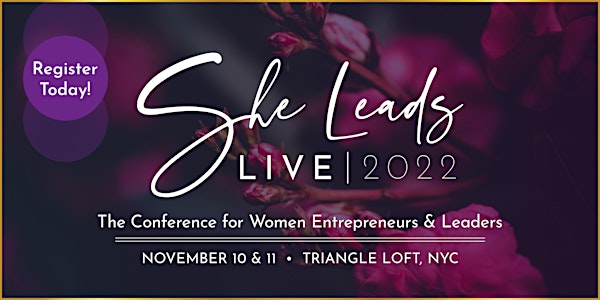 She Leads LIVE 2022
She Leads LIVE will bring bold women leaders & entrepreneurs together in person at this empowering and inspirational conference in NYC.
When and where
Location
Triangle Loft 675 Hudson Street #Fl. 5 New York, NY 10014
About this event
SHE LEADS LIVE 2022: Exploring New Models of Business & Leadership
She Leads LIVE is the conference for powerful, driven women entrepreneurs who...
WANT A DIFFERENT EXPERIENCE, ARE COMMITTED TO LEARNING, SHARING AND GROWING AND TO CREATING THE LIVES AND BUSINESSES THEY DESIRE.
GREAT NEWS!!! We are back LIVE and IN-PERSON!
First, join us on November 10th for an incredible evening of networking at our She Leads VIP Evening, hosted by Interior Marketing Group and featuring celebrity interior designer, Cheryl Eisen. You'll be welcomed into one of NYC's most luxurious 5K+ square foot penthouse apartment spaces where you'll be inspired to learn, grow and share!
As well , the day-long She Leads conference on November 11th, will be held at Triangle Loft - 675 Hudson Street in NYC's vibrant and creative Meatpacking District. I invite you to step inside this unique and creative space and picture yourself here - with gallery paintings, open ceilings and NYC pulsing energy below.
At She Leads 2022, you'll be treated to incredible content, expert speakers, interactive panels, Pitch the Media, sponsored by Mindie Barnett of MB and Associates PR, an all-women owned business vendor showcase sponsored by Bowery Boost, and so much more!
Get:
INSIGHT FROM EXPERTS - Listen to industry experts share their stories of challenges and opportunities, success and failure - all designed to inspire and offer you deep insight and super-practical, actionable advice.
Experience:
POWER OF NETWORKING - Share your story, connect with someone new, spark a relationship with other attendees and speakers - all on a personal level - to build your ideal network of relationships and business connections.
Dive in to:
PITCH THE MEDIA , Sponsored by Mindie Barnett - MB and Associates Public Relations - Learn what it takes to effectively pitch your business or your expertise to the media. Get direct feedback from an esteemed panel of journalists and PR pros who can help you to get yourself out there!
"The Great Resignation" was a wake up call for all of us - businesses and employees alike.
The COVID-19 pandemic forced women everywhere to adjust their lives to care for family members and homeschool children, offering little room to excel in their careers and, often, no choice but to resign.
At She Leads Media, we firmly believe that entrepreneurship is the vehicle for radical change to existing corporate structures that are not designed to support women's professional aspirations, nor take into consideration the reality of a woman's life....
Therefore, we must face the entrepreneurial challenge with a greater awareness about the types of businesses we are creating.....and what value we consciously desire to bring to our communities, our customers and our employees.
Droves of women have made the choice to leave the 'traditional' workforce behind.
Wonder Why?
Because the structure of business today does NOT support women who are taking care of families, raising children, or who simply need a more flexible schedule to live their lives…
We believe that entrepreneurship can unlock the answers and is the conduit for change. With this revised perspective, how do we develop new models of business that support, rather than suppress, women?
THESE are the questions we will be exploring at She Leads 2022.
Join us and lend your insights, opinions and voices to this critically important conversation.
Hear from experts like:
Adrienne Garland, CEO She Leads Media
Cheryl Eisen, President Interior Marketing Group (IMG)
Fulya Uygun, Co-Founder & CEO - Bowery Boost
Jennifer Dawn, CEO Jennifer Dawn Consulting & The Best Planner Ever
Tonya Mollineau, Founder & CEO MOM Film Fest
Paulina Lopez, CEO Business of WE
Beth Lauren, Founder Well Tech World Summit
Rev. Barbara Ann Michaels, Founder House of Holy Humor
Kristin Marquet, CEO Marquet Media
Emily Hochman, CEO+ Co-Founder of Wellory
Ita Expoudom, Partner, GingerBread Capital
Mindie Barnett, Founder & CEO MB & Associates Public Relations
Alex Batdorf, Chief Get Sh!t Done Officer, @Get sh!t Done
Monae Everett, Celebrity Hairstylist & DEI Advocate
Marina Yusupova, Founder Pinaq Liquor
Ashita Shah-Bohra , Arunashi Inc.
Elaine Pofeldt, Independent journalist specializing in small business and entrepreneurship. Author, Tiny Business, Big Money and The Million-Dollar, One-Person Business
Jevonne Bowman-Bullock, CEO JAB NYC
Maria Verna, Senior Product Manager of Biz2Credit & Biz2X
Jen Oliva, CEO Jen Oliva Media
Susan Diamond, Founder Herfinance Club