She Is and I am She Summer Spectacular Women's Networking Gathering

Saturday, July 13, 2019 from 10:00 AM to 12:30 PM (PDT)
Event Details
We're at it again - Inspiring you to live your best life ever. 
Spec.tac.u.lar  - Beautiful in an eye catching way
Have you been rejected? Do you want to increase your confidence. Do you need a good laugh, a time of refreshing, and a community of sisters who will accept you for who you are? Are you looking for a safe place to simply be you?
If so,
Mark your calendar for Saturday, July 13 starting at 10:00a pdt for "She Is Spectacular and I am She" Women's Gathering. A safe place for Women 21 and over
We are pulling out all the stops for this one and we are doing so because we want to see you live a spectacular and successful life. 
Our doors open at 9:55a for the experience you have been wanting, needing, and waiting for.  The first 5 ladies in attendance receives 2 free raffle tickets for our amazing give-away
That was all good news and the best news is - this awesome gathering designed with you in mind is absolutely budget friendly and during a perfect time of day.  Remember to invite your friends to join us.  The even greater news is you will be surround with women, just like you, who are ready to punch fear in the face and live their best life ever! 
We are absolutely honored and thrilled to life that you are preparing to reserve your seat as our VIP guest.  We look forward to seeing you soon.
Thank you again for being the most valuable part of The Worldwide Women Speakers.  You are amazing!
RJ Jackson and the She Is and I am She Dream Team
If not... Why not.....Join now.  
FOR ONLY $19.97 a year. This is a

LIMITED TIME

Offer. Regular Investment - $99.97  Valued at over $1,995.97
The first 5 (five) women to join will receive an Autographed Book for FREE.

$20.00 value
Your Exclusive Membership Benefits Include:
*Unlimited Encouragement Via Facebook Community - Priceless
*Exclusive Weekly Video Inspiration from RJ Jackson - Value $1040.00
* Quarterly Purpose and Prayer Call Access - Value $1040.00
* First Hand Sneak Peaks and In the Know Announcements
* $5.00 off a future event   of $20 or more
* Much Much More!
What She Is Saying about the She Is and I am She Community
Yes my heart is full!  Awesome gathering!  You ladies were not only transparent but real!  It was like I was in the room with sisters who knew what  my life was Like!  I could relate to every story, except it was my engagement that ending but God!  It is my season!!!
Thanks for your sharing and caring!!!
Blandine. "Deana" Williams 
*******************************
Great and inspiring!
Cheryl Y. Howard 
Author of Get Your Life Back 
*******************************
Thank you to all the Women on the panel for your strength knowledge and encouragement.
Gloria Thomas
*
******************************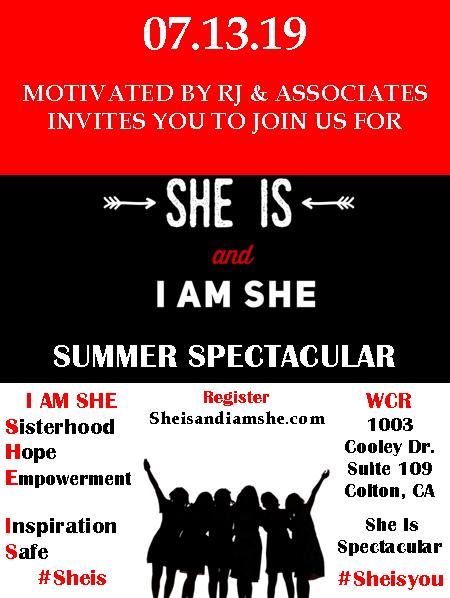 When & Where

Inland Empires Women Business Center
1003 East Cooley Drive Suite 119
Colton, CA 92324


Saturday, July 13, 2019 from 10:00 AM to 12:30 PM (PDT)
Add to my calendar
Organizer
About RJ

  Confidence Influencer, International Speaker and Author
RJ Jackson cannot be described nor defined. Instead, she must be experienced. She's known for her unique gift of encouragement, high level of energy, contagious humor, and passion for people. Holding nothing back when sharing real-life stories of courage, determination, and leadership, RJ delivers a tell-it-like-it-is message which captivates any audience.

Millions have been "Motivated by RJ." The passion that is behind her extraordinary affect on people is not found just in what she enables them to learn, but in what she makes them feel. RJ is a storyteller extraordinaire, comfortable with audiences of any size. She shares with audiences of children at risk to government officials with the same passion and compassion. As an International Speaker, Accountability Coach, Radio Host, and Author of "A Cup of Courage for Your Crisis," The Courage Giver has encouraged the hearts of people across the globe including Virgin Islands, Bermuda, Jamaica, Africa, Cambodia, and Thailand.

A moment with RJ whether it is a keynote address, a workshop, or personal coaching session, is a life-changing lesson that will alter your attitude, provide you with fuel to fight your fears, heighten your hope, and leave you determined to conquer your circumstances with courage.

Recognized for her innate ability to empower others to lead, train, and win and her spirit of excellence, RJ has been awarded numerous awards including, Visionary of the Year, Visionary of the Year , Phenomenal Woman of the Year, Living History Maker in Education , Inland Empire Leaders of Distinction , and The University of Riverside Women Who Make a Difference award. She has also received the highest ranking coins possible from the Fort Irwin National Training Center. The Buffalo New York City Council documented RJ's achievements and declared June 24th as RJ Jackson Day.
#comefindyourcrown #aqueenfitfortheking #thecouragegiver #visionhastwoeyes #lifeafterlife #acupofcourage