About this Event
Lost Lake Presents:
She Got The Funk: An Evening with Denver's Women of Funk & Soul ft. The Pamlico Sound + More!
Saturday Feb 2, 2019
Doors: 8:00 PM
Show: 9:00 PM
21 and over
$10 - $15
Lost Lake
3602 E. Colfax Ave.
Denver, CO
All sales are final. Review your order carefully, there are no refunds for any reason. No tickets are mailed to you, your name will be on the will call list night of show. Night of show (1) bring a valid government issued ID and (2) be able to show ticket confirmation at the door.
_____________________________________________________________________________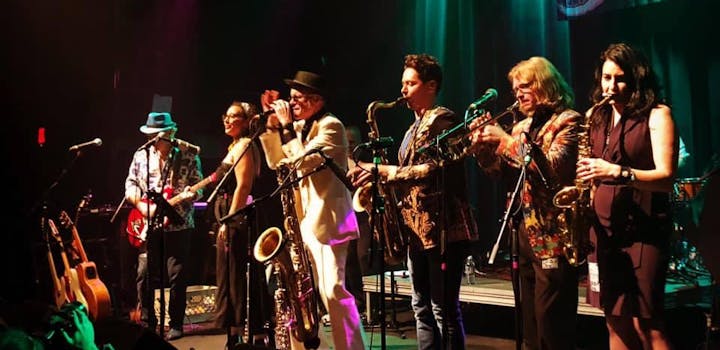 The Pamlico Sound play original, authentic, high-energy big band funk in an updated reading of the classic styles of greats like Sly and the Family Stone and Parliament Funkadelic. The interweaving lead vocals of Ghana Queen (LaSha Afarko) and the Reverend EverReady (Will Baumgartner) are laid over a hard-grooving rhythm section and ornamented by the notorious Soul Shouters Horns (Baumgartner, Maus Nomdeguerre, Paul Stadler, and a rotating cast of trumpeters and trombonists including Alice Hansen, Matt Wilkolak, Mark Wilkolak, and Thom Holum). With lyrics reminiscent of the intelligence, humor and social consciousness of their legendary influences and a relentlessly upbeat drive to their musical arrangements, the group lifts listeners' spirits into a rarefied atmosphere.
Based in Boulder Colorado, TPS have been driving fans onto the dance floor and happily out of their minds for a half-decade, and show no intention of slowing down. In late 2016, the band released the album Jive Church, which has been getting airplay on local stations such as KGNU and The Colorado Sound, and is available through all major online outlets including iTunes, SoundCloud, and Spotify. Exciting videos can be found on their YouTube channel. In the past year, TPS shared shows with top local and national/international acts, won the 2016 Bolder Boulder Battle of the Bands, and performed live on the radio at KGNU, KBCO and Radio 1190. Since the beginning they've received enthusiastic press from The Marquee, Westword, Colorado Daily, Colorado Music Buzz, BolderBeat, and more.
In just a few years of existence, TPS have played many times at Boulder's Fox Theatre and top-rated Denver venues Cervantes and Ophelia's, along with the Boulder Theater, the Bluebird and Oriental theaters, the Spread the Word Festival, and Upslope Getdown. They've been a notorious party band as well, playing huge parties all over Colorado's Front Range.
The Pamlico Sound have shared shows with: Orgone; Seun Kuti & Egypt 80; Roosevelt Collier; The Magic Beans; Kung Fu; Sunsquabi; Euforquestra; Analog Son; Whitewater Ramble; Rowdy Shadehouse; Atomga; Technicolor Tone Factory; Jaden Carlson; Lady and the Gentlemen; Envy Alo; and many more.
As stated in Marquee Magazine, "TPS bring the funk wherever they perform. Experiencing their unavoidable dance scene firsthand is a must." Colorado Music Buzz said "The audience is in an engorged feeding frenzy." And as the Reverend EverReady says in their audience-interactive "Jive Church" theatrical experience, "The Funk Will Set You Free!"
(9 Piece All Women Funk Band)
Bass- Ashley Lauren (The Snuggles)
Drums- Alana Dym (Coal Town Reunion)
Percussion- Brooke Rosener (Hyona Hill)
Keys/vocals- Jessica Holloway (Jubilingo)
Keys/vocals- Jami McNeil (Dylan Kishner Band)
Guitar- Rachel Francis
Sax- Sarah Mount (Sassfactory/Sarah Mount and The Rushmores)
Vocals- Jenny-Beth Hope Dills
Vocals- Emily Clark (Emily Clark and The Passing Fancy)
featuring Jessica Holloway (Jubilingo) and Jessica Jones (The Hang)