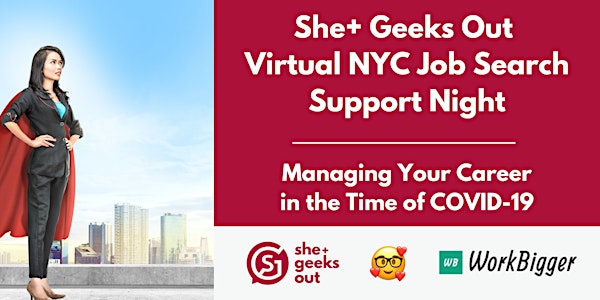 She+ Geeks Out Virtual NYC Job Search Support Night
Join us for a special virtual evening of networking with your fellow New Yorkers in small groups, including a special presentation!
About this event
New York City has been hit particularly hard both with both public health and economic crises. We're creating this special event for New Yorkers to come together and share your experiences and wisdom, learn a few things, and make some meaningful connections.
Join us for a special virtual evening of networking with your fellow New Yorkers in small groups, including a special presentation by Belma McCaffrey, the CEO and Founder of Work Bigger!
With the recent events on COVID-19, we're experiencing new levels of uncertainty. We're already seeing the economic impact of this pandemic and it's just the beginning. Changes that may happen include hiring freezes due to the negative financial impact many businesses are experiencing. Furthermore, social functions are suspended impacting your ability to network and make connections.
If you're in the midst of a job search, you may be feeling some extra anxiety – especially if you have a sense of urgency to get a new job right now. Maybe you're in between jobs and need a salary to pay the bills, or maybe your work situation is just not working out for whatever reason.
In this talk, Belma will cover:
How to identify your core mission and personal goals
How to cultivate a mindset of possibility to open doors to new opportunities
Networking strategies that work in this unprecedented time
How is this going to work?
This will NOT be a Zoom meeting (yay!)... you'll be able to network in small groups of up to six people per table prior to and after the webinar. You get to choose where you 'sit' and there will be lots of pre-created topics that will be work and fun-related (furbaby and humanbaby pictures, book ideas, TV show obsessions, all welcome here).
During the webinar, you'll also be able to ask Belma questions and there will be an ability to upvote questions! You'll get all the info on how to access the platform ahead of time and below is a screenshot of what you can expect it to look like when you're in and virtually talking with people!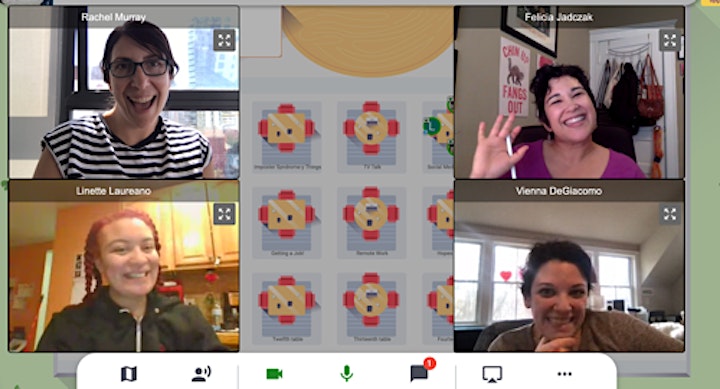 About Belma
Belma McCaffrey is the CEO and Founder of Work Bigger, a career coaching platform helping individuals do work they love that makes a difference in the world without burning out. Work Bigger offers career coaching and community via a group coaching membership, private coaching and leading trainings at organizations in the media, finance, tech and luxury-retail space.
Belma's passion for career coaching was born out of her personal struggles with finding work she loves that makes a difference without burning out. She's trained as a coach with the NeuroLeadership Institute and integrates neuroscience into her trainings.
Prior to Work Bigger, she spent 10+ years in business development and strategy roles at global media organizations, such as the Associated Press, Conde Nast and GroupM.
Learn more about Work Bigger here: https://www.workbigger.co/
This event is a womxn-focused event that intends an inclusive definition of womxn. We are welcoming and respectful of womxn, including trans womxn and those who are nonbinary, gender non-conforming, and anyone who identifies as a womxn in a way that is significant to them. We also welcome allies who are committed to creating environments that are supportive of people who are typically underrepresented in the workplace and beyond.
Please make sure to read our code of conduct before coming to our event!