Description
We're partnering with twelve brilliant career coaches to help you out! Whether you're looking for a new job, a career change, promotion, or just dealing with the stresses of your existing job, you'll have the opportunity to talk through it all with professionals who can help.
You'll be able to talk in small groups with one career coach. Each table will be focused on a particular theme. Conversations won't be completely 1:1, though you're welcome to connect with coaches after the event! We'll also include some webinars throughout the day, on a variety of relevant topics. See the schedule and coach info below!
This event is a woman-focused event that intends an inclusive definition of women. We are welcoming and respectful of women, including trans women and those who are nonbinary, gender non-conforming, and anyone who identifies as a woman in a way that is significant to them. We also welcome allies who are committed to creating environments that are supportive of people who are typically underrepresented in the workplace and beyond.
Please make sure to read our Code of Conduct before coming to our event!
Agenda (note event times are listed in EST)
12pm – 1pm – Webinar: Strategies for Negotiating a Raise, Promotion, or Salary
1pm – 2pm – Small group coaching on promotions, managing people, and negotiation
2pm – 3pm – Webinar: Job Search Do's and Don'ts
3pm – 4pm – Small group coaching on resume best practices, interview coaching, career change, returning to work, and job searching
4pm – 5pm – Webinar: LinkedIn Best Practices
5pm – 6pm – Small group coaching on networking, mindfulness/self-care, and honing your personal brand
---
Meet your coaches!
Amy Ames, Ames Coaching & Consulting – Amy Ames is an independent Professional Development Coach and Consultant who is passionate about aligning people with the careers and projects that they were born for. In one on one coaching sessions, group workshops and up to date programming, she creates the space for individuals and organizations to re-align value systems with goals and uncover the obstacles to growth. Amy brings 15 years of combined professional leadership coaching, consulting, training and programming to her clients. She ran a start-up non-profit for 10 years that connected women to opportunities to grow in consciousness through mindfulness programs and philanthropic care for their communities. She teaches career readiness at Brown University and Bryant University and offers college students career and leadership coaching and training, Her clients range from middle management professionals and emerging managers looking to expand their range, transitioning mothers re-entering the workforce and college students charting new career paths.

Carolyn Birsky, Owner and Certified Life & Career Coach, Compass Maven – Carolyn Birsky is a Certified Life & Career Coach and the owner of Compass Maven, a company that helps women in their 20s + early 30s gain the clarity and confidence they need to get unstuck and turn the lives and careers of their dreams into reality. A born connector, Carolyn is also constantly exploring ways to help others connect with one another workshops, events, dinners, and virtual meetups. She holds a BA in Psychology from Middlebury College and a CPC from iPEC (the Institute for Professional Excellence in Coaching). She has been featured in publications such as Fast Company, Well + Good, The Muse, Monster, and FlexJobs.
Devon Grilly, Lead Coach, Rock the Pivot – Devon Grilly is the founder and lead coach of Rock the Pivot, where she helps women in tech rock their mid-career pivot with clarity, purpose, and confidence. Devon is an ACC certified coach with the International Coaching Federation, and has a master's in bioengineering from UC San Diego. She has a unique blend of emotional intelligence, intuition, and grounded problem-solving due to her background as both an engineer and educator. Devon brings mindfulness practices into her leadership and transition coaching as well as goal-setting techniques which helps her to turn even the most stressful pivot into a burnout-free experience.
Emma B-F, Business Development Manager, KELL Partners – Emma is a nonprofit leader turned tech advocate who is committed to creating compassionate and effective leadership in tech. She brings love, energy, and power to her online and in-person trainings focusing on emotional intelligence, leadership, and assertive communication. She loves being out in the woods and having random dance parties.
Erica Mattison, MPA, JD – Inspired by her parents' decades of work as urban park advocates in her hometown of Brookline, MA, Erica identifies as a lifelong community activist who identifies and acts upon opportunities. She has 20 years combined experience in strategy development, communications, public policy advocacy, community organizing, and mentoring. Professionally, she is an Assistant Director at Boston University, where she leads communications for BU Sustainability. Erica launched her career coaching practice in 2014 and has assisted dozens of mission-driven individuals to gain clarity and take chances to create purpose-filled lives. As a civic leader, Erica serves as the Board Chair of MassBike and a board member of her local Main Streets organization. Erica earned a bachelor's degree in psychology from the University of Massachusetts Amherst, a Masters in Public Administration from Suffolk University, and a Juris Doctor from Suffolk University Law School. Erica is a member of the Massachusetts Bar and Career Counselors' Consortium Northeast.
Ginny Cheng, Director of Recruiting (Technology, Business, Revenue), Zillow & Career Coach, Career Contessa – Ginny is a recruitment leader with 15 years of experience in Global Technology, University and M&A recruiting. Prior to Zillow, she worked at Facebook HQ and London and Microsoft in Seattle.. She is also a career and leadership coach with a passion in supporting womxn's career journey and successfully pivoted twice in her own path from PR and Product Marketing. As an avid traveler, she is a global professional and has worked in Asia and Europe.Ginny is an advocate for equity & belonging and is a connector at heart.
Gulafroz Dailey, Career Coach, OutCo – Gulafroz is a Career Coach at OutCo with ten years of extensive background in human resources, counseling, and operations with different humanitarian organizations including UNESCO. Gulafroz has a bachelor's degree in Business Administration and earned her Master's degree in International Education from Florida International University as a Fulbright Scholar. Gulafroz brings mindfulness and best education practices to the table as a Coach.
Jenn Walker Wall, M.A., Founder and Career Strategist, Work Wonders Careers – Jenn Walker Wall is the founder of Work Wonders Careers where she's helped hundreds of people land new jobs and thrive at work. She's also co-host of the Making Life Work Podcast. Previously, she worked at the Sloan School of Management at MIT as well as Harvard University and Massachusetts General Hospital, and is currently an Adjunct Instructor of Sociology at Lesley University.
Lacey Cope, Coaching & Development Domain Lead at Insight Data Science – Lacey has coached over 600 job-seekers transitioning to data roles in the tech industry in knowing their value, owning their worth, and thriving once they land their next gig. As a certified life coach, she takes an integrative and pragmatic approach, connecting people with self-reflective tools and concrete strategies. When not delving into all things personal and professional growth, you can find her dancing to Balkan folk music in the SF Bay Area and beyond!
Noelle Johnson, Career Coach, NexGenT – Noelle Johnson has coached career transitioners all over the country to find great jobs, establish their personal brand and leverage LinkedIn for their career needs. Noelle has written for PowerToFly, InHerSight, Cameron Diaz' Our Body Book and has been quoted in Forbes, Fast Company and Glassdoor. Prior to starting her coaching career, Noelle had over a decade of experience working in operations for corporations and tech nonprofits that supported companies like Microsoft, Facebook, and Google. She speaks on a multitude of topics including personal branding, networking, career development, self-advocacy, women in tech, and diversity and inclusion.
Shivani Berry, CEO & Career Coach, Ascend – Shivani is the CEO of Ascend which offers online leadership programs to empower womxn with the skills required to excel in their careers. She is a career coach and has helped womxn from top-tier companies such as LinkedIn, Pinterest, and Segment solve tough work problems and advance in their careers. Prior to founding Ascend, Shivani was a technology leader, with experience at fast-growing and established companies including PayPal, Intercom, GetYourGuide, and Credit Suisse. She has an MBA from Harvard Business School.
Tori Stevens, Career & Life Changer, Founder of evolYOUtion – Tori is a vibrant and answers-driven woman who exudes an enthusiastic passion to bring out the best in talent through leadership coaching and speaking. Tori graduated from Central Michigan University twice, including, a Bachelor in Communication and a Masters in Educational Leadership. She has developed a plethora of real-world experiences throughout 13 years where she has conducted over 12,000+ candidate interviews, hired 3,000+ individuals, and managed 2,000+ people within corporate and higher education. Tori founded evolYOUtion in 2018 to provide a leadership coaching platform which develops and honors individuals' learning styles, natural character traits, and backgrounds through interactive engagements, forward-thinking concepts, and attitude shifting tools to achieve greater human connection, personal fulfillment, and business relationships.
---
How is this going to work?
We'll be sending out a calendar invite to all attendees prior to the event. In that invite, you'll get a bunch of details on how the platform works. You won't need to download any software, but for the best experience, we recommend having a computer with camera and microphone ability.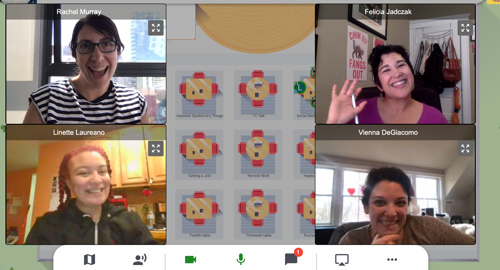 Organizer of She+ Geeks Out Virtual Career Coaching Event