Description
Join She+ Geeks Out and Brightcove on the interwebs for a special virtual happy hour! Expect wonderful company and fun conversation. We're looking forward to seeing you!
This event is a woman-focused event that intends an inclusive definition of women. We are welcoming and respectful of women, including trans women and those who are nonbinary, gender non-conforming, and anyone who identifies as a woman in a way that is significant to them. We also welcome allies who are committed to creating environments that are supportive of people who are typically underrepresented in the workplace and beyond.
Please make sure to read our Code of Conduct before coming to our event!
How is this going to work?
We'll be sending out a calendar invite to all attendees one week prior to the event. In that invite, you'll get a bunch of details on how it works, as well as a fun list of topics we'll pre-set for you (don't worry we'll leave some room for random on the fly conversations too, you can just consider these icebreakers!). You won't need to download any software, but for the best experience, we recommend having a computer with camera and microphone ability.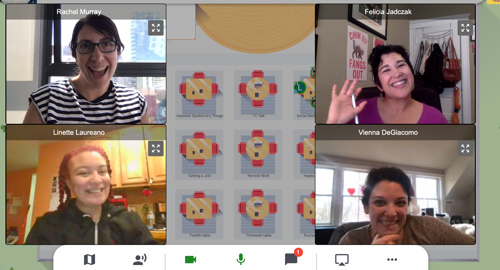 Thanks to Brightcove for sponsoring!