Description
Join Rebecca Obounou and Genevieve Angelique of #She_Builds Boston for our second #She_Builds networking and fireside chat at NU Kitchen cafe!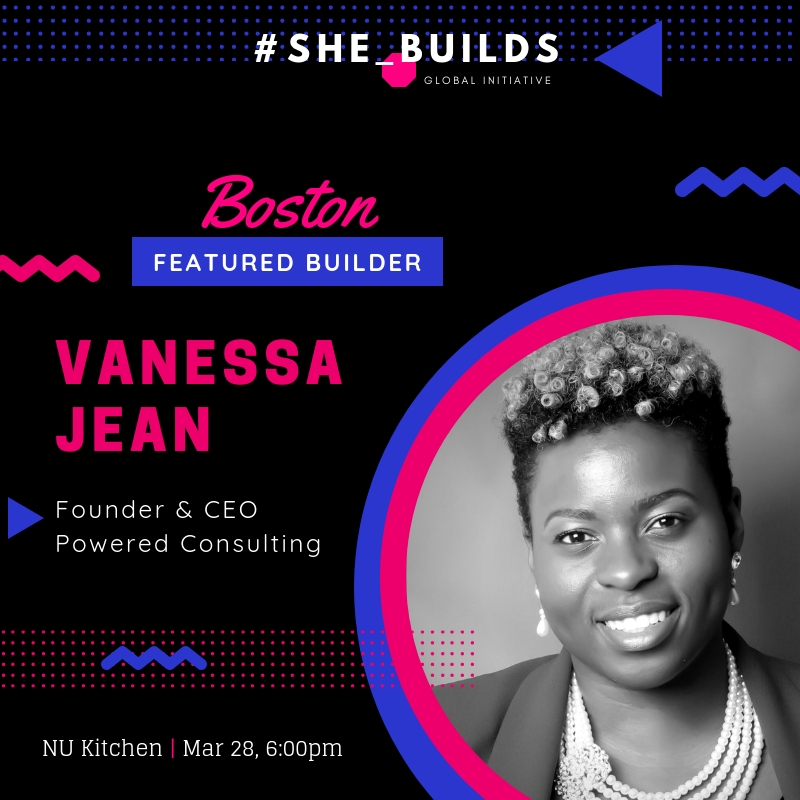 Our featured guest speaker is Vanessa Jean, Founder and CEO of Powered Consulting, where she transforms every client's edge into impact through targeted strategy, planning, and execution. Vanessa has an extensive background in organizational fundraising and in helping individuals and businesses leverage their resources to advance their business needs. In addition, Vanessa was a Peace, Democracy, and Development Public Policy Fellow for UMass Boston's McCormack Graduate School Center in Haiti, working at the Primature Republique d'Haiti. In this role, she planned, implemented, evaluated programs that sought to provide both immediate assistance and sustainable development initiatives in both the education and economic sector. Her work in Haiti, as well as in Puerto Rico, the Dominican Republic, South Africa and Swaziland have given her a unique perspective in understanding the importance of leadership development and capacity building in tackling social problems. Vanessa is a strong proponent for empowering local communities to make the most of their assets and meet the challenges they face to drive social change and stimulate economic benefits.
Join us as we connect with Vanessa Jean around her work and her thoughts to what we can all do to build a stronger Haitian economy and community locally and globally.
Space is limited so please be sure to RSVP! And of course, all are welcome to attend!


Event Location:
NU Kitchen // 195 Washington Street, Somerville, MA 02143


Transportation & Parking:
*The location is accessible by the #91 bus which you can connect to from either the Red Line (Central Sq.) or Orange Line (Sullivan Square). From either direction it is a short 10 minute ride.
*On street (metered) parking is available along Washington Street. You can even park in the public lot at the corner of Prospect Street and Somerville Ave.
***PLEASE DO NOT PARK IN THE PRIVATE LOT BEHIND THE BUILDING!***


Food & Drinks:
NU Kitchen offers a variety of fresh food and beverages to choose from including sandwiches, burgers, salads, super grains, smoothies and cocktails!