Description
Come early for our Potluck Supper at 6 :00 PM. Shawna's Songs start at 7:30.
(The way Shawna) interweaves her stories, songs and guitar playing is pure delight for the audience. She takes her music seriously, yet has a playful sense with the audience to engage them with her wonderful music.– Julia Phillips, Artistic Director, Blue Skies Music Festival
I met Shawna Caspi in North Carolina at South East Regional Folk Alliance (SERFA). I hosted a showcase where she knocked 'em dead! (actually ALIVE :) I've been looking forward to bringing her from Toronto to Stillwaters so YOU can meet her too!
We have hosted nearly 50 house concerts and Shawna Caspi is firmly placed in our top ten list of favourite artists. Her music and songwriting is outstanding, she shares her charming personality and infectious humour, and gives her audience a splendid musical journey and emotional experience.– Lynne & Ian Pregitzer, Sherwood Park, AB, R.Ouse Concerts
In addition to her voice and guitar work, Shawna is also a PAINTER! (click link to see more :)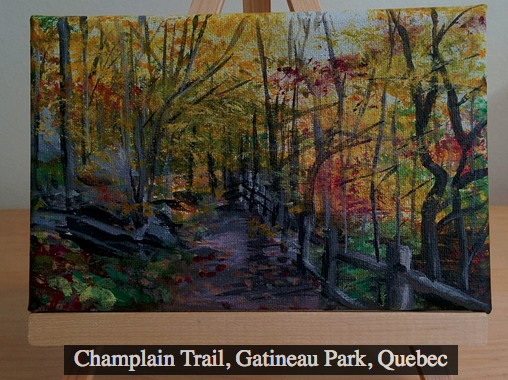 Three elements came together to make for a wonderful show. Shawna Caspi's voice, being the first, has a well-sounded tone, a smooth bottom end, and clarity, making for a richer, sweeter listen. Shawna's finger work on the guitar is assured love making of the neck and strings, bringing forth delightful melodies and rhythms. And of course, her rapport with the audience was light, and friendly. Shawna is a talented composer, musician, and entertainer, able to turn a small room of strangers, into a group of friends. – Dean Verger, Ottawa, ON, Rasputin's Folk Cafe, former owner and experienced on-going house concert presenter
Click here to see and hear more!
Peace through Music
Mary and Jeff
Times:
6:00 PM Potluck Supper (bring your favorite dish to share) PLUS
7:30 PM Concert STAY FOR dessert, conversation, and our Open Mic / Jam (share your songs and stories). Tent closes at 10 pm :)

Tickets: Click ATTEND above to reserve your seat. You'll have the option to pay cash at the door or use a credit card on line. Tickets are by donation and all money goes to the artist. We recommend $12 in advance and $15 - $20 at the door. Stillwaters is always free for volunteers and children under 12. Thank you for your generosity.
Location: Stillwaters is located at 4279 Janes Lane, just west of Marshall, Virginia (between Gainesville and Front Royal, 10 miles north of Warrenton). We're 3 easy miles off I-66 (exit 27).

SPACE IS LIMITED to 50 people. Reserve your seat now by clicking ATTEND above or calling 540-364-1739.