Description
A Taste of Shaw, the 2017 Shaw Main Streets Gala, is Coming to the Howard Theatre,

April 25, 2017

!
The Shaw neighborhood's annual celebration of the best food and drink its restaurants and bars have to offer is back! Join us for a night of stellar cuisine, cocktails, and beers from this year's Host Committee of chefs, restaurateurs, mixologists, and brewers. Enjoy unlimited sips and noshes throughout the evening plus live music and dancing. Doors open at
7pm
.
The Taste of Shaw hosts are a who's who of DC's thriving dining scene and include the following Shaw neighborhood destinations:
This year's Host Committee members include:
The Brixton/Ian Hilton & Basilisa Vasquez
Buttercream Bakeshop/Tiffany MacIsaac &
Alexandra Mundry-Til
Cava/Ike Grigiripoulos, Dimitri Moshovitis &
Ted Xenochristos
Convivial/Cedric Maupillier
Dacha/Dmitri Chekaldin, Ilya Alter & Quinten Frye
Dino's Grotto/ Dean Gold
Drift on 7th/Ferhat Yalcin
Eat the Rich/Derek Brown, Angie Fetherson & Paul Taylor
El Rey/ Ian Hilton & Carmen Nunez
Etete/Tiwaltengus Shenegelgn & Christopher Roberson
French Quarter Brasserie/Alita James
Haikan/Katsuya Fukushima & Daniel Pouidas
Half Smoke/Andre McCain
Kyirisan/Tim Ma
La Jambe/Anastasia Mori & David Bloom
The Passenger/Tom Brown
Service Bar/Chad Spangler, Glendon Hartley &
Chris Wiloughby
Seylou/Jonathan Bethony & Jessica Azeez
Southern Efficiency/Derek Brown, Angie Fetherson &
Paul Taylor
Tiger Fork/Greg Algie, Nathan Beauchamp & Ian Flectcher
Tickets include
unlimited tastings, beer, wine, soft drinks and complimentary
valet parking.

The Howard Theatre is located at 620 T Street, NW, on the same block as the northern entrance to the Shaw-Howard University station on Metro's Green Line. Valet parking will be available in front of the theater.
Proceeds from the event support Shaw Main Streets' economic revitalization and historic preservation activities in central Shaw. The organization has led the transformation of central Shaw since 2003.
For sponsorship information, email shawmainstreetsinc@gmail.com or call 202-265-SHAW.
# LoveShaw #SeenInShaw #DineInShaw #ShawDC #eathecapital #madeinDC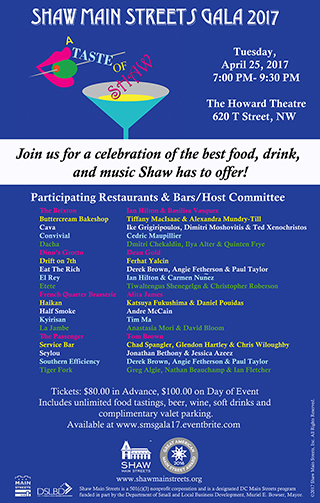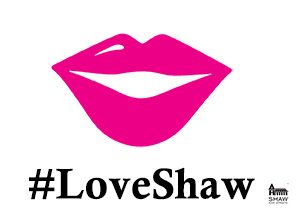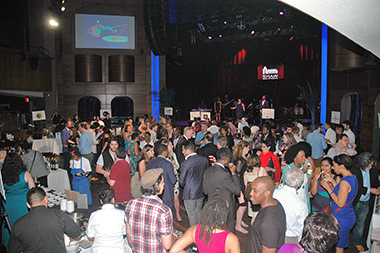 Organizer of Shaw Main Streets Gala 2017 'A Taste of Shaw'