Shaun Tomson (Surfer/Author/Activist) Presentation & Book Signing
Description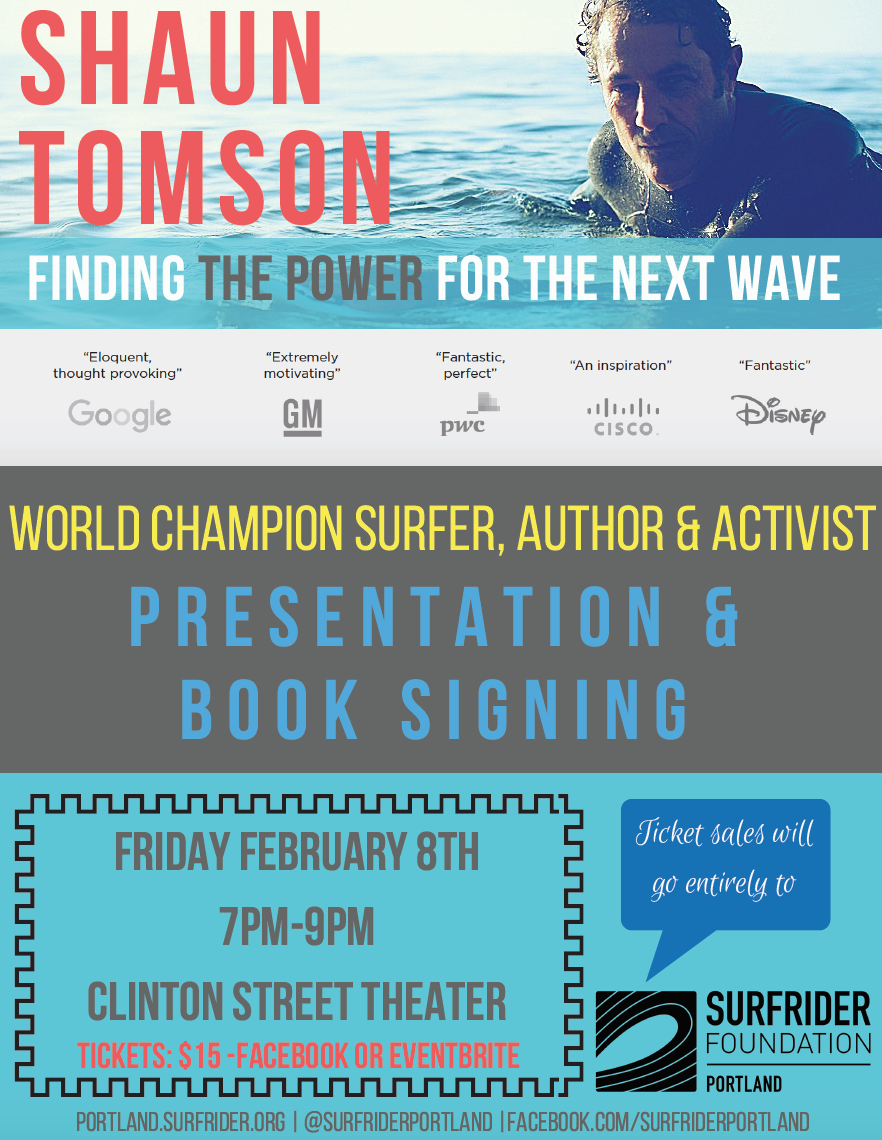 Please join the Portland Chapter of the Surfrider Foundation for a very special evening featuring world champion surfer, author, and activist: Shaun Tomson. Shaun will give a presentation about his most recent book, The Code-The Power of "I Will." His lecture will focus on leadership and the importance of creating a personal code to create a purposeful life and achieve optimal performance. After the presentation, Shaun will be available to sign your books.
Shaun's latest book focuses on how to find and define one's purpose to powerfully re-engage individuals to activate a positive wave of commitment and performance throughout an organization. He has shared his academically tested Code Leadership Method around the world, from high-powered boardrooms in the US and Europe to rural schools in South Africa.


---
Background on Shaun Tomson: A former World Surfing Champion, Shaun was named one of the 10 Greatest Surfers of All Time. He has a Bachelor's in Business Administration, a Master of Science in Leadership from Northeastern University and has created two popular apparel brands, Instinct and Solitude (co-founded with his wife Carla).
He is the author of the best sellers Surfer's Code and The Code-The Power of "I Will." He produced and co-wrote the documentary film Bustin' Down the Door (2006) and is the past board member of the Surfrider Foundation and the Santa Barbara Boys & Girls Club.


---

TICKET PRICE: $15 (All proceeds go to the Surfrider Portland Chapter to help fund multiple campaigns to keep our oceans, waves, beaches, watersheds, and streets of Portland clean.)
For Sale At Event -->
THE CODE-THE POWER OF "I WILL" BOOK: $20
SURFRIDER MEMBERSHIP + SPECIAL GOODIE + THE CODE BOOK: $40


---
About Surfrider Portland:
The Portland Chapter of the Surfrider Foundation's work is focused keeping it clean upstream through our programs including #DitchTheStrawPDX, Ocean Friendly Restaurants, Green Streets, Hold On To Your Butt programs and our Blue Water Task Force water quality monitoring program out on the north coast.