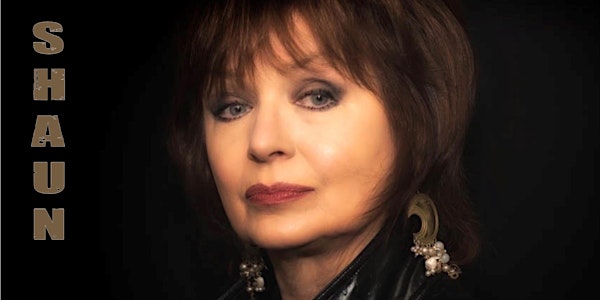 Shaun Murphy Band | LIVE At Knapp Creek Event Center
This is a show you won't want to miss! Shaun has performed with Bob Seger, Eric Clapton, Moody Blues and Little Feat.. just to name a few!
Date and time
June 2 · 8pm - June 3 · 12am CDT
Location
Knapp Creek Event Center 195 1st Street Walford, IA 52351
Refund Policy
Contact the organizer to request a refund.
Eventbrite's fee is nonrefundable.
About this event
Shaun will release her new CD Friday June 2nd in Walford, Iowa! Shaun is also a member of the Iowa Blues Hall of Fame.
I found my way to the Blues stage at the first Ann Arbor Blues Fest, in 1969, and was completely smitten. Getting to play at such an important milestone festival had my head spinning. That was my awakening to the Blues, and I couldn't have been among a better line-up: Big Mama Thornton, Luther Allison, Son House, Muddy Waters, BB King, Freddie King, Lightnin' Hopkins, and the list went on and on.
Solidified into the Detroit music scene, I found my calling, but it was to be a bit elusive. While I continued my music education over the years, I was also free to pursue another of my loves, acting, where I was able to snag two different life-changing musical plays: Hair and Sgt. Peppers Lonely Hearts Club Band On The Road
Having been in Hair afforded me the opportunity to land a recording contract with Motown Records – Rare Earth Records, along with Meatloaf, to record our duo album Stoney And Meatloaf.
Right after the recording of the record, "Stoney and Meatloaf", Motown moved out to Los Angeles taking me with them. After a short stay in LA, I got back in touch with Bob Seger's manager, Punch Andrews, and it just so happened, Bob was, again, looking for a singer. So I headed back to the music scene I was so familiar with, Detroit.
Starting with the recording of Katmandu, under the pseudonym, Stoney. I was in Detroit and, again, working with Bob and his band; The Borneo Band, along with some of the Silver Bullet boys, Chris Campbell, Alto Reed, and Drew Abbott, and throw in a couple of Tulsa boys: Jamie Oldaker and Dick Sims, along with my pal Marcy Levy (Marcella Detroit).
When Bob Seger decided to take some time off the road, I was contacted again by my old friend, Marcy Levy, (of Leon Russell and Eric Clapton fame) that Eric Clapton was doing a record with Phil Collins producing, and would I be interested in coming to Montserrat to record the backing vocals on his 'Behind The Sun' album.
The experience was thrilling; to get back to my roots, and with the 'guitar god' himself. I, of course, said yes! We recorded this great record, and after the first song, Eric asked me if I'd like to do the tour, it was too good to be true!
Back on the road with Seger, with hardly a couple of weeks off from Clapton, with his 86 tour, I met up with Bill Payne and Fred Tackett, two of the members of the legendary band Little Feat. As tours go, making friends comes easy and when the tour was over, Bill Payne asked me to sing some things on their new re-grouped band's CD, Let It Roll, Representing The Mambo, and Shake Me Up as a backing vocalist.
I went on to tour with Seger to the present, with some other tours along the way, with such notables as Bruce Hornsby, Joe Walsh, Glenn Frey and The Moody Blues, with Television appearances with John Hiatt and Herbie Hancock, etc.
I found myself back in Feat camp, and they asked me to join as a full member in 93', and for the next, nearly 16 years, it was my home. Till recently parting with my long-time cohorts, I then realized, I'd come full circle back to where I started, in the world of the Blues, wanting to take my place alongside some of my favorite idols; Koko Taylor, Etta James, Big Mama Thornton, and Big Maybelle, paying special homage to Miss Taylor and Miss James on my first solo CD, Livin' The Blues.
I've had the honor of including some of my friends from the road on my following CD's: Bekka Bramlett, (Fleetwood Mac) Mike Finnigan, (Taj Mahal, & Bonnie Raitt) Johnny Neel, (Allman Bros.) Jim Horn, (George Harrison, Elvis, etc.) Kenny Greenberg, (Kenny Chesney) Danny Pelfrey, (Aretha, Diana Ross, etc.) and Laura Creamer, Barbara Payton, as well as the Motor City Horns (Bob Seger).
My next CD: 'Cry Of Love', features some of my favorite songs I've been wanting to do for a long, long time, and I won Blues411's Jimi Award for that…..
The following year brings in the CD: 'Loretta', and I'm so proud to have I penned 7 of the songs, writing with some great friends. I had the pleasure of having some wonderful guitar players on this one: Jack Pearson, (Allman Bros., Greg Allman) Jimi Fiano, (Foghat, Bad Company) and Rob McNelley (Delbert McClinton and Bob Seger) It reached #1 on Cashbox magazine in two genres!!
My 8th release, 'Mighty Gates', created a cross-genre CD of which I wrote 7 of the tunes and included a couple from my favorite artists. Dobie Gray had sent me 'Mighty Gates' a little over 5 years ago, and I thought it a perfect fit for the times!
2019 reigns in with the famous final tour for Mr. Bob Seger! Happy to have been there all these years…..it'll be great to see all of you with him one more time, but, knowing I'll be out there again soon with my band as well!!!
Some months later, I heard the song Reason To Try, and was really knocked out by it. There and then I knew I had to record it! Little did I realize how captivating it would become after we decided to name my 9th CD; Reason To Try as such, it seems to have taken on a life of its own…..it's a song written by the great Danny Flowers, most of you will recognize, at least one of his legendary songs; Living On Tulsa Time. I saw him sing it at one of the venues in Nashville on the night I was there. I was, and still am speechless, about his performance. That was all I needed to know, it was going to be on the next CD!!! Every tune on this CD was hand-picked to bring something to the table; emotion, fun-loving jests, and a pull at the heartstrings for everyone. I'm am so proud of my band; Tom DelRossi, John Marcus, Kenne Cramer, Tommy Stillwell, Eric Robert, and Kevin McKendree for all the incredible work they've done. Thank you guys for always being there!!!!!