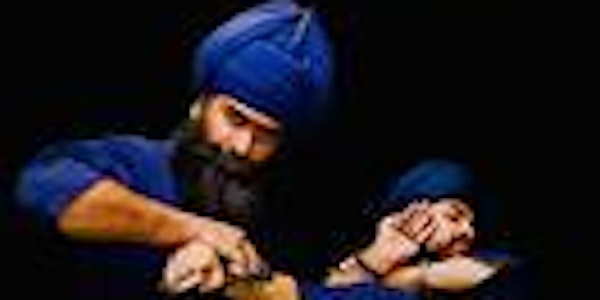 Shastar Vidiya Seminar/Workshop
Location
InMotion Center
1091 Calcot Place
Suite 412
Oakland, CA 94606
Description
The Sikh Art of War
San Francisco - October 3-4, 2015
TWO DAY SEMINAR
Shastar Vidiya is an ancient Indian battlefield art, of which Gurdev Nidar Singh is the last living grandmaster. In this seminar, Gurdev Nidar Singh will teach you how to activate the Chakras to engage your body's core muscles to attain extra power. You will then learn how to use this power for both armed and unarmed martial arts applications. You will also learn how to incorporate it into your daily activities, resulting in more efficient movement and potential health benefits. In addition, you will learn how to further enhance your ability to generate such power through specific Martial Yoga ("Sanjam Kiriya") exercises.
Come experience this ancient battle tested combat art of ancient India and the teaching of Gurdev Nidar Singh.
Open to All

This seminar is suitable for all, from the complete novice to the experienced martial artist. Come and train in a friendly and safe environment.


Seminar Details




10:00am-6:00pm - Saturday, October 3, 2015




10:00am-6:00pm - Sunday, October 4, 2015




Location






Registration Places are limited




To secure your place, visit:

http://sv-sf.eventbrite.com<span style=">http://sv-sf.eventbrite.com




Contact email: shastarvidiyasf@gmail.com




For more information see:





www.facebook.com/groups/shastarvidiya





Additional Details:




The seminar starts at 10:30am each day (doors open at 10am) and ends at 6pm each day, with a short break for lunch. Enter "412" into the entry system at 1091 Calcot Place and you will be buzzed in. Take the elevator to the fourth floor and come to Suite 412. There is plenty of free street parking. Please email shastarvidiyasf@gmail.com if you have any questions.




We are keeping numbers very limited, due to space restrictions, and to ensure a quality experience for all that attend. Preference will be given to those who sign up for the full two days, but if we end up having capacity, we will open up a one-day option later.




IMPORTANT: While we do not anticipate any problems with the event or the participants, we do reserve the right to cancel the event for any reason, though will refund the cost of your ticket if the event is canceled. This event will involve martial arts training, including use of sharp edged weapons, and therefore carries with it some risk of injury or death. Accordingly, everyone will be required to sign a waiver form before participating, and will be encouraged to keep safety in mind throughout the seminar. If at any point in the seminar you feel unsafe, please stop participating. Safety is important to us, so we reserve the right to refuse entry or remove anyone from the seminar due to safety concerns.