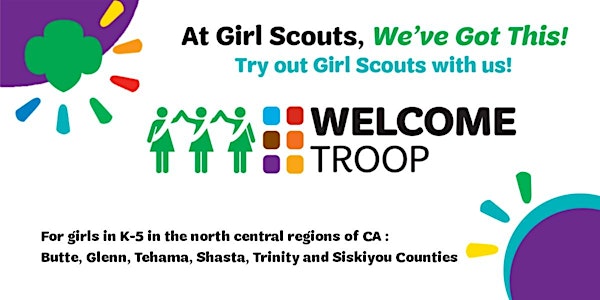 Shasta, Siskiyou, Trinity, Tehama, Butte, Glenn , CA | Welcome Troop
Calling all girls in Siskiyou, Trinity, Shasta, Tehama, Glenn and Butte counties in grades K - 5!
About this event
Get started in Girl Scouts in your are by joining the North Central Welcome Troop!
What is a Welcome Troop?
This temporary, starter troop is open to girls in grades K-5 and are led by Girl Scouts of Northern California staff and/or experienced local volunteers. Girls will participate in virtual troop meetings experiencing a variety of Girl Scout activities including Girl Scout traditions, games, songs, and community service, while adults learn how to run a Girl Scout troop.
Our Welcome Troop meeting dates are on January 19th, February 2nd and 16th, March 16th and 30th, April 13th and 27th and May 11th and 25th for 30-45 min. After attending one free meeting to try the Welcome Troop, you must register as a Girl Scout to attend future meetings.
Adult Participation
Each meeting ends with a short adult meeting to answer questions about Girl Scouts, plan the subsequent meeting, and choose roles.
As an adult, you will connect with other families in your community and our staff or local volunteers will guide you through the steps of starting a new troop.
After your first trial meeting, girls and adults must be registered as Girl Scouts to participate in future meetings. One adult from each family must complete an electronic background check. Financial aid is available for any girl.
A Zoom link will be emailed no later than 48 hours prior to the meeting. Please contact jpunzo@gsnorcal.org or kvisconti@gsnorcal.org with questions or if you don't receive the link within 2 days before the meeting.