Description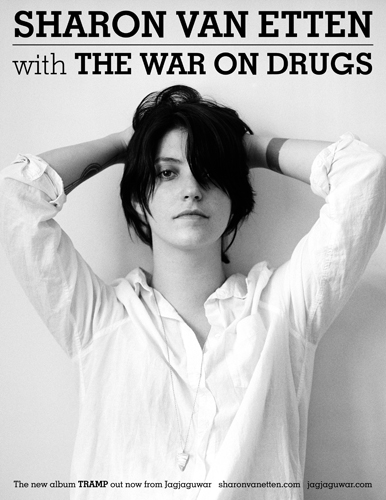 SHARON VAN ETTEN
THE WAR ON DRUGS
at Rhino's Youth Center
Sunday April 1
8pm
$13 advance / $15 day of show
all ages

Tickets also available at Landlocked Music, Rhino's Youth Center and the Sunrise Box Office.

Sharon Van Etten - http://sharonvanetten.com/
=============
Sharon Van Etten came to Brooklyn via Jersey via Tennessee via Jersey. Along the way, she sang in choirs, rejected her school's music program, worked at an all-ages venue, trained as a sommelier, and got a full time job at a record label. She also had some bad experiences in relationships.

OK, more than some.

Epic, Van Etten's second album, lays a romantic melancholy lining over the gravel and dirt of heartbreak, without one honest thought or feeling spared. She sings of betrayal, obsession, egotism and all the other emotions we hate in others and recognize in ourselves. Yet, Van Etten's grounded and clenched vocals convey the sense of hope – the notion that beauty can come out of the worst of circumstances. Epic is indeed that beauty.

The album was recorded at Miner Street Studios in Philadelphia with Brian McTear. Where Van Etten's first record, Because I Was In Love, explored her thoughts on love through minimalism and sparseness, Epic embellishes her music to grandiose luminosity. Guitar and singing are joined by drums, piano, lap steel, and a trio of backing vocalists: Meg Baird (Espers), Cat Martino and Jessica Larrabee (She Keeps Bees). The result is a fully realized album that astounds as it elucidates, disturbs as it soothes. The final track, "Love More," has already been covered live in a collaborative effort between Sharon fans Bon Iver and The National.

A few things need to be made clear about SVE's music. She's not the type of "female singer/songwriter" who champions women-centric perspectives and denies personal accountability. Nor is she a strident provocateur. Rather, Van Etten is a performer who fully embraces her femininity while confidently expressing it through intelligent and mature perspectives on relationships. Those turned off by the provincialism of other performers will be pleased that you can identify with Van Etten's incisive and universal observations about love and loss.

The War On Drugs - http://www.thewarondrugs.net/
==============
Philadelphia's The War on Drugs reside at the blurred edges of American music: overexposing studio limitations, piling tape upon tape to maximum density, and then — with each song — they pull off the scaffolding to reveal what sticks, keeping only what's absolutely necessary and dig into what sounds like the best kind of fucked up. As on their 2008 debut, Wagonwheel Blues, central member Adam Granduciel takes small moments occurring over multiple tapes and multiple song versions, and puts every last drop of trust in his own keen instinct of momentum.

That's not to overshadow the sharp, personal songwriting at play here. There are certainly cues taken from our very best American bards (Dylan, Petty, Springsteen). Yet, The War on Drugs are wise enough to also implode those cues or send themselves into outer space when the moment calls for it. The driving organ riff that pushes "Baby Missiles," from the band's 2010 epic EP Future Weather, may well be inspired by a fever dream of Springsteen rather than any particular song in his catalogue. And the endless layers of guitar melody and atmospherics of "Comin' Through," also from Future Weather, rather than add weight to the vessel, only work to fill its sails with warmer and warmer winds.
Organizer of SHARON VAN ETTEN / THE WAR ON DRUGS at Rhino's April 1
Spirit of '68 Promotions was founded under the notion of bringing the best and brightest artists from across the country to Bloomington. Turning a blind eye to genres or musical prejudices, we do what we can to get as diverse a lineup as possible into the stages and basements of Bloomington. In effect, we bring the music to you because distance and high gas prices shouldn't be a barrier to hearing great music.