About this Event
REMIND ME TOMORROW BIO FOR SHARON VAN ETTEN
Sharon Van Etten's Remind Me Tomorrow comes four years after Are We There, and reckons with the life that gets lived when you put off the small and inevitable maintenance in favor of something more present. Throughout Remind Me Tomorrow, Sharon Van Etten veers towards the driving, dark glimmer moods that have illuminated the edges of her music and pursues them full force. With curling low vocals and brave intimacy, Remind Me Tomorrow is an ambitious album that provokes our most sensitive impulses: reckless affections, spirited nurturing, and tender courage.
"I wrote this record while going to school, pregnant, after taking the OA audition," says Van Etten. "I met Katherine Dieckmann while I was in school and writing for her film. She's a true New Yorker who has lived in her rent controlled west village apartment for over 30 years. Her husband lives across the hall. They raised two kids this way. When I expressed concern about raising a child as an artist in New York City, she said 'you're going to be fine. Your kids are going to be fucking fine. If you have the right partner, you'll figure it out together.'" Van Etten goes on, "I want to be a mom, a singer, an actress, go to school, but yeah, I have a stain on my shirt, oatmeal in my hair and I feel like a mess, but I'm here. Doing it. This record is about pursuing your passions." The reality is Remind Me Tomorrow was written in stolen time: in scraps of hours wedged between myriad endeavors — Van Etten guest-starred in The OA, and brought her music onstage in David Lynch's revival of Twin Peaks. Off-screen, she wrote her first score for Katherine Dieckmann's movie Strange Weather and the closing title song for Tig Notaro's show Tig. She goes on, "The album title makes me giggle. It occurred to me one night when I, on autopilot, clicked 'remind me tomorrow' on the update window that pops up all the time on my computer. I hadn't updated in months! And it's the simplest of tasks!"
The songs on Remind Me Tomorrow have been transported from Van Etten's original demos through John Congleton's arrangement. Congleton helped flip the signature Sharon Van Etten ratio, making the album more energetic-upbeat than minimal-meditative. "I was feeling overwhelmed. I couldn't let go of my recordings - I needed to step back and work with a producer." She continues, "I tracked two songs as a trial run with John [Jupiter 4 and Memorial Day]. I gave him Suicide, Portishead, and Nick Cave's Skeleton Tree as references and he got excited. I knew we had to work together. It gave me the perspective I needed. It's going to be challenging for people in a good way." The songs are as resonating as ever, the themes are still an honest and subtle approach to love and longing, but Congleton has plucked out new idiosyncrasies from Van Etten's sound. For Remind Me Tomorrow, Van Etten put down the guitar. When she was writing the score for Strange Weather her reference was Ry Cooder, so she was playing her guitar constantly and getting either bored or getting writer's block. At the time, she was sharing a studio space with someone who had a synthesizer and an organ, and she wrote on piano at home, so she naturally gravitated to keys when not working on the score - to clear her mind. Remind Me Tomorrow shows this magnetism towards new instruments: piano keys that churn, deep drones, distinctive sharp drums. It was "reverb universe" she says of the writing. There are intense synths, a propulsive organ, a distorted harmonium.
The demo version of "Comeback Kid" was originally a piano ballad, but driven by Van Etten's assertion that she "didn't want it to be pretty", it evolved into a menacing anthem. Cavernous drones pull the freight for "Memorial Day," which fleshes out an introvert in warrior mode. The spangled "Seventeen" began as a Lucinda Williams-esque dirge but wound up more of a nod to Bruce Springsteen, exploring gentrification and generational patience. Van Etten shows the chain reaction, of moving to a city bright-eyed and hearing the elders complain about the city changing, and then being around long enough to know what they were talking about. She wrote the song semi-inter-generationally with Kate Davis, who sang on a demo version when the song was in its infancy.
Since her last album, Van Etten has had a young son, and family life is joyful. Preparing and finishing these songs, she found herself expressing deep doubts about the world around him, and a complicated need to present a bright future for him. "There is a tear welling up in the back of my eye as I'm singing these love songs," she says, "I am trying to be positive. There is strength to them. It's— I wouldn't say it's a mask, but it's what the parents have to do to make their kid feel safe."
Alongside working on Remind Me Tomorrow, Van Etten has been exploring her talents (musical, emotional, otherwise) down other paths. She's continuing to act, to write scores and soundtrack contributions, and she's returning to school for psychology. The breadth of these passions, of new careers and projects and lifelong roles, have inflected Remind Me Tomorrow with a wise sense of a warped-time perspective. This is the tension that arches over the album, fusing a pained attentive realism and radiant lightness about new love.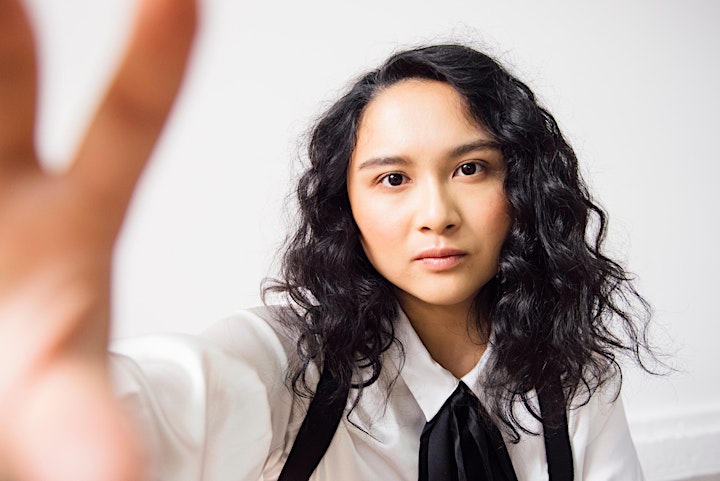 Melina Duterte is a master of voice: Hers are dream pop songs that hint at a universe of her own creation.
Recording as Jay Som since 2015, Duterte's world of shy, swirling intimacies always contains a disarming ease, a sky-bent sparkle and a grounding indie-rock humility. In an era of burnout, the title track of her 2017 breakout, Everybody Works, remains a balm and an anthem.
Duterte's life became a whirlwind in the wake of Everybody Works. After spending her teen years and early 20s exploring an eclectic array of musical styles -- studying jazz trumpet as a child, carrying on her Filipino family tradition of spirited karaoke, and quietly recording indie-pop songs in her bedroom alone -- that accomplished album found her playing festivals around the world, sharing stages with the likes of Paramore, Death Cab for Cutie, and Mitski.
In November of 2017, seeking a new environment, Duterte left her home of the Bay Area for Los Angeles. There, she demoed new songs, while also embracing opportunities to do session work and produce, engineer, and mix for other artists (like Sasami, Chastity Belt). Reckoning with the relative instability of musicianhood, Duterte turned inward, tuning ever deeper into her own emotions and desires as a way of staying centered through huge changes. She found a community; she fell in love. And for an artist whose career began after releasing her earliest collection of demos -- 2015's hazy but exquisitely crafted Turn Into -- in a fit of drunken confidence on Thanksgiving night, she finally quit drinking for good. "I feel like a completely different person," she reflects. Positivity was a way forward.
The striking clarity of her new music reflects that shift. After months of poring over pools of demos, Duterte, now 25, essentially started over. She wrote most of her brilliant new album, Anak Ko pronounced Ah-nuh Koh -- in a burst during a self-imposed week-long solo retreat to Joshua Tree. As in the past, Duterte recorded at home (in some songs, you can hear the washer/dryer near her bedroom) and remained the sole producer, engineer, and mixer. But for the first time, she recruited friends including Vagabon's Laetitia Tamko, Chastity Belt's Annie Truscott, Justus Proffitt, Boy Scouts' Taylor Vick, as well as bandmates Zachary Elasser, Oliver Pinnell and Dylan Allard -- to contribute additional vocals, drums, guitars, strings, and pedal steel. Honing in on simplicity and groove, refining her skills as a producer, Duterte cracked her sound open subtly, highlighting its best parts: She's bloomed.
Inspired by the lush, poppy sounds of 80s bands such as Prefab Sprout, the Cure, and Cocteau Twins -- as well as the ecstatic guitarwork of contemporary Vancouver band Weed -- Anak Ko sounds dazzlingly tactile, and firmly present. The result is a refreshingly precise sound. On the subtly explosive "Superbike," Duterte aimed for the genius combination of "Cocteau Twins and Alanis Morissette" -- "letting loose," she says, over swirling shoegaze. "Night Time Drive" is a restless road song, but one with a sense of contentedness and composure, which "basically encapsulated my entire life for the past two years," she says -- always moving, but "accepting it, being a little stronger from it." (She sings, memorably, of "shoplifting at the Whole Foods.") Duterte focused more on bass this time: "I just wanted to make a more groovy record," she notes.
The slow-burning highlight "Tenderness" begins minimally, like a slightly muffled phone call, before flowering into a bright, jazzy earworm. Duterte calls it "a feel-good, funky, kind of sexy song" in part about "the curse of social media" and how it complicates relationships. "That's definitely about scrolling on your phone and seeing a person and it just haunts you, you can't escape it," Duterte says. "I have a weird relationship to social media and how people perceive me -- as this person that has a platform, as a solo artist, and this marginalized person. That was really getting to me. I wanted to express those emotions, but I felt stifled. I feel like a lot of the themes of the songs stemmed from bottled up emotions, frustration with yourself, and acceptance."
The title Anak Ko is the Filipino phrase for "my child." It was inspired by an unassuming text message from Duterte's mother, who has always addressed her as such: Hi anak ko, I love you anak ko. "It's an endearing thing to say, it feels comfortable," Duterte reflects, likening the process of creating and releasing an album, too, to "birthing a child." That sense of care charges Anak Ko, as does another concept Duterte has found herself circling back to: the importance of patience and kindness.
"In order to change, you've got to make so many mistakes," Duterte says, reflecting on her recent growth as an artist with a zen-like calm. "What's helped me is forcing myself to be even more peaceful and kind with myself and others. You can get so caught up in attention, and the monetary value of being a musician, that you can forget to be humble. You can learn more from humility than the flashy stuff. I want kindness in my life. Kindness is the most important thing for this job, and empathy."
Performers
Date and Time
Location
Refund Policy