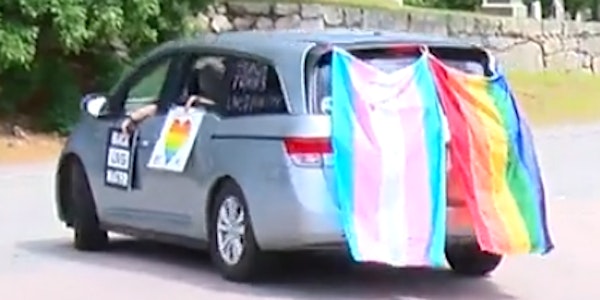 Sharon Pride Car Parade
Join us for a family-friendly celebration of LGBTQ+ Pride Month. Please register for only one ticket per car participating.
When and where
Location
Memorial Park Beach Beach Street Sharon, MA 02067
About this event
Happy Pride! While we celebrate Pride with all its usual rainbow flair, we also continue to stand against racially motivated violence and anti-Black, anti-Semitic, and anti-Asian injustice. We hope cars will show solidarity with Black Lives Matter, Stop Asian Hate, faith groups, and LGBTQ+ youth of color. Please especially show support for our transgender/non binary kids and adults targeted by hateful and damaging state legislation this year yet again. The Massachusetts Commission on LGBTQ Youth related the situation: "This current wave of anti-LGBTQ legislative activity in states across the nation is unprecedented. But the proliferation of bills targeting transgender youth is particularly intense and rapidly accelerating: 79 anti-transgender bills were filed in 2020, doubling in 2021 to 147 anti-transgender proposals, and doubling again to roughly 280 anti-transgender bills active in state legislatures this year."
See the Sharon Pride Steering Committee website for more details https://www.lgbtqplussharon.org/
Sharon LGBTQ+ Pride, co-sponsored by the Sharon Diversity, Equity and Inclusion Committee, will begin with stage and lawn events at 12 p.m., then we will move to our cars to follow a route around Sharon. Please follow traffic laws while we are on the move unless directed by the Sharon Police Department along the route. Allies welcome. The Sharon Pride Steering Committee thanks the Sharon DEIC, the Sharon Recreation Department, the Sharon Select Board, Sharon Community Television, the Sharon Police Department, the Sharon Fire Department, and the Sharon Scouts BSA for their support of this event.