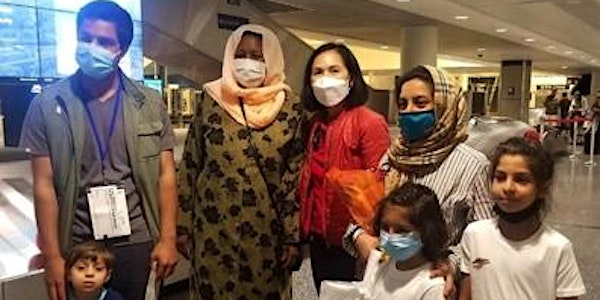 Sharing the Afghan Refugee Experience: Voices, Culture & Cuisine
Learn about the local Afghan refugee experience through engaging conversations and authentic Afghan cooking demonstration.
About this event
Compassion in Action
Be Inspired - Explore Afghan Food & Culture - Make a Difference
Let's come together to:
Have interactive dialog with people affected by and interested in Afghan resettlement in MetroWest and Greater Boston.
Connect with other curious and compassionate neighbors who want to make a difference.
Support Hospitality Common's mission to serve and support immigrant and refugee families while building bridges of hope, understanding, and opportunity.
Support and encourage local food business and restaurant owner during this challenging pandemic crisis.
You're invited to our first Compassion in Action event and fundraiser. Have fun and make new friends in a virtual cooking class while engaging in a conversation experience. Learn about Afghan culture, food, and traditions from an Afghan family. This is a Zoom event curated by activist Gary Moorehead, founder of Kataluma, and Najeeb Rostami, owner of Ariana Restaurant in Boston.
Compassion in Action Conversations
Change is possible when compassionate people come together. Our goal is to bring interested people together from all walks of life to share stories and exchange ideas and information on diverse cultures to build awareness, insight, empathy, and support for refugees and immigrants; including our recently arrived Afghan community. Our fundraising goal is build support for the mission of Hospitality Common, Inc. (HCI). We believe we can break down barriers and empower people to action through structured community conversations.
The conversation will be on Zoom with a diverse guest list. HCI is partnering with Open Kitchens Project, who creates opportunities for conversations with food, while supporting Black, Indigenous, and People of Color (BIPOC) and Immigrant food entrepreneurs. We hope this will become an ongoing celebration of coming together to shine a light on our immigrant and refugee communities within MetroWest, Greater Boston, and beyond.
Event Details
Once you register you'll receive a confirmation email with a Zoom link and Afghan recipe and ingredient list. We invite you to participate alongside the cooking demonstration or simply relax and enjoy the cultural experience. If you have any questions or comments, please email events@openkitchensproject.com.
Welcome: Cesar Stewart-Morales, Framingham District City Councilor; Environment & Sustainability, Chair; Education, Library, Arts & Culture, Vice Chair; Certified Public Accountant, Renewable Energy.
Host: Matt Crane, Executive Director at Hospitality Common, Inc.; Director of Christian Education at Presbyterian Church of Sudbury, MA; Pastor at Resurrection Lutheran Church, Roxbury, MA; Pastor at Shepherd of the Valley Lutheran Church, Groton, MA.
Conversation Curator: Gary Moorehead, Founder at Kataluma Refugee Hospitality, Boston, MA; Housing Advocate at Greater Boston Refugee Ministries, Boston, MA; Executive Director at Marigold Fund, Afghanistan.
Chef: Najeeb Rostami, Chef and Owner at Ariana Restaurant, Brighton, MA.
Hospitality Common Inc. (HCI) is a faith-based nonprofit 501(c)(3) organization providing educational, charitable programs and services to marginalized and underserved communities. We seek to build bridges of hope into our community through education, volunteering, and service opportunities. https://hospitalitycommon.org