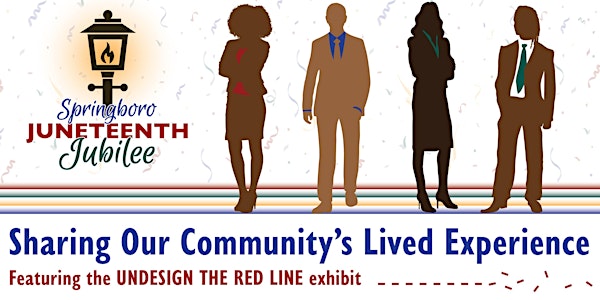 Sharing our Community's Lived Experience: A Community Panel Discussion
Join us for panel discussions and speakers centered on our community's lived experience around issues of diversity, equity, and inclusion.
When and where
Location
Southwest Church 150 Remick Boulevard Springboro, OH 45066
About this event
Are you an educator? Historian? An aspiring leader? We invite you to join us Juneteenth weekend in Springboro, Ohio for a weekend of celebration, togetherness, and learning. You will have the opportunity to learn from and be inspired by industry experts, community leaders, and local students who share their experiences around diversity, equity and inclusion. See the day's agenda and register below.
Topic: "Sharing our Community's Lived Experience: Practical Learning about Diversity, Equity, and Inclusion"
Who: All are welcome. This will be of special interest particularly for those in or interested in education.
What: Learning with leaders in education, panels with local experts, community leaders, and students
When: Friday, June 17, from 8:30-3:30 p.m.*
Where: Southwest Church 150 Remick Blvd, Springboro, OH 45066
You will also have the chance to experience the nationally acclaimed UNDESIGN THE REDLINE, an interactive traveling exhibit that explores the history and impact of the 1938 Redlining maps. The exhibit explores how we can come together to un-design these problematic systems and structures with intentionality. Learn more about this thought provoking exhibit here
* The UNDESIGN THE REDLINE exhibit goes from June 17-20, 2022.
Agenda
8:30 – 9:00 Registration
9:00 – 9:15 Opening and Introductions
9:15 – 10:15 Community Panel & Discussion
10:30 – 12:00 Racial Wealth Gap Simulation presented by the Hall Hunger Initiative
Using the material designed by Bread for the World, the facilitators from Hall Hunger Initiative guide participants through a fact-based exercise with specific examples of policies and their consequences. In just about an hour, participants learn how federal policies created structural inequalities and how these policies increase hunger and poverty in communities of color.
12:00 – 12:45 Community Conversations and Lunch
1:00 -2:00 Concurrent Session A: Undesign the Redline Exhibit
This important and visually compelling exhibit that traces the tangled roots of governmental policies to the social issues we face today. Undesign the Redline ignites discussion about race, wealth, opportunity, and power, with the goal of transforming the future.
Concurrent Session B: Student and Young Adult Voices Panel
This panel will feature youth of color who are courageously lending their voices, sharing their experiences, and responding to topics and issues that will be discussed earlier in the day, including historical and contemporary racism. We will also highlight the strength, resiliency, and hope that these students exhibit and embody.
2:00 – 3:00 Concurrent Session A: Undesign the Redline Exhibit (repeated)
Concurrent Session B: Student and Young Adult Voices Panel (repeated)
3:15 – 3:30 Reflections and Closing