SharePointPT - 50ª Reunião da SPUGPT (14/10/2017)

Saturday, October 14, 2017 from 9:00 AM to 1:00 PM (WEST)
Event Details

50ª Reunião da SPUGPT (14/10/2017)
Caros SharePointianos ,
a Comunidade volta a se reunir no próximo  dia 14/10/2017 das 9:30 até às 13:00 , para  a 50ª Reunião da Comunidade Portuguesa de SharePoint.
Como é habitual, esta reunião é presencial e realizar-se-á nas instalações da Microsoft na Expo, sendo como sempre importante a presença de todos. 
Resta-nos acrescentar, e para quem ainda não participou ainda nestas lides... 
Nestes encontros é potenciado a troca de experiências e partilha de conhecimento de uma forma muito abrangente, promovendo-se as competências profissionais que rapidamente alavancam novas oportunidades e enriquecimento pessoal.
Neste Sábado teremos o alinhamento das seguintes sessões ...
SESSION 1 ######################################################
SharePoint & O365 – PowerApps development 
This session is focused on PowerApps development. PowerApps provides a rapid low-code development platform for mobile and tablets. It has a growing platform of connectors that provide external information like SharePoint; Salesforce; Gmail; Facebook; etc.. We can also create custom services to connect to a PowerApp, using custom connectors. 
From the initial stage growing into a final solution, we'll focus on rapid development with out-of-the-box controls like galleries, layouts, navigation and context initialization; and custom services, like Custom API's. Well also talk about some limitations and struggles when starting with PowerApps.
Well also talk about some limitations and struggles when starting with PowerApps.
session presented by 

Luis Santos, SharePoint developer currently working at blue-infinity.
I have 10 years of experience mainly in Microsoft technologies and programming languages. 
The last 6 years I've been working with SharePoint and web development.
SESSION 2 ######################################################
Microsoft Ignite 2017 RoundUp  and key announcements

This is Microsoft's largest technology event of the year with thousands of hours of sessions on hundreds of topics in a variety of formats. In this session, we will cover the major key announcements Microsoft will be rolling out in the coming months - and beyond. 
If you need\want to have an overview of whats coming ... just join us. :)  
session presented by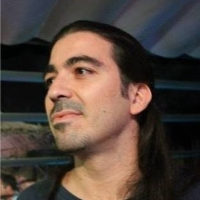 Rodrigo Pinto is a SharePoint Architect, Office Servers and Services MVP, Specialist  & Evangelist at blue-infinity
Responsible for the SharePoint area tends to use innovation in creating new solutions and development strategies.
Speaker since 2009, is delivering regular sessions in Microsoft Events: Techdays,  Road to SharePoint, Lightup SharePoint, Microsoft RoadShow, SharePoint  Connections, SP24, European SharePoint Conference, SPCAdriatics,  Microsoft TechRefresh, MVP ShowCase, SQL Saturday, Azure Boot Camps,  User Group Meetings and online events. 
He started the SharePoint Portuguese User Group and  loves the idea By and For the Community
.... e não se esqueçam que vamos ter o SharePoint Saturday Lisbon a 18 de Novembro !!!!!!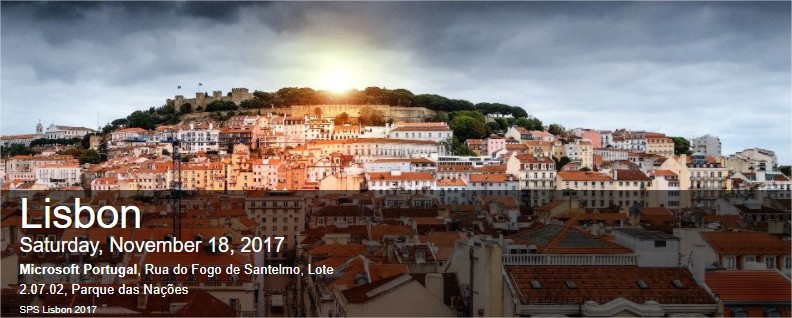 http://www.spsevents.org/city/Lisbon/Lisbon2017
Apareçam, a ambos os eventos e não se esqueçam que os lugares são limitados! 
Aquele abraço, com muitos disposes à mistura !
Rodrigo Pinto, Office Servers and Service MVP
SharePoint Specialist, Evangelist
SharePointPt Founder
SharePointPT- Comunidade Portuguesa de SharePoint
Site : http://www.sharepointpt.org (working on it...)
FaceBook: https://www.facebook.com/groups/spugpt
Twitter : http://twitter.com/spugpt Email : spugpt@gmail.com
Forums : https://www.yammer.com/spugpt/
When & Where

Microsoft Portugal
Rua do Fogo de Santelmo, Lote 2.07.02
1990 – 110 Lisboa E Vale Do Tejo
Portugal


Saturday, October 14, 2017 from 9:00 AM to 1:00 PM (WEST)
Add to my calendar
Organizer
SPUGPT - Comunidade Portuguesa de SharePoint
SPUGPT - Comunidade Portuguesa de SharePoint 
SharePointPT - 50ª Reunião da SPUGPT (14/10/2017)