Description
PDUs available for this course
Course Description
This course teaches participants how to design, create and customize SharePoint sites and to use SharePoint 2010 to collaborate, share documents, communicate and coordinate activities and projects.
Included Materials
This course includes a complimentary copy of Advisicon's SharePoint 2010 for Effective Team Collaboration book.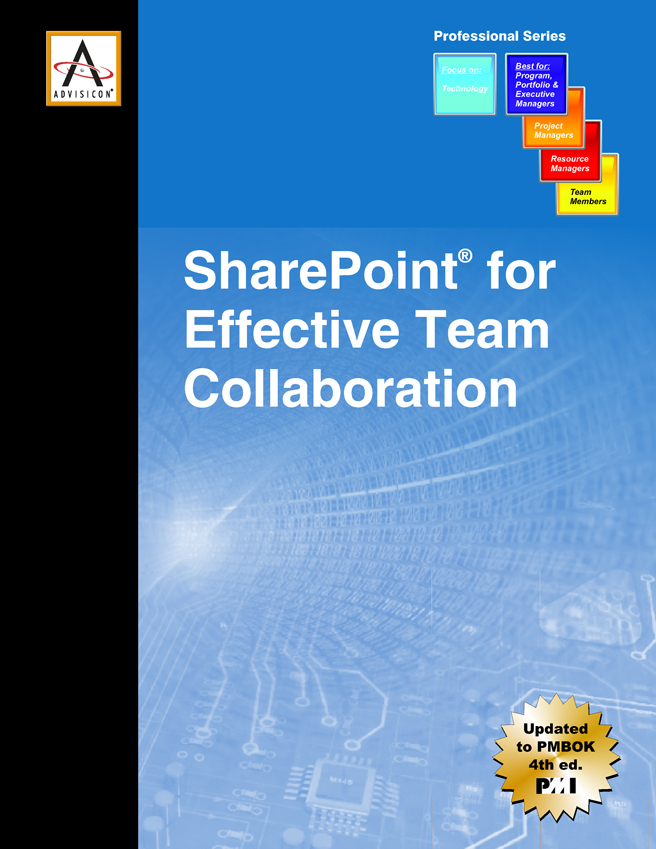 Who should to take this course?
Anyone who is or will be using SharePoint 2010 to manage or participate in projects.
Course Outline
Understanding the purpose and architecture of SharePoint 2010
Creating sites with masters and sub sites
Customizing interfaces, layouts and WebParts
Utilizing Lists, Discussion Boards, and Document Libraries
Adding, deleting, creating folders, checking documents in and out, versioning, and modifying document library settings
How to Upload project snapshots to SharePoint utilizing the Pictures Library
How to conduct Surveys
Managing site permissions and users
Organizer of SharePoint 2010 for Effective Team Collaboration
Who We Are
Advisicon is a Project, Program & Portfolio Management Company. We transform your organization's project management with a mix of methodology and technology that delivers results. Our team specializes in technology implementations, application and workflow development, training and consulting.
We are authors, teachers, consultants and technologists who are passionate about helping your organization learn, scale and grow.
As a Gold Microsoft PPM partner and certified by PMI, we take pride in our accomplishments and customer relationships. We work hard to deliver an experience you won't have anywhere else. We are invested in your success and are here to support you before, during, and after the job is done.
We understand your time is valuable and strive to keep each training dynamic, relevant and interactive. We offer three consumable avenues for our trainings:
In person at our local Training Center
Visit our website to view our case studies and learn more about how we can assist you at www.advisicon.com.