Description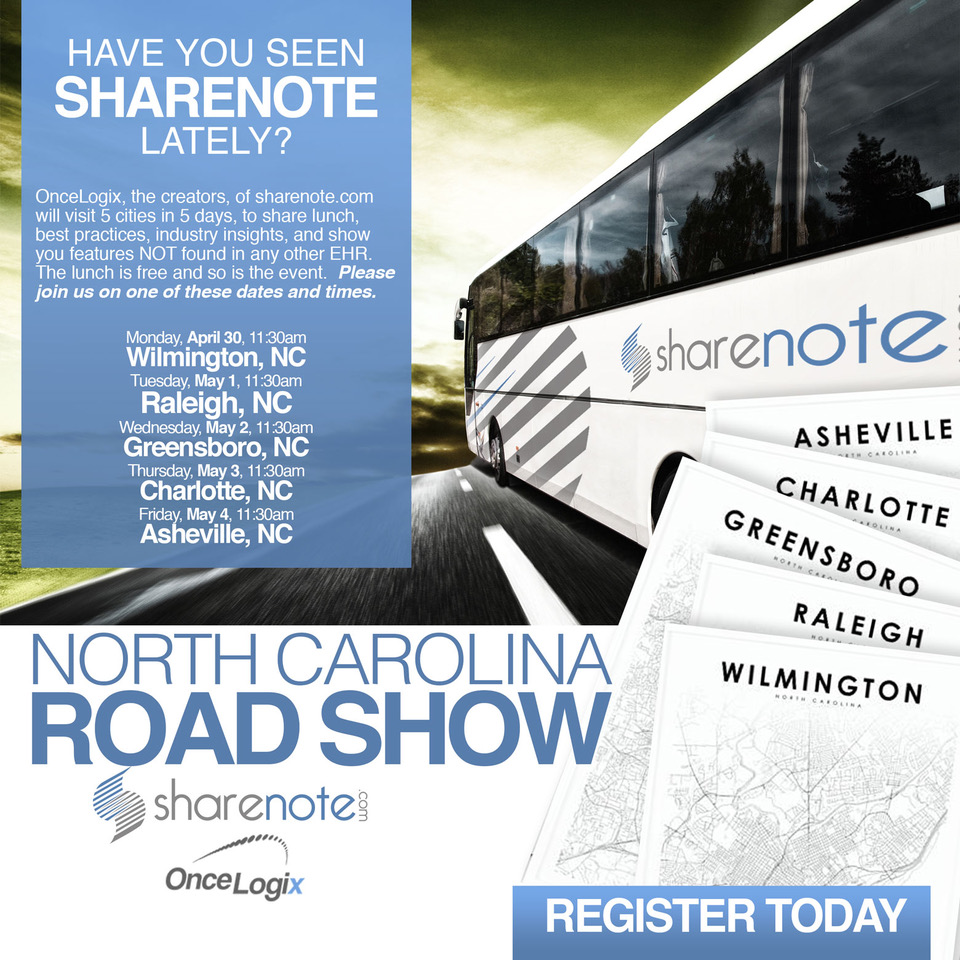 Have you seen sharenote.com lately?
If you do not have an Electronic Health Record System, or you're considering a change and you just want to see what the market has to offer, visit with us in a city near you to witness the innovative approach to the world of sharenote.com. sharenote.com is the Electronic Health Record (EHR) solution designed specifically for Mental Health Providers.
OnceLogix, the creators, of sharenote.com will visit 5 cities in 5 days, to share lunch, best practices, industry insights, and show you features NOT found in any other EHR. The lunch is free and so is the event. Please join us on one of these dates and times.
Monday, April 30, 11:30am, Wilmington, NC
Hilton Garden Inn Mayfaire
151 Van Campen Blvd. Wilmington, NC 28403
Tuesday, May 1, 11:30am, Raleigh, NC
Hilton North Raleigh
3415 Wake Forest Rd., Raleigh, NC 27609
Wednesday, May 2, 11:30am, Greensboro, NC
Sheraton Greensboro Hotel Four Seasons
3121 West Gate City Boulevard, Greensboro, NC 27407
Thursday, May 3, 11:30am, Charlotte, NC
Fairfield Inn and Suites - Charlotte Uptown
201 S. McDowell St., Charlotte, NC 28204
Friday, May 4, 11:30am, Asheville, NC
Hilton Garden Inn – Asheville Downtown
309 College Street, Asheville, NC 28801
We cannot wait to visit with you. Please register for this free event (lunch included) by clicking, 'Select a Date' above. Register today, we have a limited capacity.
Best Regards,
Rod Brown, COO
OnceLogix, LLC