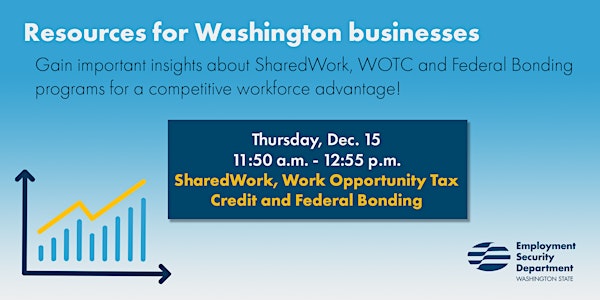 SharedWork, WOTC and Federal Bonding
Learn the latest developments of two important programs businesses need to know about for their operational effectiveness and to thrive.
About this event
1 hour 5 minutes

Mobile eTicket
The webinar features the SharedWork program and the Workforce Opportunity and Tax Credit (WOTC) and Bonding programs.
What you will learn about the Work Opportunity Tax Credit and Federal Bonding
WOTC is a tax credit program that provides an incentive for employers to hire people who may have difficulties becoming employed. With this program employers are rewarded for giving people a chance.
The Federal Bonding Program protects employers against employee theft, forgery, larceny and embezzlement.
Employers can be issued free of charge, zero deductible bonds for between $5000 and $25,000 for each justice involved new employee.
Click on the links and learn more about the WOTC and Federal Bonding programs.
What you will learn about the SharedWork Program
Keep your workforce intact and if needed temporarily reduce your payroll costs to keep your employees and customers. The SharedWork program pays your employees a prorated percentage of unemployment insurance benefits when you reduce their work hours and wages. Eligibility is open to most businesses and industries. More ways to learn about SharedWork:
Watch the award-winning commercial (only 2.5 minutes)
Visit the SharedWork website. esd.wa.gov/SharedWork
Speak with an agent to verify your business eligibility in minutes by calling 800-752-2500 and choosing Option 3.