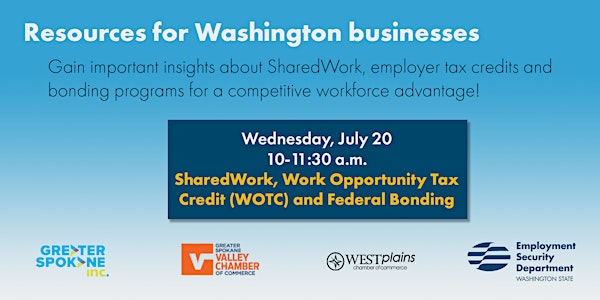 SharedWork and Work Opportunity Tax Credit and Federal Bonding programs
Gain important insights about SharedWork, WOTC and federal bonding programs for a competitive workforce advantage
About this event
The webinar features SharedWork, WOTC and Federal Bonding for the resilience of new and existing businesses.
What you'll learn about Work Opportunity Tax Credit and Federal Bonding
WOTC is a tax credit program that provides an incentive for employers to hire people who may have difficulties becoming employed. With this program employers are rewarded for giving people a chance.
The Federal Bonding Program protects employers against employee theft, forgery, larceny and embezzlement. Employers can be issued free of charge, zero deductible bonds for between $5000 and $25,000 for each justice involved new employee.
Any full or part time employee who is justice involved and is paid wages with federal taxes deducted qualifies. This includes individuals hired by temp agencies.
What you'll learn about the SharedWork program:
In these uncertain times, employers may need to pause or scale back operations while they wait for conditions to normalize. The SharedWork program supplements workers' paychecks when hours are cut back, using unemployment insurance as a bridge to avoid quits and layoffs during tough times. It's a real win-win for businesses and workers, which is why 99 percent of Washington employers who've used this program say they would recommend it to their peers.
Best kept secret for a business to retain its workforce.
Business eligibility and program benefits.
Protect the business by using the simple steps to enroll in SharedWork program.
How to scale your workforce when needed and maintain trust, morale and loyalty.
Impact to experience rates, true or false?
Answers to the most common SharedWork - Employer questions.