At a unique time in our history, increased longevity and technological innovation are changing. What does it mean for workers & employers?
About this event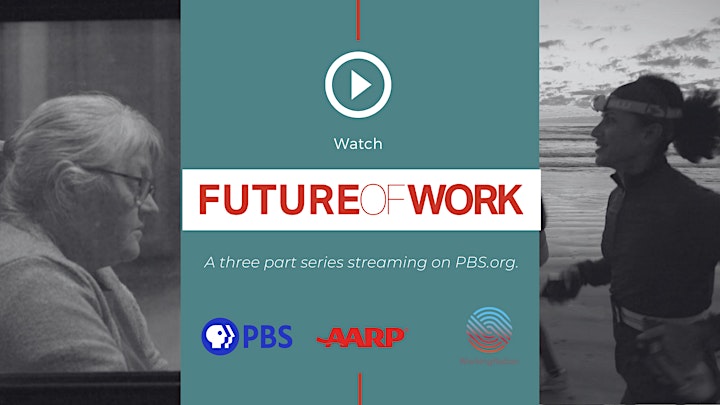 Co-hosted with AARP and WorkingNation
We're at a unique time in our history, when increased longevity and technological innovation are changing in ways that earlier generations could never have dreamed possible. Demographers talk about some businesses employing a five-generation workforce. People are living longer and often have less physically demanding jobs. Many need to continue earning a living well past the traditional retirement age or want to work as a way to be engaged and contribute to making society better.
We've grown up with a model in which retirement represents freedom from work. But for many today, a better model is the freedom to work.
Older people today are focused on what they need as well as on what they want. They want a job that not only pays the bills but allows them to pursue the kind of lifestyle they desire. Many have embraced new technologies that make it possible to work anywhere at any time.
The future of work must leverage age diversity as a competitive advantage towards success.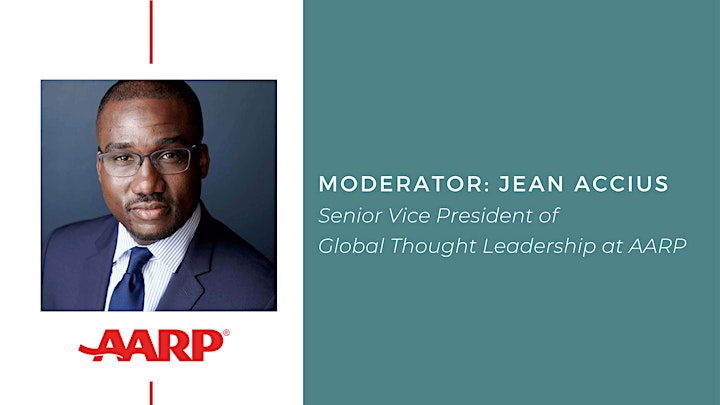 As Senior Vice President of Global Thought Leadership at AARP, Dr. Jean Accius leads a team in positioning AARP as a global thought leader by identifying emerging trends around the world, cultivating and elevating new ideas, forging global strategic alliances that become the foundation for collaboration and sparking bold solutions to change systems and improve the lives of the global population as it ages.
Dr. Accius is a passionate champion and catalyst for changing how the world sees and values aging. He is an internationally recognized thought leader on aging, longevity, equity, health systems transformation and modernizing the delivery and financing of long-term care. With tri-sector experience and deep knowledge, he has a strong track record of building high-performing teams, managing cross-functional operations and processes, and developing innovative and actionable solutions, policies, and programs to close the opportunity gap so that everyone can live longer, healthier and more productive lives.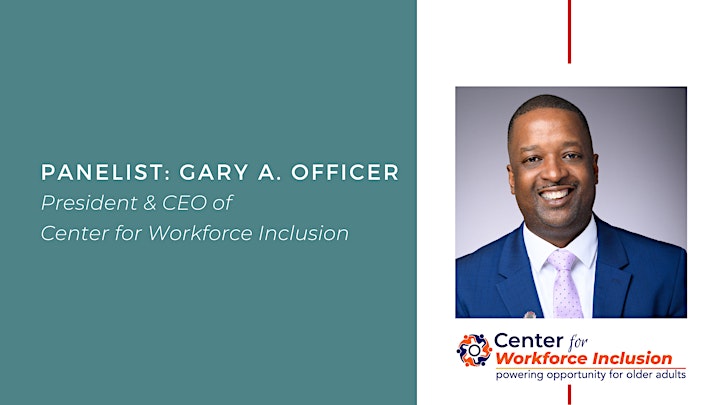 Gary A. Officer is the President and CEO of the Center for Workforce Inclusion. Mr. Officer previously served in senior executive positions at the Newseum and the Woodrow Wilson Center for International Scholars in Washington DC. From 2006-2013, he served as the President and CEO of Rebuilding Together, the nation's largest volunteer-based homeownership preservation non-profit and fourth largest remodeler. During his tenure, Mr. Officer successfully achieved a seven-fold increase in operating income and created award winning partnerships with blue chip corporate brands.
Mr. Officer has served as President of the National Credit Union Foundation (NCUF), the national foundation supporting credit union development in the United States. During his three-year tenure, Mr. Officer successfully grew a $370 million community investment fund that provided grants, loans, and secondary capital to credit unions and related organizations throughout the United States.
Mr. Officer earned a Bachelor of Arts (Hon) Political Science from the Manchester Metropolitan University and a Master of Science MSc (Econ) International Relations from the London School of Economics. Mr. Officer completed the Advanced Management and Leadership Program (OAMLP) at the Said Business School at Oxford University.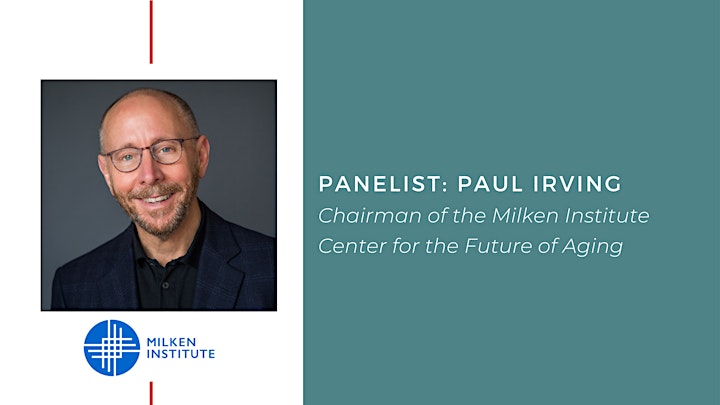 Paul Irving is chairman of the Milken Institute Center for the Future of Aging, chairman of Encore.org, and distinguished scholar-in-residence at the University of Southern California Leonard Davis School of Gerontology. He previously served as the Milken Institute's president, an advanced leadership fellow at Harvard University, and chairman and CEO of Manatt, Phelps & Phillips, LLP, a national law and consulting firm.
Author/editor of "The Upside of Aging: How Long Life Is Changing the World of Health, Work, Innovation, Policy, and Purpose," a Wall Street Journal expert panelist and contributor to the Harvard Business Review, PBS NextAvenue, and Forbes, Irving speaks and writes about health, productivity, and purpose for older adults; investment, opportunity, and innovation in the longevity economy; the future of retirement; and the changing culture of aging in America and the world.
Dr. Angela Jackson leads New Profit's Future of Work Initiative, which seeks to close the career-readiness gap for Americans from low-income backgrounds. Angela's career started in the private sector leading business development for organizations like Viacom and Nokia. While working internationally, she began to wonder: if multinational companies can deliver their products consistently and with quality at scale, what would it take to deliver social interventions like education and health in a similar manner?
She began to tackle this question by founding Global Language Project, a social venture that aimed to transform how we prepare students with skills to succeed in a global economy and workforce. Angela completed a Doctoral degree at Harvard University, where her focus was on this question, along with the role of scale and strategic capital deployment and philanthropy in systems change initiatives.
Angela's work with New Profit allows her to marry her research interests with practice. She currently leads New Profit's $15M Future of Work global fund to invest in entrepreneurs and companies developing innovative technical solutions to upskill low-income and entry-level workers at scale. Angela recently launched a $6 million Future of Work Grand Challenge, powered by XPRIZE and MIT Solve, to rapidly reskill 25,000 displaced workers into living-wage jobs in the next 24 months.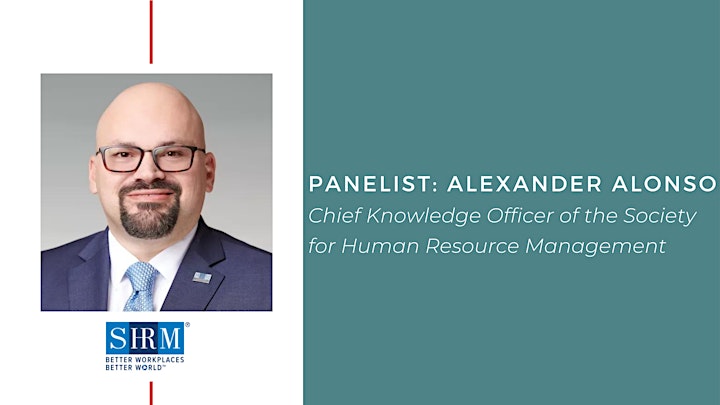 Alexander Alonso, PhD, SHRM-SCP is the Society for Human Resource Management's (SHRM's) Chief Knowledge Officer leading operations for SHRM's Certified Professional and Senior Certified Professional certifications, research functions, and the SHRM Knowledge Advisor service. He is responsible for all research activities, including the development of the SHRM Competency Model and SHRM credentials.
During his career, he has worked with numerous subject matter experts worldwide with the aim of identifying performance standards, developing competency models, designing organizational assessments, and conducting job analyses. He was also responsible for working on contract task orders involving the development of measurement tools for content areas such as job knowledge (like teacher knowledge of instructional processes) and organizational climates (like organizational climate forecasting in military health care).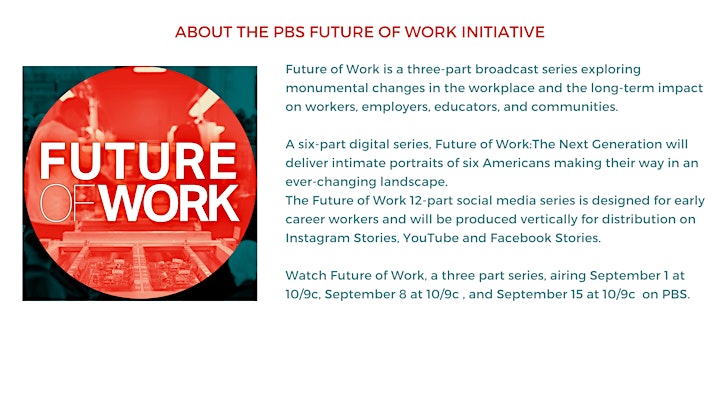 About AARP
AARP is the nation's largest nonprofit, nonpartisan organization dedicated to empowering people to choose how they live as they age. With nearly 38 million members and offices in every state, Puerto Rico and the U.S. Virgin Islands, AARP works to strengthen communities and advocate for what matters most to families—with a focus on health security, financial stability, and personal fulfillment. We also work for individuals in the marketplace by sparking new solutions and allowing carefully chosen products and services to carry the AARP Name.
About WorkingNation
WorkingNation is a nonprofit campaign founded in 2016 by venture capitalist Art Bilger to expose hard truths about the looming unemployment crisis and bring the country together to create and amplify solutions for a changing economy. WorkingNation operates in partnership with a 501(c)(3) fiscal sponsor. All direct, tax-deductible donations to WorkingNation are fully tax deductible to the extent of the law.

Organizer of Shaping the Future of Work: Living, Learning, and Earning Longer