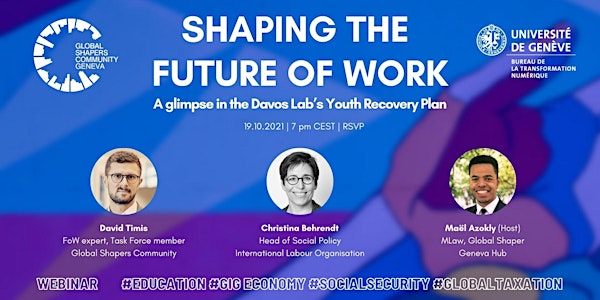 Shaping the Future of Work: a glimpse in the Davos Lab Youth Recovery Plan
Over 2 million people shared their views on how to end intergenerational injustice and build a better society for tomorrow. What about you?
About this event
According to the Youth Recovery Plan, some of the critical challenges young people foresee revolve around the necessity to work towards a more inclusive and resilient notion of work. This has become even more important given the fragility of the labour market, compounded by an almost bankrupt social security system.
Beyond rethinking skills and education, the new generation appears to rally behind a global wealth tax to help finance more resilient safety nets and manage the alarming surge in wealth inequality.
And You, what are your thoughts and fears about the future of work?
Join us for an insightful, interactive discussion on 19 October, 7 pm.
Christina Behrendt
Head of the Social Policy Unit in the International Labour Office (ILO)'s Social Protection Department.
She has widely published on social protection in both developed and developing countries, including on the extension of social protection to those in the informal economy, income distribution, and poverty alleviation, as well as the distributive effects of various social protection benefits on poverty and inequality. She earned her PhD in Social Policy from the University of Konstanz (Germany).
David Timis
Global Communications Manager of Generation, the largest global employment program by annual volume that both trains and places people in jobs.
He has 8 years of work experience in marketing, project management, and public policy gained in organisations ranging from the Council of Europe and the United Nations, to L'Oréal and Google. He was educated in Business and Management at the University of Glasgow and in Public Policy at the College of Europe.
The Davos Lab is an initiative of the World Economic Forum Global Shapers Community launched in early 2021.
This initiative aimed to design a Youth Recovery Plan assessing which enduring changes young people foresaw after the pandemic and what they would do differently if they were in charge.
Working together, Global Shapers worldwide organized Davos Lab dialogues in 146 cities, reaching a total audience of over 2 million people and generating 40 policy recommendations to end intergenerational injustice and build a better society for tomorrow.
__
This event is part of the "Parlons numérique" cycle of conferences of the University of Geneva. A conference (in french) will be held on 20 October on the theme "Intelligence artificielle et automatisation des métiers".