Location
Garden Room, Kirby Student Center, University of Minnesota Duluth
1049 University Drive
Duluth, MN 55812
Description
Deliberation: noun.
1. The act or process of deliberating.
2. Discussion and consideration of all sides of an issue.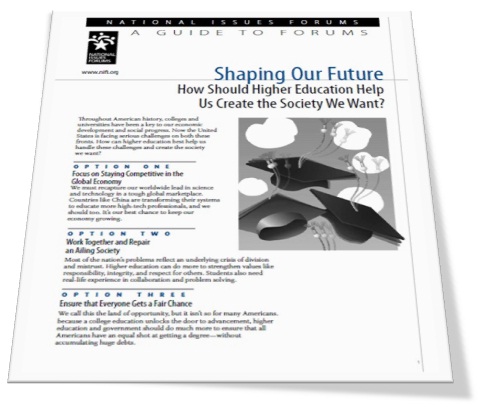 3. Thoughtfulness in decision or action.
According to research through the National Issues Forums, Americans are deeply worried that the social fabric may be unraveling--people seem less and less able to work across differences to get anything done. Can higher education help address this problem, helping our society shift "from me to we"?
Break out of the culture of argument and polarized debates that seems increasingly prevalent in our society. Deliberative practice promotes learning and problem solving, listening and understanding across lines of difference, and can lead to collective action.
During this Community Dialogue, we will discuss the differing perspectives on the public purposes of higher education, explore what this means to the University of Minnesota Duluth and its surrounding communitiy, and identify local opportunities for action and collaboration With any questions about the event, please contact Meghan at info@mncampuscompact.org or 612-436-2080. With questions about the statewide series of dialogues, please contact Julie at 612-436-2081 or julie@mncampuscompact.org. We are grateful to the Blandin Foundation and the Travelers Foundation for their support of this initiative, as well as the American Commonwealth Partnership and our local partners.
For more information about the National Issues Forums Institute and the array of free issue discussion guides available, see http://www.nifi.org/.