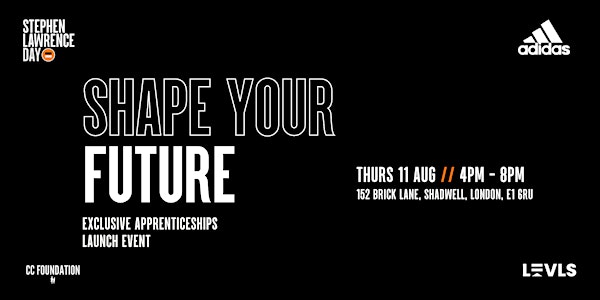 SHAPE YOUR FUTURE | SLDF APPRENTICESHIPS EVENT
Location
152 Brick Ln
152 Brick Lane
London
E1 6QL
United Kingdom
Stephen Lawrence Foundation: Shape Your Future Apprenticeships Launch Event
About this event
In celebration of the new inaugural Stephen Lawrence Day Foundation Apprenticeships. We have partnered with adidas who will be providing roles available in London and Manchester from September 2022.
Join us at the Shape Your Future Event, to get support with your application, gain exclusive insider information from hiring managers and industry experts.
SLDAY FOUNDATION will be hosting an event to help fast track your career ambitions !
The event will consist of:
- Career Networking and Job Booths
- 1:1 Application Support
- adidas CV Workshop
- adidas 'Impossible is Nothing' Panel Talk
The event is totally FREE!! Share with someone you know
Limited space 🧡
We have a panel, prizes, and live Q&A ✨
SIGN UP NOW!!!!
At SLDF sharing is caring, please share this with your networks and join us on our social media channels:
Linkedin - https://www.linkedin.com/company/sldayfdn
Twitter @sldayfdn - https://twitter.com/sldayfdn
Instagram @sldayfdn - https://www.instagram.com/sldayfdn/
Tiktok @sldayfdn - https://www.tiktok.com/@sldayfdn
Facebook @sldayfdn - https://www.facebook.com/sldayfdn
Youtube - https://www.youtube.com/c/StephenLawrenceDay
By attending this event, you agree to be photographed and/or filmed and give permission to use your likeness in promotional and/or marketing materials.
To opt out, please email info@stephenlawrenceday.org or visit https://stephenlawrenceday.org/privacy-policy/ for more information on how we use your data.'