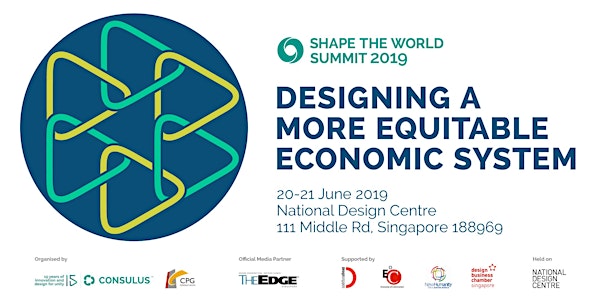 Shape The World Summit 2019 - Designing a More Equitable Economic System
When and where
Location
National Design Centre 111 middle road Auditorium at Level 2 Singapore, Singapore 188969 Singapore
Refund Policy
Refunds up to 30 days before event
Description
Please only read on if you care enough about the future to do something...
A 2-day creative summit in Singapore from 20-21 June to gather global leaders, professionals, and citizens who care about a better world to imagine new ideas from economy to leadership, business, urban development, healthcare, education to shape a more equitable economy.
The clarion call from the World Economic Forum, APEC to Pope Francis is: there is an urgent need to reshape the socio and economic rules to enable participation and sustainability. Failure to do so will further disrupt the global order, which has seen a gradual deterioration of peaceful development and co-existence since the end of the Cold War, ushering in a disruptive period of narrow interests and extremism.
While the calls are loud and clear there has been little breakthrough on the approach. The usual economic instruments of free trade, methods of development, shared global standards, technological advancement have made little headway in recent times to enable inclusion. As we enter the age of the 4th Industrial revolution, it is timely to consider a new approach to the issues of our time.
This is where design thinking as an approach can be useful. It started as an approach to shape better user experiences and in recent times it has been applied in social innovation. As a method that is human-centered, with its emphasis on empathy, relationships, it has the potential to unite stakeholders to think different at a systemic level.
In this context, Shape the World Summit 2019 will convene over 300 diverse stakeholders at the National Design Centre from 20-21st June in Singapore. From politicians, civil service, business leaders, religious, education, domain experts, victims of economic disruption, youth. Participants will come from the US, Italy, Brazil, Taiwan, Singapore, Malaysia, Sri Lanka, in total about 16 countries will be represented. The summit will use the design thinking approach to gather the thoughts of different stakeholders to propose a method for every person in the economic system on how they can each contribute to shaping a more equitable economy. This toolkit which will be titled: "Imagine a world" will be distributed as an Ebook after the event.

The two-day summit will adopt the 4-frames method (Frame, Condition, Engagement, Takeaway). The morning plenary sessions will identify issues, user-needs, identify conditions for new ways of intervention, and what should be the ideal takeaway for a design thinking brief.
Then afternoon sessions will consist of design labs to engage participants in the design thinking process to define the possible approaches on the issues discussed in the morning. The method for the design labs is based on 6 design challenges based around Economy, leadership, business, urban development, healthcare and education with diverse participants from public and private sectors.
There will be 6 tracks of discussion over 2 days of the summit
DAY 1: Economic System and Leadership Transformation
Welcome Address for Shape the World Summit DAY 1
- Shiraz Latiff, Chairman of Consulus Global Network (SRI LANKA)
Morning Plenary Session 0930 - 1230
Track 1: Imagine a more Equitable Economy
- Mark Wee, Director of Design Singapore Council (SINGAPORE)
- Prof. Grevin Anouk, Associate Professor at University of Nantes and Sophia University (FRANCE)
- Senior Economist, Partnership Resource Center, Rotterdam school of management, Erasmus university (NETHERLANDS)
Track 2: Imagine Inclusive Leadership
- Moderator: Abhineet Kaul Senior Director, Consulting, Public Sector & Government Practice at Frost & Sullivan (SINGAPORE)
- Jim Funk, Global Head for Leadership Transformation at Consulus (USA)
- Prof. Emilia Heo, Associate Professor of International Relations Ritsumeikan Asia Pacific University (JAPAN)
- Alex Lau, Principal Design Lead (Innovation Lab), Public Sector Transformation in Public Service Division, Prime Minister's Office (SINGAPORE)
Track 3: Imagine Inclusive Business
- Moderator: Sharon Kam, Head of Creative Strategies at Consulus (SINGAPORE)
- Teresa Ganzon, Chairman of Bankok Kabanyan (PHILIPPINES)
- Nurul Akmar Jaafar, Head, Retail Banking Group, BIBD (BRUNEI)
- Tai Lee Siang, Executive Director, BCS (SINGAPORE)
Afternoon Design Labs from 1400 - 1800 for Economy, Leadership, and Business
Day 1 Networking Night: Presentation: What is the Economy of Communion: history, model, network. The venue will be at the National Design Centre.

------------------------------
DAY 2: Urban Environment, Education and Healthcare

Welcome Address for Shape the World Summit DAY 2
- Ar. Tan Shao Yen, Chief Innovation Officer at CPG Corporation (SINGAPORE)
Morning Plenary Session:
Track 4: Imagine Inclusive Cities and Villages
- Moderator: Ar. Tan Shao Yen, Chief Innovation Officer at CPG Corporation (SINGAPORE)
- Ryan Brasali Director of Operations at Kota Baru Parahyangan (INDONESIA)
- Karthik Karkal, Director at Ramboll (SINGAPORE)
- Tony Chan Associate Principal at ARUP (SINGAPORE)
Track 5: Imagine an Inclusive Healthcare System
- Ar. Lim Lip Chuan, Senior Vice President at CPG Consultants (SINGAPORE)
- Dr. Abdul Bari Khan, CEO at The Indus Hospital (PAKISTAN)
- Prof. Zhou Yanmin, School of Architecture, Tsinghua University (CHINA)
Track 6: Imagine an Education model that shapes inclusive solutions
- Moderator: Helena Pham, Managing Director at Consulus Vietnam (VIETNAM)
- Prof. Margaret Chen, President of Wenzao ?Ursuline University of Languages (TAIWAN)
- Abhineet Kaul, Senior Director, Consulting, Public Sector & Government Practice at Frost & Sullivan (SINGAPORE)
- Prof. Pey Kin Leong, Associate Provost, Undergraduate Studies & SUTD Academy (SINGAPORE)
Afternoon Design Labs from 1400 - 1800 for Cities, Healthcare and Education
Day 2 Evening Gala Dinner - Presentation of the initial framework on Imagine a World and conclusion of Summit and Consulus 15th Anniversary Celebration. The venue will be at Fairmont Singapore, Stamford Ballroom, Level 4
FAQs
What will be the working language of the summit?
All talks will be presented in English though one or two speakers might speak in another langauge and if there are such situations, translation will be provided.
Are there ID or minimum age requirements to enter the event?
This summit is open to ticketed participants from around the world but the minimum age is 16 years old as the content may not be suitable for those who are younger.
What are my transport/parking options for getting to and from the event?
Public transport
By MRT
Circle Line – Bras Basah station (a 5-minute walk to the centre, take Exit A)
East-West Line – Bugis station (a 5-minute walk to the centre, take Exit C)
Downtown Line - Bugis station

By Public Bus
Middle Road (Midlink Plaza): SBS Transit 56 and SMRT 980
Victoria Street (St Joseph's Church): SBS Transit 130, 133, 145, 197 and SMRT 851, 960, NR7
Victoria Street (Bras Basah Complex): SBS Transit 2, 12, 33, 130, 133 and SMRT 960, NR7
North Bridge Road (Cosmic Insurance Building): SBS Transit 7, 32, 51, 61, 63, 80, 145, 175, 197 and SMRT 851
Parking
Parking is available at the following car parks near the center, along:
Queen Street: Public and HDB car parks
Middle Road: InterContinental Singapore Hotel and Bugis Junction car park
Victoria Street: National Library Building and Bugis+ car park
Where can I stay if I am coming from overseas?
There are a number of hotels around the summit venue that are reasonably priced. We advise that you can go onto booking.com to check it out.
Will there be Halal food served?
We have a number of Muslim friends who will participate so the tea breaks, buffet lunches are already Halal. If you are participating in the gala dinner, you will need to indicate separately if you need Halal food and it will be provided.
I am organizing a group of participants to come for the summit but they do not speak English, may I request for translation assistance?
If you have a group of at least 15 participants who are ticketed to come for the event, we will provide dedicated translation support but you must purchase tickets 30 days before the event and inform us.
I will need help with the Visa application
For ticketed participants, we will provide a letter of participation for the purpose of submission to the relevant visa application authorities
How can I contact the organizer with any questions?
Please email to info@consulus.com
What's the refund policy?
We will only refund if it is due to visa issues and refund requests must be made at least 30 days before the start of the event.