Description
SUMMER PROGRAM - DISCIPLINE, FUN & EMPOWERMENT!
Seattle Shaolin Kungfu Academy brings you our Summer Camp. This is a great opportunity for children to learn from our world-famous Shaolin Warrior to stay healthy and strong, learn useful skills, build confidence and increase discipline, and have fun during the summer time. For new students, you will learn the basic and fundamental of Shaolin stances, traditional fist forms and weaponry, basic tumbling and sparring. For existing students, you will progress to learn techniques of current belt syllabus and new fist forms base on your skills level. You will also learn certain performance and competition forms during this "acclerated" program.
10 Weeks whole day Shaolin Kung Fu Curriculum:
New participants who enroll for 10 full weeks in the whole-day program will complete the following curriculum:
- Shaolin Kung Fu basic, 5 stances, 18 Shaolin Moves; tumbling, jump front kick, tornado kick, sparring, etc.
- Shaolin fist forms: Lianhuan Fist, 5 Animals Fist(tiger, praying mantis, eagle, snake and crane)
- Traditional Shaolin Weapons: Shaolin Staff, 9-Sectioned Whip
Current Seattle Shaolin Kungfu students: Lessons tailored to students level, plus 7 Stars Fist, 9-Sectioned Whip, Performance and Competition forms.
Students who have completed at least one full week will receive a Shaolin Kungfu Summer Program Certificate.
Other Activities:
Zen (Chan) Meditation, Kungfu Tea Ettiquete practice, Chinese Calligraphy writing, Chinese Classical reading
We also partner up with Seattle Pacific Table Tennis Club & Best in Class Education Center this summer to offer table tennis and education program which integrates math, English, gifted test prep, arts & crafts, show & tell, games, and activities.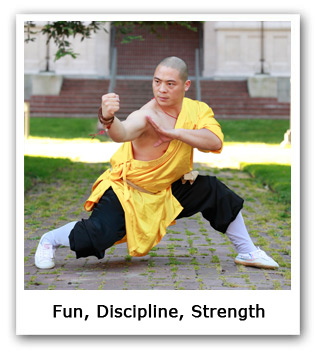 ---
Schedule
June 19th to September 1st (can participate on a weekly basis) No class on July 4th
Camp Hours
Full day: 9:00 am - 4:00 pm (Mon through Fri)
Half day: 9:00 am - 12:30 pm OR 12:30 pm - 4:00 pm (Mon through Fri)
Extended Hours
8:00 - 9:00 am or 4:00 pm - 6:00 pm ($30 per week)
8:00 - 9:00 am and 4:00 pm - 6:00 pm ($40 per week)
---
Camp Fee
(Kung Fu Only)
Full Day Weekly Fee: 1~3 weeks ($299/week); 4~6 weeks ($289/week); 7~10 weeks ($275/week)
Half-Day Weekly Fee: 1~3 weeks ($195/week); 4~6 weeks ($185/week); 7~10 weeks ($175/week)
Non-weekly Full-Day Daily Fee: $65/day
Non-weekly Half-Day Daily Fee: $45/half-day
Kung Fu + Education/Table Tennis
Full Day Weekly Fee: $299 per week
---
Lunch Students should bring their own lunch, snacks, and water bottles
Promotion
- 5% off for second or third child in the same family
- Registration of 3 weeks & up > FREE uniform; Registration 6 weeks & up > FREE nunchuck
Contact info@seattleshaolinkungfu.com or 425-241-9286