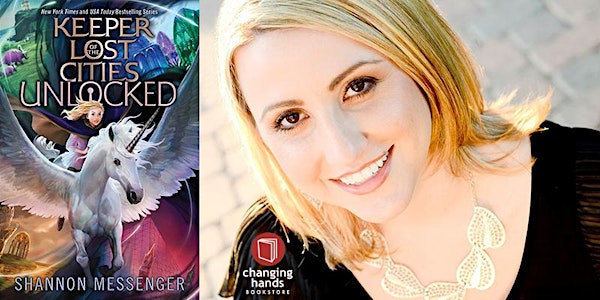 Shannon Messenger presents UNLOCKED, book 8.5 in Keeper of the Lost Cities
Join us for a virtual pajama party with Shannon Messenger! Stuffed animals welcome! Post a photo of your stuffed animal with #keepertour.
About this event
Wear your snuggliest pajamas, grab your favorite stuffed animal, and prepare to get cozy in front of your computer screen for a conversation between Shannon Messenger and New York Times and Wall Street Journal bestselling author Amie Kaufman, as Shannon presents UNLOCKED, book 8.5 in Keeper of the Lost Cities. Told in an exciting new way, the saga continues with plenty of huge reveals and shocking new twists--plus a complete series guide with beautiful color and black-and-white illustrations and other awesome bonuses! 
PRE-ORDER PROMO:
When you purchase your copy of Keeper of the Lost Cities 8.5: Unlocked by Shannon Messenger from Changing Hands, you'll get a signed bookplate from Shannon Messenger and receive an exclusive vinyl sticker. While supplies last.
ABOUT THE BOOK:
In this extra special installment of the Keeper of the Lost Cities series, the story picks up right from Legacy's particularly devastating cliffhanger. But chapters alternate between Sophie and Keefe's perspectives to give readers deeper insights into both beloved characters. New powers will be discovered. Hard truths from the past will come to light. And all of your favorite characters will find themselves tested in ways they never imagined.
And that's not all!
Unlocked also includes a comprehensive guide to the world of the Lost Cities, featuring new character and world details that have never been revealed before--plus fun bonuses like Keeper-themed recipes, a detailed map of the Lost Cities, gorgeous full-color illustrations, and so much more!
ABOUT THE AUTHOR:
Shannon Messenger graduated from the USC School of Cinematic Arts, where she learned--among other things--that she liked watching movies much better than making them. She's studied art, screenwriting, and film production, but she realized her real passion was writing stories for children. She's the New York Times and USA TODAY bestselling author of the award-winning middle grade series, Keeper of the Lost Cities, as well as the Sky Fall series for young adults. Her books have been featured on multiple state reading lists, published in numerous countries, and translated into many different languages. She lives in Southern California with an embarrassing number of cats. Find her online at ShannonMessenger.com.
ABOUT THE MODERATOR:
Amie Kaufman is a New York Times, Wall Street Journal and internationally bestselling author of young adult fiction, including the Elementals series, Unearthed, and the Starbound trilogy, coauthored with Meagan Spooner; and the Illuminae Files trilogy, coauthored with Jay Kristoff. Her multi-award-winning work has been described as a game-changer ( Shelf Awareness) and out-of-this-world awesome ( Kirkus Reviews). Raised in Australia and Ireland, Amie has degrees in history, literature, law, and conflict resolution. She took howling lessons from a wolf expert while preparing to write this book. She lives in Melbourne, Australia, with her husband, their rescue dog, and an extremely large personal library. Read more at www.amiekaufman.com.