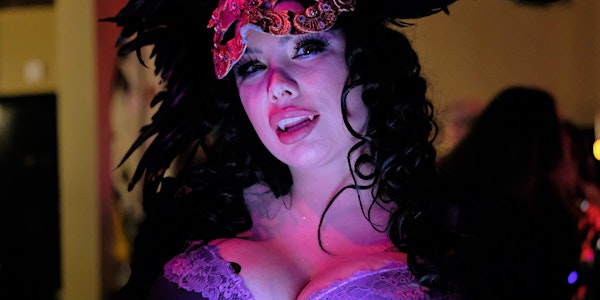 Shannon McCabe's 13th Annual Vampire Ball- Saturday 10/30/21 at Harlow's
Since season 12 was sucked dry... we skipped it, and moved to Lucky 13. The Vampire Ball celebrates 13 lucky years on Saturday 10/30/21
When and where
Location
Harlow's Restaurant & Nightclub 2708 J Street Sacramento, CA 95816
About this event
This event will be held on Saturday, October 30th, 2021 at Harlow's 2708 J. Street, Sacramento, CA- 21+ with a valid ID & proof of Vaccination. https://myvaccinerecord.cdph.ca.gov/ to obtain a copy on your phone. Masks required indoors according to CDC guidelines.
_______________________________________________________________________________
Hello Vampyres,
Welcome to Shannon McCabe's Vampire Ball, the best Halloween & Vampyre event in Northern CA. The 13th annual Vampire Ball will be held at Harlow's Nightclub & upstairs in the Starlet Lounge. This event is intimate, sexy & gothic and the entertainment is fangtastic.
Welcome back to "life". I wanted to let you know that we are coming out of our sarcophagus' and coffins and venturing out into the big scary world of humans. Don't fear, we are strong, we are resilient, and we are vampyres! You may have noticed I changed the spelling of vampire to Vampyre. This is the Old English way, and since we are in our favorite year, year 13, we felt it was time to mix things up a bit.
This event will be held on Saturday, October 30th, 2021 at Harlow's 2708 J. Street, Sacramento, CA- 21+ with a valid ID & proof of Vaccination. https://myvaccinerecord.cdph.ca.gov/ to obtain a copy on your phone.
What's in Store for the 13th Season: 2 Vampire Gothic Rock Bands downstairs in Harlows- Ashes Fallen, and A Death in Bloom, all with amazing sound, video and lighting. Vampire and Halloween decor throughout the venues. DJ Bryan Hawk, DJ Thomas Diablo- SF, DJ Dani Fontana- Wasteland, Indiana Bones Burlesque, Starlet O'Hara Fire Dancer, Badia the Bellydancer, Psychic/ Tarot Readings from Lady Amber Rayne and Athene Noctua, The Infinite Spin Hoopers, Savannah Lee Go Go, The Valkyrie Mermaid, Vendors, Dancing, Vampire themed cocktail "The Blood Bath", Secret upstairs VIV lounge (Inside Starlet Room), VIV Party and more...
3 full bars with Vampire cocktail "The Bloodbath," a Father Sebastiaan/Sabretooth Clan favorite. colored lighting, and fountains await you on the candlelit outdoor patio. VIV party with Vampyre Ritual Dance with Ma'at & Shannon McCabe, Kount Bruce Kubel will be on piano in the upstairs VIV lounge (Inside Starlet Room Upstairs), and hosted hors de ouevres on the patio beginning at 7pm for our VIVs. The entire place will be open to our VIV's at 7pm. General Admission 9pm
Sexy Vampire performers & dancers throughout the club, DJ Dancing Upstairs in the Starlet Lounge with our resident DJ, Bryan Hawk & Thomas Diablo from the Cat Club SF, he'll be spinning the Vampire songs you know and love along with gothic, and Halloween themed music all night in the intimate Starlet Lounge.
Vampire Mask /Costume Contest- NEW for 2021! Best Dressed Vampyre / Must include a working face covering. Prizes and tickets to next year's 2022 Vampire Ball & Shannon McCabe's Mardi Gras March 12th @ Harlow's - Very best MASK also wins a prize!
We will be performing our very first Vampyre Blood & Roses - Red Wedding at the stroke of Halloween... Please do join us for this special occasion at the stroke of midnight inside Harlow's. Yes, this is a real Vampyre Wedding!
Full Food Menu- available from the Harlow's Kitchen - COMING SOON!
Full Night Schedule- COMING SOON - We will email every ticket holder
____________________________________________________________________________
We are all over Social Media, Please join us... v v Follow us on Facebook to stay in touch... https://www.facebook.com/TheVampireBall/
Follow us on Instagram for some Vampire Fun... https://www.instagram.com/vampire_ball
Follow us on Tik Tok for complete absurdity... Shannon_McCabe_Vampire
Please use our hashtag when you post to social media, we would love to see! #ShannonMcCabesVampireBall
____________________________________________________________________________________
Vampire Ball Dress Code-Vampire finery, Gothic Attire, All Black, Victorian, Steampunk, Ball Gowns, Tuxedos, Baroque, Cloaks, Corsets, Latex, All Black Classic Suits or Cocktail Dresses, Top Hats, Creative hand made garments, Mardi Gras Masques, and of course Fangs.
Where to find these items: Evangelines Costume Mansion (Vampire Section), Amazon, Etsy, Ebay, Custom Latex by Dead Regal (facebook), or Spirit Halloween (Vampire Section). Get custom made fangs by mail order from our friend, Father Sebastiaan, here: http://www.fathersebastiaan.com/fangs-overview
Please No- Themed Halloween Costumes, Superheroes. This is a vampire themed event and if you make great effort you will have a fangtastic time. Thank you, the vampires.
____________________________________________________________________________________
FAQs
Will you require proof of vaccination of COVID-19 at Harlow's & the Starlet Room- YES. 21+ with a valid ID & proof of Vaccination. (Vax Card or on your phone- OK) https://myvaccinerecord.cdph.ca.gov/ to obtain a copy on your phone.
Will we have to wear masks/face coverings? Yes, Harlow's is requiring masks indoors. (But we are going to have a Mask contest, so?)
Will you be accepting vendors for the Vampire Ball? We are currently booked, but thank you for your interest.
Do you have a parking lot- We do not have a parking lot but there is a lot of street parking in and around J Street, we highly reccommend taking Uber or Lyft for many reasons including parking.
Are there ID or minimum age requirements to enter the event? Yes, 21+ please with valid government issued ID.
Is there wheel chair access to the Vampire Ball? Yes, we have wheelchair access to the bottom floor and outdoor patios at Harlow's nightclub. We apologize but we do not have wheelchair access to the top floor at the Starlet Lounge as this is a registered historical building. Please email us for a dicount ticket with ADA Access.
Do I have to bring my printed ticket to the event? No, your name will be on our pre printed ticket list at the front door. Yes, you can transfer your ticket to another vampire, but you must contact us 48 hours prior to October 30th, 2021 to do so. Contact us through Eventbrite please.
Will there be ticket refunds: No, but tickets are transferrable and also may be used for the Shannon McCabe's Vampire Ball in 2022 if you contact us within 48 hours of the event. Contact us through Eventbrite please.
Thank you for joining us for the 13th Annual Shannon McCabe's Vampire Ball in Sacramento, CA. We cannot wait to tantalize and fantasize in our vampire world with you... On Saturday, October 30th, 2021.
Shannon McCabe, Sacramento Vampire Ball Founder, Sacrament Halo of Vampires & Sabretooth Clan
Please use our hashtag when you post to social media, we would love to see! #ShannonMcCabesVampireBall
Follow us on Facebook to stay in touch... https://www.facebook.com/TheVampireBall/