Shannon and the Clams at the Grog Shop with Ohmme and The D-Rays
About this event
Sunday, Rocktober 24th
7pm doors / 8pm show
$18 in advance / $20 day of show
+$2 at the door if under 21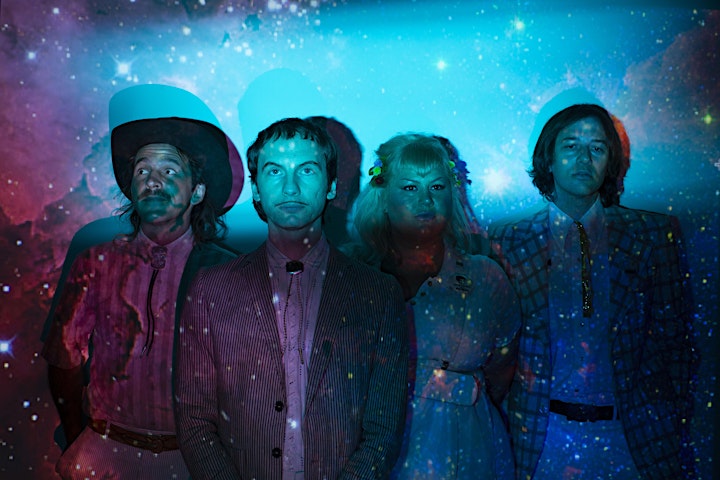 "I am terrified of spiders," says Shannon Shaw. "My mom always told me that they're drawn to me. Like, they would drop down and dangle in my face as a baby, or they'd get in my bed."
But the powerhouse singer-bassist of retro-rock band Shannon & The Clams had bigger fears when she went to an astrologer two years ago. Shaw was at an emotional tipping point — willing to try anything — because everything she loved was falling apart.
"It felt like the end of an era," Shaw says, which began to unravel in 2016 with the tragic Ghost Ship warehouse fire in the Clams' DIY community in Oakland. In 2018, the California wildfires in Napa almost caused her parents to evacuate their homes. In 2019, a lurking intruder drove Shaw out of the beloved apartment she'd lived in for 14 years. And then, right as her band was getting invited on big tours with bands like Greta Van Fleet and The Black Keys, her father was diagnosed with cancer. "The idea of leaving my family was agonizing — it was torture," Shaw says.
The astrologer told her to summon Durga when she felt powerless, a Hindu goddess who holds a weapon in each of her eight arms. Shaw saw the connection. "The symbolism of the spider made a full turn in an interesting way," she says. "I was getting protection from the thing I feared the most." Plus, she says with a laugh, "Spiders destroy the bullshit bugs. Like mosquitoes. Who needs 'em?"
Year Of The Spider, the band's sixth studio album, rages against death and disease with the power of a thousand angry Ronettes. Songs like "All Of My Cryin'," "Mary, Don't Go," and "Year Of The Spider," pulse with girl-group elegance and punk ferocity. On a Clams record, you always get both.
That harsh/soft balance often comes down to Clamskeyboardist Will Sprott. "Different keyboards lend themselves to different tones," Sprott says, "a Rhodes [piano] is more soft and bell-like, whereas a Wurlitzer has these chunky, abrasive bites. So when I'm deciding which instrument to play on a song, I'm thinking, what does the song make you feel? What do you want it to communicate? It's like, do you want this organ to scream at you or soothe you?"
On the album opener, it was a little bit of both. "Do I Wanna Stay" is a slow tango between Shaw's voice and Sprott's piano that builds to a break point when Shaw rasps, "I dream at night…" sounding like someone whittled Brenda Lee into a shiv.
"We went line by line with a fine-toothed comb to make sure the instrumentation matched each scene, almost like a movie," Sprott says, adding, "That's one thing about having Dan [Auerbach] as your producer — he is really good at seeing an overall vision of the sound — knowing when and where to add or remove certain layers."
Drummer Nate Mahan agreed, saying "Stay" was a true collaboration. "Shannon had a very unique idea about the tempo of that song that we had to work out with Dan … The timing took us quite a while to get right, but I'm really proud of how it came out."
When Mahan moved to Oakland in 2007, he was a fan of the band before he joined. "I was in a lot of improvisational and noise bands in a city that has every micro-genre you can imagine floating around … Shannon and the Clamsstuck out to me because they had great songs with great singers, which I thought that really lacking in Oakland at the time."
Mahan's intuitive approach shines through on songs with dense imagery like, "Mary Don't Go" — one of Shaw and Auerbach's favorites. "I wanted to leave space for the words and pull back [on the drums]," Mahan says. "When you slow the pace, the words can feel more powerful."
On "Godstone," which tells the story of a surreal underwater encounter Shaw had in Hawaii, Mahan ditched the drums completely and played a halting, horn-like piano line while Sprott added the eerie arpeggiated synths.
The other source of the Clams' signature sound comes from the decade-long creative partnership between Shaw and Clams' guitarist Cody Blanchard. In "I Need You Bad," their voices lock into bewitching minor chords. "It's like a zipper when we sing together," Shaw said, "I think we have a blood harmony, though we're not related." Bands that do have blood harmonies — the Everly Brothers, the BeeGees — are major musical touchstones for them. But unlike those groups, Shaw, Blanchard are close friends. They live 15 minutes away from each other and when both are in town, will rehearse in the goat shed turned recording studio that Blanchard built in his yard.
Blanchard mixed Spider at Dan Auerbach's Easy Eye Sound Studios the same week tornadoes devastated parts of Nashville right before the COVID-19 shutdowns in early 2020. He also wrote and sings lead on roughly half the songs on Spider. His songs, like "Flowers Will Return" and "In The Hills, In The Pines," have swelling pop arrangements and a mysteriously sparse falsetto, reminiscent of bands like The Hollies and The Association.
As a songwriter, Blanchard said he can get neurotic, so he tried Dolly Parton's trick: writing songs from another person's point of view. It worked, yielding some of Spider's darkest songs: the howling "Crawl," which has a roiling hard-rock guitar ("that was really fun — just a classic, rippin' '70s guitar solo") and the album's first single, "Midnight Wine," a thundering baroque-pop number that was inspired by friends and people in the Oakland arts community who died of drug overdoses over the last few years.
"I was thinking specifically of the feeling of alienation," said Blanchard. "Where it feels like nothing in society works for you. The only thing that makes sense is to get fucked up to the point where you don't care if you die or not because life is too difficult and bleak."
Spider ends with the slinky Motown-esque, "Vanishing."Shaw dons her spiritual spider armor once more, singing directly and poignantly to her father (who is doing well, she said.) At first, Shaw wondered if the lyrics were too personal to put on the record.
"It's very emotional, very tender," she said. "I also had these ideas that made no sense, like having the weird call-and-response, but we made it work so it was one of those songs that gave me the chance to grow."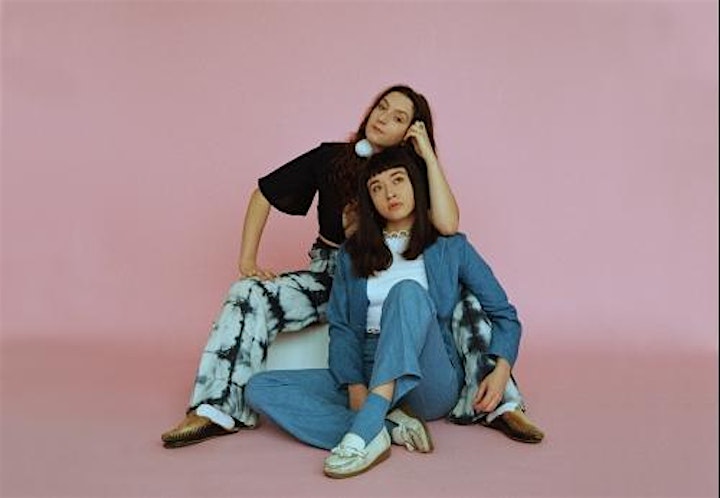 OHMME
There's an obvious chemistry emanating throughout Ohmme's music that's so tangible it can only come from a decades-spanning friendship. Songwriters Sima Cunnningham and Macie Stewart formed their unbreakable bond performing throughout the fringes of Chicago's many interlocking communities, collaborating with titans from the city's indie rock, hip-hop, and improvised worlds. But together, along with drummer Matt Carroll, they've stretched the boundaries of what guitar music can do starting with the band's experimental 2016 self-titled EP and their adventurous debut 2018 LP Parts. Now their longstanding partnership culminates with the stunning and muscular follow-up Fantasize Your Ghost.
Ohmme formed in 2014 as an outlet for Cunningham and Stewart to explore an unconventional approach to their instruments. "That's the whole genesis of the band: us walking up to our guitars and saying, 'how can we make this noisemaker do something different?'" says Cunningham. But as their musical collaboration strengthened, bringing Parts and intensive tours with acts like Wilco, Iron & Wine, Twin Peaks, and more, the band's scope and focus has also broadened. Fantasize Your Ghost is the direct result of the band spending more time on the road than in Chicago, a record deeply concerned with questions of the self, the future, and what home means when you're travelling all the time.
"Grinding on tour last year for so long, it can alter your mental state where you have to think about your life in a different way than you would if you're home. A lot of the songs stemmed from just thinking about all of the possibilities that life could be and could take," says Stewart. On the commanding single "3 2 4 3," which tackles the terrifying realization of needing to make a change. The song opens with the two singing in transfixing harmony, "Looked in the mirror the other day / Caught my reflection / My mouth had moved a different way / The muscles were straining." Their deft scene-setting and the way their disparate voices blend together heightens the song's inherent anxiety. Later, they sing, "Filling the holes to make amends / Tearing them up to start again." These moments of emotional clarity fill Fantasize Your Ghost.
Written across 2019, early sketches of the album's tracklist were demoed at Sam Evian's Flying Cloud Studios in upstate New York. "That's where we really started to see the record come together," says Cunningham. The sessions were intensely collaborative and open: the product of long, existential conversations between Stewart and Cunningham in the van about their lives and how to channel the anger they were feeling about the state of the world. Tracks like the driving opener "Flood Your Gut" underwent several revisions with Ohmme uncovering several new directions the song could go before finishing it. The refrain "your whole vision's not enough" is a call to action, says Cunningham. "Do you want to be someone who can disconnect or someone who is hyper-engaged and present?"
Fantasize Your Ghost was recorded over a six day session in August 2019 when the band decamped to the Post Farm in southern Wisconsin, where Cunningham runs a yearly DIY music festival. With indie rock journeyman producer Chris Cohen and the idyllic setting just outside Chicago, the songs came to vibrant life. Though Parts showcased their wildly burgeoning
influences and talents, Fantasize Your Ghost captures the astounding magnetism and ferocity of their live show. "Selling Candy" is the perfect example. It's a small snapshot of childhood complete with nostalgic references to summertime hot dogs and wandering the city but set to an explosive, stadium-ready fuzzed-out arrangement. Elsewhere, songs like the dystopian dance rocker "The Limit" further stretch their already dynamic palette.
Fantasize Your Ghost encapsulates the thrilling and sometimes terrifying joy of moving forward even if you don't know where you're going. It's an album that asks necessary questions: When life demands a crossroads, what version of yourself are you going to pursue? What part of yourself will you feed and let flourish and what do you have to let go of? When they sing, "Just walk out the door and / Don't tell them goodbye" it's drastic but also exhilaratingly hopeful. This is a record of strength, of best friends believing in each other. Unapologetic and brave, Ohmme are ready to figure it all out together.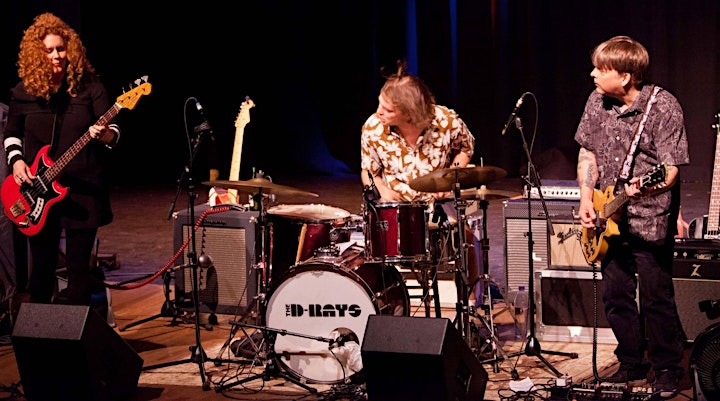 Formed in the Appalachian foothills of Athens, Ohio in 2011, The D-Rays draw from a wide number of garage/surf/punk influences to deliver their own brand of stripped down, dirty, original instrumental rock. No Walk Don't Run, Wipeout or Miserlou here, this is something different.
"Listening to the track "The Morgellon Creep" off of their self-titled album, I imagine The Ventures being demonically possessed. Or The Stooges recording Raw Power with Dick Dale. Imagine those surf tracks from the early 60s recorded by bands like Blue Cheer, MC5, or a "roid-raged" Animals."
Ohio Rocks the Fort – EA Poorman, Fort Wayne Reader
Driven by bass player Missy Pence and drummer Maceo Gabbard, The D-Rays' live show reflects the short attention span of guitarist Erick Coleman. Onstage, the band gets right down to business- their set features original tunes that rarely break the two minute mark. The result is a fast moving show centered around a powerhouse rhythm section and reverb-soaked guitar.
The D-Rays waste no time ripping through a tight, energetic set with tunes that will bounce around in your head days after.
PLEASE NOTE UPDATED COVID-19 SAFETY PROTOCOLS
We care for nothing more than the safety of our staff, patrons, and performers. All ticket buyers for this event must show proof of Covid-19 vaccination or a negative PCR test 48 hours prior in order to gain entry. Proof of vaccination may include a physical card or a photo of a complete vaccination card that matches the patron ID. Proof of a negative test may be a printed or digital test result that matches the patron ID. For more information please visit the "FAQ" page on our website here: https://grogshop.gs/faq/ We appreciate your understanding and support - thank you!
Performers
Date and time
Location
Refund policy
Organizer of Shannon and The Clams / Ohmme / The D-Rays
The Grog Shop opened in September of 1992 in the Coventry Rd. neighborhood of Cleveland Heights. Though expanded in size when moved to it's current location in 2003, the club maintains the intimacy and raw character it has always been known for. We have a full bar with an extensive list of micro-brews, imports, and domestic beer, and of course plenty of liquor.