Shannon and the Clams
Las Rosas
Champagne Superchillin'
About this event
7:00PM Doors / 8:00PM Show / 21+
ABOUT SHANNON AND THE CLAMS
It wouldn't be wrong to say that Shannon and the Clams was formed by accident. Just outside the invisible borders of Oakland's warehouse music scene, Shannon Shaw was absorbed in studying illustration at California College of the Arts, a 100-year-old institution that draws freaks into the city from across the country. For many, the school serves as a gateway into the sprawling music underground that agitates beneath the Bay Area, as a hub for fliers for illegal parties in backyards, basements, and overpasses.
During a bout of depression, Shannon took up a neglected bass guitar that had been a gift from an ex-boyfriend years earlier and played it for the first time, writing in a raw and untrained way. The urge to perform these songs soon took her to open mic nights around the East Bay.
"It was the perfect outlet," Shannon says. "I never thought I'd be someone who played music, but one day I picked up this bass and started writing songs. I became addicted to it. It became my focus."
Word got around that she was performing and the instigators of art school parties, always hungry for new talent, convinced Shannon to throw a band together and play. It worked, and it pushed her to aim higher, but the band was only meant to be temporary. Now, ten years later, her path has revealed itself and Shannon and the Clams are releasing their fifth album, Onion, this time collaborating with producer Dan Auerbach and his label Easy Eye Sound.
Over the last decade, Shannon and her chief collaborator, guitarist Cody Blanchard, have released four albums of 60s-inspired pop on indie labels, toured tirelessly and have gradually solidified a lineup of devoted Bay Area musicians, Nate Mahan on drums and Will Sprott on keyboards. Nate has played keyboard, guitar and drums in various Bay Area bands for a decade, and Will has served as front man and songwriter for his band the Mumlers and more recently his solo project, Will Sprott, releasing records on his own Hairdo Records. In this current iteration, Shannon and the Clams have developed notoriety for lively and genuine stage performances and a zealous following that craves their particular authenticity and innovation on classic sounds. Their last record, Gone by the Dawn, arrived in fall 2015 and took them to Coachella and Hardly Strictly Bluegrass in the year following. On the album you can hear the band progressing from straight 60s-inspired rock and exploring their taste for psychedelic, dramatic throwback pop.
Shannon and the Clams had already begun writing for the Onion sessions in fall 2016, when their world was rattled by the Oakland Ghost Ship warehouse fire in early December. A total perspective shift followed and the writing changed direction. In the wake of the fire, the band looked backward at their origins in the Oakland underground and the importance of that world to their genesis. From where they now stood, they could recognize the community as a delicate incubator for fringe art, an unstable but nurturing place for performers to practice and cross- pollinate where there otherwise is no platform.
In January 2017, the band flew together to Nashville and over the course of ten days, fleshed out their songs with Auerbach at his Easy Eye Studio, where he helped refine and embellish the songs and steer the album. "He works in this very layered style," Cody says. "He has all these instruments in the studio mic'd up at all times, ready to go. You can go back and add all these layers of instruments really fast and then cut stuff away in the mix."
With Shannon and Cody focused on pinning down the meat of the songs and tracking vocals, multi-instrumentalists Nate and Will were free to compose arrangement and accompaniment ideas and background vocals. They explored the studio's wealth of instruments and tapped into their own years of songwriting experience to ornament and color the tracks and lend a refined ear in the control room.
The song "Backstreets" is Cody's response to the Ghost Ship fire, and particularly the issues of artist housing and being forced to make your own way in a society that is not arranged to accommodate artists. Album closer "Don't Close Your Eyes" is Shannon's response, an inspirational ballad urging those suffering through loss to not give up in the midst of tragedy. The theme of origin and introspection had already been at play on the album before the shift of focus to the warehouse fire in December, and other songs on the record deal heavily with self- searching and looking backward, but on a more personal level; discovering our own individual origins and the path that has led us sometimes haphazardly to where we find ourselves, from childhood to now.
"I had this epiphany that was likening an onion to being human and how you're nothing without layers of experience," Shannon says. "Each time you have an experience it creates another layer in the onion. And that layer sticks with you forever and other layers grow on top of it, sometimes unevenly. When you get introspective and try to unravel yourself, you're digging through the layers. Every time you think you've figured something out there's just another layer beneath it. And I wondered, what happens when you get to the bottom, the center, the beginning of everything when there are no layers? Is there anything left at all? It's a bottomless endless chase of getting to know yourself. Each song on this album is about problem solving and having realizations about yourself."
"People say that artists are blessed with talent and live enchanted lives," says Cody. "In truth, being an artist is excruciating and there is no clear path for you. It is a struggle to find your purpose and support yourself while scratching that endless itch inside your head. A lot of people don't make it, lose their minds, more or less, to depression, anxiety, resentment, drugs, as a side effect of that struggle."
"It's Gonna Go Away," is the album's biggest stylistic departure, mixing elements of soul, disco, R&B, psychedelia, the Zombies, chanting and baroque. It was written by Shannon and muses on the notion that all in life is temporary, the good and the bad, and finding comfort in that. Album opener "The Boy" is quintessential Clams. Written by Cody, it is a heavily 60s rock inspired track with a mournful hook that speaks about the way childhood experiences stick with and shape you, for better or worse, and hang around forever like baggage until you choose to lose them.
"I hope my lyrics can be an entry point for people into introspection and self-analysis," says Cody. "There's a stigma around it and there's so much distraction available, but you've got to sort through the chaos of your personality. I hope people hear what I'm singing and give themselves permission to look around inside their own heads."
"It's okay for people to interpret the songs," Shannon says. "You can put your own story into it if that helps you heal. I just want people to feel something, whatever it is. When I'm performing I make a point to always go back to the place emotionally of when I wrote the song and tap back into it. I try to stay really connected to the original feeling and I hope people can see that. I feel like people appreciate our genuineness. That's the thread we've been able to keep this whole time and we'll always stay true to that.
ABOUT LAS ROSAS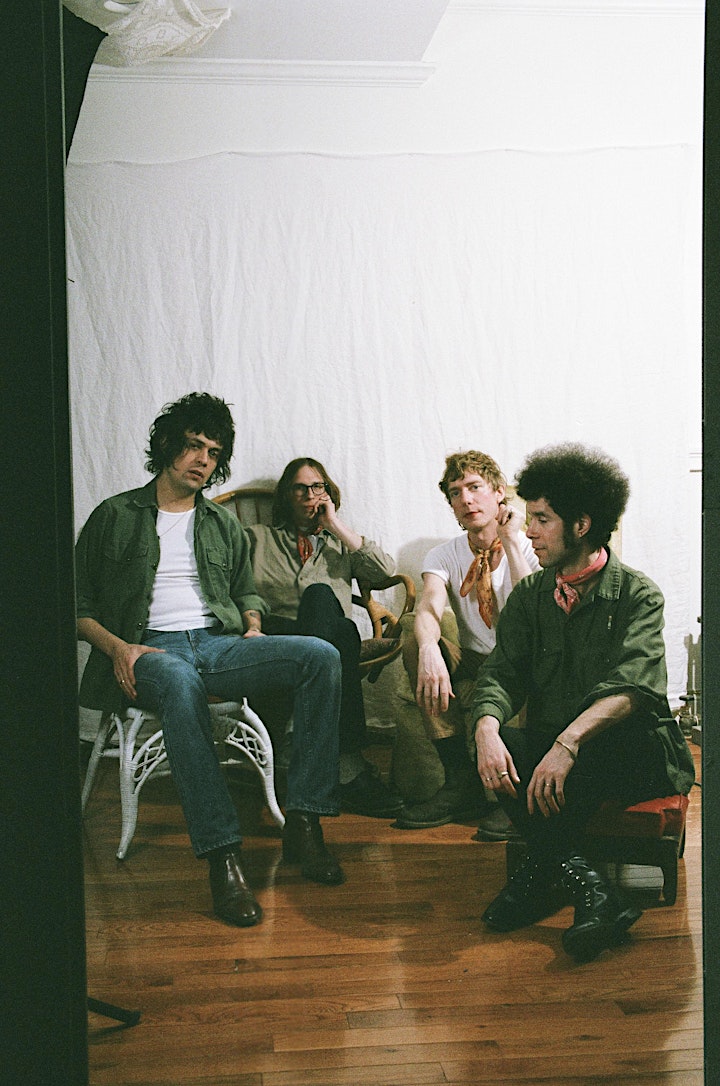 Las Rosas, the roses, began in the back room of the back room in the back of an non-legal living establishment in Long Island City Queens New York. Drummer and erstwhile smoker Christopher (now reformed) declared his idea to start playing the songs that Jose had written in Texas. With subtlety and care they succeeded in convincing Jose Aybar of four Wild Yaks of Brooklyn into a binding co-arrangement with las Rosas and in mere moments the two Joses and the one Christopher were playing semi-legal shows to crowds for mile(s) around. The two spent six late nights in the non-legal studio, consistently lessening the quality of sleep of the young couple upstairs, resulting in the Burger Records-issued debut EP "Flower in the Sun".
Las Rosas then made their first LP "Everyone Gets Exactly What They Want" in the fancy forests of North Carolina. It contains songs concerning the heart, police, foul moods, and True Friendship. This found them touring the USA with La Luz and Shannon & The Clams as well as in Old World Europe, before heading back to furrier forests in New York to record the more purple "Shadow By Your Side" in 2018. It was then that member Trevor was kidnapped from a bakery and put straight to work on tour, playing with flour up to his elbows. The following year the band convened in NYC's famed secret underground tunnels to create "Day Sleeper", an EP chronicling a monthlong hunting expedition for dust bunnies.
ABOUT CHAMPAGNE SUPERCHILLIN'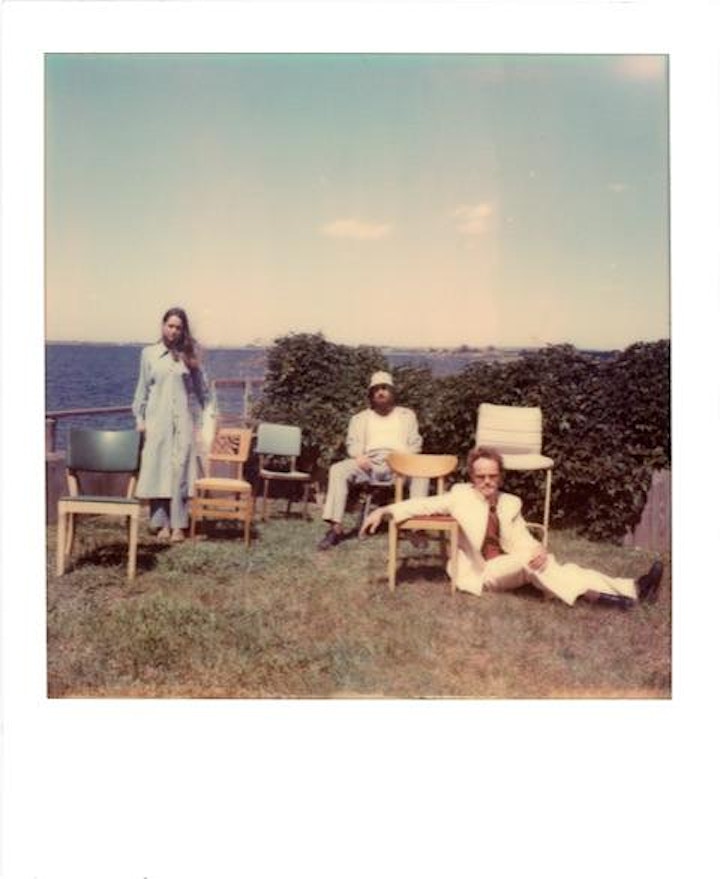 Somewhere between consciousness and the warm bath of sleep, life loses its mystery and dissonance. Here, enigmas untangle themselves, and conflicts melt like ice cream bars against our hot skulls; here, our dreams spin to life, strange and profound — frightening — to waltz with us, to lay down with us, to egg us on. This is the allure of sleep — not it's restful slumber, not it's offer of serenity, but the seductive intersection where our exhausted brains refuse to differentiate between reality and fantasy.
Though there's nothing in waking life that resembles this intersection, art has always come close — in paintings and photographs that haunt us after we walk away, in dances and performances that impel us to move with them, in music that swirls sentient our psyche. Take Champagne Superchilliin', whose warped, meandering melodies and detached temperament conjures happenings both esoteric and exotic into which the listener might stumble and fall forever.
Beach Deep, the follow-up full-length to the band's 2017 debut Destino!, is, indeed, an album of dreams — a string of moments and conversations, pearls and teeth. "Gipsy Ferrari" is a drive through a dirty city recently washed by rain, while "Amor Fati" is a quick cigarette between dances in a 1960s jazz club. Singer Juliette Buchs's voice is breathy and tiny and hushed on "Armée Du Salut;" she phases in and out, an apparition passing between walls of surf chords and wormy bass, each syllable mysterious and important in her native French. Charlie Garmendia's drums are distant here and behind oscillating synthesizers on "La Pudeur." But, on songs like "Rosa Canina," where Buchs' voice staggers tipsy and Ben Trimble's leads spiral into space, where beat and time is forsaken, it's Garmendia's loyal beat that steers the song back into its itchy boogie.
Recorded in living rooms in Plouézec, France; Nashville, TN; and the Rockaways in Queens, its no wonder that Beach Deep is so cinematic, sweeping listeners from scene to palpable scene, and its no wonder, given these sudden shifts, that Champagne Superchillin's songs feel so etherial, so surreal, so dreamlike. Of course, this what makes these songs so fascinating—they tap into that same seductive intersection where sparks snap between synapses, where our brain weaves a story from sound, and where reality and fantasy are, in fact, the same thing.
— Dane Erbach
Performers
Date and time
Location
Refund policy