Shanna Carlson Quartet. A dinner option may be added for this performance.
About this event
Shanna Carlson was once described as "straddling the fence between jazz and cabaret with a mixture of Rosemary Clooney and Ernestine Anderson. Jazz pianist and KCSM Radio host Dick Conte, has said of her, "clearly talented, deserving of broader reception…vocally she covers all bases and shines through as a fine pianist and composer." From the San Jose Jazz Festival to San Francisco's Plush Room, Yoshi's, Stanford Vocal Series, Wine and Roses in Lodi, and beyond, we showcase her here, at SJC, with Joe Gilman on piano, Shelley Denny on bass, John McDonald on drums. Please join us for Shanna Carlson Sings Her Favorite Things.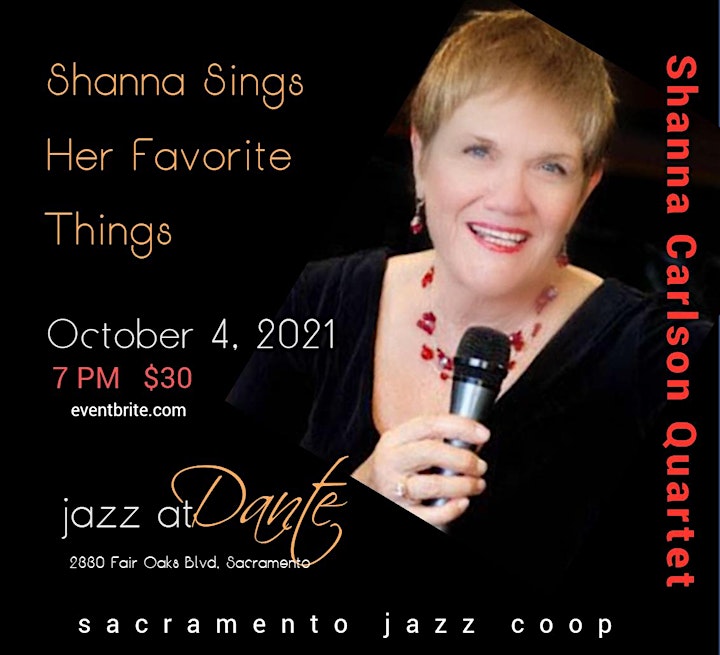 Organizer of Shanna Sings Her Favorite Things
The Sacramento Jazz Cooperative, Inc (SJC aka Sacramento Jazz Coop ) is a (501)(c)(3) nonprofit, charitable benefit located in Sacramento, California committed to fostering a greater understanding of jazz as the true American art form and expansion of audience participation through jazz education and performance.