Description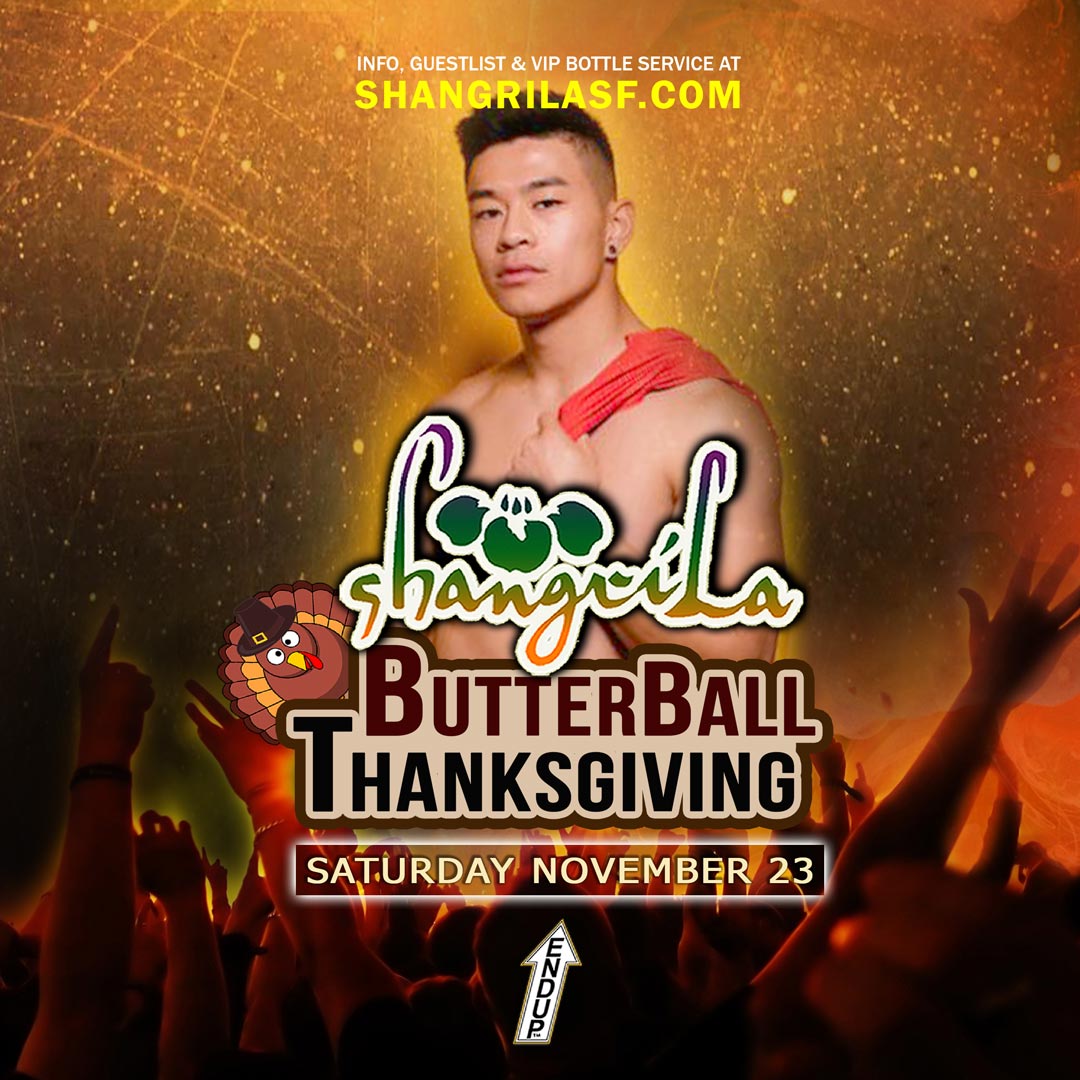 Saturday, November 23rd, 2019
Butterball Thanksgiving Party
Hey November is back! It's time for us to celebrate Thanksgiving.ShangriLa SF is back with Butterball Thanksgiving Party! What do you get with turkey, mashed potatoes, gravy, and tons of food for Thanksgiving? A whole lot of dancing to rid all of that carbs intake with us! Let's celebrate and share our sweet moments at TheEndup!
10PM-12AM Opening Set by DJ JACK ROJO
12AM-4AM Main Set by DJ AKI
4AM-6AM Closing Set by DJ MATTHEW S
$5 Jack Daniels Honey & Fire
Celebrate your birthdays & other special occasions with us! VIP BOTTLE SERVICE comes with 2 mixers, a fruit platter, and 6 VIP admission.
BOTTLE SERVICE PROMOTION:
JACK DANIELS HONEY BOTTLE SERVICE for only $180 (20% gratuity included). Please contact us for more info or reservation at shangrilasf@gmail.com
It's all happening on Saturday, November 23rd, 2019 at
Door opens at 10PM to 6AM (continued to Sunday T-Dance)
Get your FREE and LIMITED Guestlist at
Admission is FREE before 11PM with Guestlist
$15 between 11PM-12AM with Guestlist
More after 12AM or without Guestlist
ShangriLa is now every 4th Saturdays of the month!
Please join our Facebook group at
http://facebook.com/groups/shangrilasf/
LIKE us at our page: https://www.facebook.com/ShangriLaSF
Check out our LIVE@ShangriLa videos at http://youtube.com/shangrilasf
FOLLOW us at INSTAGRAM & TWITTER: @shangrilasf
Share your pictures using
#shangrilasf