Description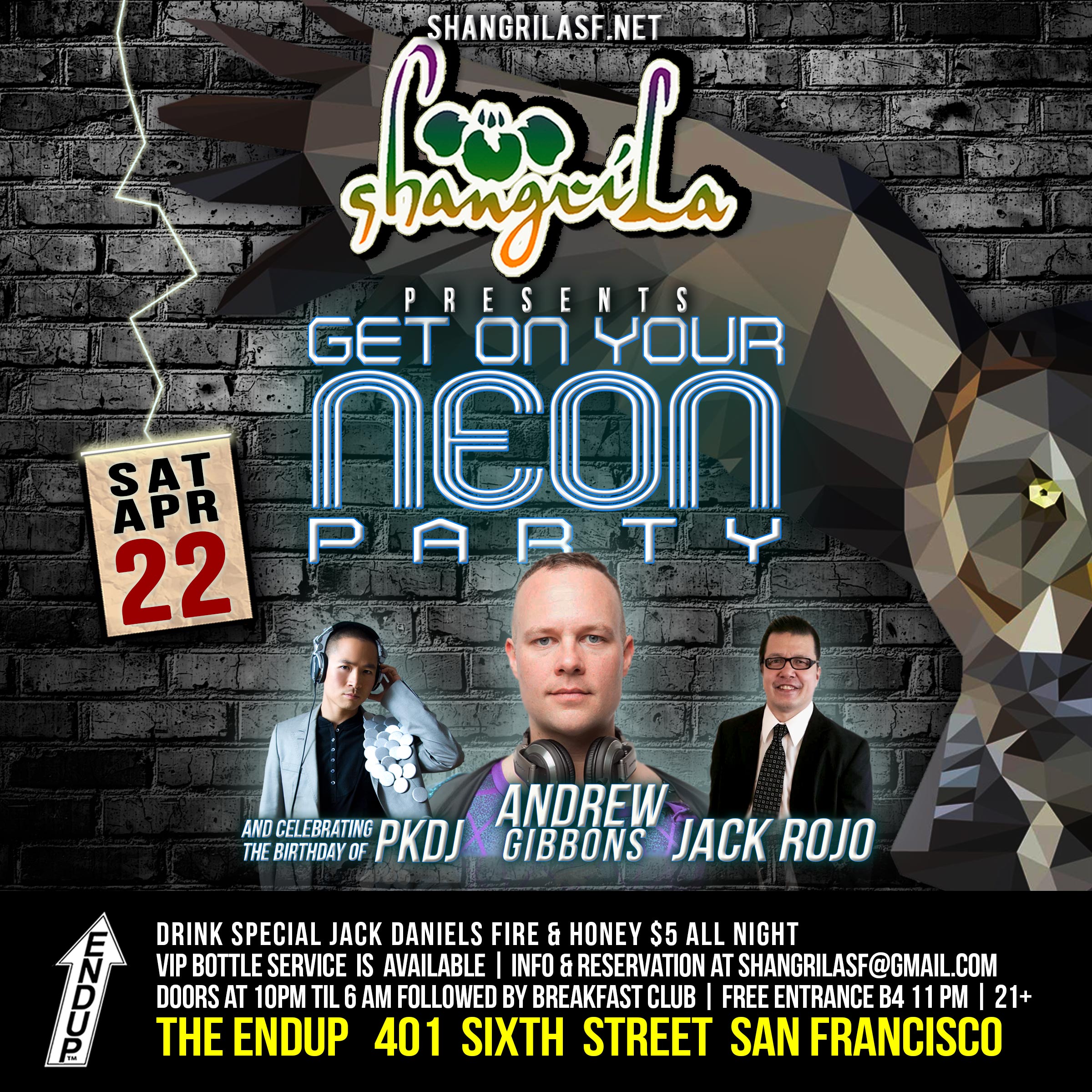 ShangriLa
Saturday, April 22, 2017
Get On Your NEON Party
Join us at ShangriLa most RAVEnous Party at The EndUp. Wear 'em NEON accessories or get the FREE glow sticks, glow accessories, and sexy ShangriLa lumitons at the door (first 100 people or while supplies last). Let's make it a sexy NEON night to remember!
Featuring Afterhours Set
ANDREW GIBBONS
https://www.facebook.com/djandrewgibbons
Opening Set by
JACK ROJO
http://www.facebook.com/djjackrojo67
PKDJ
https://www.facebook.com/pkdj.net
Drink Specials
$5 Jack Daniels Honey & Fire
Also celebrating the birthday of our friends
PKDJ
SCOTT SAYACHACK
Celebrate your birthdays & other special occasions with us! VIP BOTTLE SERVICE comes with 2 mixers, a fruit platter, and 6 VIP admission.
BOTTLE SERVICE PROMOTION:
JACK DANIELS HONEY BOTTLE SERVICE for only $150 (plus 20% gratuity)
Contact us for more info or reservation at shangrilasf@gmail.com
It's all happening on Saturday, April 22, 2017 at
THE ENDUP
401 6th Street
San Francisco, CA
21+ with ID
Door opens at 10PM to 6AM (+ BREAKFAST CLUB)
Admission is FREE before 11PM
$20-$25 after 11PM
ShangriLa is now every 4th Saturdays of the month!
Please join our Facebook group at
http://facebook.com/groups/shangrilasf/
LIKE us at our page: https://www.facebook.com/ShangriLaSF
Check out our LIVE@ShangriLa videos at http://youtube.com/shangrilasf
FOLLOW us at INSTAGRAM & TWITTER: @shangrilasf
Share your pictures using #shangrilasf