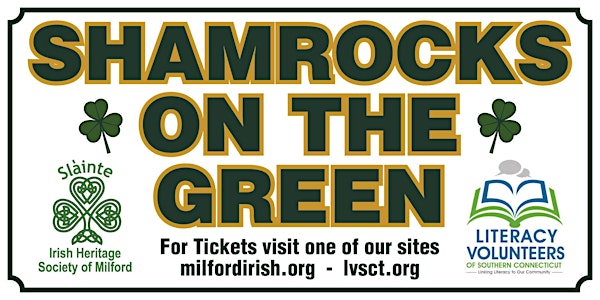 Shamrocks on the Green
SHAMROCKS ON THE GREEN?
When and where
Location
Milford Green Broad St Milford, CT 06460
Refund Policy
Contact the organizer to request a refund.
Eventbrite's fee is nonrefundable.
About this event
This year has been like no other. Large groups and events have been put on hold, distancing has become the norm, yet Milford still wants to have some FUN!
Although the St. Patrick's Day Parade will not take place this year and Literacy Volunteers will not be able to host the Leprechaun Leap, we still need your participation. We may not be able to gather together, but our Shamrocks will!
Shamrocks on the Green will be co-hosted by the Irish Heritage Society (through its 501(c)(3) affiliate, Slainte Milford, Inc.) and Literacy Volunteers of Southern CT (501(c)(3). Would you consider purchasing a Shamrock to decorate which will support Irish cultural and charitable activities, and essential literacy needs in our community?
DETAILS:
$25- One Shamrock
$40- Two Shamrocks
$50- Business/Organizations
Multiple signs can be ordered!!
Shamrock size- 24x24 corrugated plastic with metal stand
There are limited quantities.
NOW- Drive by the Milford Green and view the decorated Shamrocks.
Take a walk and socially distance while enjoying viewing decorated Shamrocks.
WHEN IS SHAMROCKS ON THE GREEN?
Shamrock displays will be on the Milford Green during the month of March!
All Shamrock pictures will be mentioned on IHS, Slainte and LVSCT social media pages as well as posted on IHS and LVSCT websites.
RULES:
• Bring your Shamrock home and decorate it! Be creative!
• Please decorate Shamrocks in good taste ☺
• We reserve the right to remove any offensive Shamrocks.
• Shamrock decorations must be able to withstand weather.
• Please do not place your Shamrock on the Green yourself.
• IHS and LVSCT are not responsible for any loss or damage to Shamrocks.
• Look in your email for details on when to pick up your Shamrock from the Green. Shamrocks left will be recycled. Please do not remove your Shamrock.
• NO REFUNDS.
*********************************************************************************
Pick up/Drop off Shamrocks:
Walk in:
March 8, 9, 10, 11 Literacy Volunteers, 16 Dixon St. 9-12.
March 15, 16, 17, 18 Literacy Volunteers, 16 Dixon St. 9-12.
March 22, 23, 24, 25 Literacy Volunteers, 16 Dixon St. 9-12.
Come into Center, office on left.
Pick up- You will be given: Shamrock, metal stake, sign with name.
Drop off- Completely assembled with wire stake and name sign attached.
Decorate:
Paint, glitter, waterproof markers, garland, vinyl stickers, etc.
For extra protection: spray with Min Wax, Fast drying polyurethane clear gloss for added protection in the weather or Contact paper or celophane wrap.
Affix your name sign to the bottom of the Shamrock on the metal stake with string or zip ties. (if you dont have yet, you will receive upon drop off and the committee will assist in adding)
Don't know what to do? Need some creative energy? Search "decorate lawn signs"or "diy lawn signs" online and many options and suggestions will pop up!
Viewing:
Shamrocks will be displayed on the Milford Green March 1-31. Drive by or socially distant walk, wander, stroll the Green and view Milford's finest Shamrocks on the Green. Let's celebrate Spring with Green!
The Luck O' The Irish-
The luck of the Irish, they say,
is finding a shamrock someday,
then toasting the health
of the little green elf
Who'll send all the good luck your way!
Wishing you all the best and good health during this very difficult time.
Thank you for supporting Shamrocks on the Green which support Irish Heritage and Literacy programs in our community.
Look for the St. Patrick's Day parade and Leprechaun Leap in 2022!
Stay well Milford!
Missions-
Irish Heritage Society -The purpose of our club is to bring about the association of individuals of Irish descent or relationship, in whole or in part, for the purpose of conducting educational and benevolent activities of all kinds, including the conducting of meetings, conducting forums and research into Irish culture, providing funds for the study of Irish music, dance, and humanities, presentation of Irish culture to community at large and the pursuit of cultural advancement of the Irish through cooperative means with local communities and institutional organizations.
www.milfordirish.org
Slainte Milford, Inc. – Slainte's mission is to support scholarships for high school seniors in the Milford area, make other charitable donations, and support cultural and educational events of the IHS.
Literacy Volunteers of Southern CT- The mission of the Literacy Volunteers of Southern Connecticut is to provide services at no cost to any individual who wishes to learn the English language or enhance their reading, writing, speaking and math skills necessary to lead productive lives in our community.
www.lvsct.org
A special THANK YOU to Wendy Gibbons and the Milford Prevention Council for giving us direction to host this event. Look for their Frosty Fest in December!