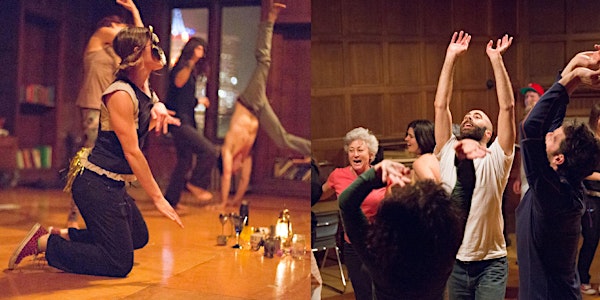 SHAMANIK IMPROV LIFE SERIES: A Journey from BeforeBirth to the AfterLife
When and where
Location
The Flight Deck Rehearsal Studio 1540 Broadway Oakland, CA 94612
Refund Policy
Contact the organizer to request a refund.
Description


Shamanik Improv
Life Series : A Journey from BeforeBirth to the AfterLife
Six Week Klass: Tuesdays, 8:00pm-10:00pm
September 6, 13, 20, 27, October 4, 11, 2016
Klass size is infinite and also limited to 16 people.

Using the tools of Shamanik Improv such as games, guided imagery, music, dance, masks, props, costumes, channeling, characters, the unknown, coloring, singing, the inner and outer worlds, poetry, our wits, our wyrd wyld ways (www), individual, paired, and group sharing and other delights, we'll go on an adventure from before we were born, through the various stages of life such as birth, childhood, and elderhood, to death and the afterlife in a brief, yet vast 6-week time together.
Less like acting, more like playing, we'll allow our creative impulses to come through and manifest shamelessly. Playing through a different stage each week, we'll cultivate spontaneity, connection, and creativity, and get in touch with places in our spirits and lives that have possibly been neglected since we were kids. In other words, no pressure to "perform"; only pleasure to play, making room for all emotions! Watch the testimonial video here.
And, as an added bonus, as part of the Life Series, each participant will get an optional discounted Raven's Remedy* session with your host, Doktor Robert.
Life Series Stages
1. BeforeBirth, Birth & Breath
2. Childhood
3. The Essence of Adolescence
4. Work, Play, Love, Rest
5. Middle Ages & Wise Elder
6. Death & The Afterlife
Location: The Flight Deck Rehearsal Studio, 1540 Broadway, Oakland, a very short walk from the 19th St. BART Station.

*Raven's Remedy is for individuals seeking better self-understanding & healing through a Hakomi based body-mindfulness deep self-exploration method. Hakomi is a Hopi word meaning "How do you stand in relation to these many realms?" As a graduate of the Hakomi Institute, Doktor Robert is honored to offer this remedy to those who wish to discover inner resources and heal body-mind hindrances thus broadening creative capacity.
(Please note, just in case someone happens to spell it with a c, this is not Shamanic Improv; it's Shamanik Improv. Yes, these are klasses. A cat is a kat. And kazoos are still kazoos. Also, all sales are final. Sorry, but no refunds, exchanges, or transfers.)


Photos by: Darren Miller & Alexander Warnow