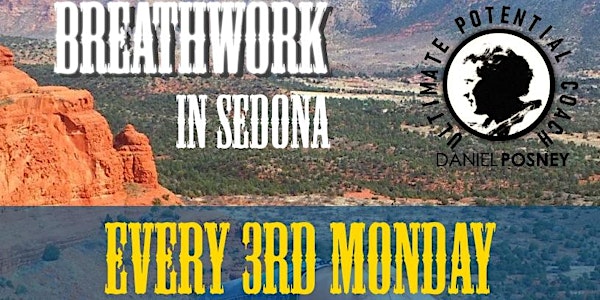 Shamanic Alchemy Breathwork (ONLINE) from Sedona
Join others for an online, group, intensive breathwork session. Held once a month, on the 3rd Monday. Facilitated by Daniel Posney.
Refund Policy
Contact the organizer to request a refund.
Eventbrite's fee is nonrefundable.
About this event
Shamanic Alchemy Breathwork is a profound experience of deep, fast breathing paired with evocative music and musical instruments. Altered states of consciousness and deep emotional and physical healing is possible. During Daniel's Shamanic Alchemy Breathwork sessions, he creates a safe, sacred, loving space. Drum, didgeridoo, vocalized toning and other instruments assist him in creating atmosphere and moving energy. Essential oils and plants help to clear and enhance. Waves of energy are formed through specific types of music and deep, fast, rhythmic breathing. Participants can experience: bliss, ecstasy, physical healing, feelings of Oneness, non-physical communication, the pure energy of their being and other yummy stuff.
"Over the 15 years that I've been practicing and facilitating breathwork (fast, deep breathing to evocative music), I've seen so many people (as well as myself) experience profound realization and journey. Recently, physician was in tears trying to explain how he was "launched into space" and in an altered state of grace and unconditional love. If you haven't experienced breathwork, there is really no way to properly explain it…I still struggle. If your past experience was less than profound, try harder. It gets better once you move past your mind's resistance. We all seem to long for connection, love and the answer to "Who am I?" Funny how something so close to us as the breath, which we don't fully appreciate through our shallow breathing, is an answer to those longings. Psychotherapist Stanislov Graf used breathwork in place of LSD to assist his clients in moving past their deep, emotional trauma.
"You'll lie on your back, close your eyes and I will guide you and go with you on your journey into breath. There's no passing out or hyperventilating and the focus is mostly on the exhale (letting go). God is in your breath…the catch is, you've got to get past your own mind. Solution: breathwork." – Daniel Posney
Daniel Posney facilitates breathwork and sound healing for groups and individuals. Here's a clip during a section of the experience when participants start feel energy and altered states of consciousness.
Here is another clip from New Year's Eve at the Creative Life Center in Sedona, co-facilitated with Valerie Sanjali Irons-Posney. 45 participants!
Disclaimer:
By reserving my spot, I fully understand that Daniel Posney is not a medical doctor and does not claim to cure or heal any illness or injury. I willingly take full responsibility for my own health and my experience during and after the event or session.