Description
Shakti's Den Productions is proud to present!
Shakti's Den: Featuring World-Renowned Fusion Bellydance Artists
Zoe Jakes' House of Tarot
&
Kami Liddle's Gold Star Dance Company
Accompanied by Honolulu's premier Fusion Bellydance Company
Shakti Dance Movement!
Honolulu get ready for some seriously jaw dropping amazing Fusion Bellydance, unlike anything you have seen before! Coming from the Bay Area, Zoe Jakes of Beats Antique with her dance company, House of Tarot & Kami Liddle's Gold Star Dance Company bring a new approach to Fusion Bellydance incorporating contemporary dance and theatrics galore!
Honolulu Museum of Art Doris Duke Theater
Double Showing
Sunday, December 9th, 2018
5pm matinee
Doors open at 5:00pm show starts at 5:30pm
$25 pre-sale
$30 at the door
$40 VIP – First 3 rows of seating
7:45pm second showing
Doors open at 7:45 show starts at 8:15pm
$35 pre-sale
$40 at the door
$50 VIP- First 2 rows of seating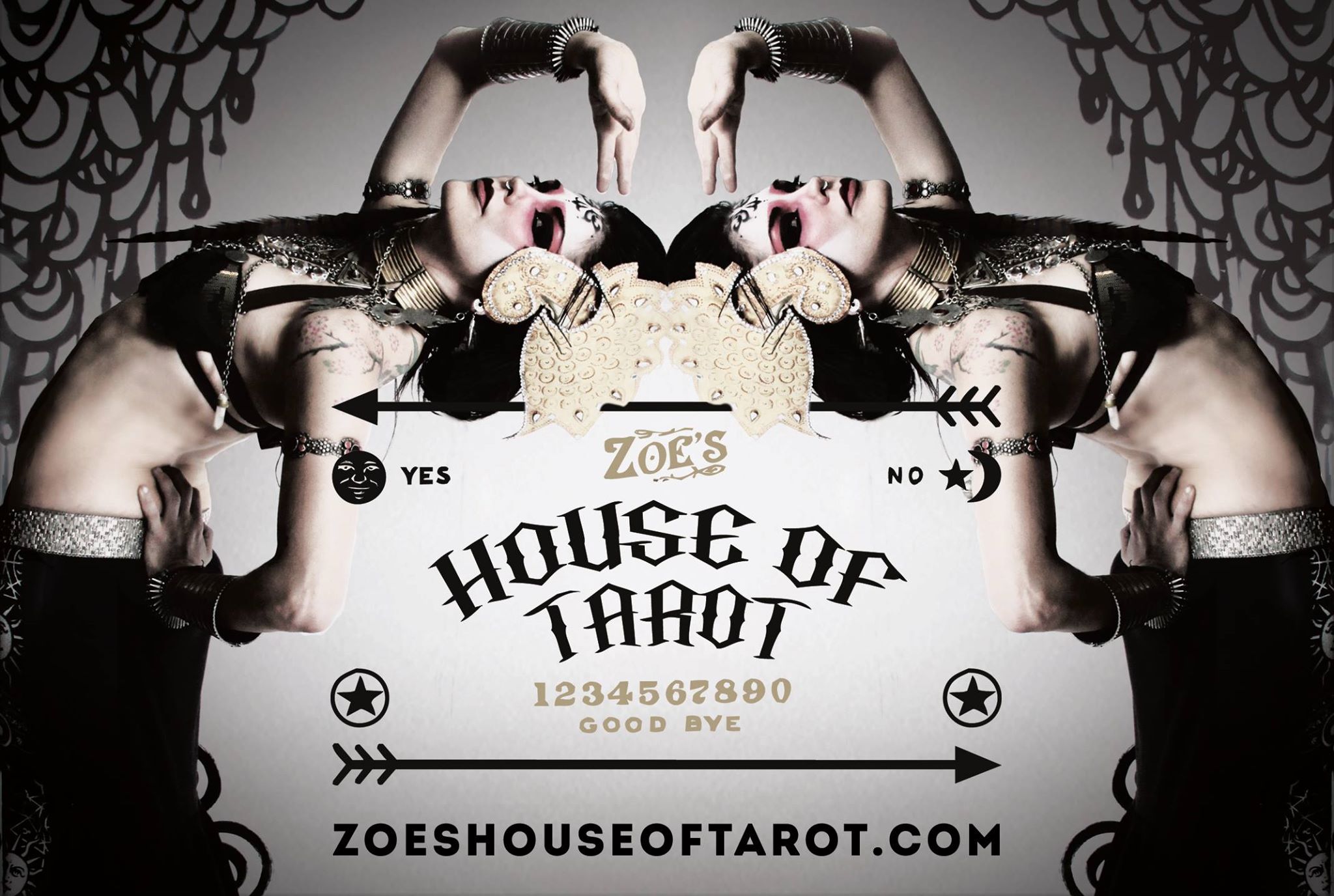 Zoe Jakes' & the Creation of House of Tarot:
A few years ago, while poring over a favorite deck of Tarot cards, Zoe Jakes was inspired to create a work of art as powerful as the cards themselves. Finally, after years of creative process, House of Tarot has been created, placing the captivating energy of the Tarot deck onto members of the belly dance community. House of Tarot is true performance art, a mutable dance theater performance imbued with ritual and the mysteries of Fate. The archetypes of the Tarot come to life in dynamic choreographies, stunning set design, various theatrical props, and an original score of music by Zoe Jakes. Throughout the show, the haunting healing of the High Priestess, the seductive glamour of the Snake, the chilling chords of Death, live drumming, and more, fill the stage in a story of human fate and archetypes.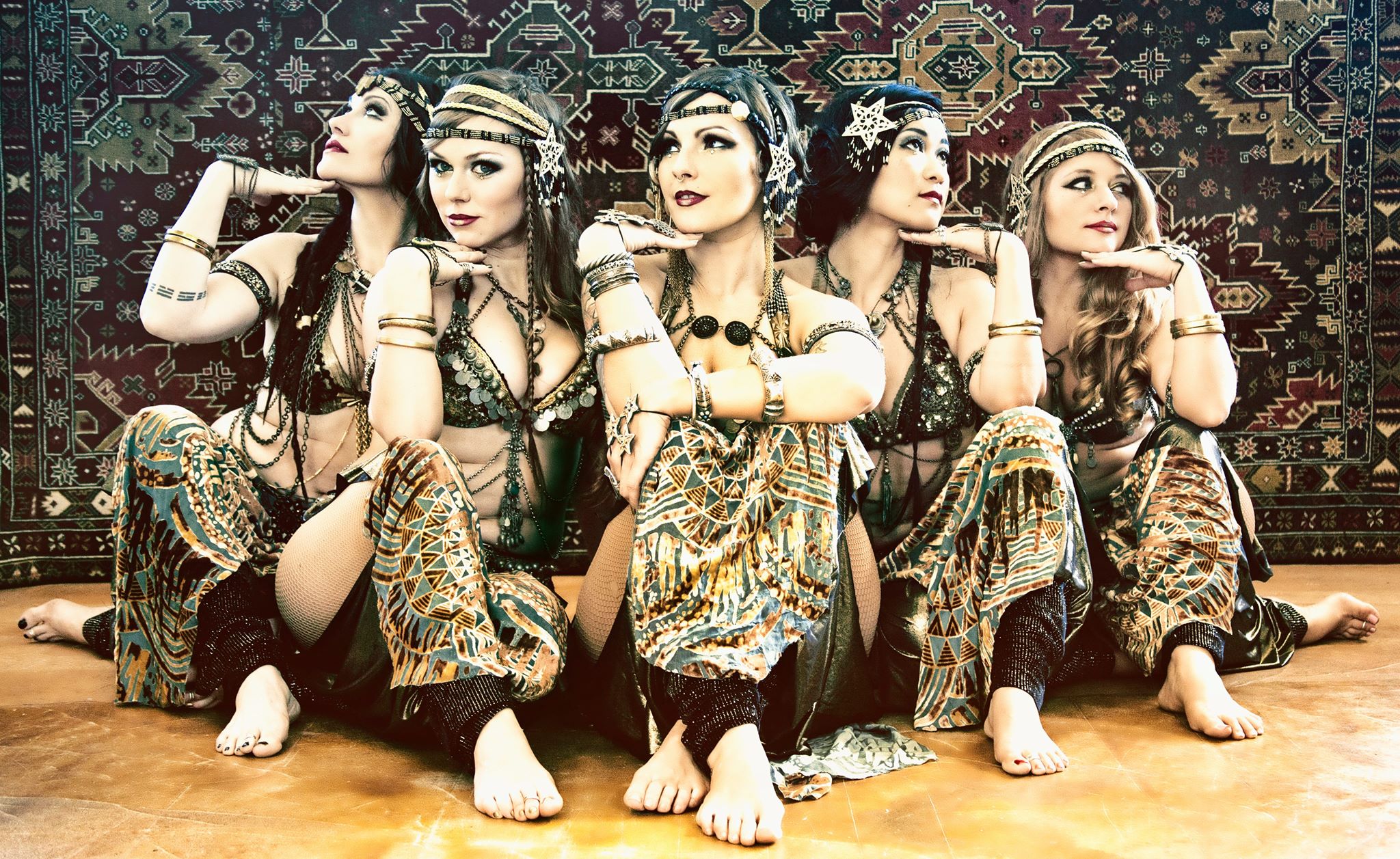 Kami Liddle's Gold Star Dance Company:

Gold Star is an innovative dance company rooted in Tribal Fusion Belly Dance, directed by Kami Liddle based out of San Francisco, CA, in which six strong stars have found their voice. Award winning dancer and choreographer Kami Liddle, carefully selected these dancers to translate her vision of a group proiect. Gina Bruno, Rose Harden, Kae Montgomery, Aimee Krasovich and Julie Rea have all had their time in the studio to become the dancers they are today. On top of that they also had their own star time to shine on stage. Together they set out to combine this young and constantly evolving dance style with elements of jazz, modern, hip hop and classical ballet. Coming from different backgrounds but firmly rooted and skilled in the movements of contemporary belly dance, Gold Star aims to bring together the unique voices of these dancers, who besides musicality also share a sense of elegance and strength.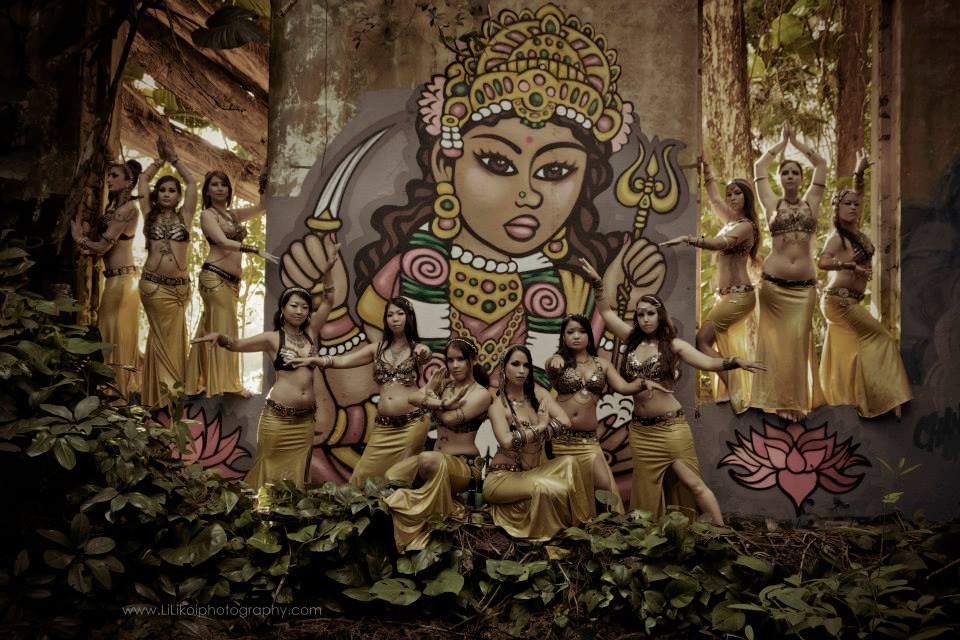 Shakti Dance Movement, Shakti Dance Movement is a Fusion Belly Dance company based in Honolulu, Hawaii. An all women's dance collective, Shakti Dance Movement is proud to bring people together for classes, workshops, and great events. Shakti Dance Movement's founder, artistic director, & lead choreographer, Kalae Kaina, has over 20 years of dance training under her belt. Through dedication to this beautiful art form, Shakti has grown into a very motivated group of women who wish to share their love of dance with others.



Full Cast Highlight!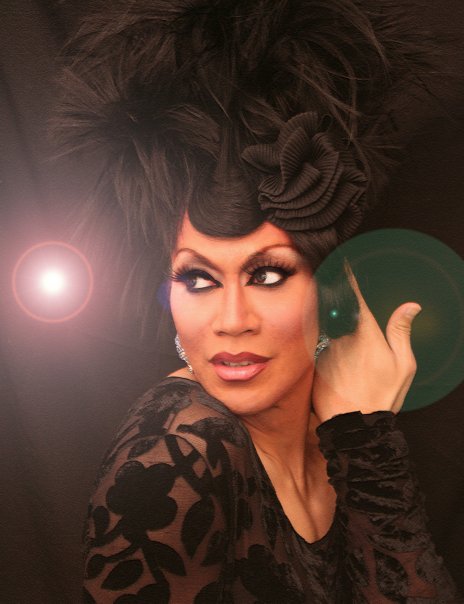 Hosted by the Fabulous Cocoa Chandelier!!
Zoe Jakes & House of Tarot Cast!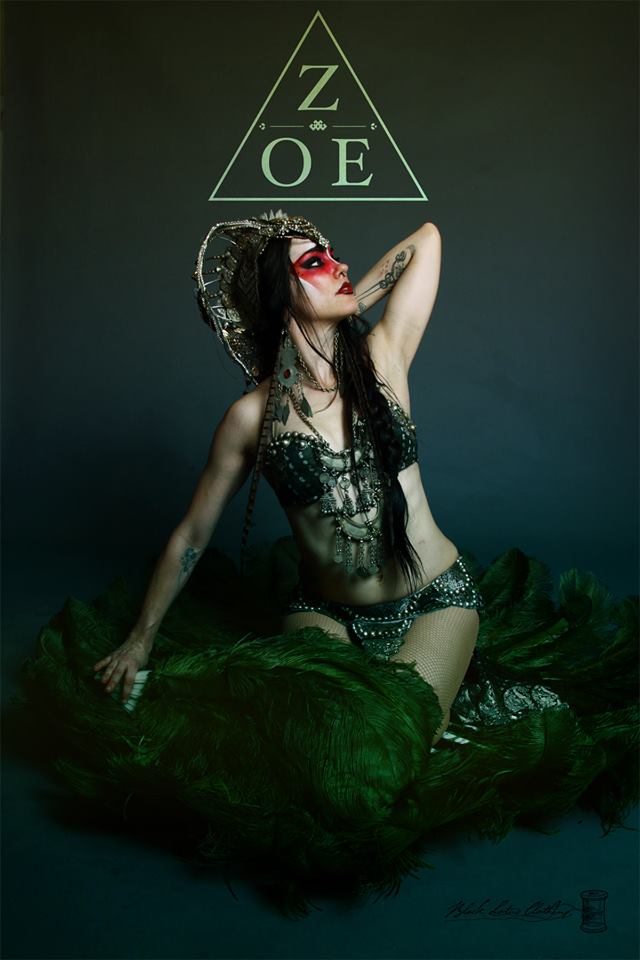 Zoe Jakes, currently Zoe is touring with her band Beats Antique, a group that has 6 albums and hundreds of live shows under their belt. She designs and makes many of her own costumes and co-produces tracks with Beats Antique, adding set designer and stylist to her body of work. Zoe has the desire and opportunity to bring belly dance to the masses, having performed at Coachella, Lollapalooza, and Bonneroo festivals in front of thousands of people that don't know belly dance from an elephant. It is her passion that belly dance can get a wider recognition and respect, and as a touring workshop instructor her classes reflect this ideal, focusing on strong technique and long term motivation.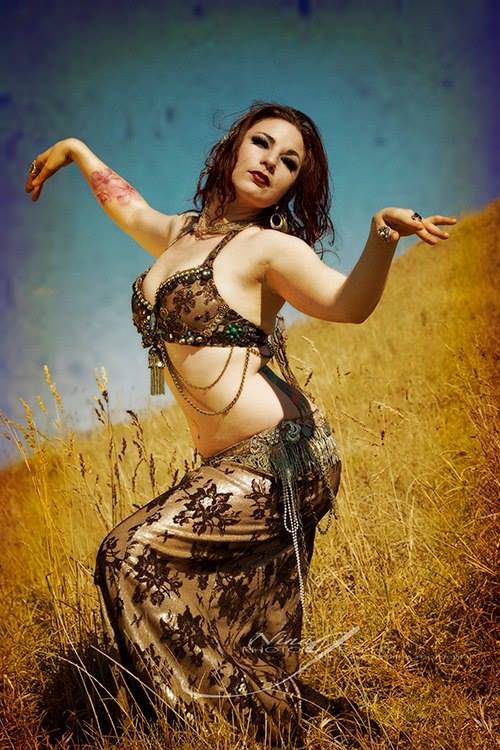 Ashley Lopez, based out of Portland, Oregon, Ashley is an internationally touring artist and instructor. She holds a bachelor of music in vocal performance/opera, is an 8 Elements™ Datura Style teacher, a Registered Yoga Teacher, a certified Pilates, cycling and fitness instructor and has performed in over 20 countries worldwide.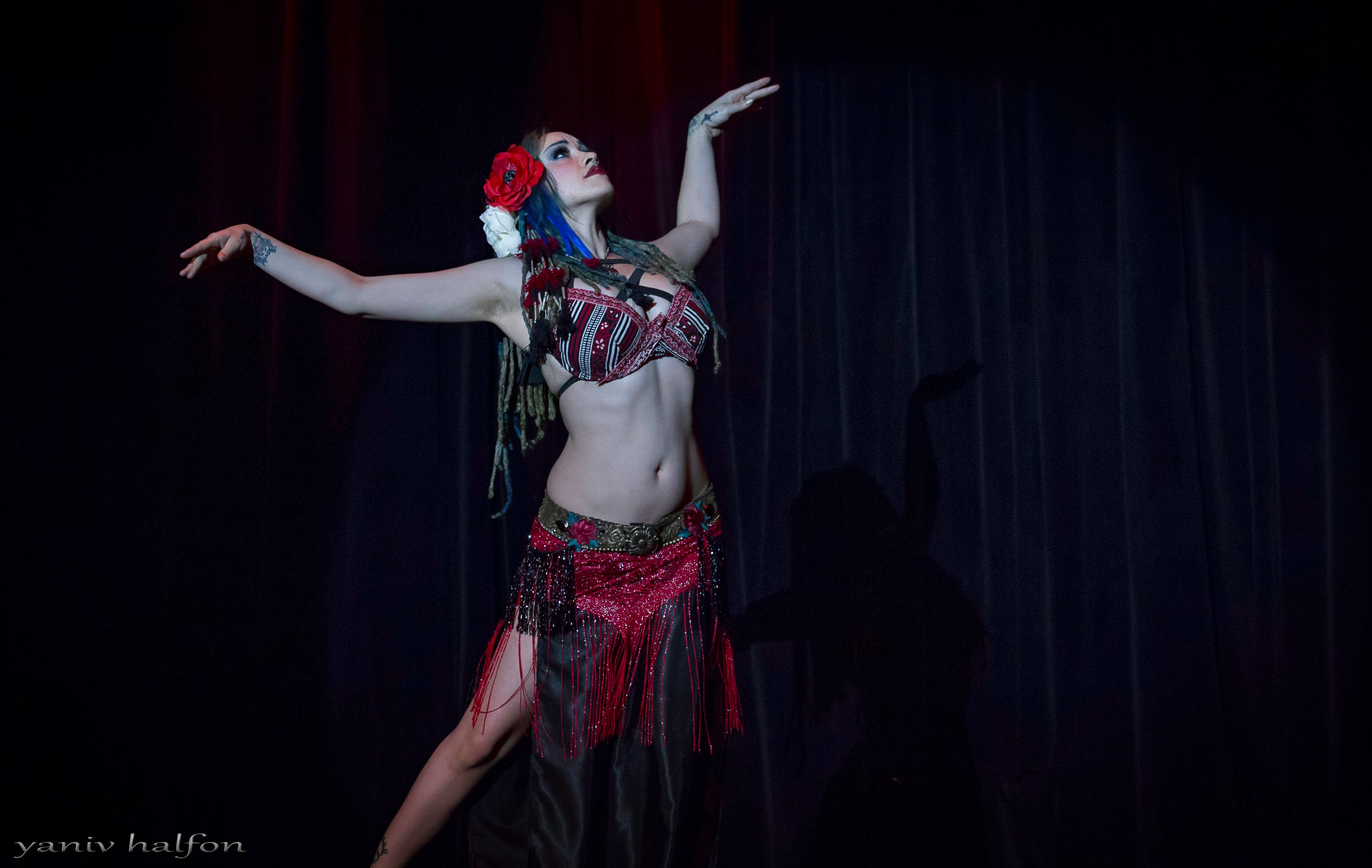 Pixie Fordtears, a principal dancer and member of Zoe Jakes, Coven Dance Company, House of Tarot and Beats Antique. A graceful and exquisite dancer, Pixie's movement aesthetic will certainly captivate you.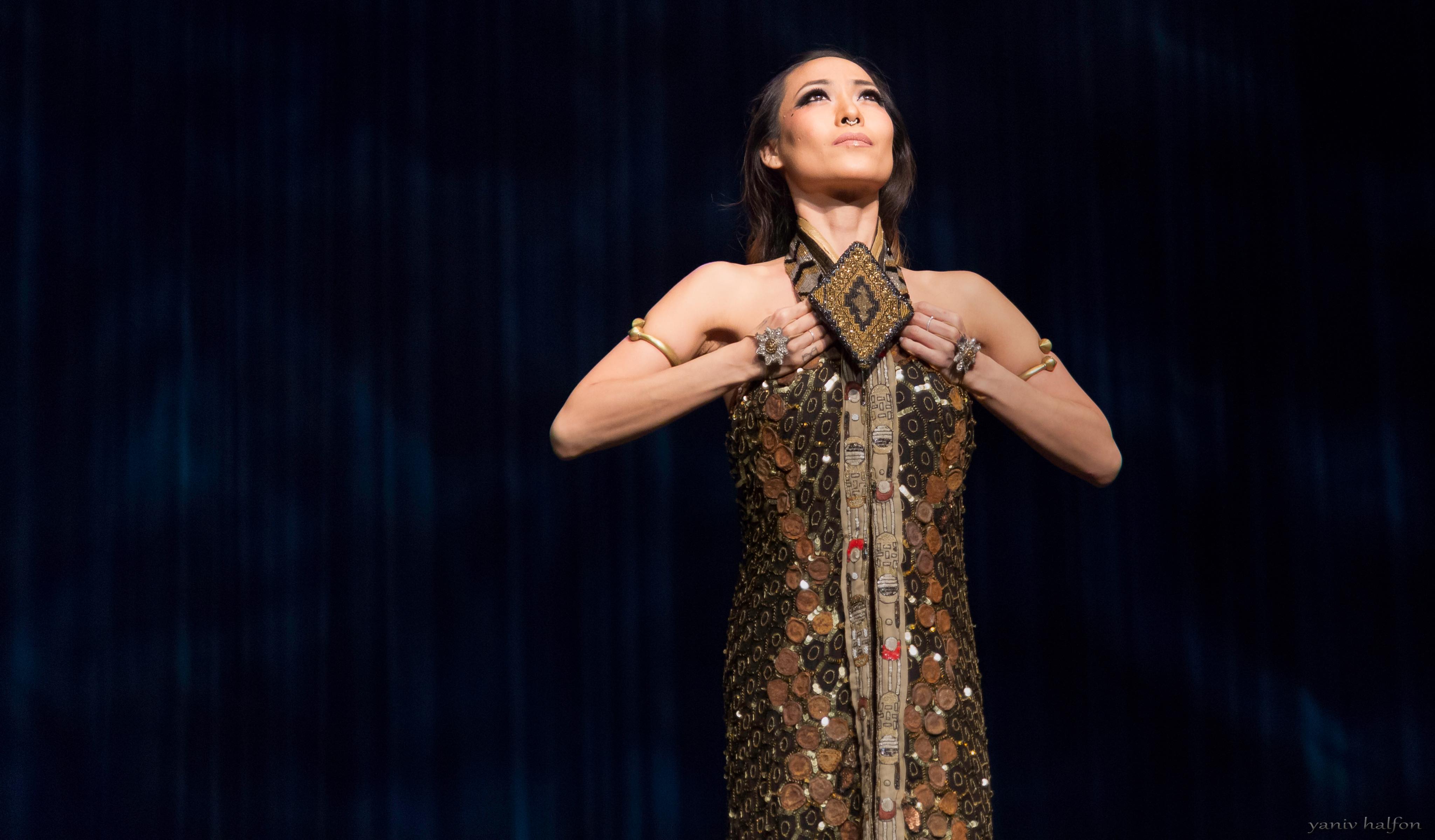 May Yang, originally from Korea, is currently a member of Zoe Jakes's Coven Dance company, House of Tarot and tours regularly with Beats Antique.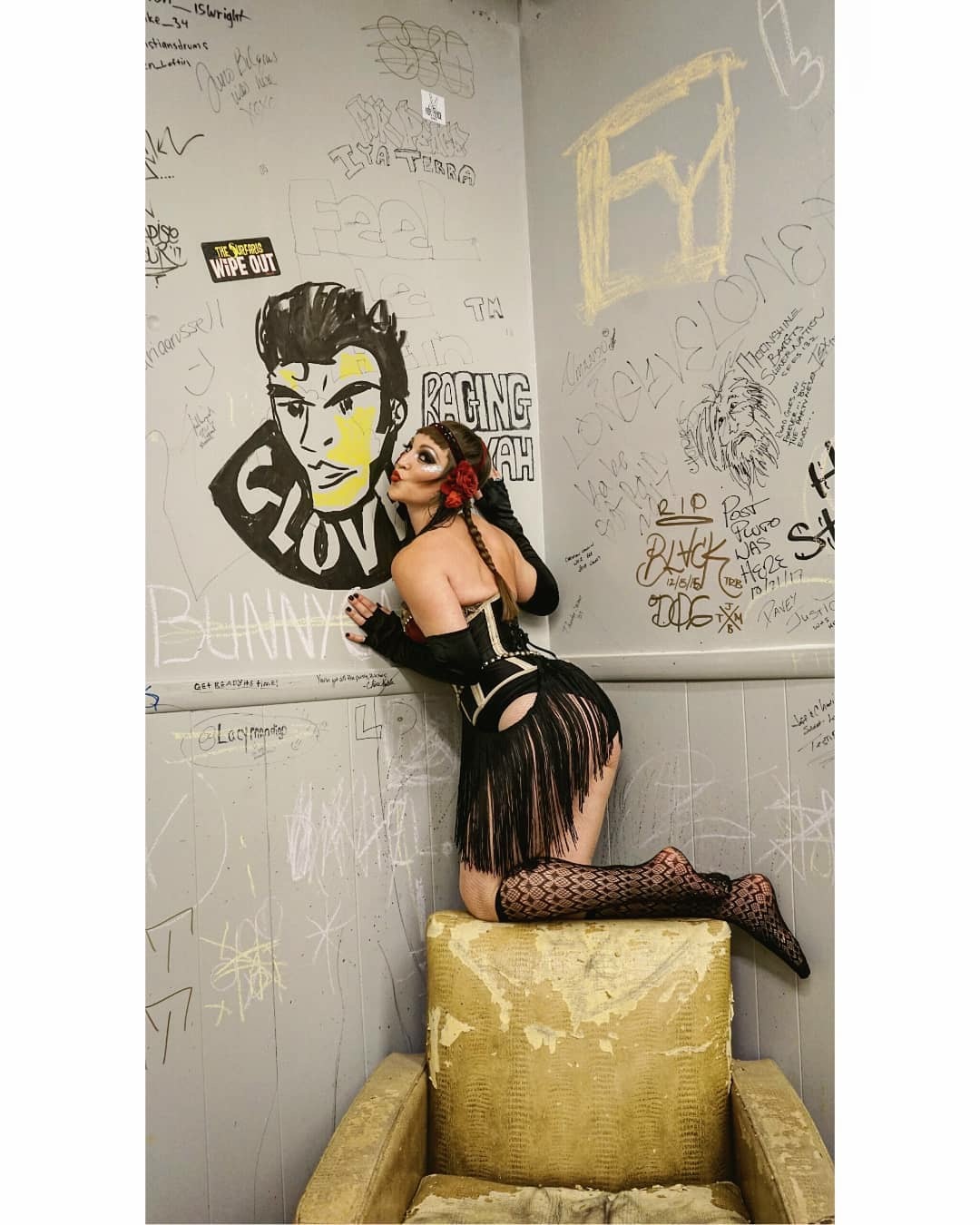 Alexa Davis , Alexa began her belly dance journey training under Zoe Jakes 4 years ago and instantly fell in love with the community, music, costumes, and history that seems to have endless avenues to explore. She has completed Key of Diamonds and Spades of Zoe Jakes Dancecraft. She is a new member of Coven dance company, has performed nationwide with Beats Antique and is thrilled for her debut performance with the House of Tarot!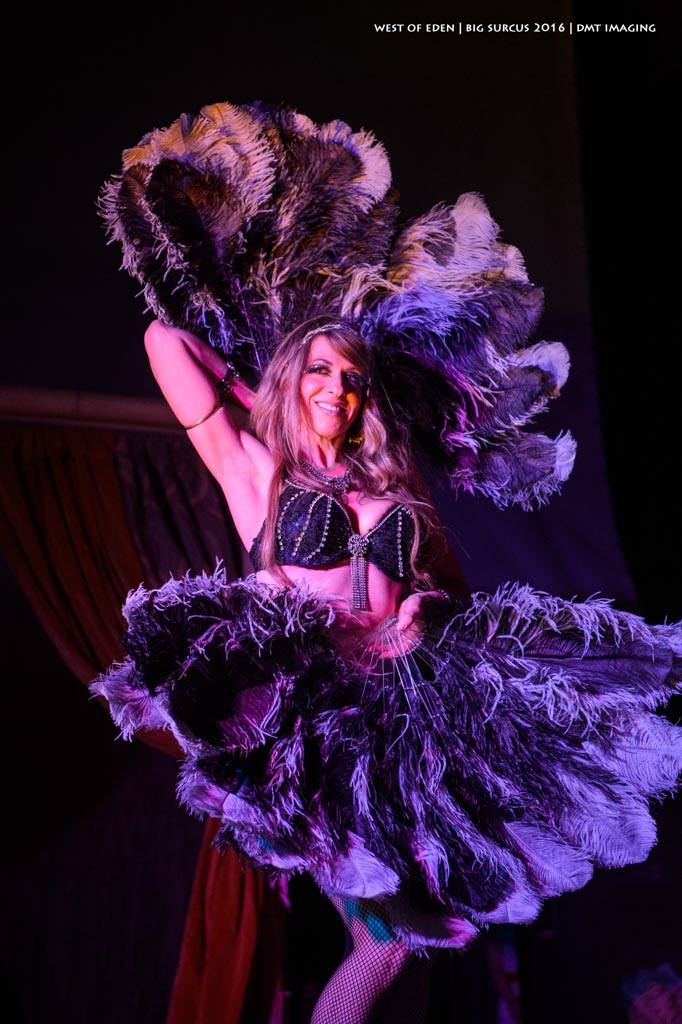 Jessica Cooper- Jessica has been bellydancing for over 17 years and performing way before she should have. She adores and and is an avid student of both fusion and traditional styles. She is a principal dancer and artistic director of BiG SuRCuS of Big Sur, CA, and is an original member of Zoe Jakes' Coven Dance Company.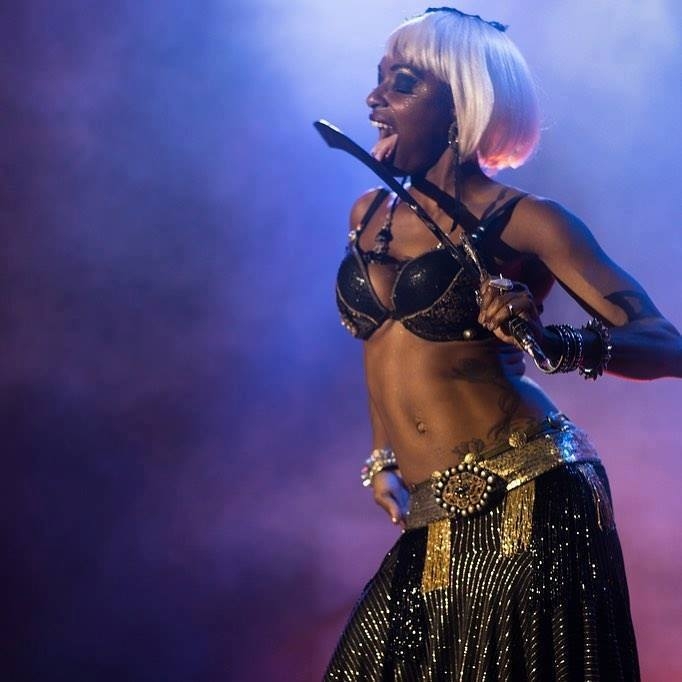 Sandria aka "Lady Liquid" is a Tribal Fusion bellydancer with a passion for theatrics. With a Bachelors' degree in Theatrical Arts, Sandria has been dominating the stage of music and theater for the better part of 15 years. She has studied various forms of movement and dance, including ballet, jazz, burlesque, and now her most passionate, Bellydance. Sandria is a company member of Zoe Jakes House of Tarot and performs regularly with Beats Antique.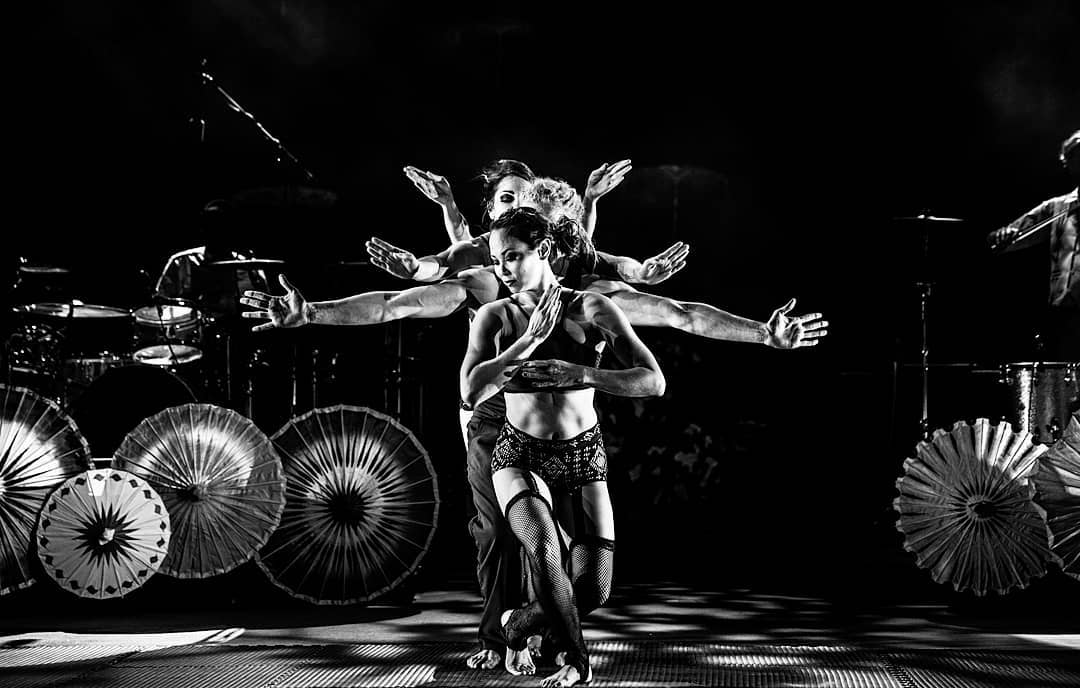 Theresa Wong was introduced to Middle Eastern Dance while attending Humboldt State and fell in love with the music & challenge of isolations. She performed with Shoshanna's Lailaa Chandani Dance Ensemble in 2001 & 2002. During the years she was developing her career, Theresa's movement focus shifted to yoga & AcroYoga. Her passion for belly dance was reignited in 2017 when attending Zoe Jakes' classes, finding her stylization particularly appealing. Since joining Coven Dance Company, the two have experimented with Acro/Belly Dance Fusion as additions to Beats Antique and House of Tarot choreographies.
Kami Liddle & Gold Star Dance Company Cast!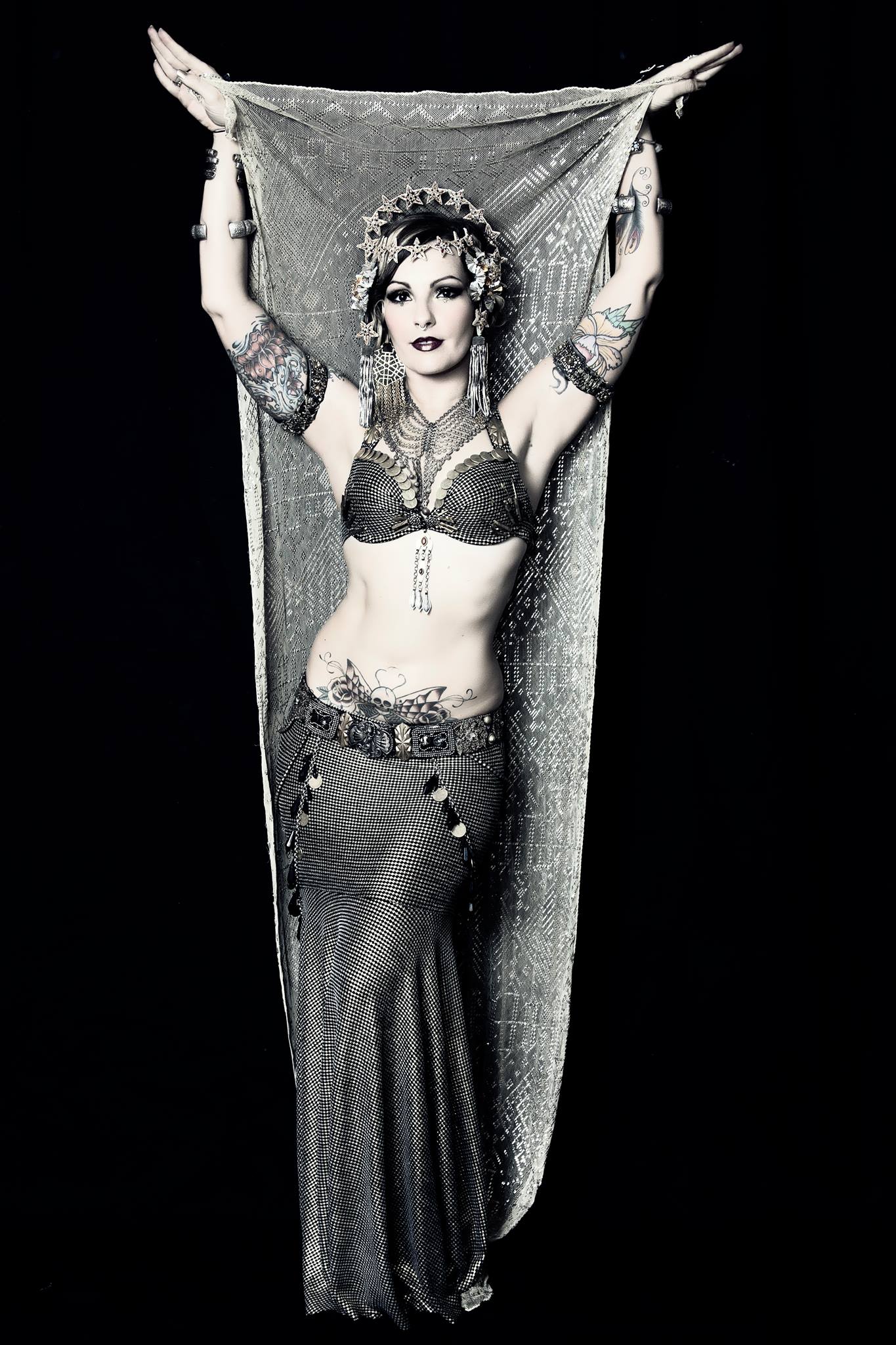 Kami Liddle has been a student of dance since she was 4 years old including ballet, tap, jazz, modern and hip hop. After a brief interlude as a musician, Kami reunited with dance when she was 18 years old when she began to study cabaret style belly dance until she found her passion in improvisational belly dance via Fat Chance Belly Dance. Kami holds a B.A. in Art with a Minor in Dance from the University of Nevada, Reno. In 2005, Kami auditioned and was invited to join the Bellydance Superstars (BDSS), a professionally touring belly dance company produced by music industry legend Miles Copeland (manager/producer of bands such as 'The Police,' 'Billy Idol,' and "The Bangles'). Beginning as a principal dancer, Kami soon became a soloist and contributing choreographer. In 2007, she became the Director of the 'Tribal Superstars,' the tribal fusion belly dance ensemble of BDSS, while continuing to develop her solo career traveling internationally to perform and teach workshops. She toured with BDSS internationally for nearly 6 years, performing in 18 countries including performances for the Prince of Monaco and the Consul General of Morocco. 7 of Kami's internationally touring choreographies have been featured on PBS. In 2010, Kami decided to leave BDSS in order to pursue her art as a solo artist and work collaboratively with dancer and musician Zoe Jakes and Beats Antique, a musical group that incorporates live dance and performance in their multimedia shows and music videos. Kami toured the U.S. with Beats Antique for 2 years performing at numerous well known venues including Lollapalooza in Chicago, The Staples Center in Los Angeles, Outside Lands in Golden Gate Park and the Fillmore, both in San Francisco. Her dancing is also featured in their music videos "Revival" and "Cat Skillz." Kami decided to leave Beats Antique in 2012 to meet the continued request for additional solo performances and workshops worldwide. Since leaving the group, she has been hosted in over 20 countries as a performer and teacher. In order to fulfill her artistic vision and use her abilities to the fullest, Kami decided to return to her love of group choreography. Selecting five colleagues from an array of the Bay Area's leading belly dance companies, Kami formed Gold Star Dance Company in early 2013. Together they set out to combine this young and constantly evolving dance style with elements of jazz, modern, hip hop and classical ballet. They have performed on for numerous events including the main stage at the festival Lightning in a Bottle, for Lucas Films at the Regency Ballroom in San Francisco, and 2 West Coast tours with Bay Area based band Junk Parlor. Gold Star Dance Company and Kami Liddle's choreography is featured in Junk Parlor's music video "Si Tu Savais" and Kami is featured on percussion on their latest album "Melusina."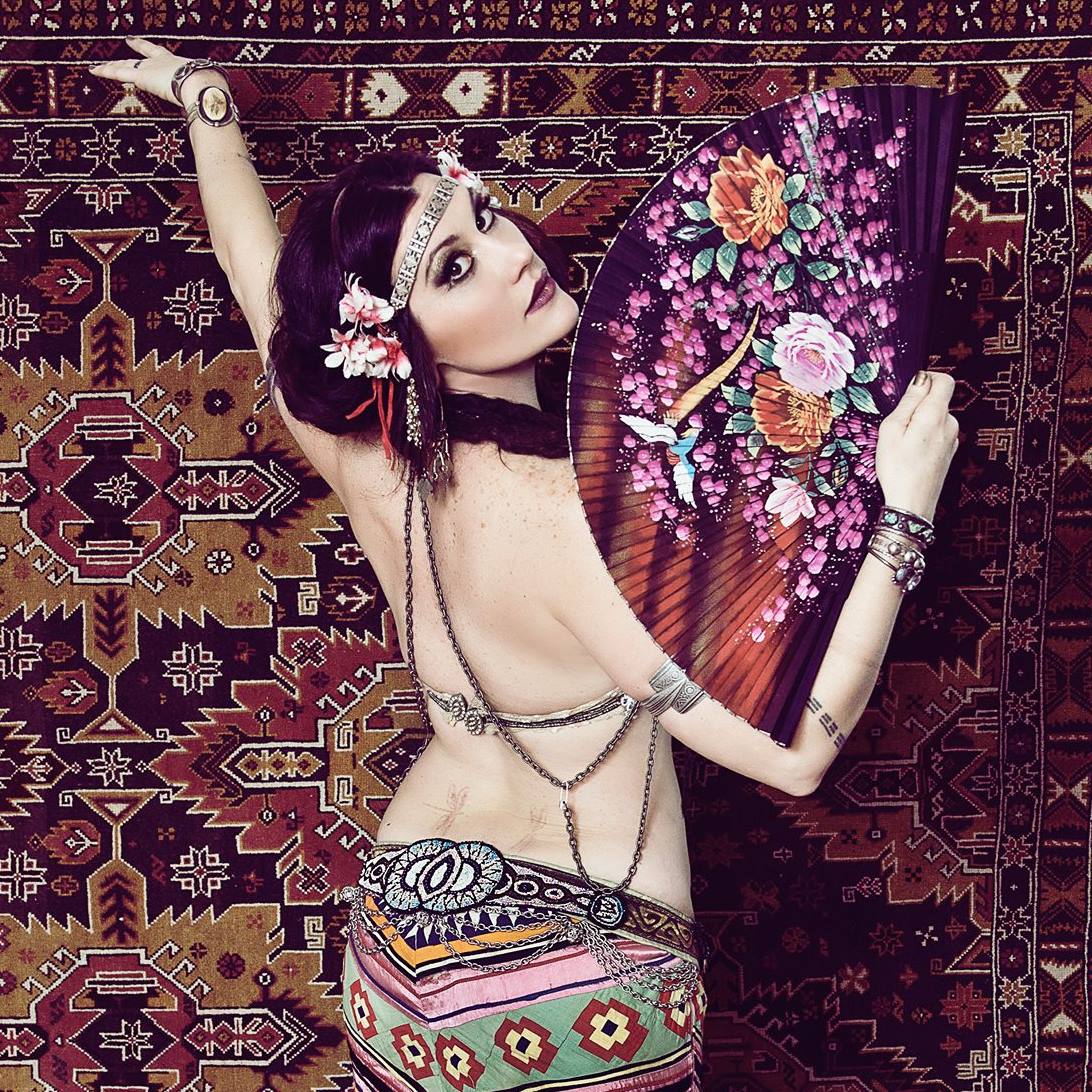 Rose Harden, a multi-talented artist and Tribal Fusion belly dancer, has been a passionate member of the vibrant San Francisco performance community since 1999. She was a long standing member of Ultra Gypsy during the early influential years of Tribal Fusion's development and co-directed the company alongside Jill Parker for 3 years. She approaches performance as an extension of her visual arts training(BFA RISD), crafting with intention, a unique experience for the audience. Rose is currently a member of Kami Liddle's Gold Star Dance Co. and co-director of Dangerous Beauties. Rose has contributed her artistry to the innovative concepts, costuming, and choreography to influential dance companies Ultra Gypsy, the Barbary Coast Shakedown, Beats Antique and the Bhoomi Project, Kami Liddle's Goldstar Dance Company and co-directs Dangerous Beauties Belly Dance. Her costuming has been seen on Zoe Jakes and Beats Antique, Gold Star Dance Company, Belly Dance Superstars, Suhaila Dance Company, Rosin Covin at the Edwardian Ball, and countless Bay Area performers. Her unique approach to costume design make her one of the most in demand seamstresses. Her original ready to wear designs have been featured at NYC Fashion Week in 2015, 2016, & 2017 as a part of the One Mama Collection. www.rosehipsdancer.com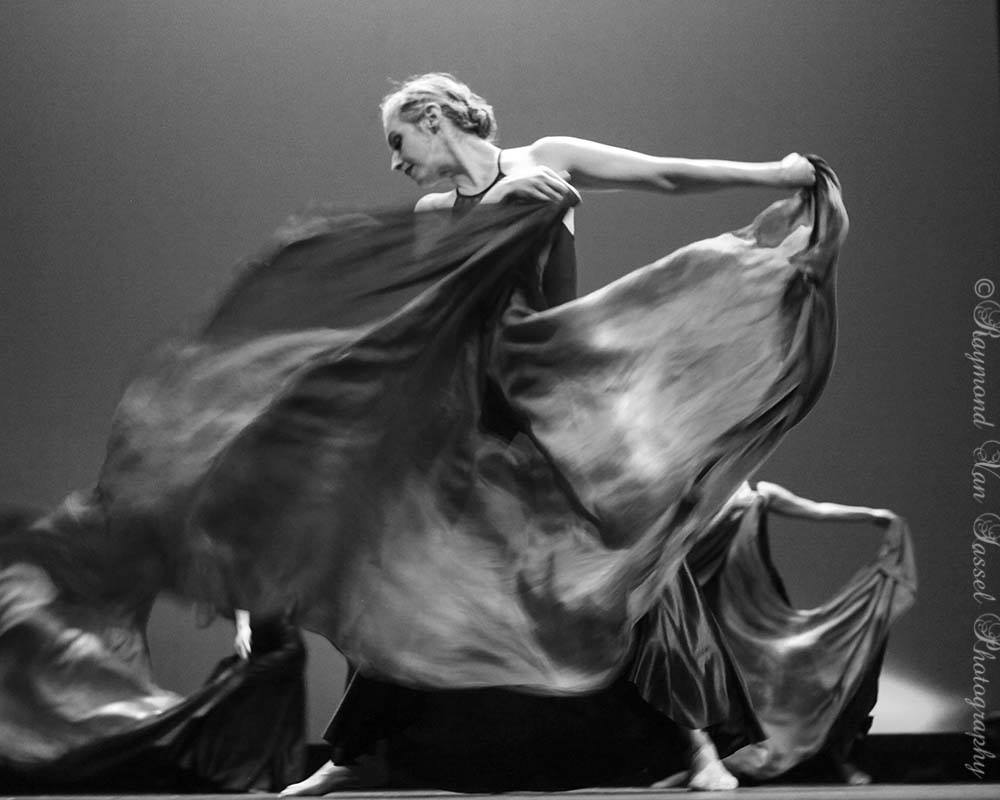 Aimee Krasovich has an accomplished dance background in theatrical jazz and rhythm tap, where she has been teaching and performing for the past 15 years. Her newest love of contemporary fusion belly dance has taken over her dance being. She is thrilled every day she gets to rehearse and perform with Gold Star and proud to be with such a unique group of talented ladies.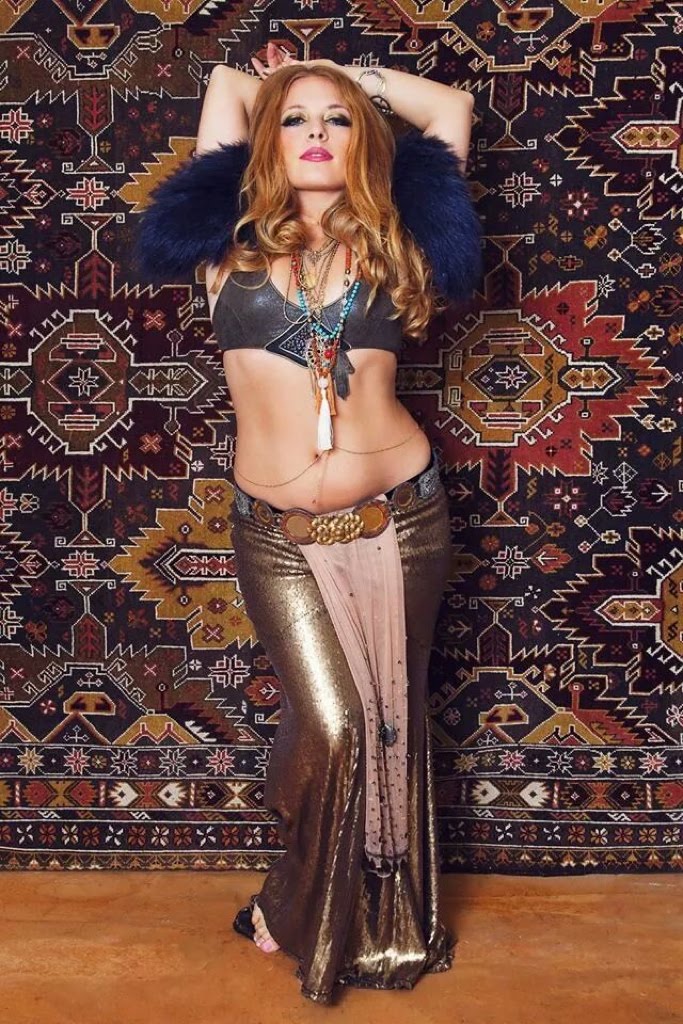 Gina Bruno has been teaching and performing middle-eastern dance since the age of three and is a second generation belly dancer of Debby Lammam. Her technique both combines fusion and classical styles. Trained from an early age in jazz, ballet, flamenco, and Persian dance she integrates her technical training with a traditional Arabic dance background. She began her studies with Suhaila Salimpour in 1994, and was one of the first and youngest members of the Suhaila Dance Certification program to become Level 5 certified.
https://www.ginabdance.com/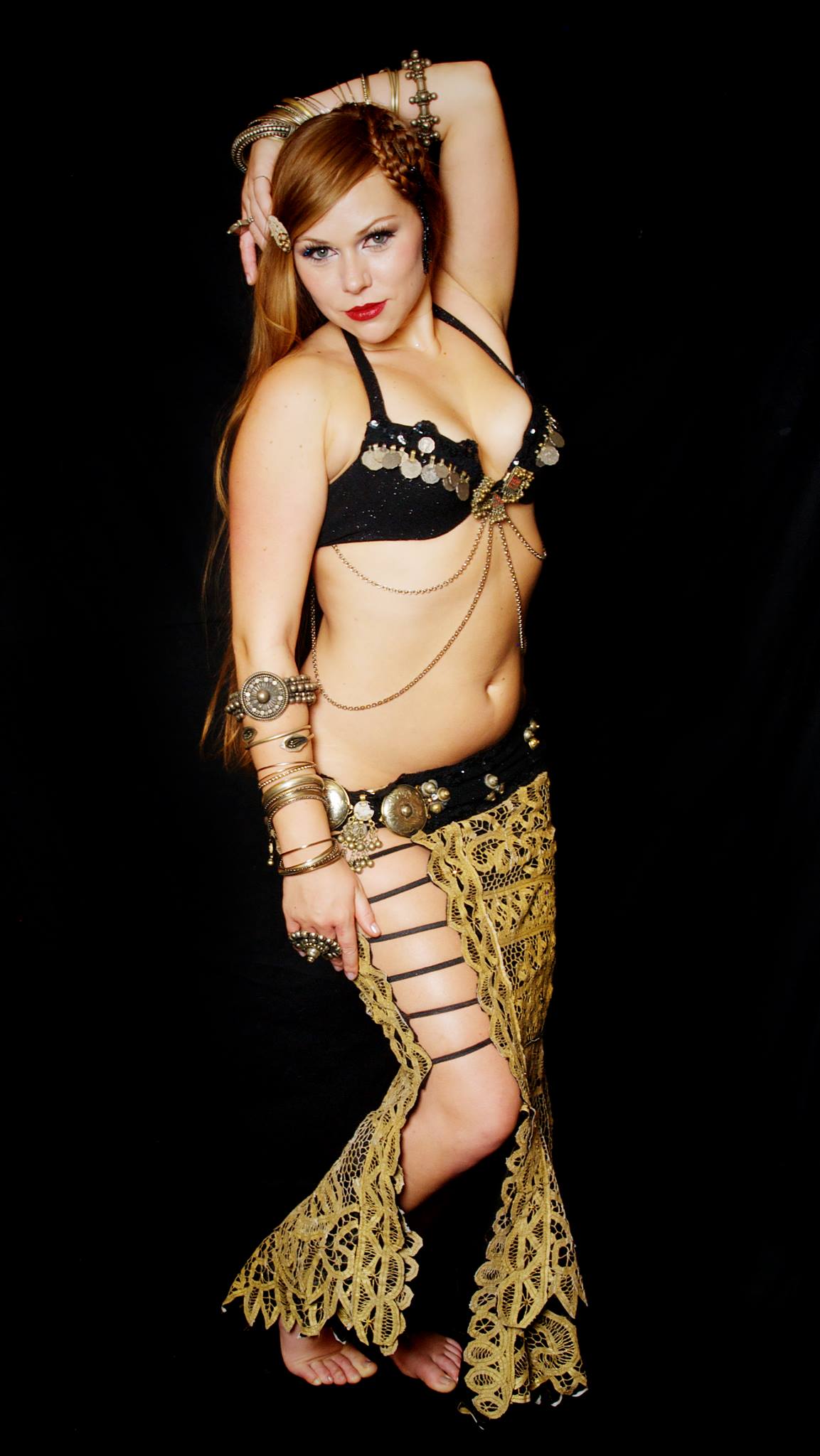 Julie Rea grew up with a French horn in one hand and a trumpet, bass, or mallet rattling around in the other. She has been known for her merits in playing both classical, jazz, and just plain outlandish music on both sides of the Atlantic. Born from the love of music was a love for movement which led her to find her home in belly dance. Growing up in Reno, Nevada, Julie was able to study regularly under talented mentors Tahari and Kami Liddle. She evolved along with her dance under the guidance of these lovely performers and set out as a soloist to find her own voice. In 2006, Julie jumped ship and found herself a home in Madrid, Spain where she was able to explore the dance community. She studied with Morgana while absorbing new musical and dance influences. She became a member of Dhama, a tribal fusion belly dance company based out of Madrid, in 2009 and played trumpet with Cromática Pistona from 2007 - 2010. Relocating to San Francisco in 2010, Julie performed as a soloist and in various collaborative projects while continuing to study from the luminaries that populate this mecca of the tribal fusion belly dance community, including Jill Parker, Kami Liddle, Rose Harden and the lovely ladies of Fat Chance Belly Dance. Julie is an original member of Gold Star Dance Company, directed by Kami Liddle, and performs regularly with the Americano Social Club. She also co-produces Baxtalo Drom - The Lucky Road, a monthly gypsy punk party in San Francisco featuring live music and performance, burlesque, belly dance and floor rattling DJ's.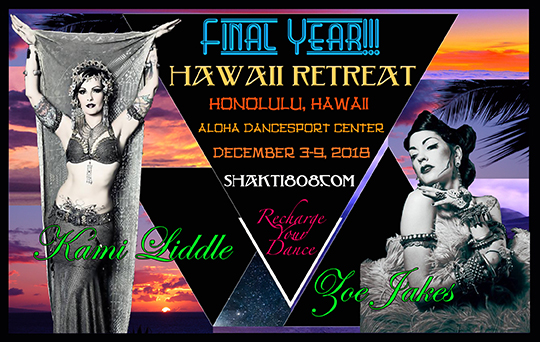 Don't miss Zoe Jakes & Kami Liddle in Honolulu December 3rd-8th for a week of incredible workshops at the Aloha Dancesport Center! Find all the workshop descriptions and registration information here: http://www.shakti808.com/retreat
In collaboration with the Hawaii Retreat with Zoe Jakes & Kami Liddle we have: Shakti's Den, Featuring Dancers from Around the World, our participant Hafla!! Saturday, December 8th at Nextdoor! Tickets and show info here: https://shaktisdenjetset.eventbrite.com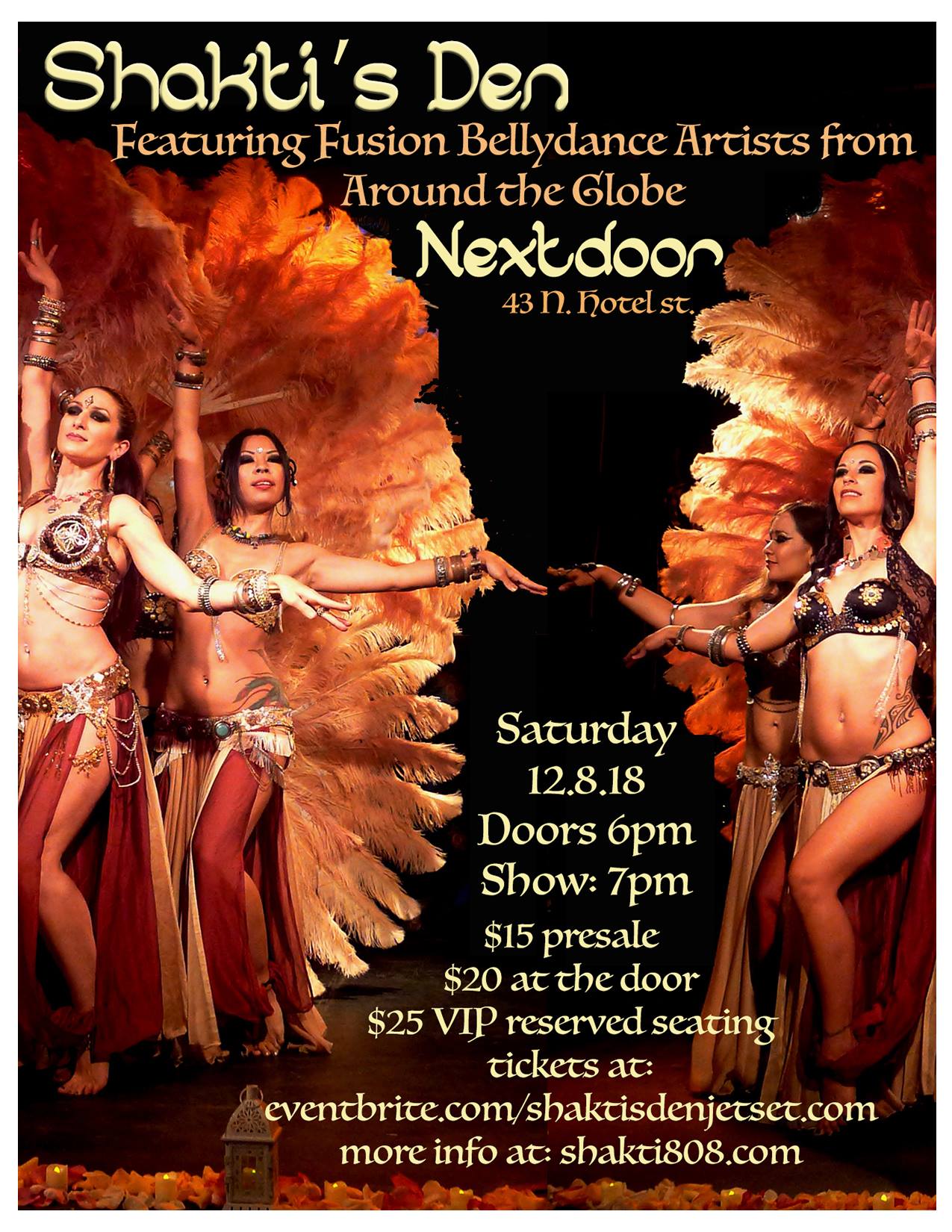 Mahalo for all your continued support!
xoxo
Kalae Kaina