Description
Aloha Friends, Family, and Lovers of DANCE!
Shakti's Den Productions in collaboration with the Hawaii Belly Dance Retreat with Zoe Jakes & Kami Liddle come together to bring you:
Shakti's Den: An Evening of Fusion Bellydance featuring dancers from around the Globe!!
Saturday, December 8th
6pm-9pm
Nextdoor
43 N. Hotel st., Honolulu
Metered street parking and Chinatown Municipal parking available
Limited Pre-sale VIP Seating: $25 (first 2 rows of seating)
Pre-sale General Admission: $15
Door General Admission: $20
Ages 21 and over
Doors open @ 6pm, show starts promptly @ 6:30pm

Join us for an evening of Fusion Bellydance of many different styles, featuring local, national, and international bellydance artists!
Featured Guest Performers:
Anna Ruble- Muncie, Indiana
Alice Knox- Australia
Darrell the Imaginarium- Honolulu
Dawn Xiana Moon- Chicago, IL
Devi Dance Company- Honolulu
Emily Aiyana- Hawaii Island
Hailey Sanura- Nevada City, CA

Helenka- Honolulu
Isa Inca- Maui
Julie Moriarty- Australia
Juyhn Kim- Maui
Kahri Sahira- Maui
Landy Lai- Taiwan
Lynette Day- Maui
Michael Azure- Honolulu
Natalie Phoenix- New Jersey
Robyn Buyskes- New York
Shannon Sweet- New Mexico
Sylvia Wan- Hawaii Island
Teresa Harlow- Honolulu
Tina Luna- Arizona
Viktoriya- Alberta, Canada

Vila Donovan- Honolulu,HI
Dancers from around the globe have gathered to train at a week-long dance intensive, The Hawaii Bellydance Retreat with Zoe Jakes & Kami Liddle , with internationally acclaimed bellydance artists, instructors, and performers, Zoe Jakes of Beats Antique and Kami Liddle of Bellydance Super Stars! A rare opportunity to see so much out of state bellydance talent in one place!! Join us for some incredible Fusion Bellydance while enjoying a few drinks, and hopefully winning some fun goodies from a Shakti's Den favorite, our Silent Auction.

All participants registered for the Hawaii Bellydance Retreat with Zoe Jakes & Kami Liddle will receive a free entry pass with your waiver packet at the workshops!!
Zoe Jakes & Kami Liddle will not be performing at this event, they will be performing the following evening, Sunday December 9th at the Doris Duke Theatre. Tickets and all show information here: https://goldtarot.eventbrite.com
Mahalo for all your support!
Shakti is excited to be celebrating our 14th year together; we could not have done it without you!
See you at the show,
Xoxox,
Shakti Girls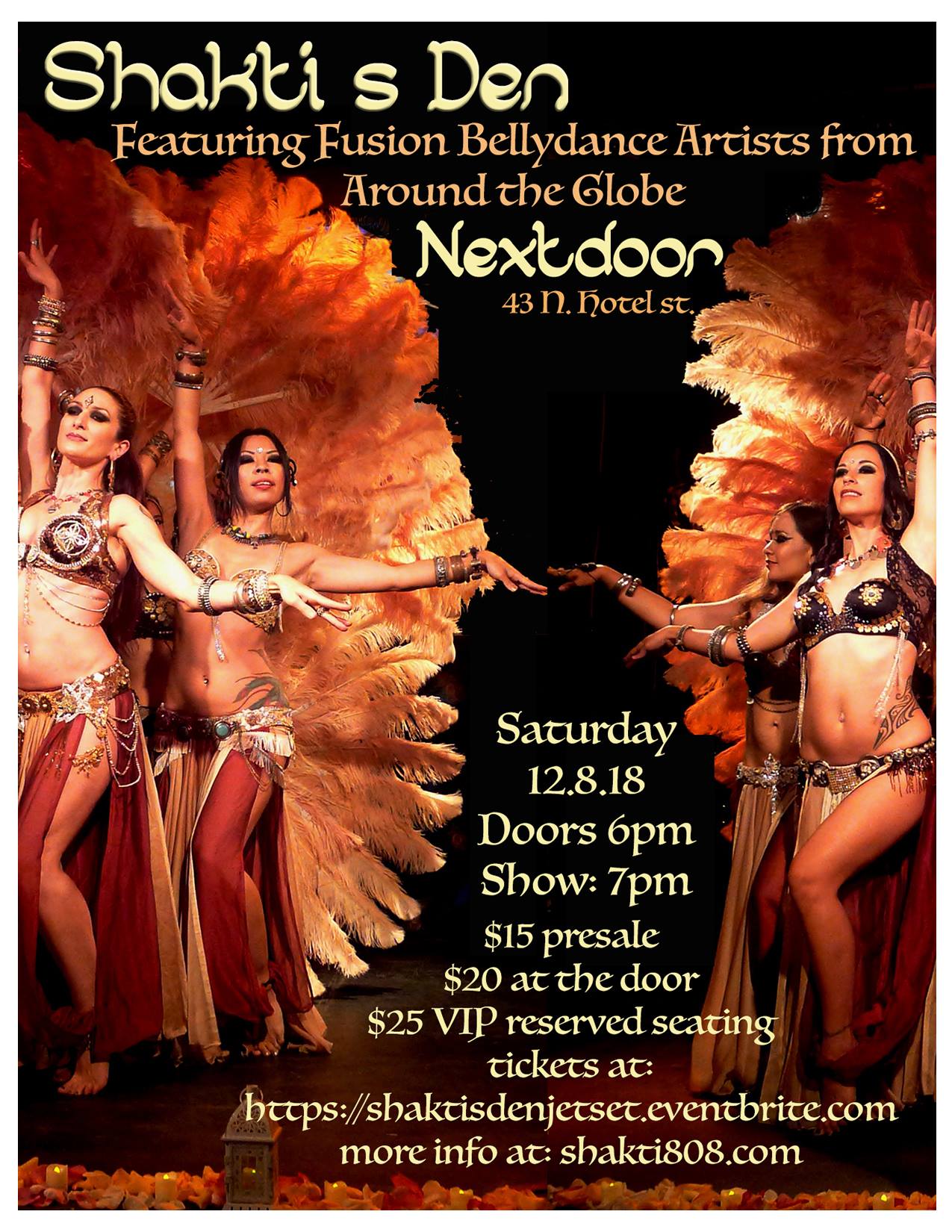 Check out the stellar workshop offerings December 3rd-8th by Zoe Jakes & Kami Liddle here: http://www.shakti808.com/retreat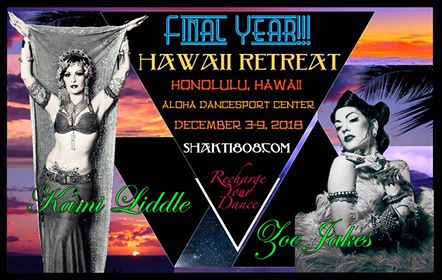 Join us on Sunday, December 9th at the Honolulu Museum of Arts, Doris Duke Theater, for Zoe Jakes House of Tarot and Kami Liddle's Gold Star Dance Company, a theater production you will not want to miss!! Fusion bellydance at it's finest! Show tickets and info here: https://goldtarot.eventbrite.com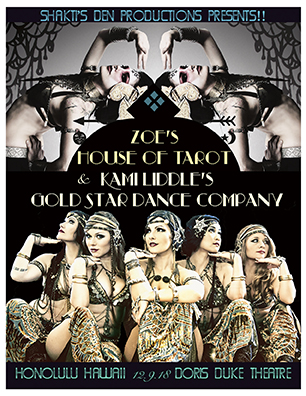 Performer Highlights: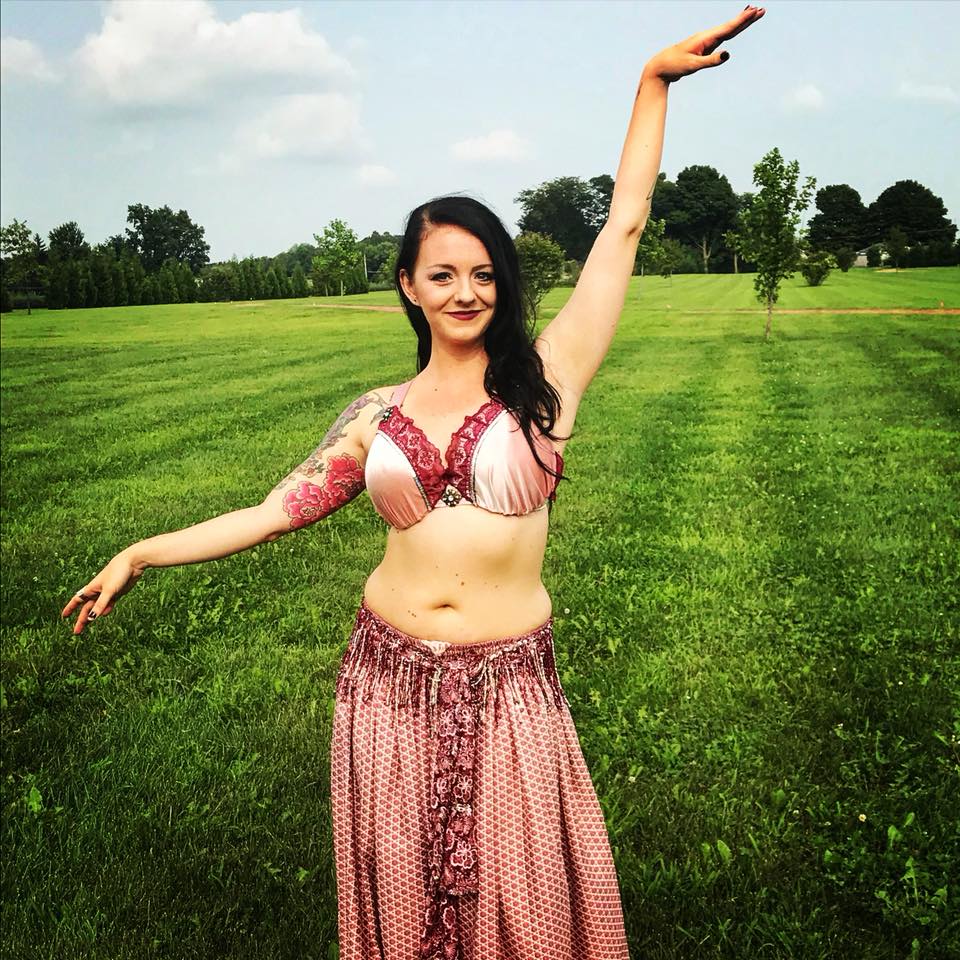 Anna Ruble- Muncie, Indiana. Anna Ruble is a fusion belly dancer from Indianapolis, Indiana. She has studied belly dance for 10 years, starting in high school at a local arts center. Anna recently completed the first level of certification in Zoe Jakes' DanceCraft format and Kami Liddle's Krysalis program. Anna is a member of the Indianapolis-based belly dance troupe Ursula and performs regularly throughout the Midwest. She loves dance, travel, meeting new people, and her two dogs, Romeo and Rosaline.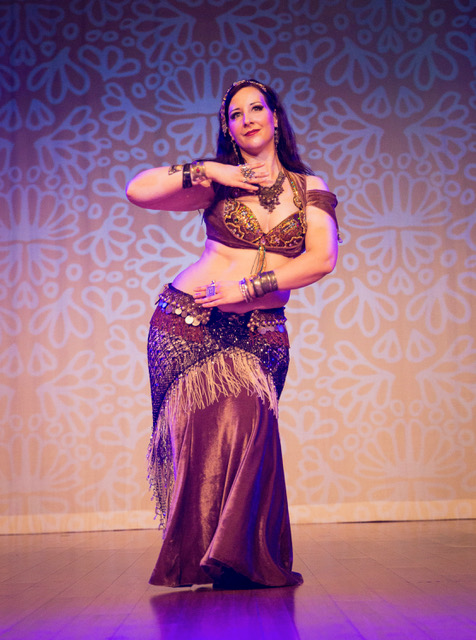 Alice Knox- Australia. Alice Knox is a tribal fusion bellydancer based in Brisbane, Australia. She has been fortunate to travel the world to learn bellydance and is the first Australian dancer to complete Rachel Brice's Eight Elements program. She has performed onstage in productions for Bellydance Evolution and Bellyqueen. Alice teaches regular bellydance classes and is a perpetual student of this beautiful art form.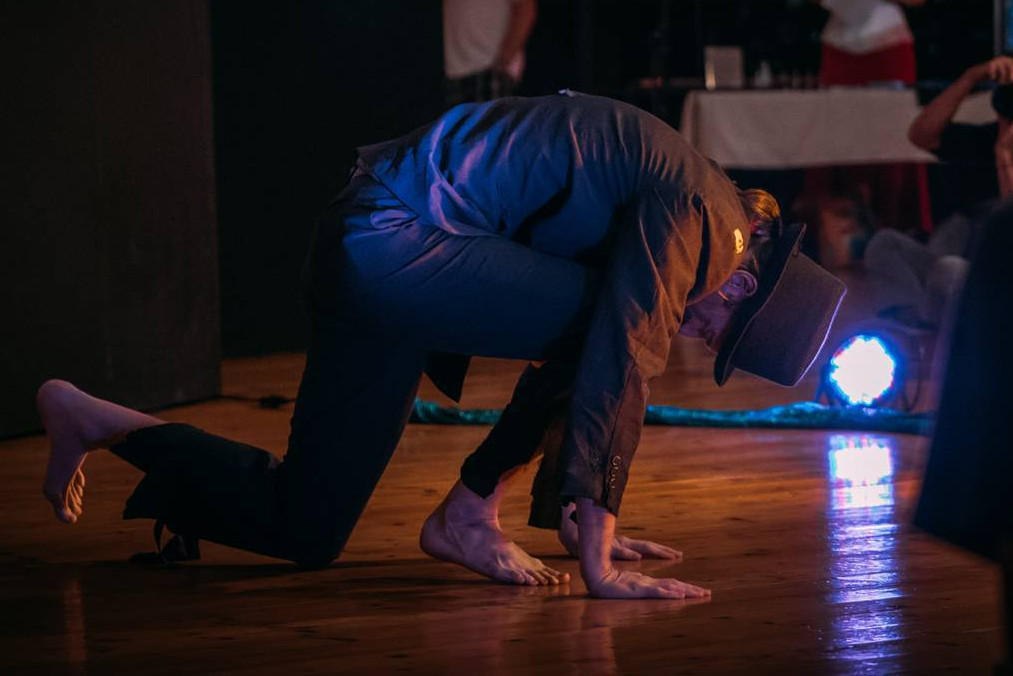 Darrell the Imaginarium- Honolulu. International man of mystery Darrell Imaginarian returns for the sixth year to the Kami & Zoe Hawaii retreat with a fresh bag of tricks. For decades he has been a legend in his own mind, a mercurial Gemini with limited magical powers, mostly useful for amusing children. But what does he actually do? I bet you'd like to know.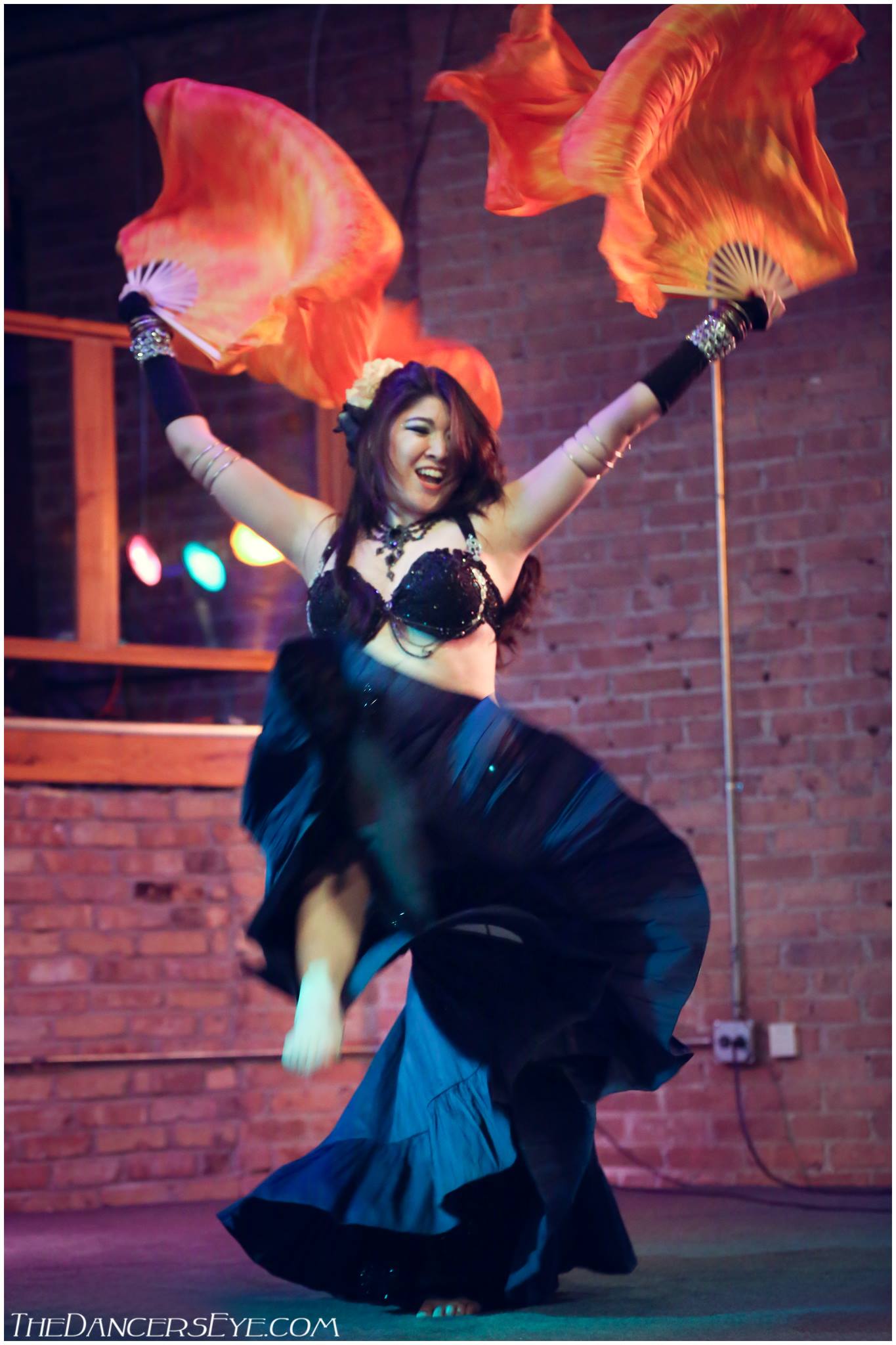 Dawn Xiana Moon is the Founder/Director of Raks Geek, a bellydance and fire company that was recently voted "Best Dance Troupe in Chicago" (runner up) by the Chicago Reader. Raks Geek has garnered international accolades through their commitment to blend a high degree of artistic and technical mastery with fun, creativity, and themes from geek culture; they achieved internet notoriety with a video of a Wookiee bellydancing to a Klingon band playing an original song in Shyriiwook. This earned them a spot on UK Channel 4 TV's "50 Funniest Moments of 2012"; The Daily Mail hailed the group as "sci-fi seduction." Dawn also dances and spins fire with Acrobatica Infiniti Circus and was a longtime member of Read My Hips.
In addition to her work as a dancer, Dawn is a singer-songwriter who's performed in 10 states and released two albums - she fuses elements from traditional Chinese music with folk, pop, and jazz. She's also written cultural commentary on film, TV, and music for a variety of publications; acted in theatre and independent films; designed graphics for Anheuser-Busch; and coded websites for the University of Chicago.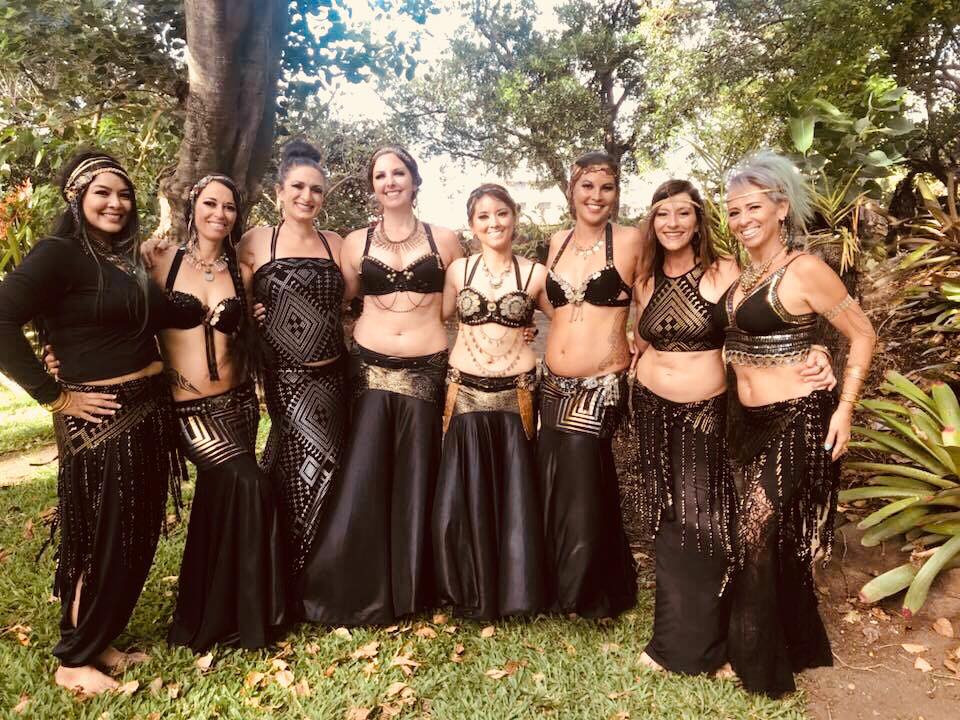 Devi Dance Company- Honolulu. Devi Dance company is a sister troupe to Shakti Dance Movement, comprised of Kalae Kaina's wonderful and dedicated students.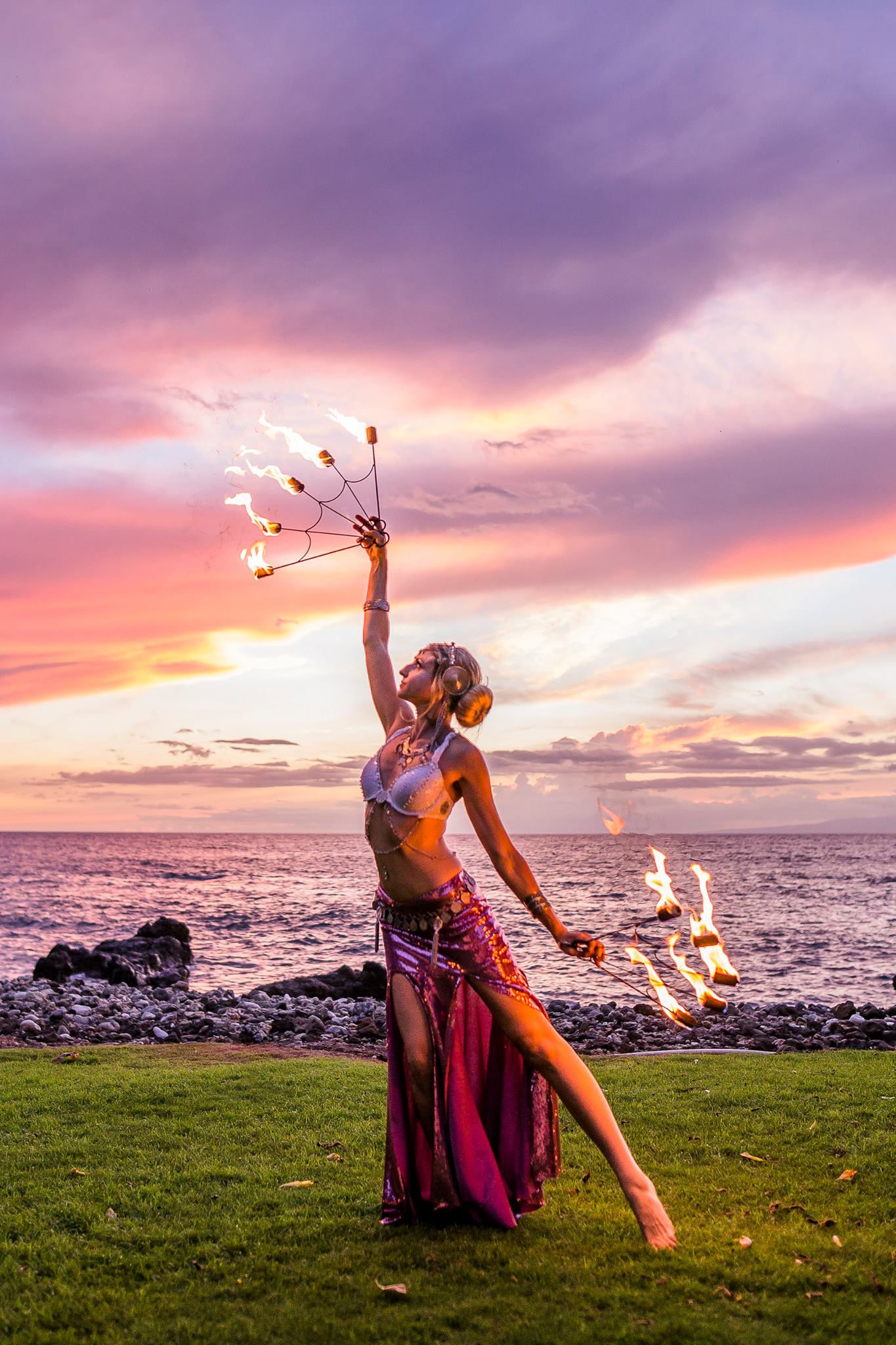 Emily Aiyana- Hawaii Island. Emily Aiyana is a fire and fusion belly dance artist, artistic director of Merkabah Fire Hawaii and member of Maui Belly Groove. Emily offers classes, workshops and exquisite performances for all occasions. Based out of Maui, Hawaii, Emily travels to share her love of dance and to collaborate with other artists.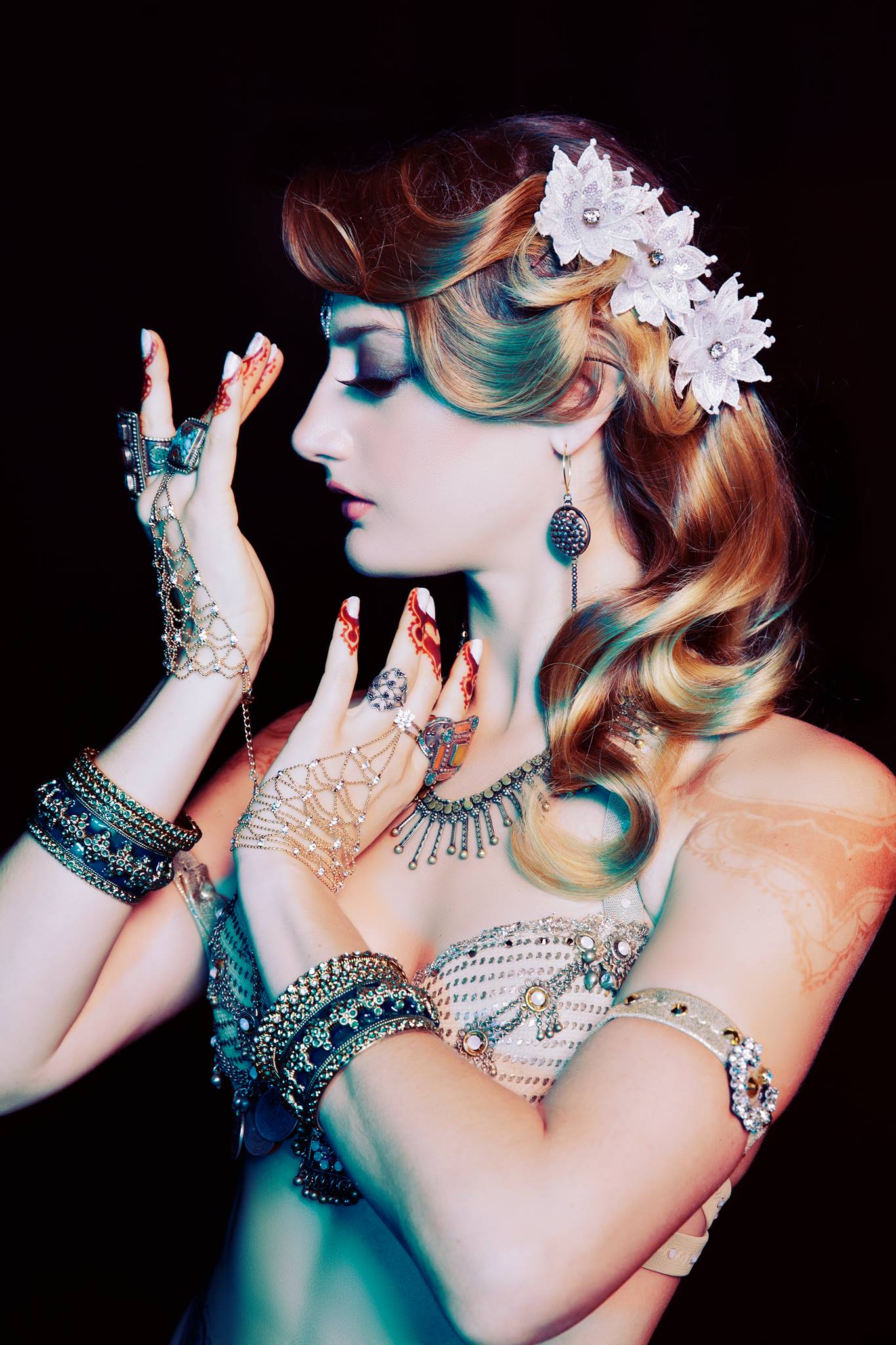 Hailey Sanura- Nevada City, CA. Hailey is committed to finding sensual, spiritual fulfillment through movement and offers her inner world of creativity on stage and as a teacher to inspire and guide others through these practices. She has studied belly dance for 10 years and has trained with the pioneers of Tribal Fusion as well as studied abroad in Turkey. She travels throughout California and beyond teaching dance and Buddhi Yoga.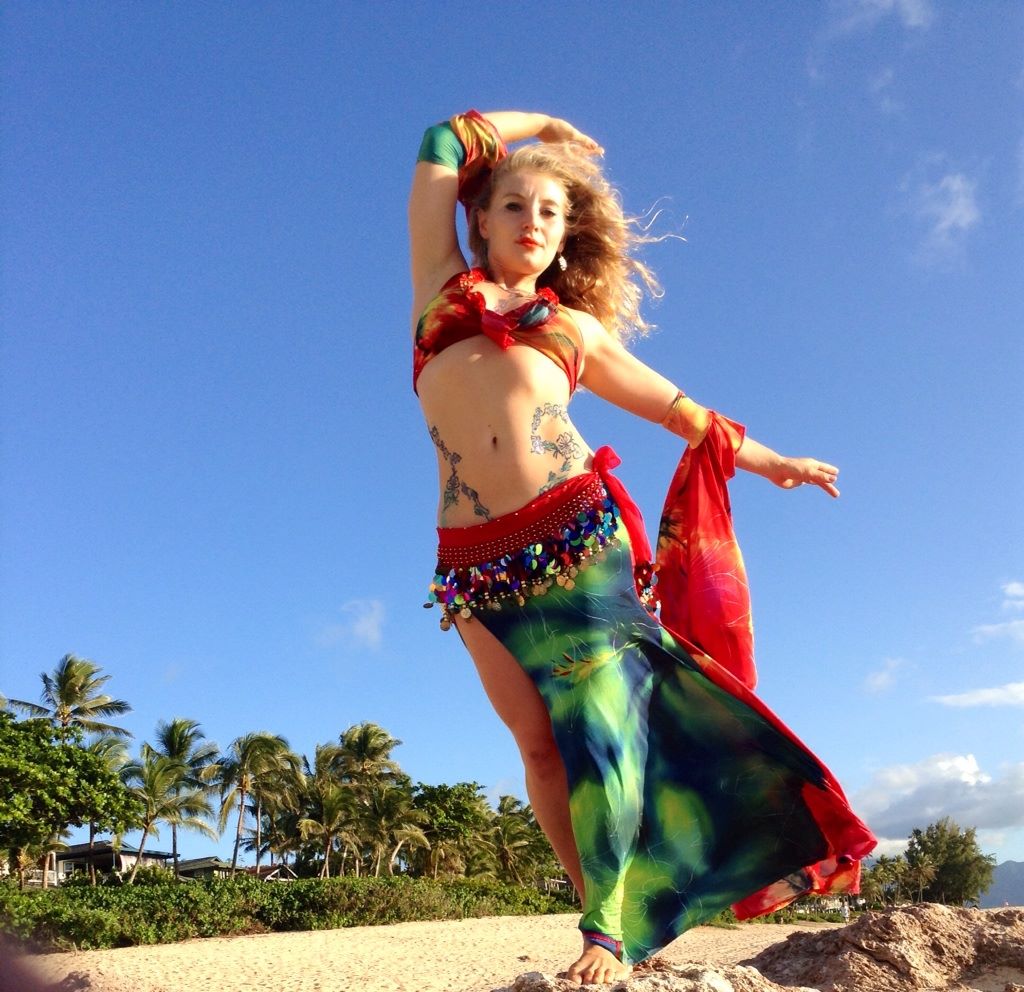 Helenka- Honolulu. Born in the frosty, mighty Siberia of the infinite, deep Taiga forest is a converted Steppenwolf and a mother of two free spirits united with a warrior of true love. The art of belly dance in all its variety is one of the paths to connect to the divine self. Different than learning a skill, dance is a magical force discovered, it has always been there through centuries and lifetimes. We are all beautiful, some of us like a willow tree, others like a rose, some like a water lily. We choose to let it shine through the layers of personality leading to our individuality. Step into the enchanting performance with me and find your own beauty reflecting.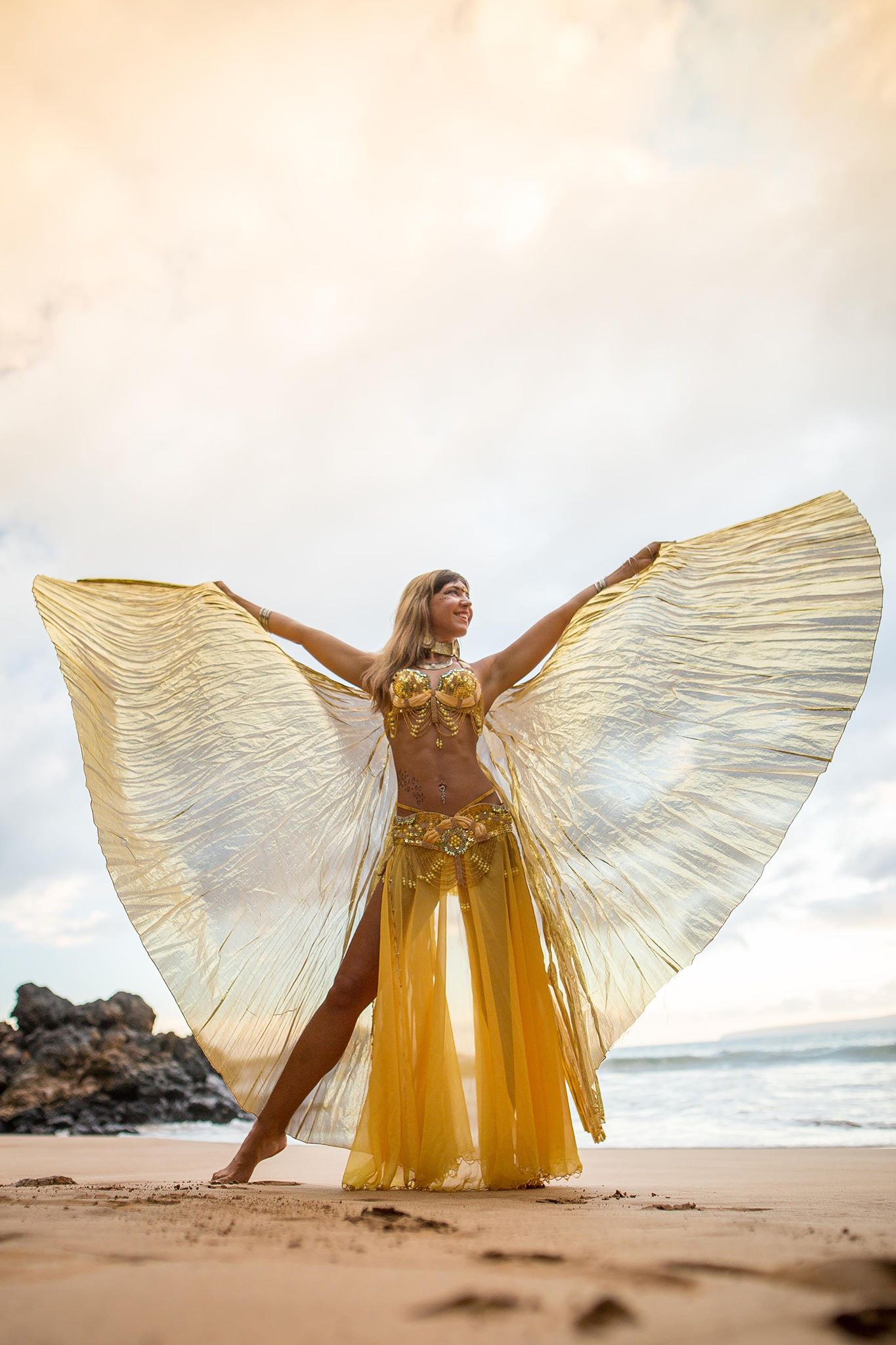 Isa Inca- Maui. Isa grew up in Sweden and lives in Maui. She has 20 years of dance training in Ballet, Jazz, Hip Hop, Modern/Contemporary dance and many other styles. She has been belly-dancing professionally on Maui the past 12 years and has her own private dance studio where she teaches Pilates and Bellydance weekly. She also teaches music and dance to kids at the Maui Arts and Cultural Center and is a professional singer.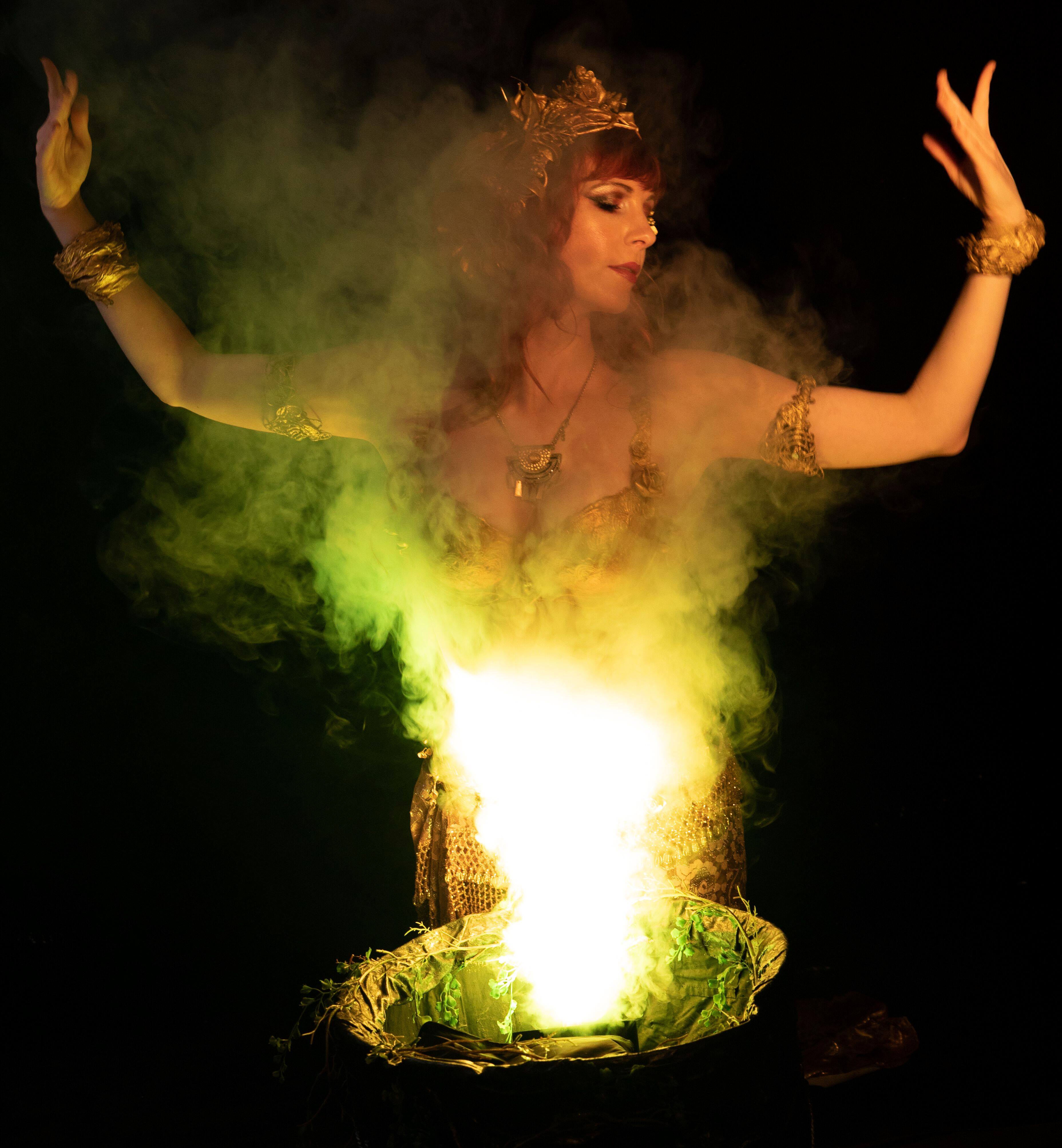 Julie Moriarty- Australia. Julie Moriarty is a dancer from Australia, where she performs as Spiral Orchid Tribal Fusion belly dance (@spiralorchid). She has a passion for the theatrical and fantastical. With 10 years of tribal fusion training as her foundation, she also practices Butoh, contemporary dance and animal flow movement. She is inspired by mythology, folklore and tarot and enjoys finding ways to weave these themes into her performance. Julie is currently studying Zoe Jakes' Dancecraft format and is excited to be participating in Level 3 Key of Clubs next year.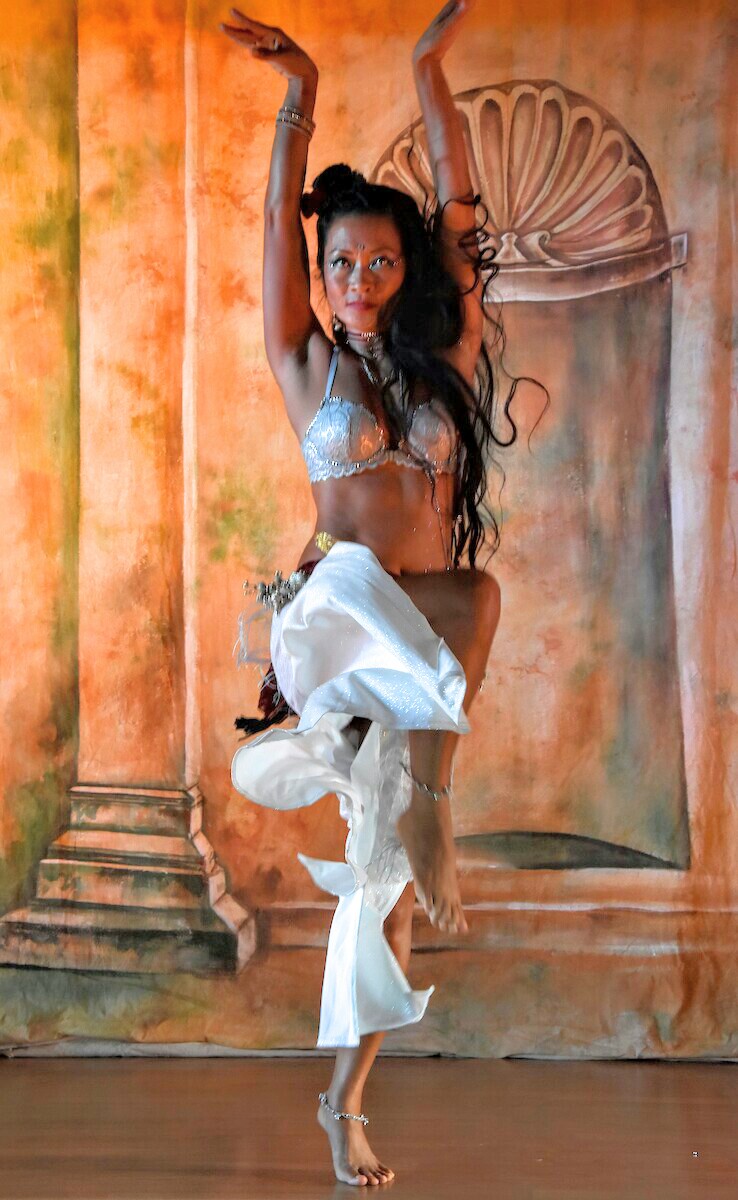 Juyhn Kim- Maui. Juyhun is an healing artist from Maui, member of Maui Belly Dance Company .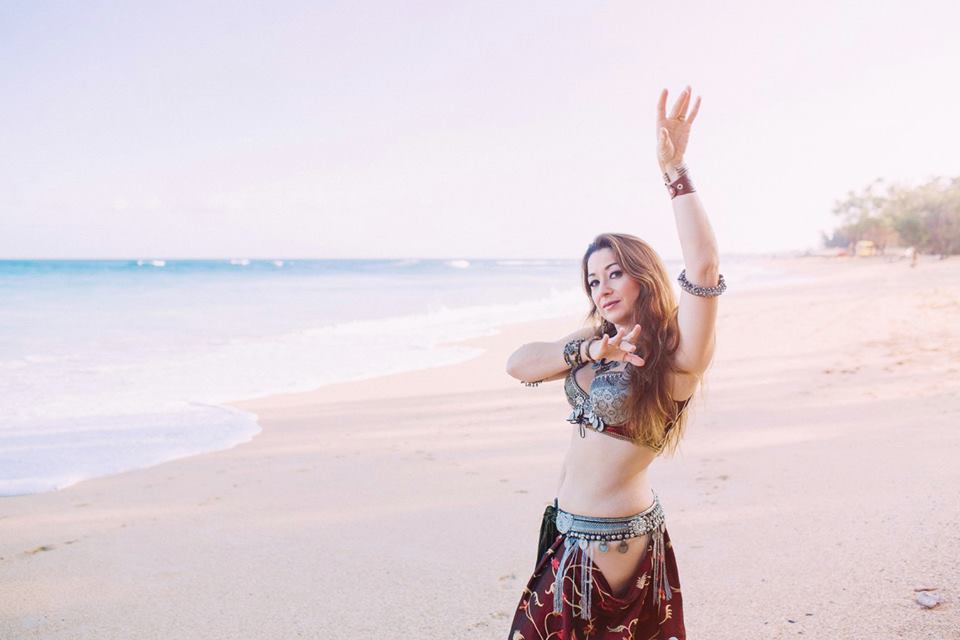 Kerry Fitzgereld- Maui. Joining us from the isle of Maui, has been bellydancing most of her adult life and enjoys performing both traditional and modern fusion Bellydance. She is a member of Maui Belly Groove.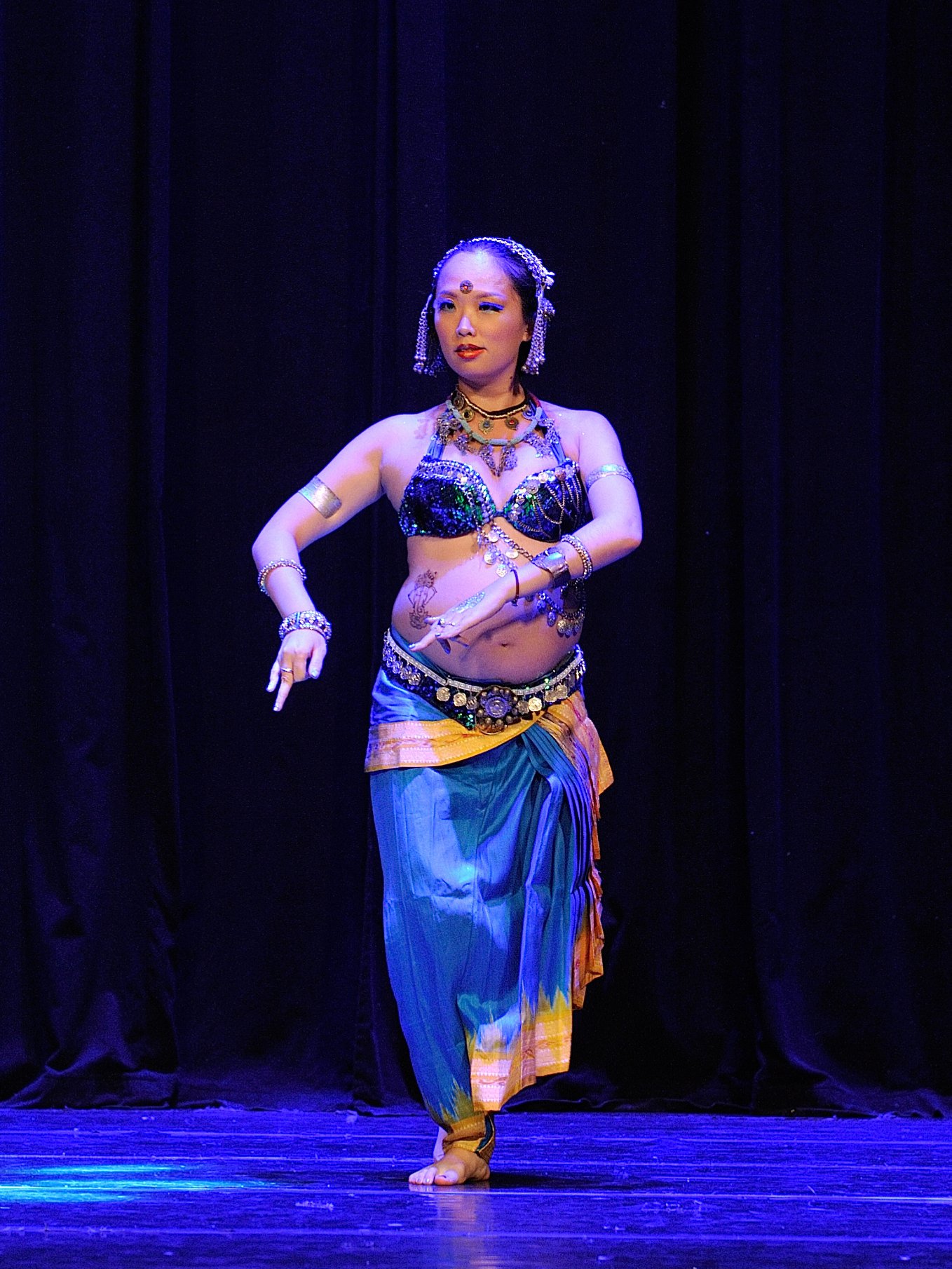 Landy Lai- Taiwan. Joining us all the way from Taiwan, Landy Lai will be gracing the Shakti's Den Stage! A member of Mosuo Dance Troupe with 10 years of dance experience under her belt, Landy has a true love and passion for dance.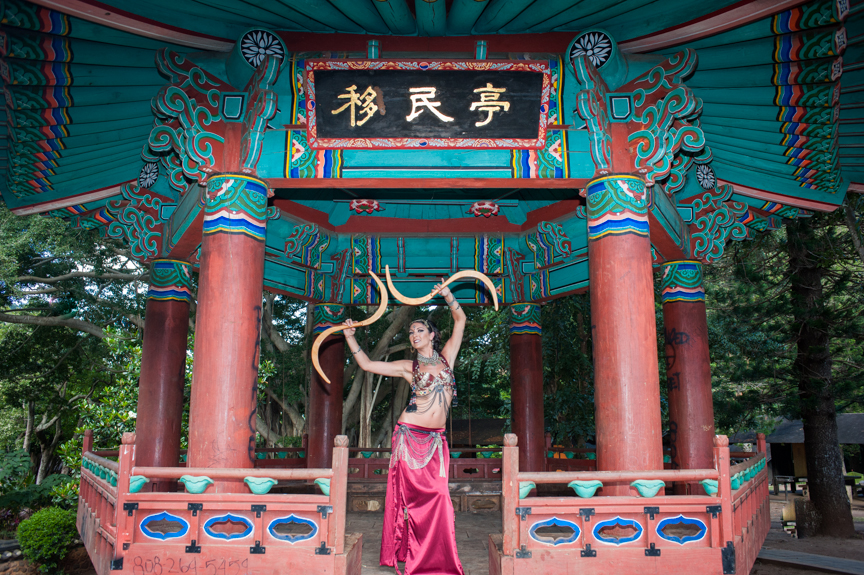 Lynette Day has been a student of many styles of belly dance since 1998. A former member of Seattle's Troupe Hipnotica, her interests have ranged from classical and folkloric dance of the Middle East to synchronized group improvisation and American fusion. Lynette has completed all four phases of study in Rachel Brice's 8 Elements™ approach, of which she is a recognized official Datura™ Style teacher. She has worked as an occupational therapist since 2005 and enjoys using a therapeutic approach when teaching her students. She finds it important to educate her students on how belly dance can decrease the effects of the aging process. She currently is the director of Maui Belly Groove and has developed an improv vocabulary with her collaborator, Andria Perkins, on Maui. This improv vocabulary includes cued combos with complex and dynamic zil patterns. Belly Dance and Occupational Therapy are Lynette's passions and she's excited to be integrating them!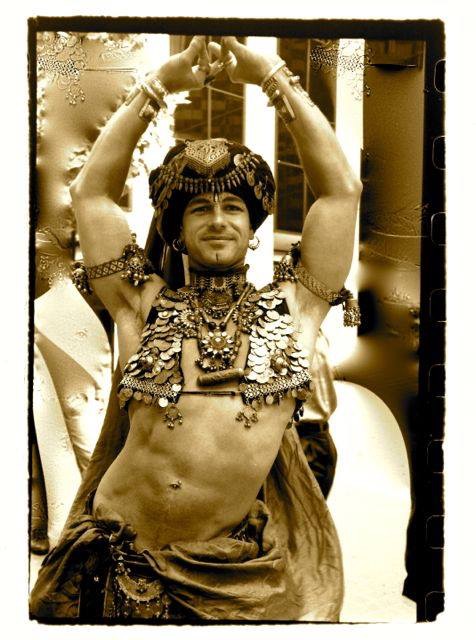 Michael Azure- Honolulu. Azure started dancing with the legendary Fat Chance Belly Dance in 1990, co-founded Ultra Gypsy with Jill Parker in 1996, founded Azure in 1999, & been dancing with Little Egypt and Jill for the last two years in the Bay Area!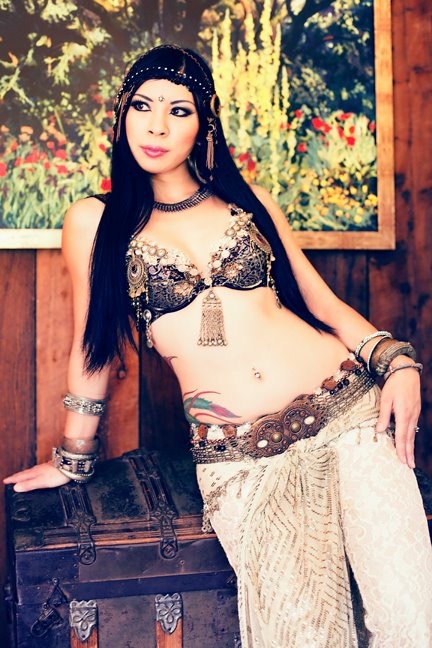 Natalie Phoenix- New Jersey. Natalie was a member of Shakti Dance Movement for 8 years before she had her son and relocated to the mainland. She just started dancing after 3 years of hiatus. She hopes to ignite the passion for dance once again after this experience in Hawaii.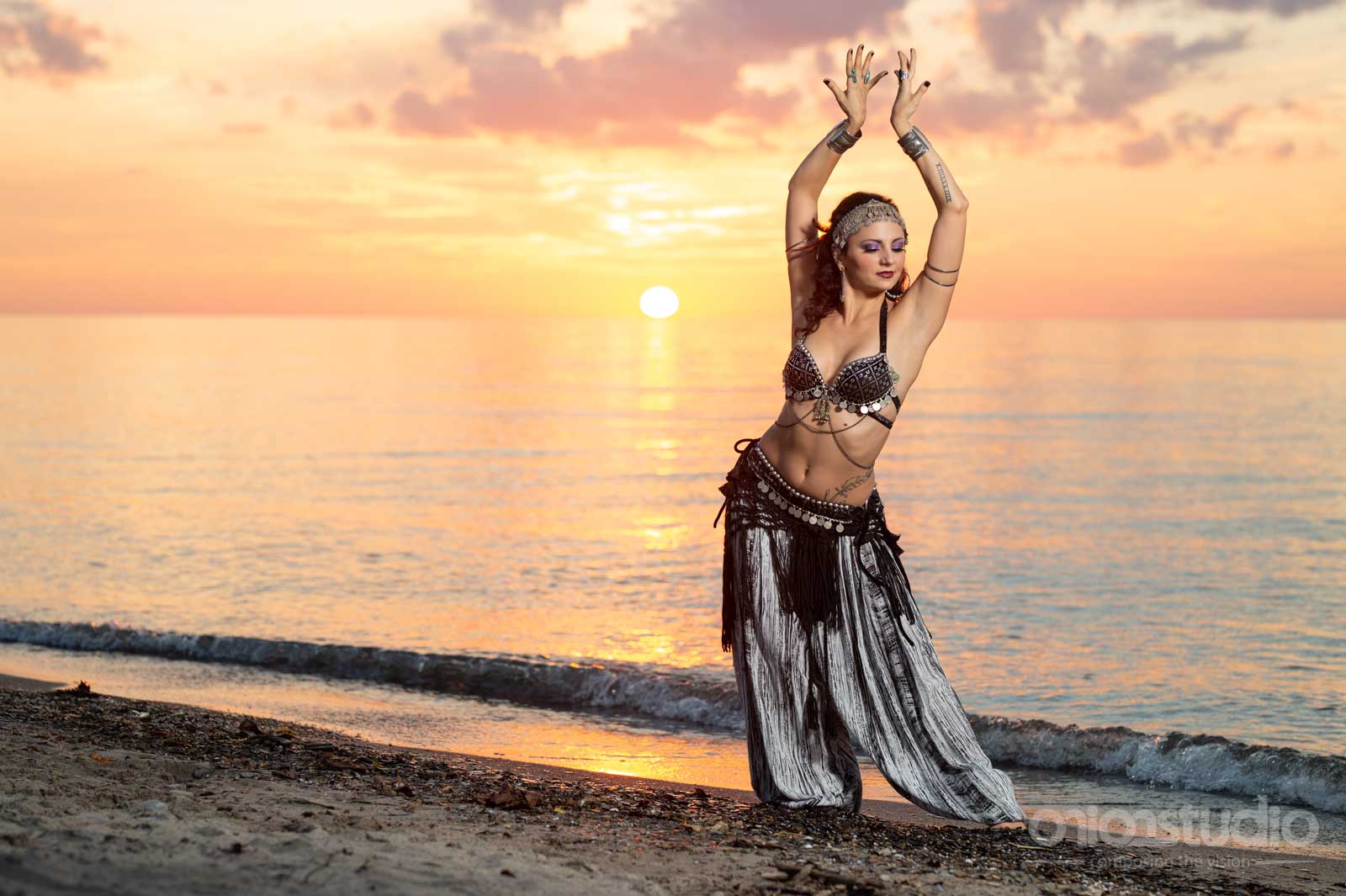 Robyn Buyskes- New York. Born and raised in Buffalo, NY, Robyn specializes in Tribal Fusion Belly Dance. She has studied with Michelle Joy of Sinuous Tribal Fusion Belly Dance, Jill Parker, and Kenzie of Oasis Dance Center. Robyn fell in love with Tribal Fusion and has been on a journey of learning and exploring belly dance's deep routes. Tribal Fusion Belly Dance is not common in her area so in September 2018 she opened Buffalo Tribal Belly Dance to offer classes to the community and to continue her growth as a dancer.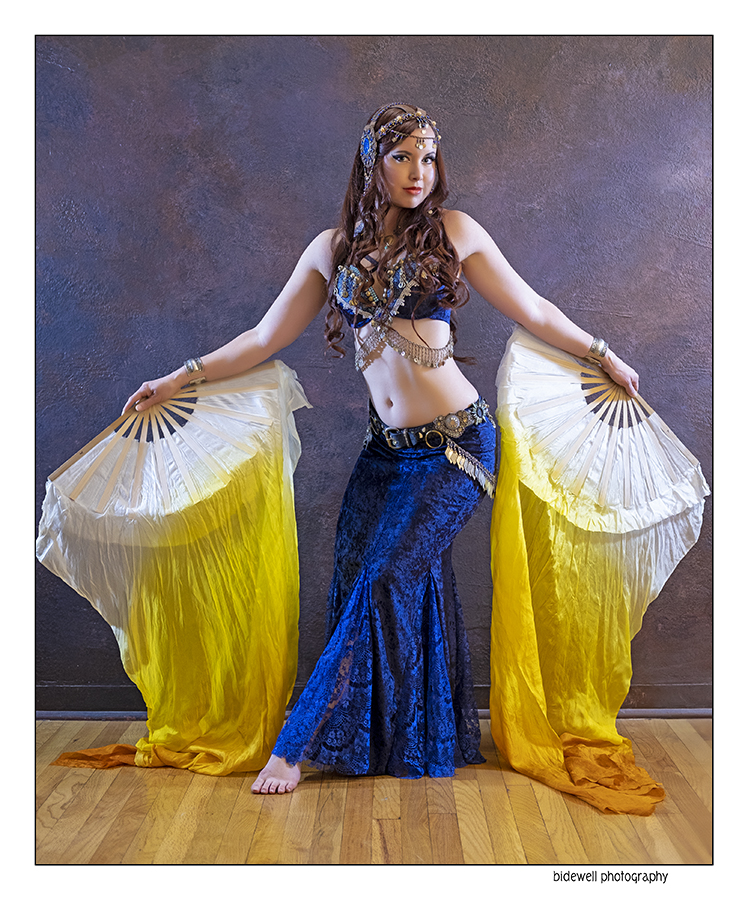 Shannon Sweet- New Mexico. Known for her innovative style with Tribal Fusion Fan Veils around Albuquerque and Santa Fe, Shannon is an award-winning dancer and choreographer* and enjoys teaching out of Sirena World Dance Studio in Albuquerque, New Mexico. Shannon stepped into the world of Belly Dance in 2002 by learning and performing Folkloric and Egyptian Cabaret style Belly Dance in her home state of Hawaii. In 2011, Shannon became hooked on Tribal Fusion Belly Dance as soon as she started taking classes with Kalae Kaina and Natalie Phoenix. Currently, Shannon performs with the Desert Darlings of Albuquerque, New Mexico; a theatrical Belly Dance troupe. She very much adores hiking, and cuddling with her cat Alejandro.
*1st Place Judges' Choice and People's Choice in the Yaa Halla Ya'll Yellow Rose of Texas Tribal Fusion Professional Solo Category 2017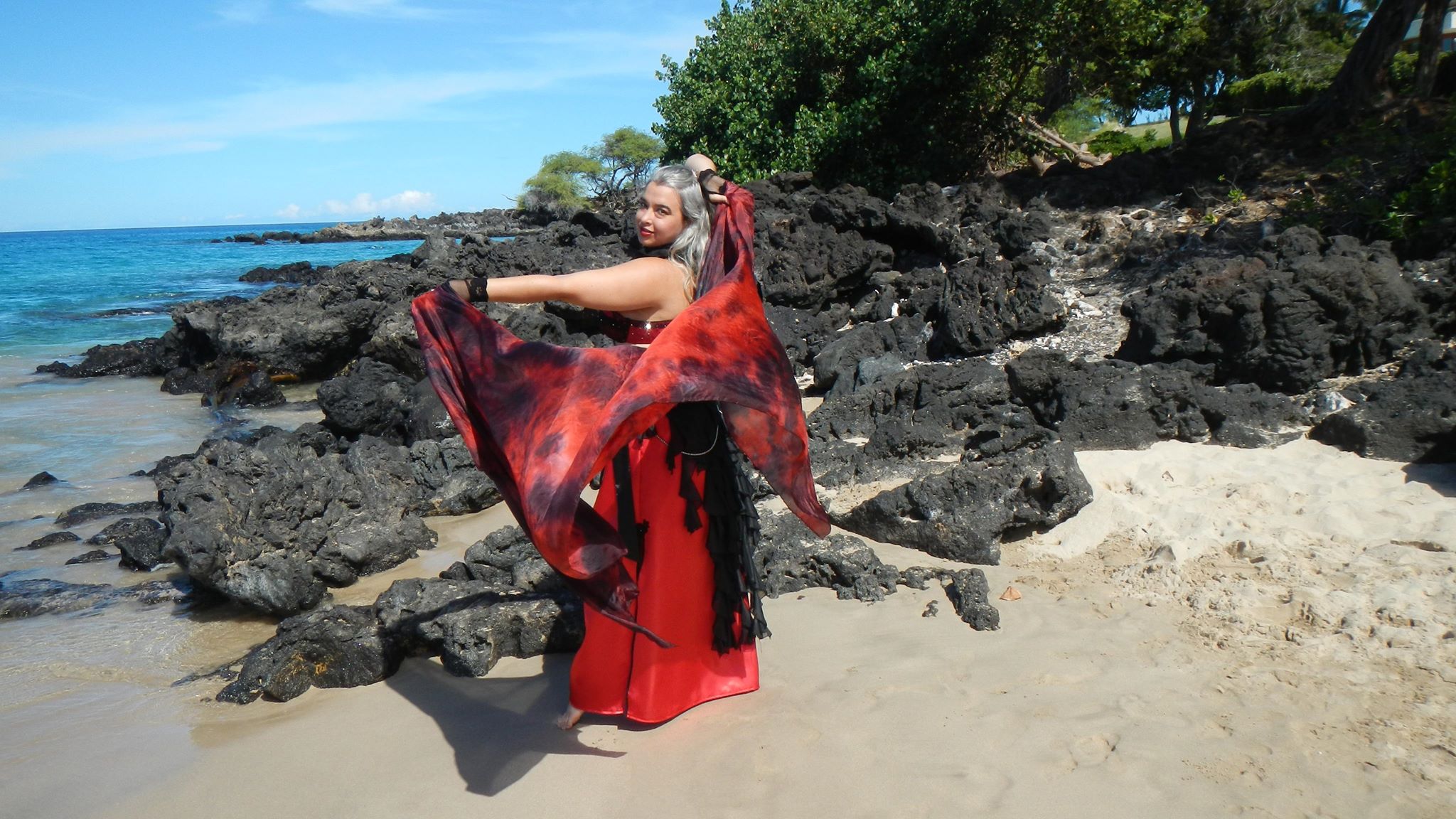 Sylvia Wan- Hawaii Island. Sylvia has a love of dance and is a warrior for justice. She has been belly dancing since 2005. She currently teaches and choreographs with Hawaii Island Goddesses Belly Dance Troupe.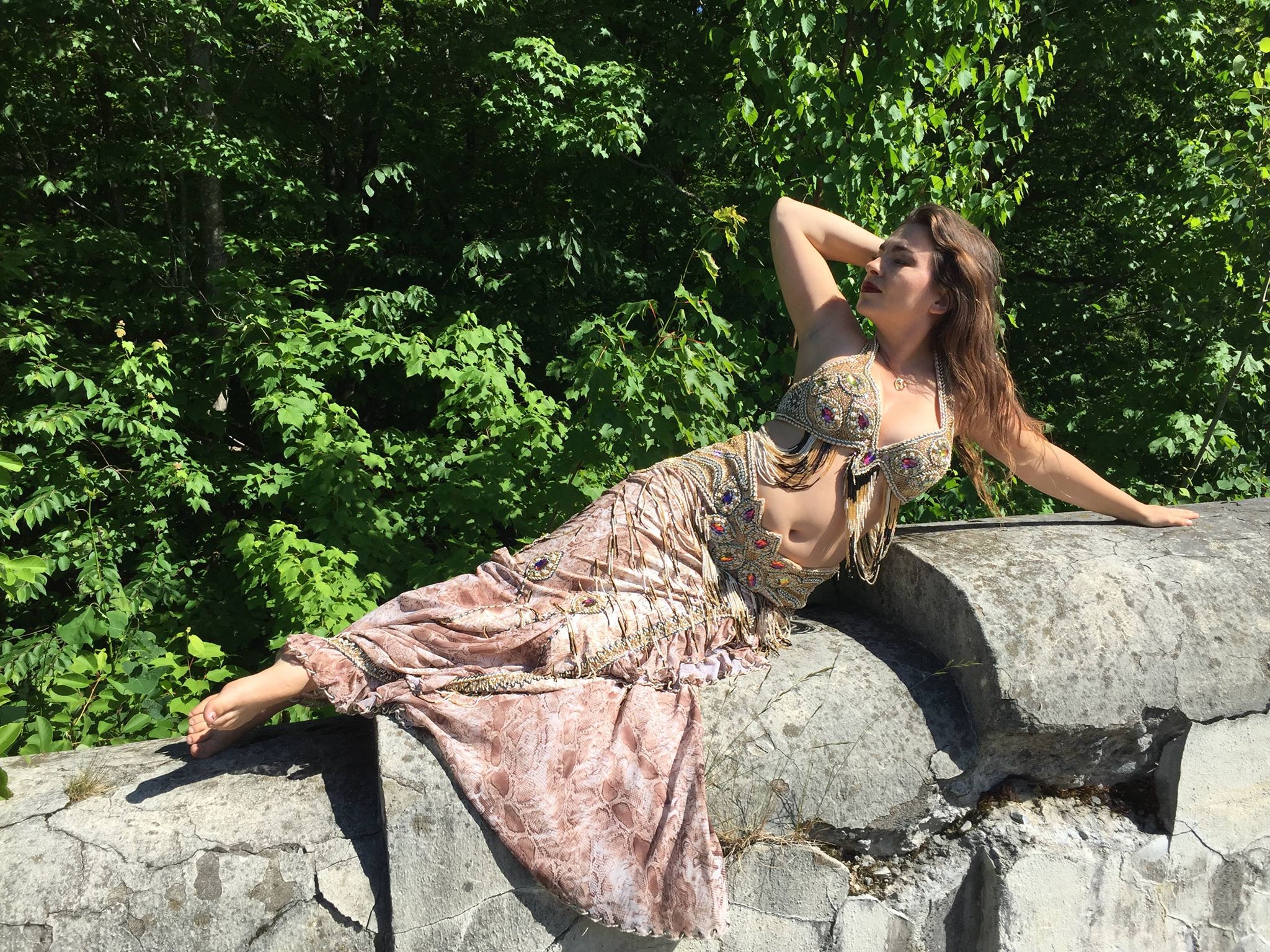 Teresa Harlow- Honolulu. Teresa is an ambassador for belly dancing with feeling. Everyday for the past 17 years Teresa continues to believe that dance frees the heart, strengthens the spirit and fights of or limitations. Her style of dance is inspired by the divas of improv of middle eastern dance. She enjoys telling an unmapped story through improv. Join her Sundays on the west side of Oahu for an inspirational dance class! You can also book healing Reiki sessions, massages, Energy Awareness and Reiki classes with Teresa. As a human we have many paths we can take to help us heal, why not let one accompany the other and uplift your dance. Want to learn more about energy healing come join a future Reiki Sanctuary or 10 week Reiki Training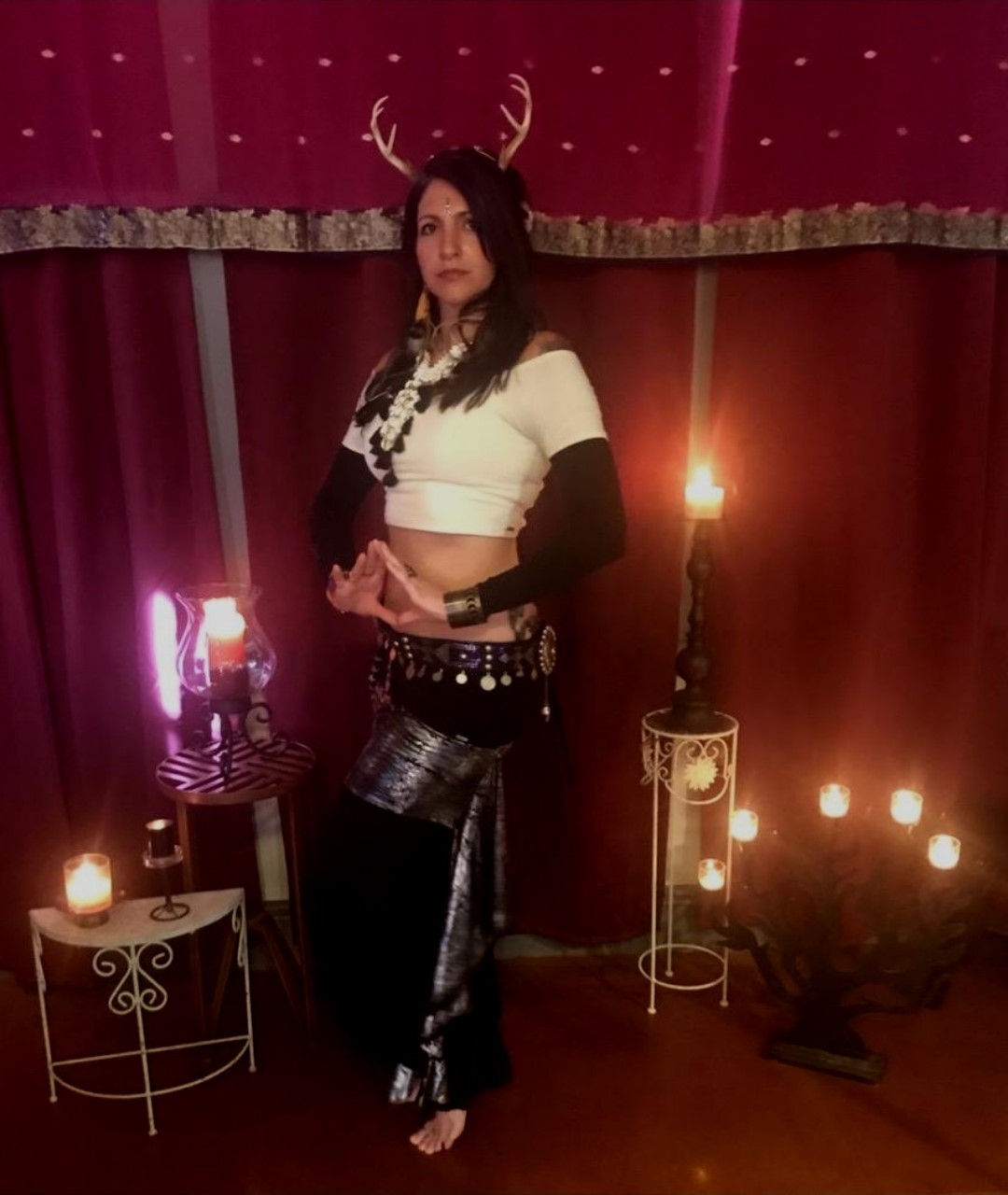 Tina Luna- Arizona. My dance name is Tina Luna and I am a true believer in the arts healing our pain. Expression through dance is what heals my soul and moves me through the ever-changing cycles of life, just like the phases of the moon. I am originally from NY, but found my way to the beautiful mountains of Flagstaff, AZ in 2011. Flagstaff opened my world to Tribal Belly Dance in 2013. My first intro to Tribal Belly Dance was through a troupe called, Troupe Shuvani, under the direction of Sherry Hammond. I fell in love with their combos, their costumes and the way they moved. I learned a lot from Sherry and her troupe and think of them often. Eventually, I would find my Tribe. In 2017, I was asked to join Anahata Tribe, formally Heart Space Dance Collective and the amount of joy it would bring me was outrageous. Joyce Walter is a phenomenal troupe director/teacher and she opened her doors to me without expecting anything in return, other than wanting to be there. Together we have performed in numerous places around the state of Arizona and created an expression all our own. I hope to continue learning the art of belly dance and sharing my healing expression until my soul deems it necessary to do otherwise.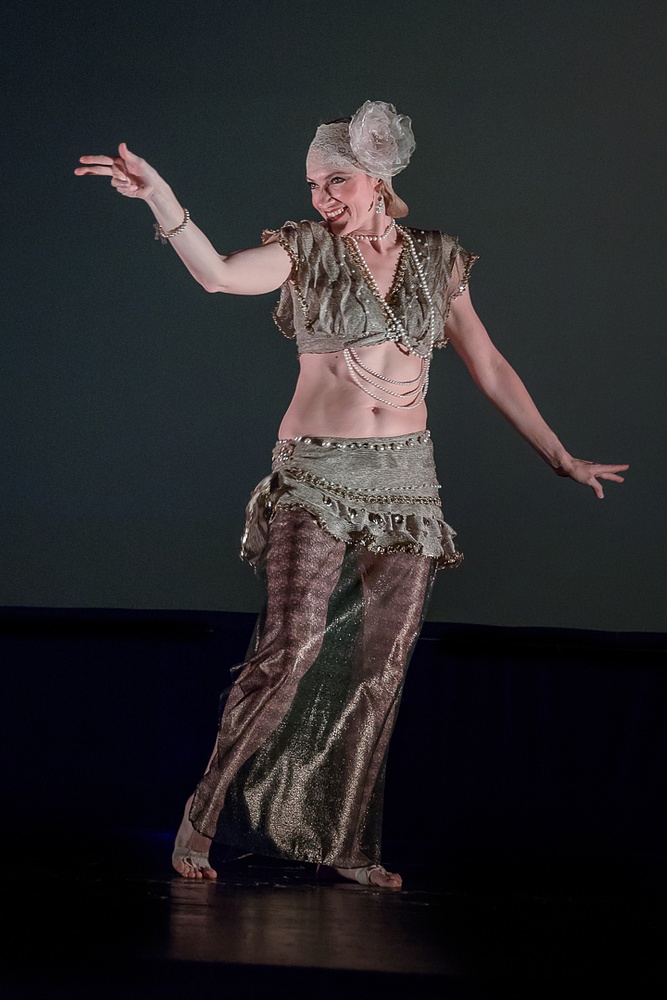 Viktoriya- Alberta, Canada. Viktoriya has been always fascinated by Arabic music and rhythms. In 2005, she started her belly dance adventure by joining the Eastern Dance Studio in Calgary, and is exploring the world of dance every since. She has been training and dancing with the Eastern Dance Studio and the Eighth Wonder Belly Dance. As a solo dancer and with her belly dance friends, Viktoriya performed at multiple community events and festivals in Calgary and surrounding cities and towns. She loves exploring different styles of belly dance including retro, contemporary, folk and East Indian fusion however the good old classic Arabic and Egyptian music has always been her passion. Viktoriya is extremely happy and proud to name Suhaila Salimpour, Rachel Brice, Christy Greene, Donna Mejia, Zoe Jakes and Galina Busova among her teachers and to be a member of Datura online community. Viktoriya's other hobbies include snowboarding, skiing, biking, hiking and traveling. She is very excited to have this opportunity to participate in the Hawaii Bellydance retreat with Zoe and Kami, to dance at the Hafla and to run 10 k in the prominent Honolulu marathon the day after!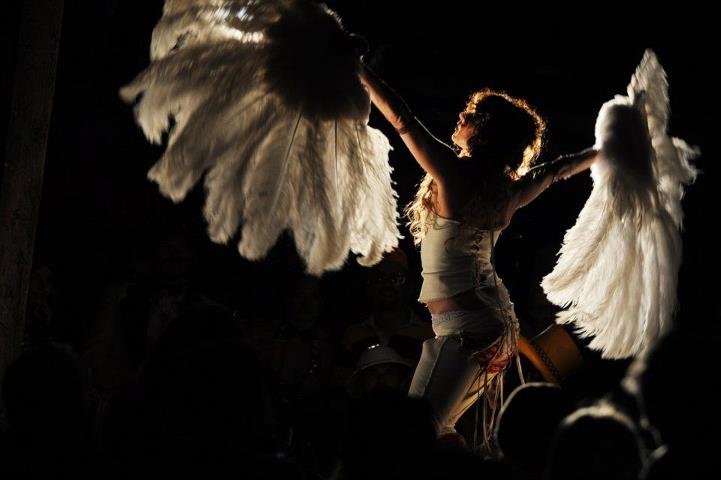 Vila Donovan- Honolulu, HI. A true vixen on and off stage, Vila is a local darling here in the Honolulu Burlesque & Bellydance scene. Vila puts the bellydance in burlesque!