Description
Aloha Friends, Family, and Lovers of DANCE!
Shakti Dance Movement is proud to present Shakti's Den: Shakti Dance Movement's Annual Fundraiser Show !
Saturday, June 22nd, 2019

6pm-9pm
Nextdoor
43 N. Hotel st., Honolulu
Metered street parking and Chinatown Municipal parking available
Limited Pre-sale VIP Seating: $25 (first 2 rows of seating)
Pre-sale General Admission: $15
Student Discount with current Student ID, $10 @ the door
Door General Admission: $20
Ages 21 and over
Doors open @ 6pm, show starts promptly @ 6:30pm
Featuring new work and solo performances by Shakti Dance Movement and special guests!

More show info to be announced! Stay Tuned!

Bring Cash! Shakti will be hosting our very popular Bellydance Garage Sale, a fabulous Silent Auction, and special unique handmade items for sale!
We hope you can make it to support your favorite local Fusion Bellydance crew while enjoying a few drinks, and hopefully winning some fun goodies from our Silent Auction.
Mahalo for all your support!
Shakti is excited to be celebrating our 15th year together; we could not have done it without you!
See you at the show,
Xoxox,
Shakti Girls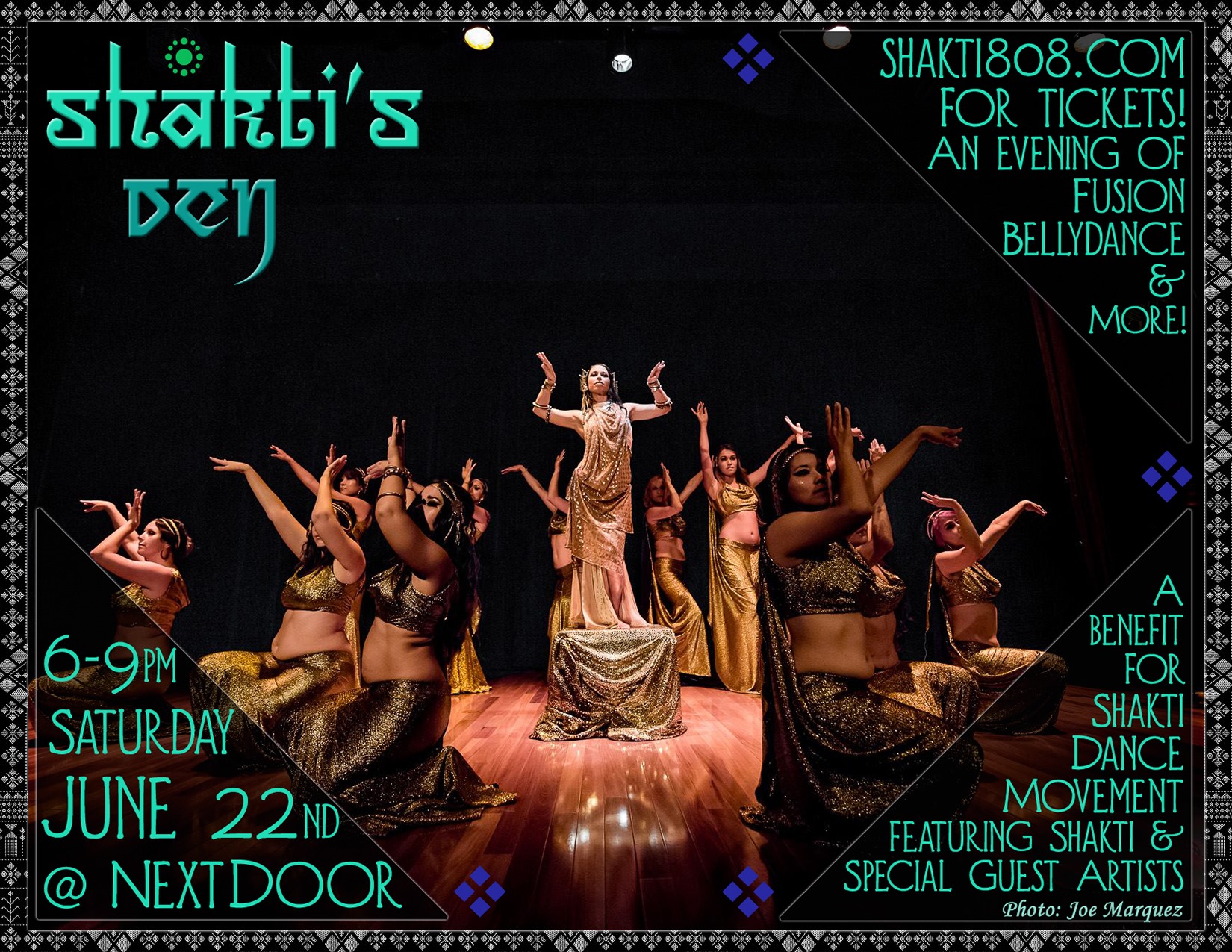 Featured Performers: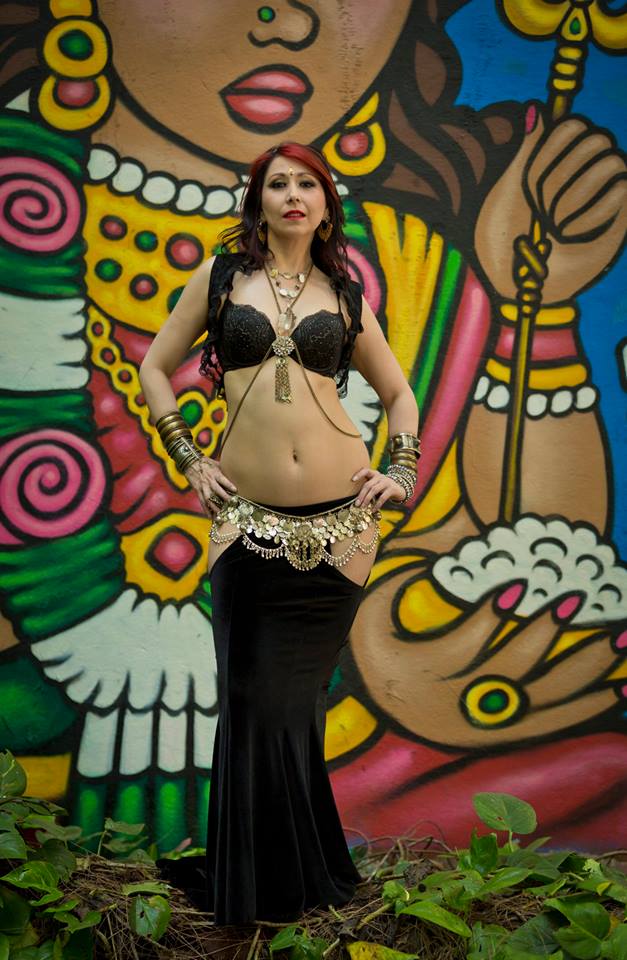 Anjanette Thomas has been captivated by the beauty of bellydance since 2008. She is blessed to study with many wonderful teachers, including Kalae Kaina. Anjanette is deeply honored and always inpsired to dance among the incredibly talented women that form Shakti Dance Movement.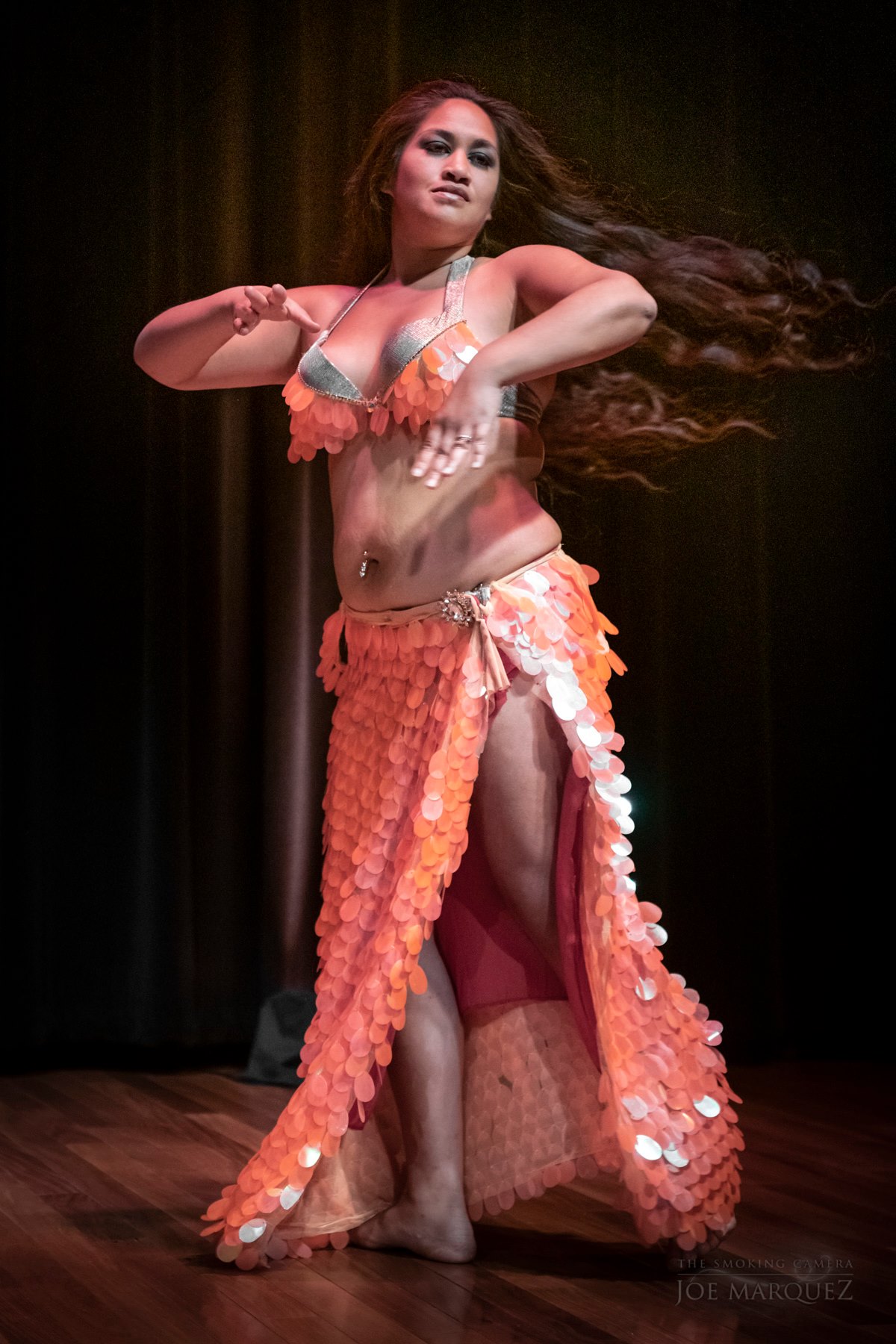 Ashlee is a Cabaret belly dance performer and instructor based in Oahu. She is the Artistic Director of Aurora Dance Company and Oriana Dance Collaborative.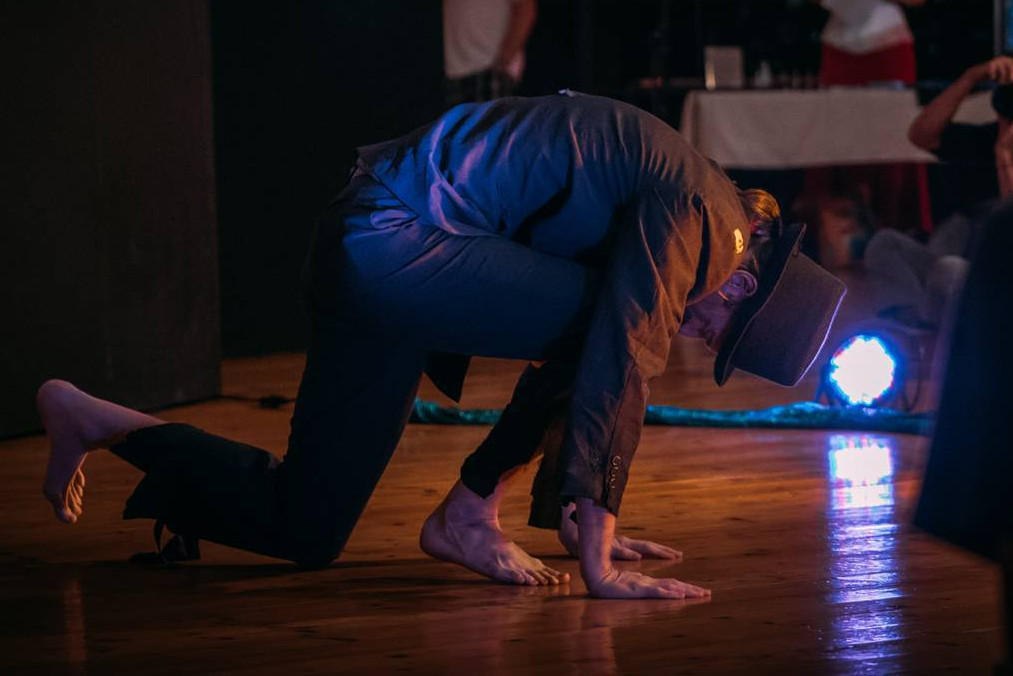 Darrell the Imaginarium- International man of mystery Darrell Imaginarian has been a legend in his own mind, a mercurial Gemini with limited magical powers, mostly useful for amusing children. But what does he actually do? I bet you'd like to know.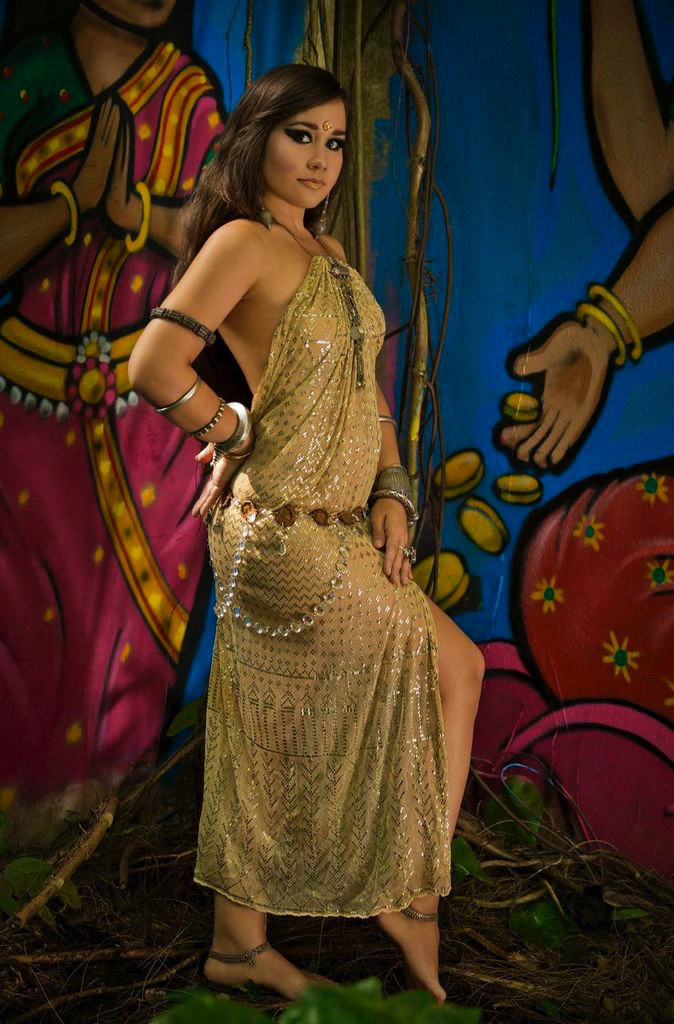 Haunani Ramil began Bellydancing at the age of 20. In her early Bellydance years she studied Egyptian Cabaret from a local teacher (Shadiya). Not too long after she began taking classes from Kalae Kaina at a dance studio near her home. She went to see Shakti Dance Movement perform at a local hot spot and was totally captivated. There was fire, beautiful fluid bellydance, and strong women on the stage. She is now a dedicated member and student and has been dancing with Shakti Dance Movement for over 10 years now (and counting). Tribal Fusion Bellydance has been an array of life experiences for her--an expression of art, empowerment, health/wellness, the learner/the teacher/the performer, a spiritual practice, but most importantly the gift of sisterhood and feminine wisdom. She is so grateful to all who support her and this art form she loves so much.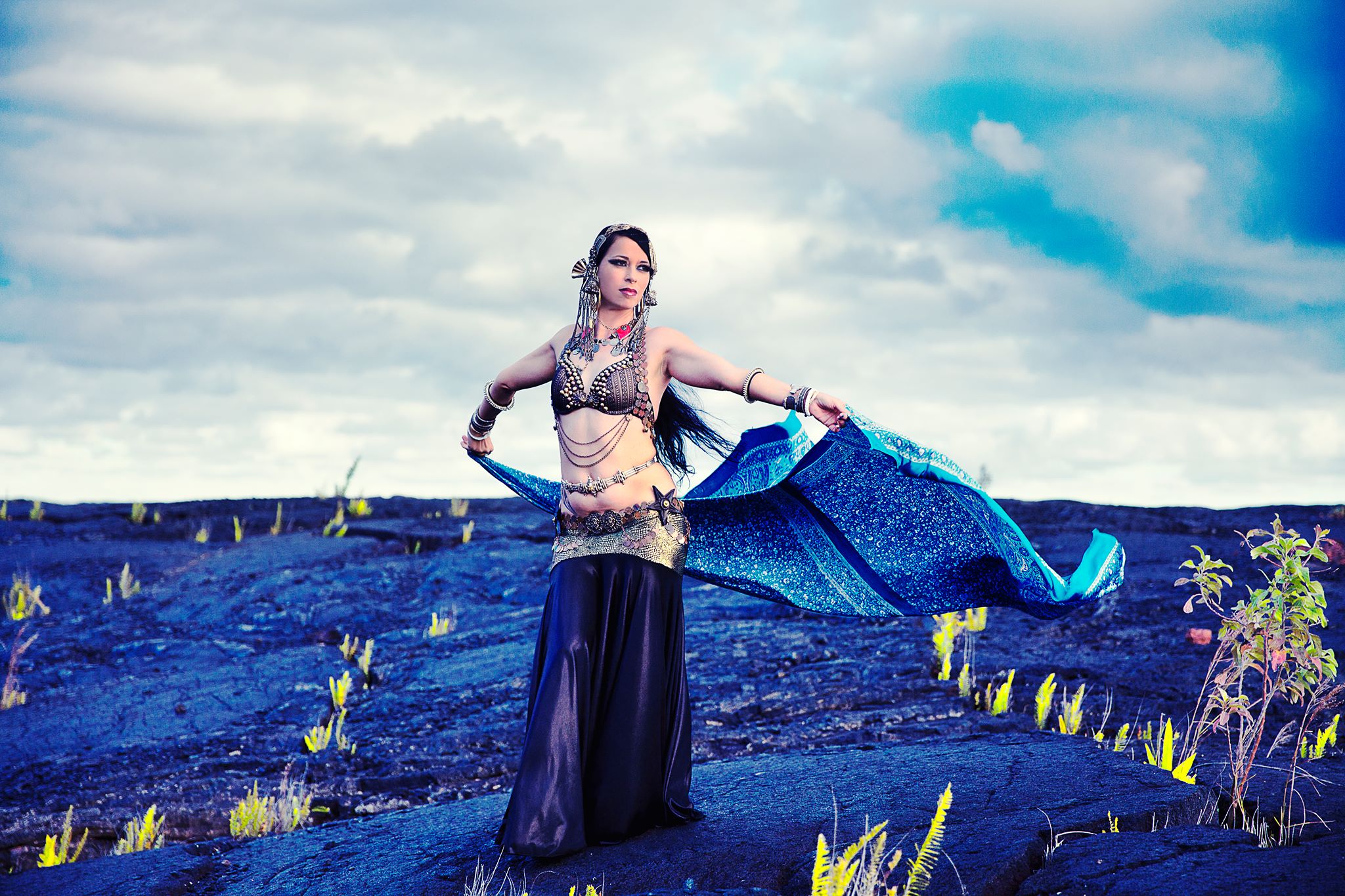 Kalae Kaina, Born and raised in Hawaii of native Hawaiian ancestry, Kalae has developed a deep love for belly dance. She is the Artistic Director and lead choreographer of Shakti Dance Movement, Honolulu's premier Contemporary Fusion Bellydance Company. She has been studying Belly Dance for over 20 years and teaching dance for 13 years based in Honolulu. Shakti Dance Movement has emerged from the underground club scene to the mainstream, performing regularly at nightclubs, community events, dance concerts, and private parties. Kalae Kaina is also proud to be sponsoring workshops and producing shows in Honolulu, celebrating dance and supporting the arts within her community. Kalae's approach to belly dance is rooted in strong technique, drills, and proper execution of movement. She firmly believes in dance as a vehicle for mind body connection.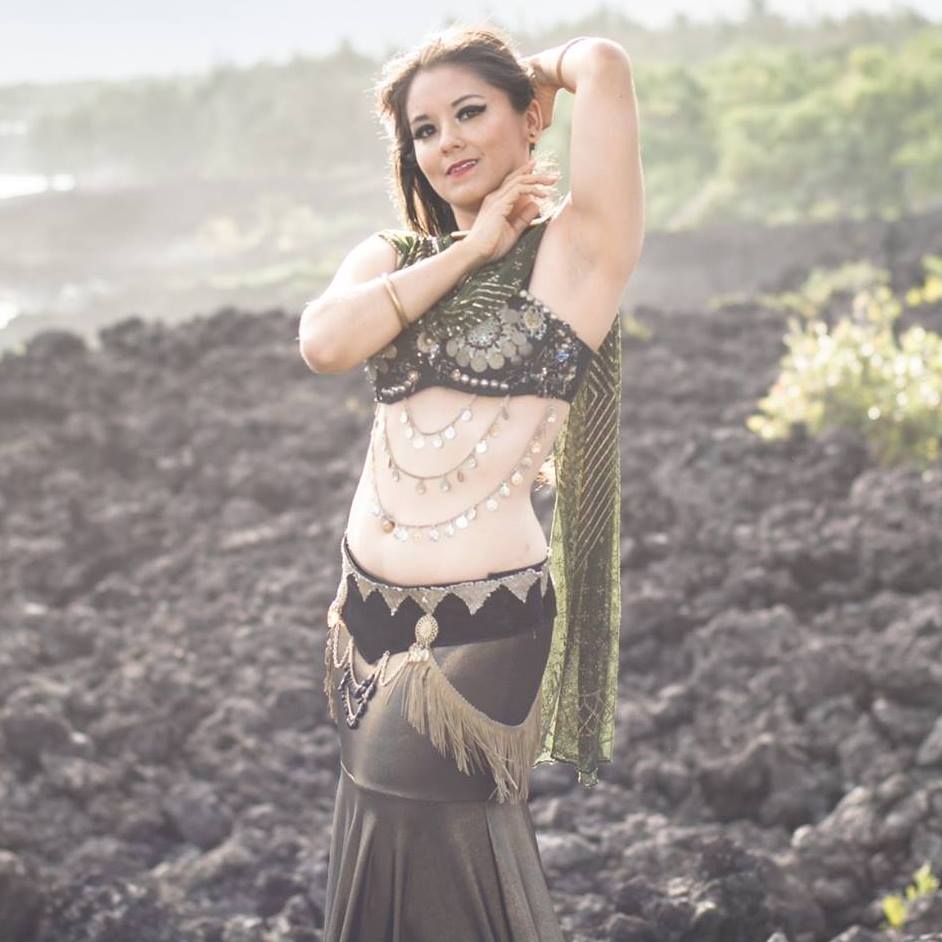 Katie Shiroma discovered belly dance on the Big Island where she was raised. It was love at first dance class and has been on an endeavor to grow and improve herself as a dancer ever since. She hopes to bring joy to others through sharing dance. She is now a member of Shakti Dance Movement, under the direction of Kalae Kaina.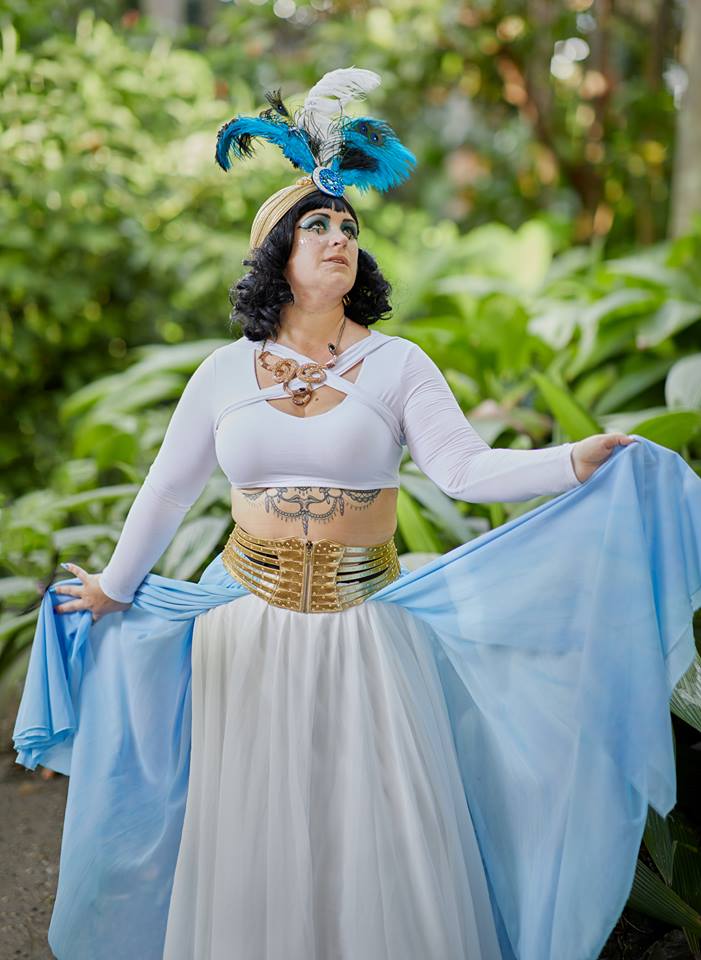 Serendipity Love, is a sassy and sweet Burlesque and Belly Dancer located in Honolulu, HI. She has been involved in the Burlesque community since 2011, and has performed all over the country. She is a performing member of Cherry Blossom Cabaret who host the Annual Hawaii Burlesque Festival and many other performances throughout the year. Serendipity is a colorful and creative performer who has trained in many dance forms, including belly dance, jazz and fusion to develop her unique style of performance art. She blends the art of the classic strip-tease with modern and pop-culture aesthetics. Her acts always embody the magical and playful side of performance art. She sweats rhinestones and bleeds glitter and considers herself the Unicorn of Burlesque.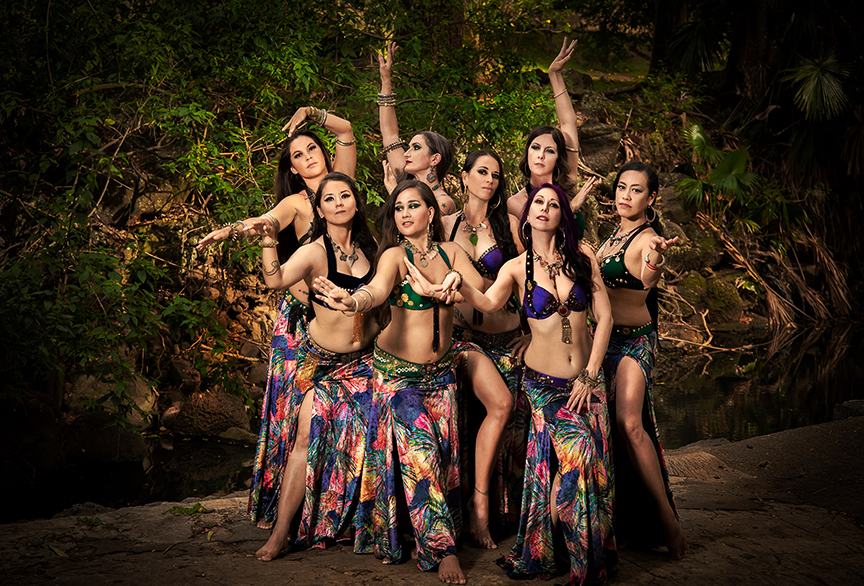 Shakti Dance Movement, Shakti Dance Movement is a Fusion Belly Dance company based in Honolulu, Hawaii. An all women's dance collective, Shakti Dance Movement is proud to bring people together for classes, workshops, and great events. Shakti Dance Movement's founder, artistic director, & lead choreographer, Kalae Kaina, has over 20 years of dance training under her belt. Through dedication to this beautiful art form, Shakti has grown into a very motivated group of women who wish to share their love of dance with others.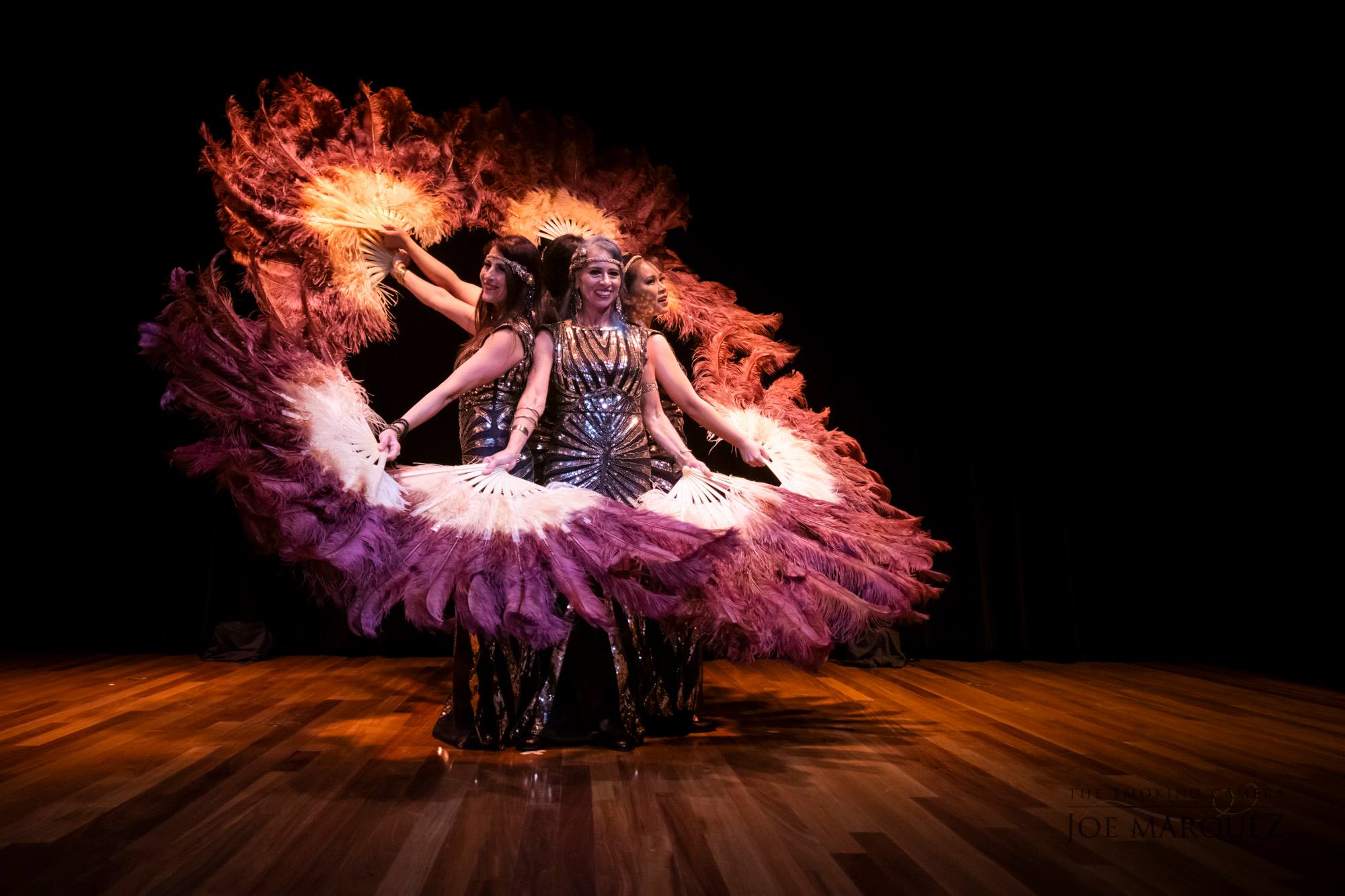 Sukra Dance Company is a sister troupe to Shakti Dance Movement, comprised of Kalae Kaina's wonderful and dedicated students.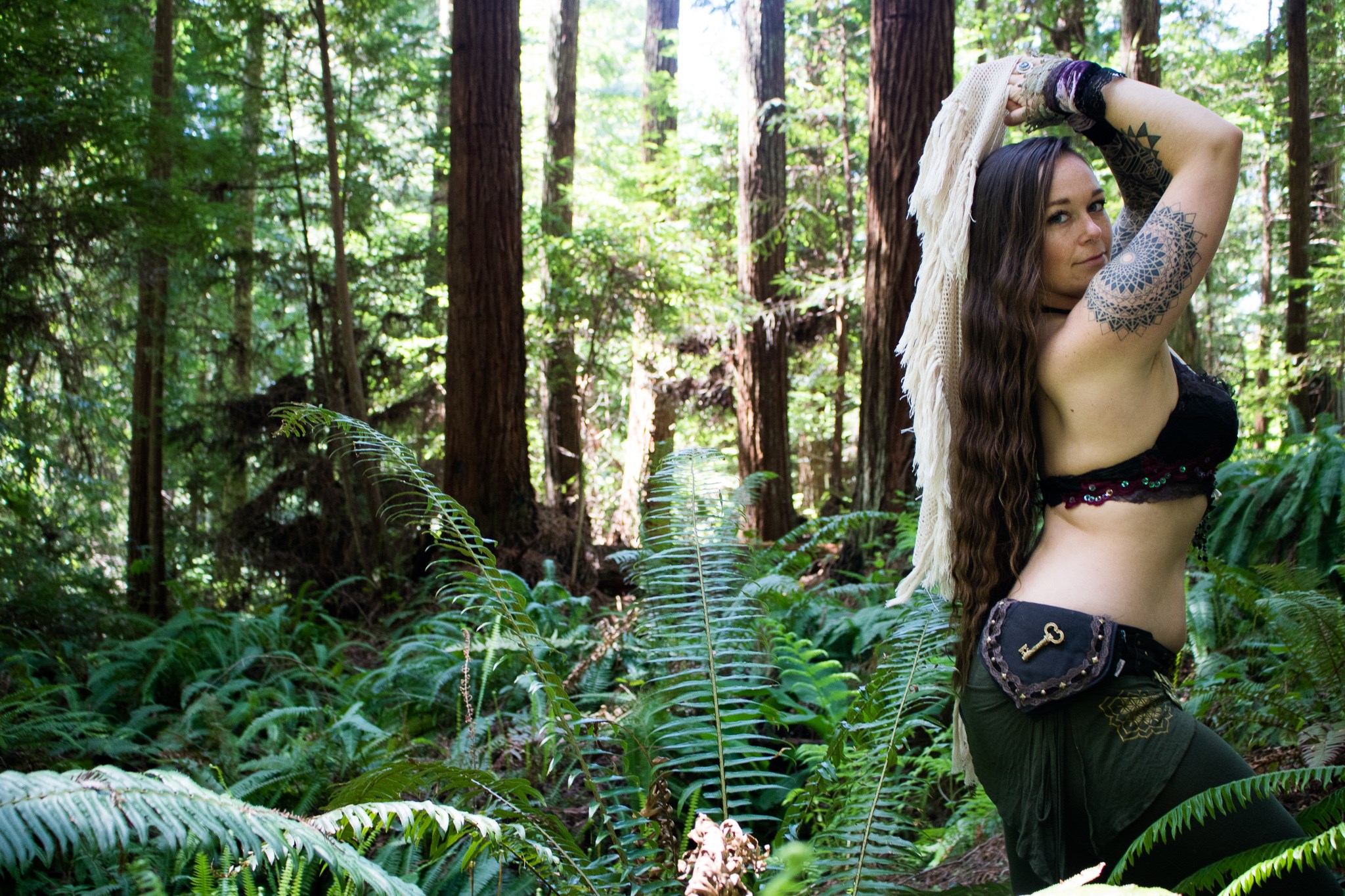 Tessa Rea fell in love with fusion belly dance in 2010 after seeing Zoe Jakes perform with Beats Antique at a music festival. She developed a foundation of classical Egyptian belly dance later that year in Sebastopol, CA while taking classes with Kathy Wolf. She relocated to Arcata, CA in 2015 where she studied under Shoshanna Rose and began exploring her unique style as a soloist. She attended Middle Eastern Music and Dance camp in Mendocino, CA for the first time in 2017, an event that changed her life and deepened her love for Middle Eastern music and dance. She has always explored the concept of blending dance styles, having a background in ballet, contemporary, and hip hop. Tribal Fusion style belly dance came naturally to her. She now lives in Honolulu and studies under Kalae Kaina.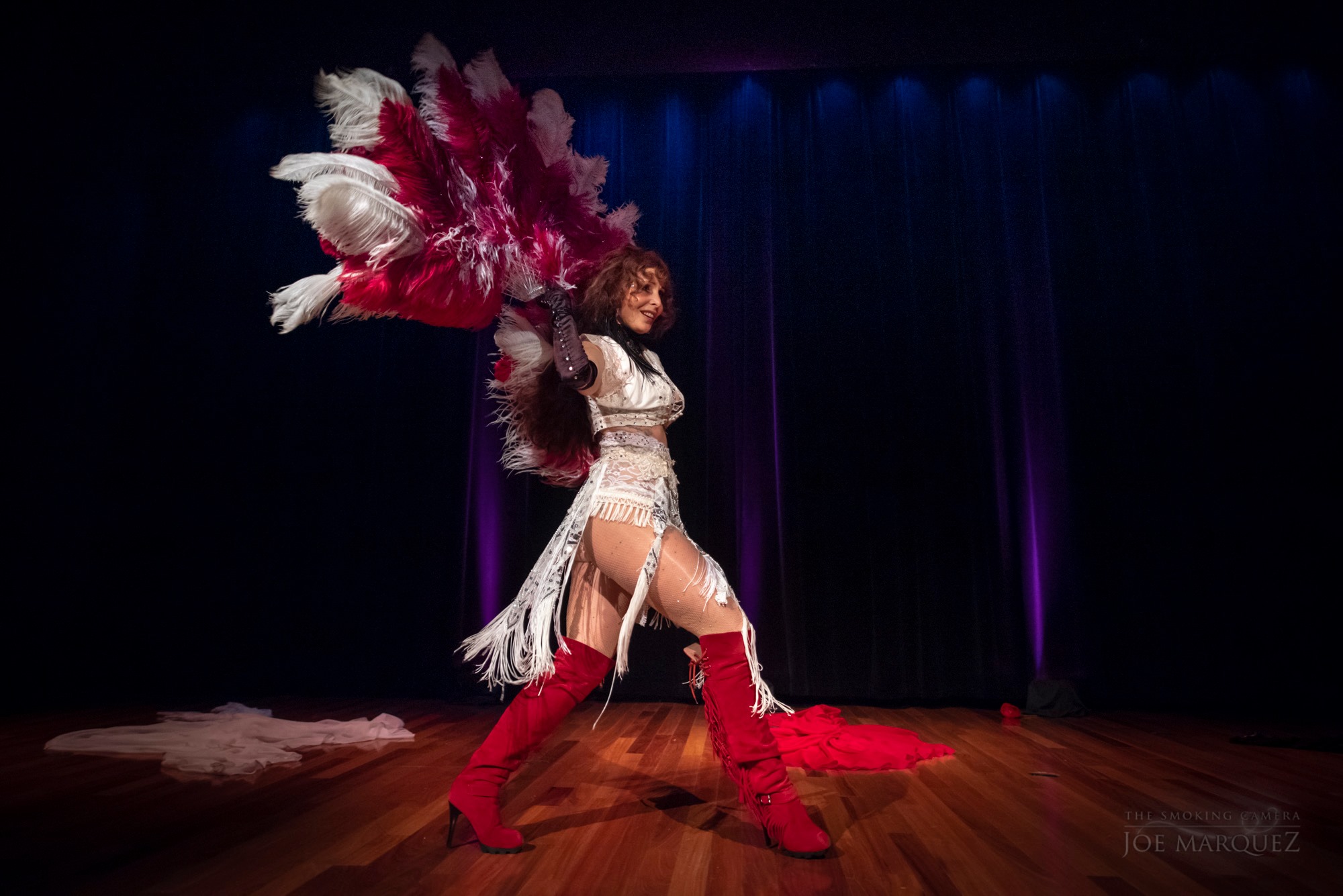 Vila Donovan is a California native who calls Hawaii her home now. Tribal bellydance and Burlesque are her passions.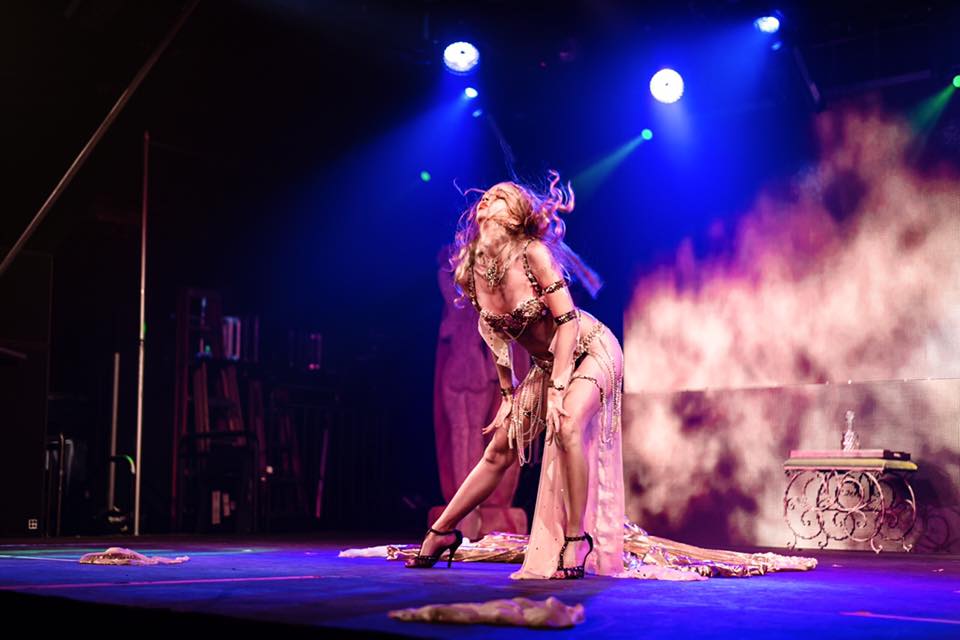 Violetta Beretta is a sultry Hapa Hawaiian burlesque beauty whoʻs hula-ing her hips into the hearts of tantalized audiences throughout Hawaii. She is at the forefront of Hawai'i's burlesque scene. The professionally trained dancer got her teasing start with Cherry Blossom Cabaret, then in 2012 she launched the Hawaii Burlesque Festival & Revue, showcasing the best local talent and bringing in bright lights from the mainland.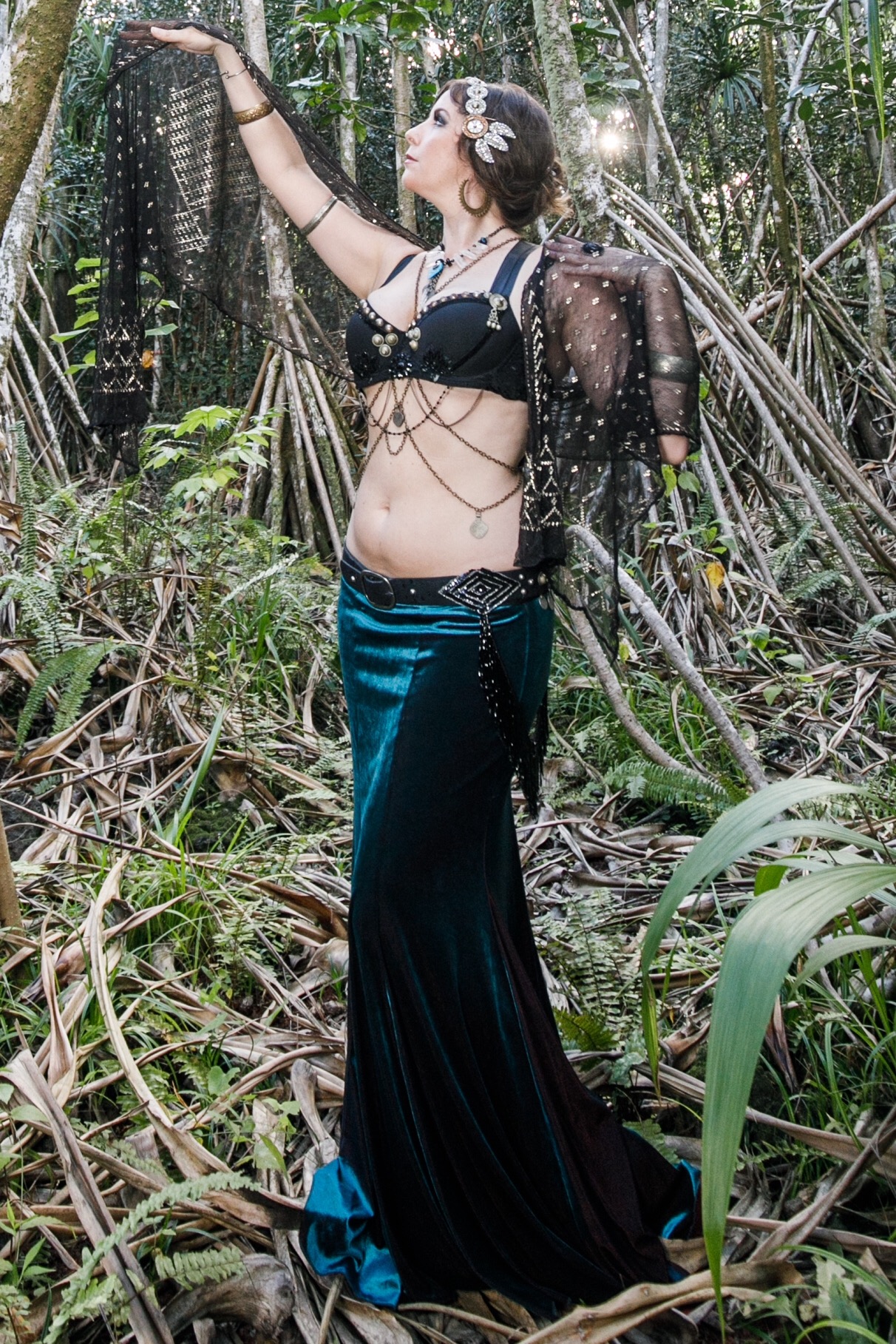 Wendy Caldwell has been exploring her passion for Middle Eastern dance for the past 8 years. She has had the privilege of dancing under the direction of Kalae Kaina for the last 5 years in Devi Dance Co and Shakti Dance Movement. Wendy looks forward to expanding her dance knowledge, grow as a dancer and artist, and share her love of dance with her community.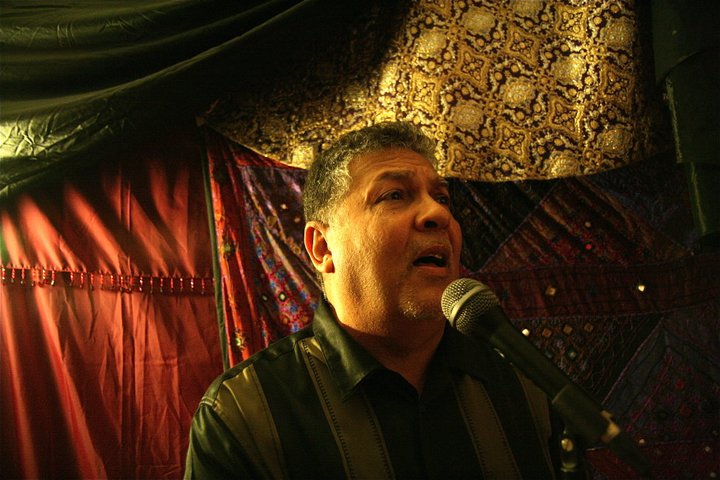 Adley Mirza, closing the show we have the lovely Adly on the mic, serenading us in Arabic song! What a treat! Adly was born in Aden Yemen , and always dreamed of the artist's life as a child, enclosed in the magical surroundings of the movie theater owned by his father. As he grew up, some of his schooling came from travel; he lived in Aden, India, Egypt, UE and now Hawaii. Adly spent many school days daydreaming of movies and drawing to keep boredom at bay in the classroom. Upon moving to United States in 1980, he earned his Master's and PhD from Oregon State University. He is currently an Arabic language teacher at the University of Hawaii and Kapiolani Community College, and enjoys drawing, photography, music and traveling.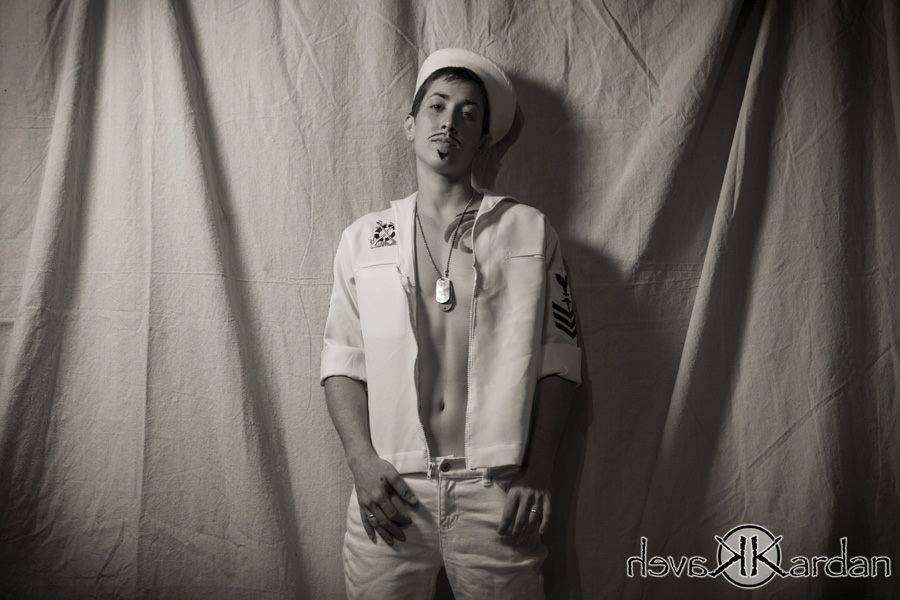 Hosted by Hunter Down