Description
Presence - Intimacy - Sacred Union.
How can I have more intimacy?
Are you ready for more intimacy in your life? Do you want a relationship with someone where you have the comfort of a long-time companion, mixed with ongoing passionate sexual attraction?
ShaktiPlay is a community of conscious people who seek intimacy, authenticity, spiritually-connected sex, and fulfilling romantic relationships. During the classes and workshops, you will learn how to unlock your full potential for intimacy through gentle and supportive non-verbal and non-sexual practices: movement meditation, dancing, honoring, sharing, laughing, breathing, relating.
Bring your breath, your sound, your movement, your energy, your presence, your longings, your playfulness, your wildness, your sexiness, your shyness... All of you is welcome, just the way you are.
A day in nature: the venue is walking distance to Muir Beach, a premium Bay Area destination for hikers and nature lovers. You could come early and hike the stunning nearby trails, then have a picnic on the beach before class.
*No nudity, no sexual touch, no kink, no alcohol, no talking, no phones. All relational & sexual preferences supported. Couples & singles welcome. If you're monogamous & attending alone, your monogamy is safe here.
If you're wondering "Is My Relationship At Risk In A Tantra Workshop?", watch this video...

What is Shakti?
In the nondual Tantric Shaivism tradition, the Universe is composed of 2 things: consciousness and form.
1. Consciousness (Shiva)
All mystics and esoteric traditions point to the same thing: The Universe is consciousness. We call it God, the Universe, "I AM", Source, Oneness, The Great Ocean, the Organizing Intelligence, the Great Spirit, etc. The Tantric tradition represents this energy as Shiva, the Divine Masculine Principle.
2. Form (Shakti)
If Shiva is pure consciousness, Shakti is what we see. Shakti is the force that creates form, the Divine Feminine Principle.
In this nondual awareness, everything is considered divine. Everything that we touch, smell and feel is sacred. "Namaste: I honor the Divine in you and I honor the Divine in me". Consciousness cannot be separated from form. Shiva and Shakti are inseparable.
How does Shakti look in the world? Usually the people who have access to a lot of Shakti are artists, rock stars, actors, politicians, public speakers, etc. People who have a lot of charisma, power, talent, and force of attraction. But Shakti without ground can get lost in chaos. This is the typical story of the rebellious and magnetic rock stars who dies young of overdose. Shakti can make you rich and famous, but it can drive you mad. That's why the more Shakti we draw, the more Shiva discipline we need to develop in order to stay grounded.
Shakti in Sex and Relationships
A common question is: "How do you find and sustain a relationship with someone where you have the comfort of a long-time friendship mixed with passionate sexual attraction?"
Unfortunately, there's no easy and quick fix to this. This requires a paradigm shift…
Our western society focuses on "getting what we want". Our programming says, "When you work hard and gather all these things, you can finally focus on prioritizing intimacy." Yet we find ourselves empty, shattered by the broken promise.
More people than ever are living alone in this country. And we can definitely feel desperately alone even when we're surrounded by other family members.
We all know people who seem to have it all: a successful job or business, a beautiful home, a spouse, obedient children, a lovely cat or dog, money in the bank, and all the comforts and the appearance of love. In other words, they seem to have everything that our Western culture can offer. But somehow, something doesn't feel quite right.
It is hard to pinpoint, but something feels missing at the core. They feel like they should have everything they need to be happy, but somehow, there's this intangible feeling of skipping lightly over life without really grasping the deep meaning of it.
There is truly nothing wrong with that. It is not our fault if we missed a more essential piece.
What if we prioritize intimacy first? What if we opt in to feeling fully nourished, being seen and feeling fully met? What about feeling deeply connected with someone, another soul who can look back into your eyes and say quietly, "I see you. I know why you and I are here. I know that this is WHY we chose to live this human experience."
We are fundamentally sexual beings. We are born from sexual union. Our sexual energy is also our creative energy, our life force. Therefore, Tantra does no rejecting it; we can embrace and develop an healthy relationship with our sexual energy.
What is ShaktiPlay?
ShaktiPlay is a nondual spiritual practice through embodiment. We promote non-rejection, compassion and non-polarisation.
The practice is based on movement as a vector to connect with our breath and sound to activate our Shakti (our Life Energy), and come to a state of bliss, opening of the heart, and experiencing the gift of feeling fully alive.
We do not demonize or reject our sexual energy, which is also our life force energy.

There is no nudity, no sexual touch, no kink.

80% of the practice is non-verbal, no small talk, no conventional socialization. It is safe to be yourself.
Bring your breath, your sound, your movement, your energy, your presence, your sorrows, your playfulness, your wildness, your sexiness, your shyness... You are welcome, just the way you are.
Who is this for?
This is for you if:
You're looking for a non-dual spiritual practice that includes embodiment.

You are oriented toward a sacred union in a monogamous relationship. Whether you already have a partner, or looking for one.

You're wondering how to nurture and strengthen an healthy -and ever transforming- long term relationships, beyond the "honeymoon phase" or the "high oxytocin phase".

You would like to feel and sense Energy, and play with it.

You would like to strengthen your life force energy and sex drive with an aging body.
What to expect?
The practice is based on movement as a vector to connect to center and sacred space: movement meditation, getting in touch with our core energy and dropping into sacred space before engaging with others, practicing boundaries and awareness through movements.
Types of exercise:
Opening Sacred Space and Calling the Directions.

4 Directions Movement Meditation (music composed and produced by Olivier Bessaignet): this meditation is based on a gentle swinging movement that is designed to naturally bring you back to your center and connect with your Hara (3rd Chakra). When you connect with your center and open a channel between heaven and earth, you get back to a calm, harmonious state, firmly grounded in your verticality. It feels like arriving home to yourself.



Other active meditations from Osho.

Relaxation and surrendering exercices.

Dance your Tribal Self: express your aliveness and celebrate life through the dance of the divine masculine and divine feminine archetypes and evoke erotic polarization.

Somatic exercises to strengthen your sense of boundaries and personal space.

Tantric Energy Circulation: a fun and interactive practice to move our life force energy -or Chi- and play with masculine and feminine energy principals.
Is Tantra a Yoga?
The spirit of Yoga is actually not about the postures; true yoga isn't just a workout. Yoga is about uniting individual consciousness (our individual experience of reality) with Divine consciousness. The Tantra path is one of 8 paths of Yoga. Tantra Yoga focuses on breath, movement, feeling and moving subtle energy. If you're curious about the 8 paths of Yoga, you can watch this documentary here...

Who is Olivier Bessaignet?
Olivier originates from Nice, in the south of France, so, in contrast to many Americans, his upbringing marinated him in a culture where pleasure is more of a priority than productivity or ambition. With salty sea breezes and morning baths in the Mediterranean Sea tempting him to rest in the joy of feeling his body, Olivier had the ideal childhood conditioning for a life of embodiment. But the traumas of Western culture took a toll on his teenage self, and by the time he was in his twenties, he had left his body and escaped to the safety of his mind, like so many of us do.
He played the violin and studied music composition and production, first at the conservatory in Nice and then at the prestigious Berklee School of Music in Boston before joining a band that played gigs on the French Riviera in his twenties. But even with the pleasure principle reigning supreme as a small time rock star in the south of France, Olivier felt like something was missing. Although he dated the lead singer in his band and seemed to be attractive to women, he didn't feel attractive and could no longer feel the aliveness of his body. Compared to the experience of embodiment he remembered from early childhood, his relative disembodiment left him missing the pleasure he knew his body could feel. This negatively affected not just his sex life, but his self esteem and his capacity for pleasure, intimacy, and a sense of juicy aliveness. After breaking up with his girlfriend because he moved to Boston, he hadn't been able to get a date in three years. At the end of his rope, feeling contracted and at the mercy of his childhood conditioning, which didn't allow for or recognize sexual power, he felt desperate to rediscover what might help him get out of his funk.
Motivated by his suffering to seek out anything that might help, he started reading the writings of Osho, the Indian guru and leader of the Rajneesh movement. Olivier finally felt the "plunk" in his solar plexus that allowed his whole nervous system to relax. Osho's teachings gave him permission to unlearn the conditioning that was interfering with his access to embodiment and intimacy. He finally knew the next step in his journey, so in 2000, he made a bold move that would change his life, signing up for all three levels of Sky Dancing Tantra. Tantra transformed his emotional life, his relationship to his body, his capacity for deep intimacy, his sexuality, and his self esteem. Suddenly, women were responding to his new embodiment in an unexpected way, and he realized that nothing had changed in his appearance, but everything had changed in his relationship to his body, his sexuality, his emotional availability, and his musical creativity. Olivier moved to Paris, where he fell in love with his teacher, Bhagvati, a Parisian Tantra teacher who was trained by Michel Sokoloff. He was the lover and Tantra partner of Bhagvati for twelve years. He supported Bhagvati's workshops and together, with Bhagvati singing, they recorded the music Olivier played, produced, and composed, which they used to lead Tantric moving meditations in Bhagvati's workshops.
When he moved to California six years ago, Olivier continued to deepen this practice and experience of Tantra with Tantra teachers Michaela Boehm and Evalena Rose. He also studied Internal Family Systems with Richard Schwartz, Transformation Through Intimacy with Robert Augustus Masters, and Compassionate Communication, a form of Non-Violent Communication, with Scott Catamas, which helped him improve his ability to practice healthy communication and intimacy in his relationships. All of these practices prepared Olivier to be ready for his marriage to New York Times bestselling author and teacher Lissa Rankin, MD, who has studied Tantra under three teachers from the Kashmir Shaivism lineage. Together, they practice using their catalytic, transformational, deeply intimate, and sometimes triggering relationship as an intentional Tantric spiritual path. They live in Muir Beach, California with Lissa's daughter Siena and their housemate April. He now leads Tantra and Transpersonal Intimacy workshops in Marin County, as well as teaching online music production courses to French musicians.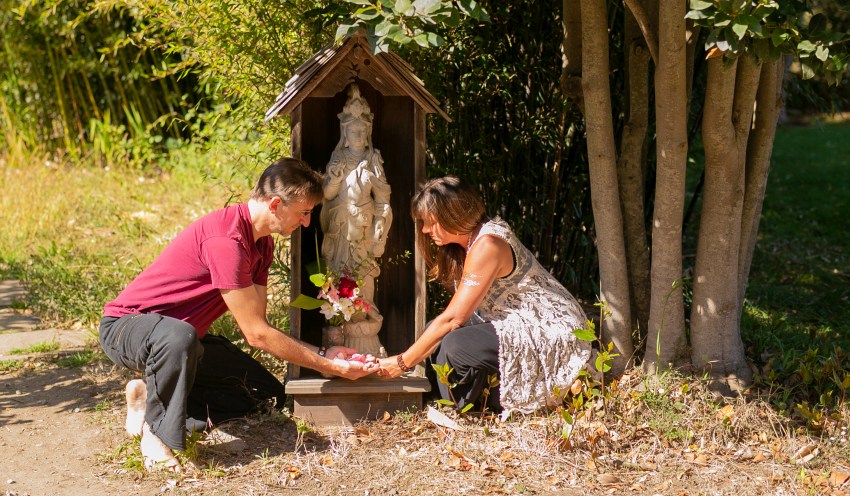 The Venue: Muir Beach Community Center
An intimate rustic barn with ocean views, mountain views, and a peaceful rural setting only 30 minutes from San Francisco. You will be able to savour your snack on the sunny deck, breath in the ocean air, listen to beach laughter, and if you stay until night, watch San Francisco's city lights reflect on the ocean surface.
A day in nature
The venue is walking distance to Muir Beach, a premium Bay Area destination for hikers and nature lovers. You could come early and hike the stunning nearby trails, then have a picnic on the beach before class.

FAQs
- Is this edgy?
If you're curious about Tantra but you're feeling nervous, this is for you! You'll be free to go at your own pace.
- What if I'm over 60? I don't want to feel out of place...
On the contrary you'll be fully welcomed. If you've been feeling marginalized from the young-sexy-juicy crowd, you won't be here. The only requirement is that your body is flexible enough to move and dance freely, and sit on the floor.
- What if I'm an introvert?
The practice is mostly non-verbal. You will not be expected to be social. You can stay silent in you own bubble and fully contribute to the experience. The only requirement is to show up with authenticity, willingness and presence. You're welcome to be fully who you are.
- Is there any sexuality in the groups?
No, there is strictly no nudity, no sex and no sexual touch allowed in the perimeter of the venue. Also teachers and staff members are off-limit for flirting or dating. Too much harm as come from teachers and gurus who sleep with their students.
- What if I'm single?
Singles are welcomed, you do not need to bring a partner. Most exercises are performed by yourself or in the circle.
- What if I'm in a monogamous relationship? Will I put my couple in danger?
No, we firmly protect monogamous relationship. You may choose to only practice with your partner, or to interact with different partners for each brief exercice, only if both partners fully agree. Exercices will not put your relationship at risk.
- What if my wife -or my husband- doesn't want to come?
That is fine, the exercices will not put your relationship at risk. We encourage full transparency, and teachers are available to answer any questions you or your spouse may have.