Actions and Detail Panel
Shakti Dance™, The Yoga of Dance Teacher Training (Level 1)
Fri, Jan 20, 2017, 5:00 PM – Sun, Jan 22, 2017, 6:00 PM EST
Sales Have Ended
Ticket sales have ended
Thank you for registering, we are happy to have you on board and we are looking forward to be learning and growing with you. Blessings Dharma
Sales Have Ended
Ticket sales have ended
Thank you for registering, we are happy to have you on board and we are looking forward to be learning and growing with you. Blessings Dharma
Description
This is a 220-hour Yoga Teacher Training program + 40h homework for a total of 24 days in class room plus several 40-day meditation and practicum at home.
It includes class study on site, homework, team work on site and teaching practicum under the Lead Trainer supervision.

Shakti Dance™ Training is an intense program, which is rich with theory and practical experience. You will be asked to teach classes during the training as soon as you are ready, and each class is followed by the feedback of your classmates and Lead Trainer. the feedback will help you to understand what your weakness and strengths are, so thta you can continuously improve yourself.
The program is articulated in order to have an introduction of each topic, give the main information from where you can decide to dive deeper and knowing more about it. The theory is a approached in a way that is waved with the practice; therefore, you will be able to understand the practical aspects of each topic and integrate them in your mind and body system.
Dance and Yoga when they become one/Yoga Philosophy and Mythology/Understanding your body as an instrument to direct energy and create healing/Knowing your mind qualities and how to apply them to dance movements to amplify creative power/Electromagnetism to understand how energy works/Principals and Methodology of a Shakti Dance Class/Creating Celestial Communication and Mantric Choreography/and much more!

Shakti Dance™ is inspired to Kundalini Yoga, it has been blessed by Yogi Bhajan, Master of Kundalini Yoga in 2001, but it is not Kundalini Yoga; however, it is a complementary discipline which can enhance your Yoga practice and knowledge of it.

These topics are considered from a different point of view in this course. Therefore, we kindly require your full participation in this program, though We value the knowledge you humbly bring with you.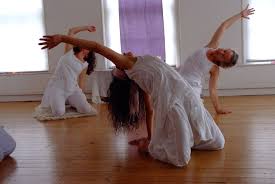 Program Overview
1. Yoga of the Dance:

What is Shakti Dance: the creator and background
When Yoga becomes Dance: Kundalini yoga teachings and Yogi Bhajan inspiration
Kundalini Yoga, Shakti Dance and Tantra tradition: how they work together to uplift, and expand the level of consciousness.
Different phases of a Shakti Dance class: the meaning of each phase, how to create the class and to understand the energy flow of it.
2. Oriental Mythology and Cosmology and how it works in relationship with Shakti Dance™:

Samkya Philosophy / Patanjali limbs / Vedanta
Hindu mythology to understand the polarity and archetype of the energy:

Shiva and Kali/Parvati
Vishnu and Lakshmi
Brahma and Saraswati
3. Physical Body: Body as Instrument. The principle of a conscious movement:

Basic Principles to create Harmonious Movements:

Stretching exercises: posture, alignment, flow and creativity.
Standing exercises: New body languages, dance steps to clean, heal and recharge.
Learn how to use the dance as a yoga tool to raise the frequency through group movements.
Dynamic of the Asana
Different Style of Dance and energy meaning.
4. Mind body: Mind as Servant:

Awareness, Intention, Focus: Shakti Dance™ and Still Meditation
The mind and its aspects: based on Kundalini Yoga teaching as taught by Yogi Bhajan
Present Mind in the Movement: when Dance becomes Yoga.
Meditation in movement: Celestial Communication and Mantric Choreographic.
5. Energetic Body: The Breath of Life and Electromagnetism:

Breath and Movement: different type of breathing and their frequencies
Prana and Electromagnetism: how to use breath to change your frequency and the group's frequency
Brain chemistry and emotions frequencies: Expression (Bhava), Emotion (Rasa), Rhythm (Tala)
Sound Vibration: how to choose the music based on purpose and specific vibration.
Uplifting Music: Immersion into the Sound Current, Meaning of Mantra and Effect
6. Instructor's Methodology: integrity and role of a Shakti Dance™ Instructor:

Structure of a Class of Shakti Dance
Methodology and Technology
Ethic of Code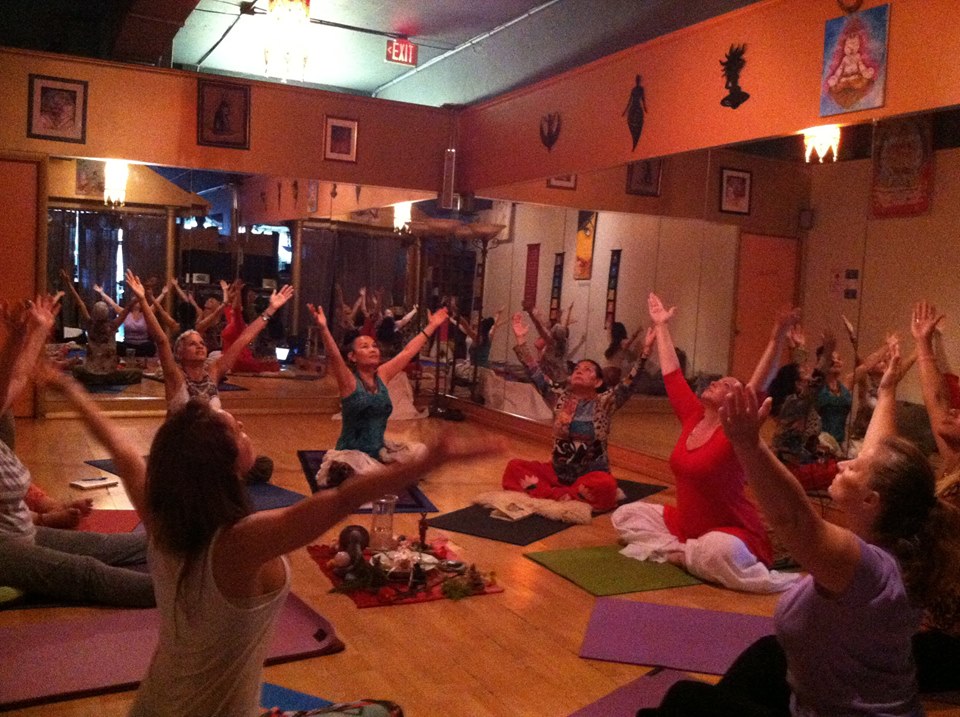 Dates:
2017: January 20-21-22 / February 10-11-12 / March 10-11-12 / April 14-15-16 / May 19-20-21 / June 30- July 1-2 / July 28-29-30 / August 11-12-13/
Exam: 15-16-17

Time: Fridays 5:00pm to 9pm Saturdays 8:30am-6pm Sundays 8:30am-6pm

Location: Montclair Kundalini Yoga, 127 Valley Rd, Montclair (NJ).
Investiment:
Registration Fee: $350.00 (It is not refundable)
(please be aware that if you pay and you do not send the registration form it is assumed that you have read the refund and payment method policy):
Pre-register by November 20th, 2016: $3,375 (Reg. Fee Incl)
After November 20th, 2016: $3,500 (Reg. Fee Incl)
Deadlines cannot be changed
If you have already paid the Reg. Fee and you need to pay the difference please contact the organizer.
Payment plans available contact the organizer for details!
Important Additional cost: $150.00 exam fee (payable toward the end of the program)
Detailed refund policy listed in the registration form, please read it!
Cost Includes: Registration Fee $350.00 (non-refundable), Tuition, Logistics, Snacks, Teacher Training Manual + Stretching Manual.

Cost doesn't include: Main Meals (we usually organize a potluck lunch as ritual of our training), Fee for written final exam ($150.00)* payable at the end of the course before the day of the exam. Any other extra material related to the course (CDs, DVDs, Books).

*This fee will cover the expenses related to your certification, and Release the license to use the official Shakti Dance™ Logo. It is necessary to receive the actual certification and be authorized to teach Shakti Dance™. If we don't receive the exam fee, we cannot admit you to the exam day and certificate you.

IMPORTANT: YOU CANNOT MISS MORE THAN THE 20% OF THE TRAINING; OTHERWISE, WE CANNOT ADMIT YOU TO THE EXAM AND RELEASE YOUR CERTIFICATE. IN ORDER TO COMPLETE YOUR CERTIFICATION YOU MUST MAKE UP WHAT YOU HAVE MISSED BEFORE THE DATE OF THE EXAM. THIS WILL PROBABLY INVOLVED AN EXTRA COST, IF IT IS NECESSARY THE PRESENCE OF THE TRAINER FOR PRIVATE MAKE UP CLASSES. ALSO, IF YOU WILL NOT BE ADMITTED TO THE EXAM ON THE DATE SCHEDULED, YOU WILL BE ASKED TO PAY AN EXTRA $50.00 FEE FOR THE EXTRA TIME AND SPACE REQUIRED FOR YOUR EXAM. WE KINDLY ASK YOU TO RESPECT THE RULES AND ALL PEOPLE INVOLVED IN THIS TRAINING: THE TEACHERS AND THE OTHER PARTICIPANTS.

Requirements:
You don't' need to be a dancer or a long time experienced yogi to participate to this course.
This Teacher Training program prepares you to fully learn how to create a Shakti Dance Class as Taught by Sara Avtar understanding body alignment, energy flow, philosophy that supports this technique. It is open to everone willing to deepen their yoga knowledge and experience, or just experience something new. Moreover, this training will bring deep understanding how dance can be a healing practice to improve your creative skills and use them in your daily life.

If you are a Yoga Instructor it will improve your knowledge and preparation, it will bring deep understanding about how the energy works during a yoga class.

Whether or not you are a Yoga instructor or a dancer you need to:
take 30 Shakti Dance classes during the Teacher Training with a certified teacher (If you do not have classes available in your area, this requirement is considerably reduced or modified to the needs of the course);
it is suggested to participate to 7 Sadhana and lead one of them during the training;
Complete the homework: 2-3 40-day meditations and other assignments that will be specified during the training;
Class practicum during the course, in the presence of the Lead Trainer and the other students from who you will receive relative feedback;
Social work: go outside of the a regular yoga studio and lead a complete free class of Shakti Dance™. You will be more than able to do it toward mid program or so. Your Lead Trainer might be present.
Complete the full payment by the time indicated, and in case of installment payment by the date indicated on your registration form. If you don't respect the due dates you cannot proceed with the training.
We kindly recommend to take to at least 2-3 classes before you start the training.