Shakespeare Under the Swastika and the Union Jack: Shakespeare and Propaganda in World War II

Monday, November 9, 2015 from 7:00 PM to 8:30 PM (MST)
Event Details
Dr. Barbara Acker, Prof. Emerita
School of Film, Dance, and Theatre
ASU Herberger Institute for Design & the Arts
~Part of the ACMRS Political Shakespeares Series~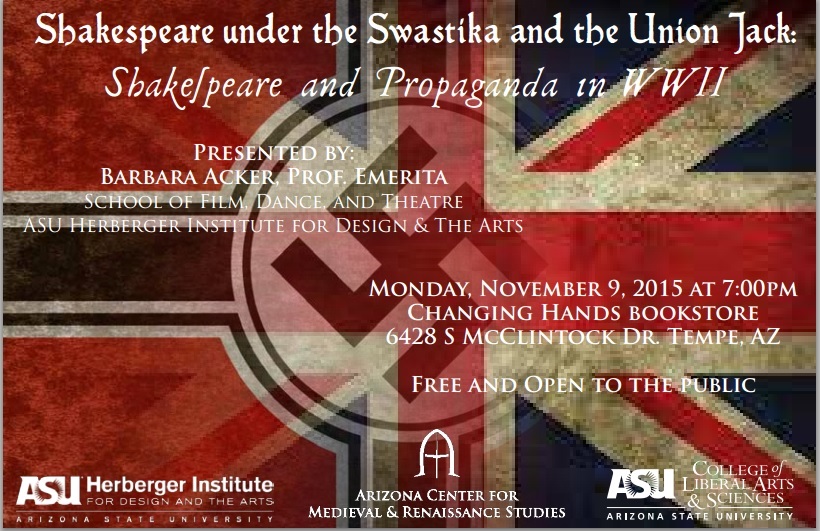 In World War II civilians in Germany and Great Britain struggled to do their part, in spite of desperation and deprivation. Popular entertainment in all forms, including theatre, helped distract people from their worries, but even more important were the serious arts, such as ballet, opera, music and plays. These national treasures reminded people what they were fighting for. What could be a more potent symbol of civilization than the works of Shakespeare? His plays reminded the Germans and the British of their cultural heritage. 
        
Although there were relatively few productions of Shakespeare in Great Britain in the years between the wars, as soon as the Germans attacked, the government's new Council for Encouragement of Music and the Arts (CEMA) decided to subsidize theatres and companies, recognizing, "the drama as one of the sinews of the national soul. . . ."  The mission for theatre was to be uplifting, educational, and able to symbolize Britain's cultural heritage in a time of total war. Funding breathed new life into classical drama; for example, the Old Vic Company starring Sybil Thorndike toured Shakespeare to Welsh mining villages, and and Donald Wolfit gave popular lunchtime performances of Shakespeare in London.  Theatre audiences flocked to see plays by their national poet and far wider audiences saw Shakespeare through Olivier's 19435 film of Shakespeare's Henry V. 

Germany always claimed Shakespeare as "one of us," and his plays had been popular in Germany since the days of Shakespeare himself when English companies toured the continent.  German audiences saw drama as serious business, not as frivolous entertainment, but as a moral institution for education and betterment. They enjoyed their classical dramas in their subsidized municipal and state theatres. When Nazi came to power in 1933, they created a Ministry of Propaganda and People's Enlightenment, headed by Joseph Goebbels, giving him authority over theatre in Germany and its conquered lands.  His mission was to purge un-German artists and promote nationalistic and "clean" repertoire. Shakespeare merely had to have new "approved" translations.  The Nazis saw Shakespeare as Aryan, not decadent English, and his heroines as the sort of girls "our boys should marry." Shakespeare flourished in Germany even as Allied bombers leveled their theatres.

About Barbara Acker: 
Barbara Acker retired from the ASU School of Film, Dance and Theatre where she taught voice, acting, and Shakespeare. She has a Ph.D. in theatre from Wayne State, was co-editor of The Vocal Vision and has had articles published in The Journal of American Drama and Theatre, the Journal of Voice and the Vasta Journal. Acker is a past president and member of the board of the Voice and Speech Trainers Association.  She has appeared in Shakespearean plays as an actor with the Hilberry Repertory in Detroit and has served as text and voice coach for Shakespearean plays at the American Stage, ASU and the Illinois Shakespeare Festival.   
When & Where

Changing Hands Bookstore
6428 South McClintock Drive
Tempe, AZ 85283


Monday, November 9, 2015 from 7:00 PM to 8:30 PM (MST)
Add to my calendar
Organizer
The Arizona Center for Medieval and Renaissance Studies (ACMRS) was founded in 1981 as a state-wide research unit charged with stimulating the interdisciplinary exploration of medieval and Renaissance culture. Its activities cover a period roughly from AD 400 to 1700. ACMRS coordinates programs at ASU, Northern Arizona University in Flagstaff, and the University of Arizona in Tucson. Among the activities and programs the center sponsors are a semi-annual distinguished lecture and ad hoc lecture series, an annual distinguished visiting professorship, an annual conference, a public symposium, and summer study-abroad programs in the United Kingdom and Italy. The Center also awards undergraduate and graduate certificates in medieval and Renaissance studies to students completing required coursework.
---
MAJOR RESEARCH PROJECTS AND PUBLICATIONS
MAJOR RESEARCH FUNDING SOURCES
National Endowment for the Humanities

Program for Cultural Cooperation Between Spain's Ministry of Education, Culture and Sports and U.S. Universities

Iter Inc., (University of Toronto)

Samuel Kress Foundation

Institute for Humanities Research